Yves Behar is the recipient of the 2015 Design Miami "Design Visionary Award" and he'll be honored with a special exhibit in the D/M venue behind the convention center through December 6. The VIP preview is today, December 1st. A student team from Harvard was chosen to design the fair's entrance for their submission, "UNBUILT," a collection of foam models of unrealized design projects. Expect thirty five exhibitors inside including Firma Casa from Brazil, showing new works by the Campana Brothers, and Italian gallery Secondome, with hand-crafted limited editions.

The Miami Project is also launching a new spin-off this year called SATELLITE that will show various "experimental" projects in unoccupied properties up near their 73rd Street base. One of those, "Artist-Run," will fill the rooms in the Ocean Terrace Hotel (7410 Ocean Terrace, Miami Beach) with different installations from 40 artist-run spaces, curated by Tiger Strikes Asteroid. It's open from December 2nd to 6th, with a VIP/media event today, December 1st, from noon to 10 p.m. ALSO: Trans-Pecos, the music venue out in Queens, New York, and Sam Hillmer from the band Zs, are putting together a 5-day music program in the North Beach Amphitheater, emphasizing "musical practitioners with some form of art practice."
X Contemporary launches their inaugural fair in Wynwood running from December 2nd through Sunday, and a VIP opening on December 1st from 5 to 10 p.m. Twenty eight exhibitiors will be on hand, plus special projects including "Grace Hartigan: 1960 - 1965" presented by Michael Klein Arts; a look at the "genesis of street art" curated by Pamela Willoughby; and "Colombia N.O.W." presented by TIMEBAG.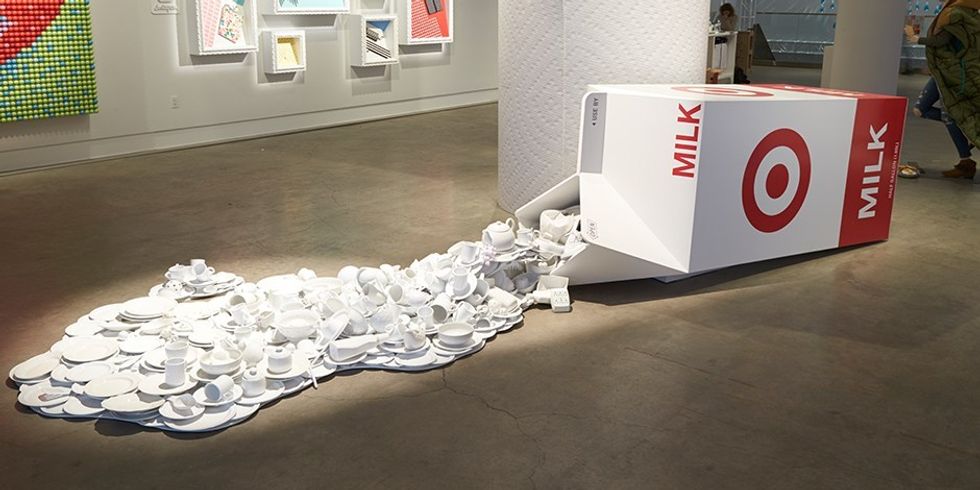 Target Too Installation
PULSE Miami Beach returns to Indian Beach Park (4601 Collins Avenue, Miami Beach) starting with a big "Opening Celebration" at 4 p.m. today, December 1st, featuring a panel discussion put together by Hyperallergic; an interactive piece by Kate Durbin called "Hello, Selfie!" and a live performance by Kalup Linzy. On December 5th, PULSE celebrates the City of Miami via a talk at 5 p.m. on "Future Visions of Miami" and a "Sunset Celebration" from 5 to 7 p.m. Fair visitors can check out "TARGET TOO," an installation referencing items sold at the stores, originally on view in NYC last March. There's a complimentary shuttle from the convention center, and the fair is open daily from 10 a.m. to 7 p.m. through Saturday.
Wynwood Walls (2520 NW 2nd Avenue, Miami) has a lot planned this year including "Walls of Change" with 14 new murals and installations and the debut of a new adjacent space called "The Wynwood Walls Garden." The walls are by Case, Crash, Cryptik, el Seed, Erenest Zacharevic, Fafi, Hueman, INTI, The London Police, Logan Hicks and Ryan McGinness. Over in the "garden," the Spanish art duo Pichi & Avo are doing a mural on stacked shipping containers and in the events space, Magnus Sodamin will be painting the floors and walls. The VIP opening is on December 1st in the early evening, but then it's open to the public from 11 p.m. to 2 a.m. Goldman Properties' CEO Jessica Goldman Srebnick talks about how art transformed the Wynwood neighborhood in THIS Miami New Times piece. We also hear that New York developer (and owner of Moishe's Moving, Mana Contemporary etc.) Moishe Mana is planning a new mixed-use development on his 30 acres of land in the middle of Wynwood.
Jeffrey Deitch and Larry Gagosian are co-presenting an exhibition of figurative painting and sculpture called "UnRealism" at 191 NE 40th Street, Miami. The opening is on Tuesday, December 1st, but it will be on view all week. According to the NYT, artists featured in the group show will include Urs Fischer, Elizabeth Peyton, John Currin and David Salle. In conjunction with the exhibition, the artist Rashaad Newsome will lead an "art parade" starting at 6:30 p.m. today at 23 NE 41st Street, Miami and ending at 4001 NE 41st Street.
CONTEXT Art Miami will feature 95 international galleries this year, along with several artist projects and installations including 12 listening stations dedicated to sound art; areas dedicated to art from Berlin and Korea; solo exhibitions by Jung San, Satoru Tamura, Mr. Herget and four others; and a "fast-track" portrait project of workers at Miami International Airport. Context and Art Miami -- celebrating its 26th year -- open with a VIP preview benefiting the Perez Art Museum Miami on Tuesday, December 1, 5:30 to 10 p.m., at 2901 NE 1st Avenue in Midtown, Miami. The fair is open to the public from December 2nd through the 6th.
ICA Miami (4040 NE 2nd Avenue, Miami) opens a major survey of works by the video and performance artist Alex Bag -- including her interactive installation "The Van" -- on December 1st. The museum recently announced the appointment of Ellen Salpeter, Deputy Director of NYC's Jewish Museum, as its new director and they've just broken ground on a new, permanent home in the Design District. The 37,500 -square-foot building was designed by the Spanish firm Aranguren & Gallegos Arquitectos and is scheduled to open in 2017. Shannon Ebner also has a show, "A Public Character," on view in the museum during AB/MB and up until January 16, 2016. This is the inaugural program in the museum's new performance series.
The fourth edition of UNTITLED Miami is on the beach at Ocean Drive and 12th Street from December 2 to 6, with a big VIP preview on December 1st from 4 to 8 p.m. They've got 119 international galleries along with non-profit orgs from 20 countries. New this year will be an UNTITLED radio station broadcasting via local Wynwood Radio with interviews, performances and playlists by artists, curators etc.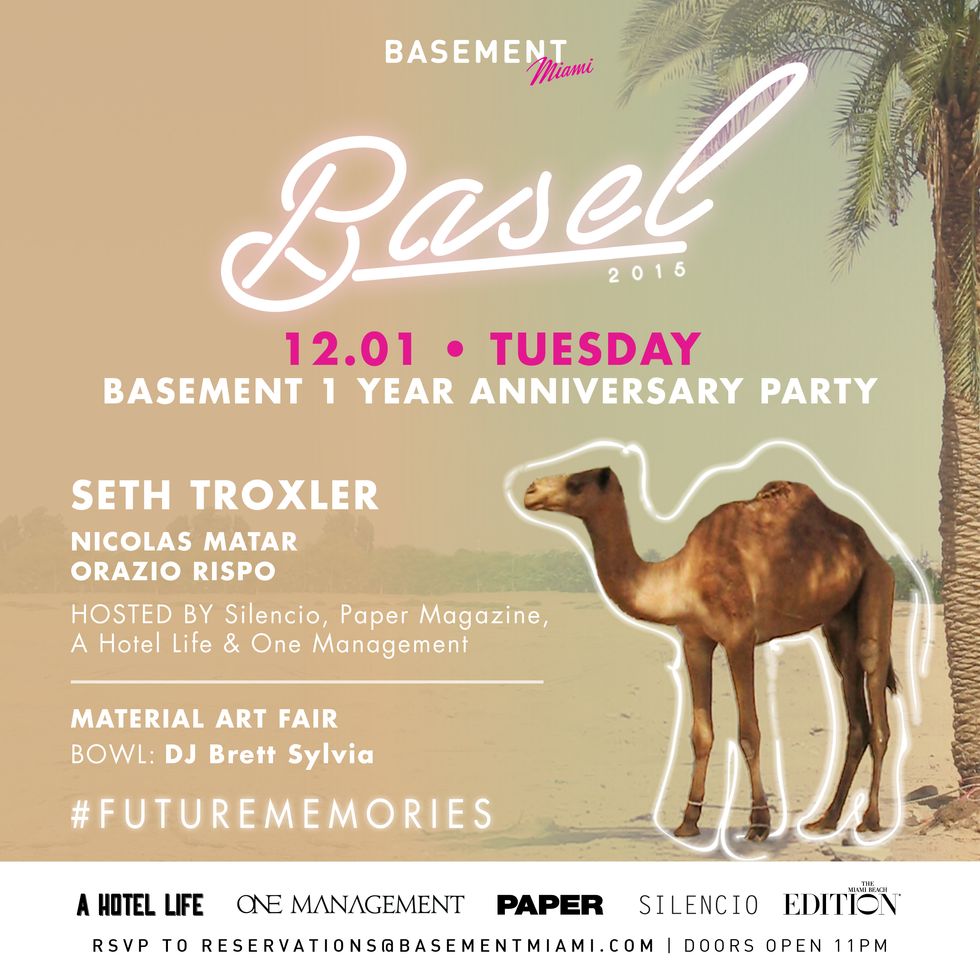 PAPER Magazine is hosting (and participating in) several events during AB/MB. On Tuesday, December 1st, 6 p.m., David Hershkovits will be "in conversation" with Fab 5 Freddy and David Koh on the topic, "Art On Film," followed by a special screening of Koh's film "Peggy Guggenheim: Art Addict." The Tribeca Film Festival Shortlist is presenting the event at The Miami Edition (2901 Collins Avenue, Miami Beach) and SOTO sake sponsors. On Tuesday night (late) and also at the EDITION, PAPER, Silencio, A Hotel Life and One Management host the one year anniversary of the hotel's BASEMENT nightclub with DJs Seth Troxler, Nicolas Matar and Orazio Rispo.
The Wolfsonian FIU Museum (1001 Washington Avenue, South Beach) is open all week with several exhibitions including "An Artist on the Eastern Front: Feliks Topolski 1941," "Margin of Error," "Orange Oratory," "Philodendron" and "Miami Beach: From Mangrove to Tourist Mecca."
Moishe Mana's Mana Contemporary (318 NW 23rd Street, Miami) in Wynwood plans several exhibitions during AB/MB including "Made in California," featuring selections from L.A. collector Frederick R. Weisman's Art Foundation; "A Sense of Place," with over 60 works from the collection of Jorge M. Perez; and "Everything You Are Not," key works of Latin American art from the Tiroche DeLeon collection. All are up from December 3rd thru the 6th, with a VIP preview on December 1st. Mana Urban Arts is also doing a collab with The Bushwick Collective at the former RC Cola Plant (550 NW 24th Street, Miami) that includes over 50 artists -- so far the list includes Ghost, GIZ, Pixel Pancho, Case Maclaim and Shok-1 -- plus skateboarding, DJs, live music etc.
Bortolami Gallery is opening a year-long exhibition called "Miami" by the French conceptual artist Daniel Buren on December 1st in the M Building (194 NW 30th Street, Miami). The show marks the 50th anniversary of his works with fabric and the 8.7 cm stripe. By periodically installing new works, Buren will also alter the exhibition during the year.
Previewing their upcoming South Beach studio, SoulCycle will pop-up poolside at the 1 Hotel (2341 Collins Avenue, South Beach) starting on Tuesday, December 1st. They plan to open permanently in the hotel in January 2016. The 1 Hotel also offers a fitness and wellness line-up for guests and visitors all week.
Miami gallery Locust Projects (3852 N. Miami Avenue, Miami) returns with their "Art on the Move" series of artists' projects in public spaces around Miami during December. This year's work, "NITE LIFE," by LA-based artist Martine Syms, includes a series of prints displayed on the backs of buses and at bus stops, based on "Chitlin' Circuit" concert posters by Clyde Killens. There's a reception for the project, curated by PAMM's director Franklin Sirmans, on December 1st, 7 to 10 p.m. Also check out the gallery's site-specific installation "PORE" by Martha Friedman and "Beatriz Monteavaro: Nochebuena" in the project room.
Brickell City Centre (750 South Miami Avenue, Miami) is giving a sneak peek at their work-in-progress development in downtown Miami with an invite-only event, "Illuminate the Night," on December 1st featuring the unveiling of "Dancers," a sculpture by UK artist Allen Jones; () music from Wooden Wisdom DJs (Elijah Wood and Zach Cowie) and a 150,000 square-foot glass, steel and fabric structure called "Climate Ribbon" by Hugh Dutton.
The Bass Museum (2100 Collins Avenue, South Beach) is closed for renovations until next year, but they're still hosting "outdoor activations" in the surrounding park including the AB/MB PUBLIC sector and the display of a neon sign, "Eternity Now," by Swiss artist Sylvie Fleury. They are co-hosting a private dinner with Salon 94 Gallery on Tuesday in the Miami Beach EDITION Hotel.
Zurich's Galerie Gmurzynska hosts an invite-only cocktail party at The Villa Casa Casuarina (1116 Ocean Drive, Miami Beach) on December 1, with Sylvester Stallone and Germano Celant. The gallery will be showing a retrospective of works by Karl Lagerfield in their stand at AB/MB, curated by Celant.
The DREAM South Beach (1111 Collins Avenue, South Beach) hooked-up with Brooklyn-based artist -- and new GQ "style guy" -- Mark Anthony Green for an exhibition of, according to Green, "what 2015 meant to me in both a macro and micro sense...wins, losses, heartbreak and promotion." The hotel will have a pop-up shop curated by the artist, and guests will get a complimentary print. There's a welcome reception on Tuesday, a private dinner and afterparty with the Green and A$AP Rocky on Friday and a pool party hosted by YESJULZ on Sunday afternoon.
FLAUNT Magazine and Guess host a private dinner at the Nautilus Hotel in December 1 in honor of their latest cover stars Zaha Hadid, Rem Koolhaas and Julie Mehretu. After dinner, there's a poolside party with a screening of "ME" and music by the Martinez Brothers and Pusha T. Expected guests include "ME" writers Susan Taylor & Jefrey Levy and Gina Gershon.
The 2015 edition of Elle Decor's Modern Life Concept House premieres with a VIP breakfast on December 1st at 250 Wynwood (250 NW 24th Street, Miami). Visits from December 2 to 4 are open to the public with a $35 donation to pediatric cancer research and a reservation via jacquelyn@zm-pr.com. The 6,000 square-foot home will showcase 4 leading designers selected by ED editor-in-chief Michael Boodro.
An exhibition called "LAX - MIA: Light + Space" opens on Tuesday, December 1st, 5 to 8 p.m., at the Surf Club (9011 Collins Avenue, Miami Beach). The show was curated by Terry Riley, Joachim Pissaro and John Keenan of PARALLEL and is hosted by The Surf Club and Fort Partners. It's on view until December 12th, 11 a.m. to 5 p.m. daily, closed on Sunday.
Art Basel Basecamp (46 NW 36th Street, Miami), hosted by HGABmag, returns with a space to "re-group, re-fresh and re-energize" featuring charging stations, information booths, giveaways and art installations. Stop in from December 1 to 6, 4 p.m. to midnight daily; and don't miss their "Alice in Wynwood" closing party on Saturday night.
The first edition of the Curatorial Program for Research Film Festival takes place on December 1, 11 a.m. to 2 p.m. at Cannonball (1035 North Miami Avenue, Suite 300, Miami). The program, "Earthbound," was curated by Niekolaas Johannes Lekkerkerk in collaboration with Dwelling Projects. There will also be a silent auction.
New York-based developer Robbie Antonio debuts his REVOLUTION collection of pre-crafted structures during Design Miami/2015. The limited edition homes and pavilions have been designed by 30 noted architects and designers including Zaha Hadid, Richard Gluckman and the Campana Brothers. The VIP launch is in the Design Miami tent on Tuesday evening.
NYC club No.8 pops-up in the Rec Room at the Gale Hotel (1690 Collins Avenue, South Beach) with DJs including JusSke, Fly Guy and Ross One; the hotel's Regent Cocktail Club features live jazz, Cuban cocktails, Samba and soul tunes. They've also got a digital art installation by Aerosyn Lex.
White Cube's kick-off party is tonight at Soho Beach House with Giogio Moroder spinning and lots of Moet.
NYC/LA art collective Collapsing Scenery presents "Metaphysical Cops," a one-night-only video installation on December 1st, 5 to 10 p.m., in the Surf Med Pharmacy (7430 Collins Avenue, Miami Beach). It's a part of the new Satellite Art Fair.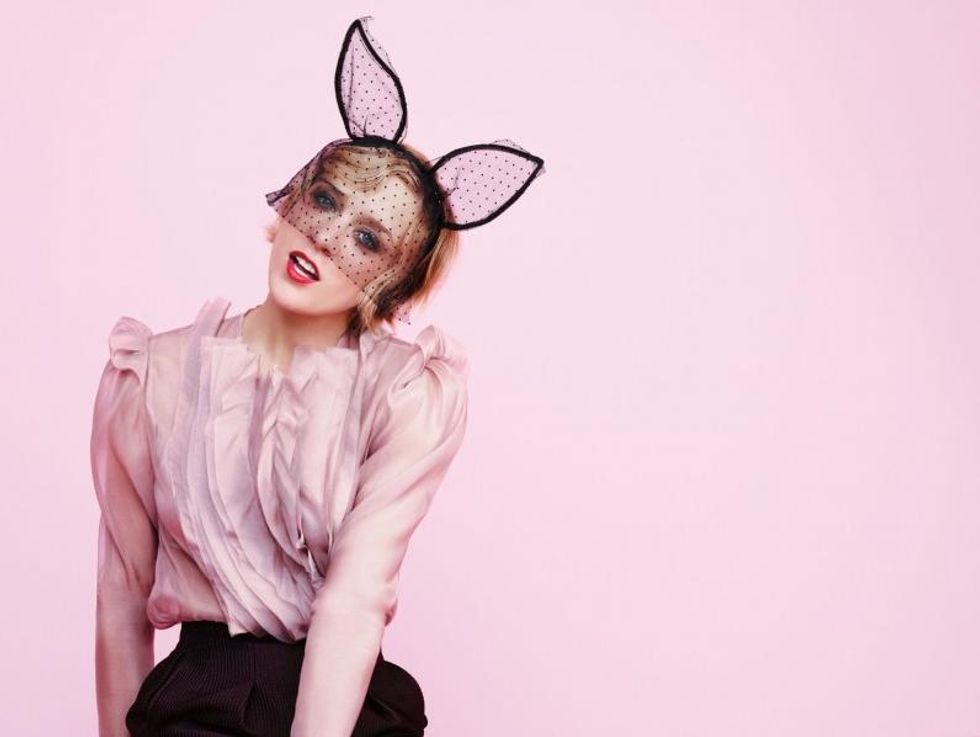 Chloe Sevigny by Pamela Hanson
"ICONS," an exhibition of photos by Pamela Hanson opens at the Shore Club.
BOHO Hunter (184 NW 27th Street, Miami) hosts Monica Sordo's SS 2016 collection with music from Bea Pernia on December 1st, 7 to 10 p.m.
Miami's Diana Lowenstein Gallery (2043 N Miami Avenue, Miami) is showing new works by Udo Noger in a show called "Geistlos." On view all week.
Alejandra Von Hartz Gallery (2630 NW 2nd Avenue, Miami) has their second solo show by Marta Chilindron, "Temporal Systems," on view during AB/MB. The multi-dimensional sculptures "explore basic geometric forms, color, transparency, light, space, time and perspective."
When you pass through Art Miami, look for copies of Jerry Powers' new Art Miami Magazine, that fair's first dedicated publication,
STK Miami (2311 Collins Avenue, South Beach) hosts The Drip Factory pop-up gallery featuring artist Louis Carreon doing live painting and music by DJ What on December 1st, 8 to 11 p.m. Invite only.