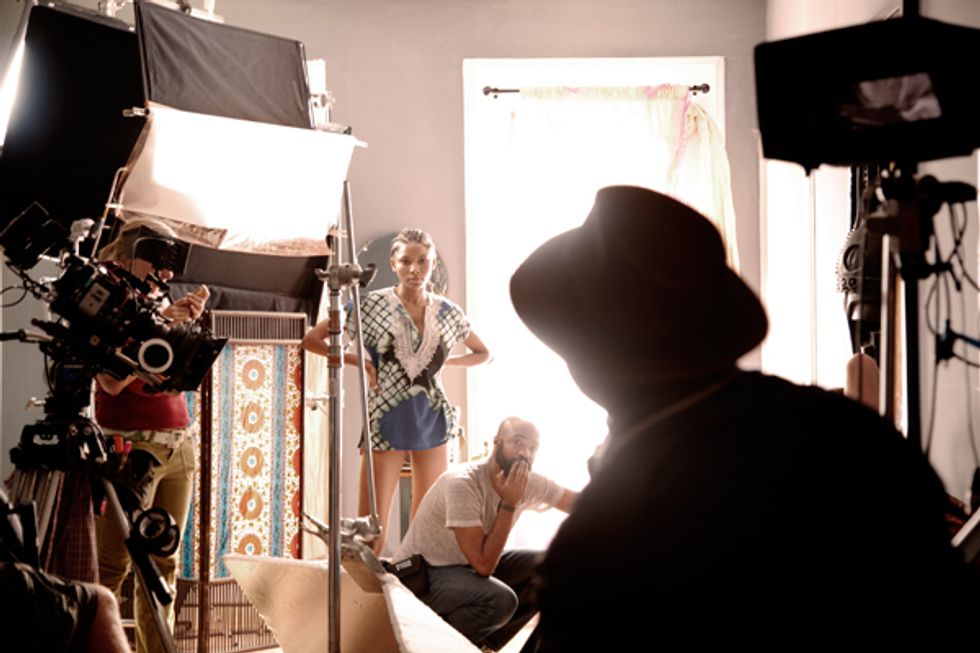 The restless city in the film
Restless City
is a difficult city to live in; it's a New York where immigrants pushed to the margins live by pirating DVDs and pimping women. But rather than linger on these hardships, director Andrew Dosunmu focuses on the beauty of the day to day -- motorbikes careening down Canal Street, limber women in peacock-prints and bedrooms drowned in the white light of the street. The soundtrack swerves with the shots, from Mbalax music to ambient street noise.
"I really wanted you to be able to put the volume of the film down, and still understand so much," says Nigerian-born Dosunmu, whose career has hopped from Paris, where he worked as a design assistant at Yves Saint Laurent, to New York, where in 1996 he got his start in film directing a music video for Isaac Hayes. (His first actual job in New York was styling fashion stories for
PAPER magazine.)

Dosunmu's past projects have made the case that beauty and hard city-living are not mutually exclusive. His 1999 feature documentary
Hot Irons
(executive produced by none other than PAPER editor Kim Hastreiter) followed Detroit's annual "Hair Wars" competition. Since then, he has directed music videos for everyone from Tracy Chapman to Common, as well as for the South African TV show
Yizo Yizo
.
Restless City
tracks a Senegalese immigrant who works as a delivery-man but identifies as a singer. Djibril (Sy Alassane) has come to New York to get a demo made. "I don't believe anyone came from where they're coming from to New York to work in a kitchen," says Dosunmu. "It's always a stepping stone to something else."
With a budget of only $80,000, the film was cobbled together in a way that mirrors its theme of making art in struggle. "The movie came out of that frustration, it was made out of restlessness," says Dosunmu. "That restlessness of the metropolis. That constant pounding on the pavement just to get things done."
Restless City
is out now in select cities.