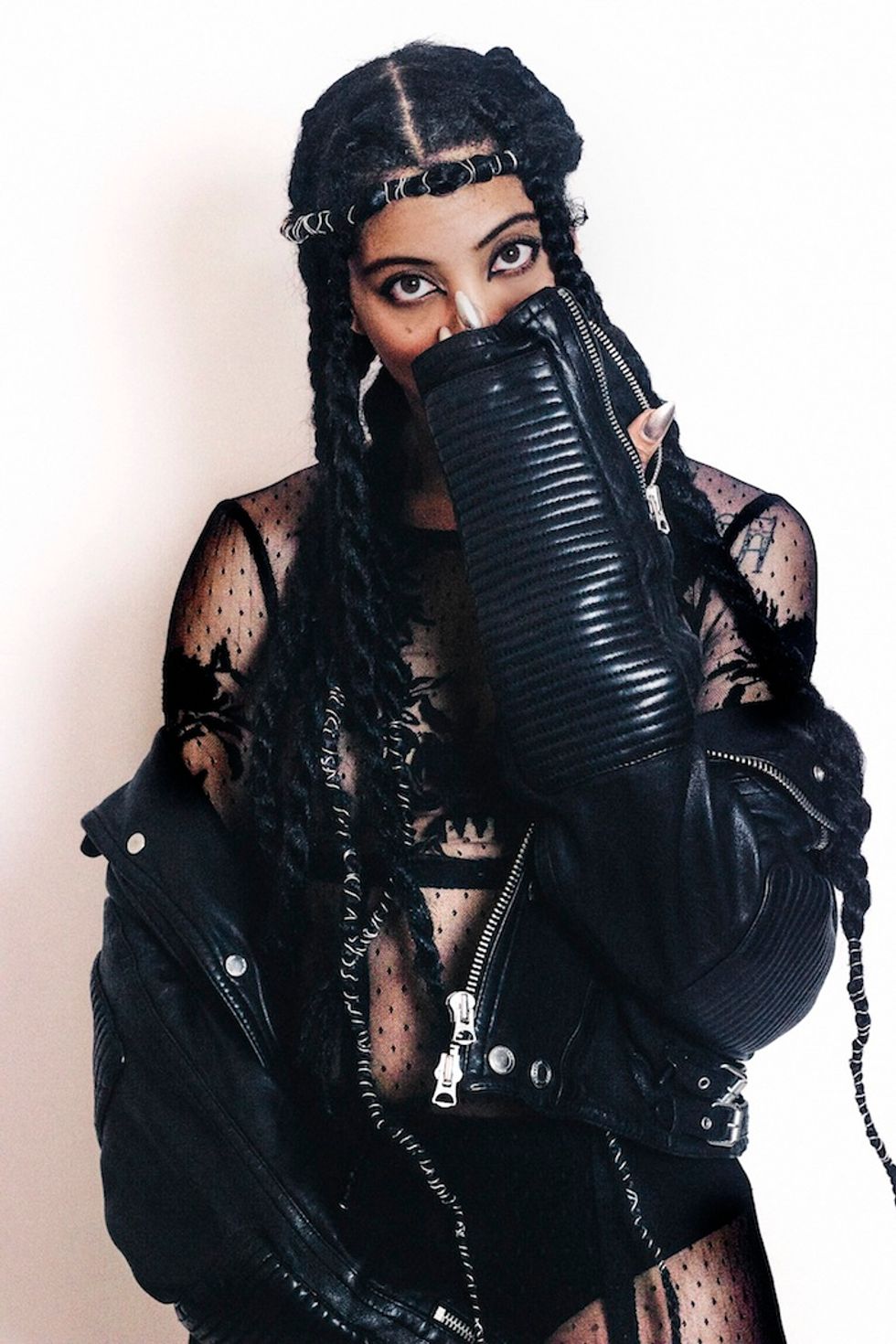 Photo by French Gold
Many artists take a circuitous route before they're able to launch their careers but Brooklyn-based R&B singer Bosco has a more interesting trajectory than most. A native of Savannah, GA who grew up singing in church and local talent shows, she went on to study fashion design at the Savannah College of Art and Design (SCAD) but couldn't shake the singing bug. While still in school, she performed cover songs at a local club before deciding she'd rather make her own music. She left SCAD her senior year, decamped for Atlanta, and eventually made the move to NYC a year ago. Through all this, she caught the eye of Fool's Gold head honcho A-Trak who signed her to his label and released her first proper EP,
BOY
, this past Tuesday. We had the chance to chat with the rising singer about everything from the challenges of being a transplant to why fashion continues to be integral to her creative life.
What are some of the ideas you're hoping to get across in BOY?
I think a lot of the EP has to do with my personal experiences being an artist and the struggles of that. The song, "Gold Ghost," for example, explains the ups and downs of the industry and trying to be an indie artist and getting people to pay attention to what you're doing. But mostly I just wanted people to hear my vocals. A couple of my other tracks have been dance-y, and it was important to me to really solidify my sound.
What are some of the struggles in particular you're describing on the EP?
I think whenever you're starting something new, it's really challenging to get people to notice or take you seriously, whether it's from the lack of funds or just the lack of visibility being, in my case, an artist coming from Atlanta. The city's known for just being about urban and trap music, but we have a really, really cool creative scene and art scene down there that really doesn't get that much visibility. We don't have major publications to really vouch for the artists down there. So coming from that very grassroots, post-punk, DIY area and trying to find the funding to really execute your ideas is challenging. Wanting to produce a certain quality of work can sometimes get the best of you because you have all these ideas in your head and you're like, "Oh my god, I want to do this, and I want to do this, but how does this dot connect to this dot, or how can I reach out to this person?"

It can be overwhelming.
It's definitely overwhelming when you don't have the resources. But once you get so many "no's," you'll eventually figure out how to press through. I was talking to my manager, Josh, and he was like, "Alright, you have to get through the resistance. You have to just keep pushing through that." And most people don't make it to the other side, but I'm surrounded by people who continue to push me, and I push them, and vice versa.
You moved from Atlanta to Brooklyn a year ago -- where are you living in the city?
Bushwick.
How do you like it?
I really, really like Bushwick a lot -- it reminds me of my days in college at SCAD [Savannah College of Art and Design], just seeing street art and graffiti off Morgan and Beacon's Closet and Flushing. I always run into so many artists -- I just ran into Juliana Huxtable the other day -- and people are really migrating towards that energy where you can experiment with so many things. Everyone's really collaborating right now.
How do you find the collaboration and the creative scene in Brooklyn compared to that in Atlanta?
Atlanta is very family-oriented -- it's like, "you're my homie. I got you." Because the trap and hip-hop scene is so prominent, if you're in a different scene, you're forced to create experiences that don't already exist. It forces you to make shit happen. We would do pop-up shops or pop-up art shows and have liquor sponsors and just create our own scene because we didn't really have a media outlet there [where] we could really show it. I I took a lot of those very DIY tactics and use them even now. Atlanta definitely helps you grow up.
How so?
Because there's really not anything popping down there besides what you create. You have to make noise for people to look.
Have there been any unexpected challenges to living and working in NYC?
I think this place is a monster and you have to figure out how to move here. I think I spent the first couple months just researching where to be, who is who. But I will say that the people here, the creatives, aren't really fast to work with you because you have something to prove if you're not from here. Like, "Oh, you're from Georgia," or "Oh, you're from Atlanta, but you're not doing trap, so what are you doing, because there's no fashion down there?" You know what I'm saying?
Yeah, there's a bias, a snobbery.
I feel that your work should just speak for you and you just have to prove people wrong. In Atlanta, it's easier to get people to work with you.