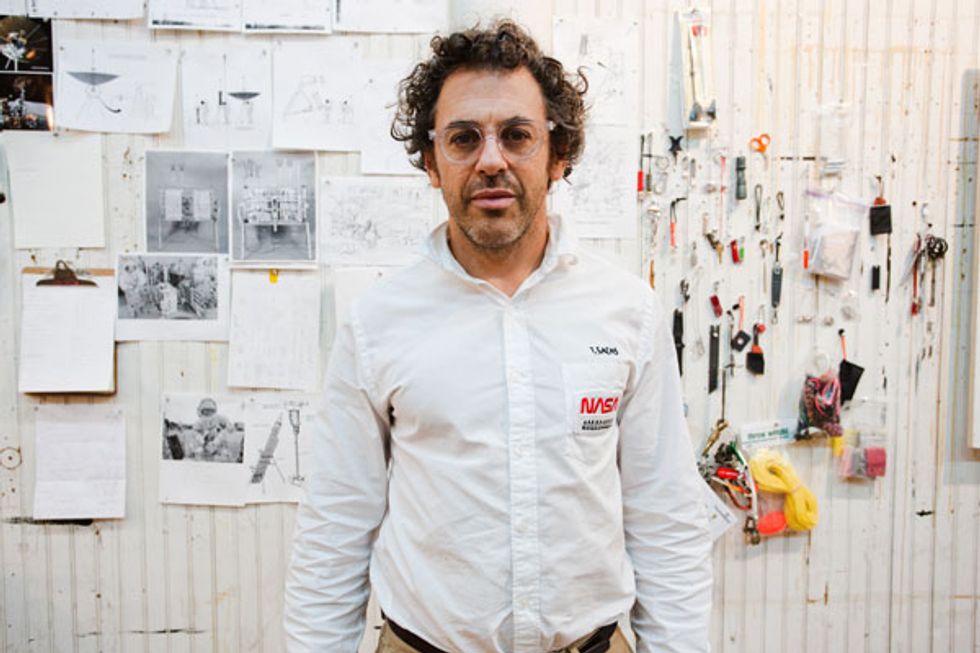 It had been a while since I'd been to Tom Sachs' studio, so I was surprised to find that an artist who is so constantly and insanely busy with major exhibition projects, who's always run
a studio more as a clubhouse that people comfortably feel like dropping in for indefinite hangouts, was still operating at the same street level space downtown. Schooled by skate culture and punk, Sachs has always understood the creative value of community, but that was before all the solo shows at places like SITE Santa Fe and the Deutsche Guggenheim, his traveling museum show in the States or his much-celebrated installation at Lever House. The buzzer system was the first indication of change. After being photographed, tagged and processed up front, the more apparent changes become evident. What was once a modest storefront is now a sprawling complex of multiple ground level spaces, with active basements and a hive of workers today numbering about a dozen. Sachs is immediately concerned that I have not seen the preparatory movie he's made for all prospective visitors. Someone is gently chastised and I promise to watch it. You should too (check it out at
tenbullets.com
), as it offers a hilarious take on the obsessive order by which Sachs rules his little universe. Directed by his buddy Van Neistat (of the Neistat Brothers) and narrated by actor Matthew Modine, the ten points are the precise rules and principles (or "the code") for employees not wanting to be fired and to "ascend the studio hierarchy." The film emphasizes the most mundane discipline in the tone of military propaganda films with directives that underline the rigors of professionalism and persistence while relaying dubious truths like "creativity is the enemy."
Though Sachs has made something of a fine art out of exaggerating his most anal, OCD and geeky of attributes to a sublime far more comic than cosmic, his art is unerringly about its process, a performance of kids playing some game of working in a factory without any of the mockery by which Warhol mimicked this model of industrial production. The art is undeniably funny, but it is exceptionally formalistic and truly serious in its purpose. "Humor is an important vehicle for truth and information," he points out, "and there's no shame in that, even if a lot of people dismiss my art because of that. I'm not going to get serious just to have people take me more seriously." Orderly, even tyrannical as it might appear, there is no doubt that it is all a lot of fun, like some nerded-out middle school science fair where imagination and aesthetics constitute a new model for the make-believe. And if a great part of the joy comes from the process of actually making the fantastical simulacra of science fiction that is Sachs' art, it would seem the greatest pleasure for the artist himself is the act of show and tell, which is what walking through his studio with him is all about.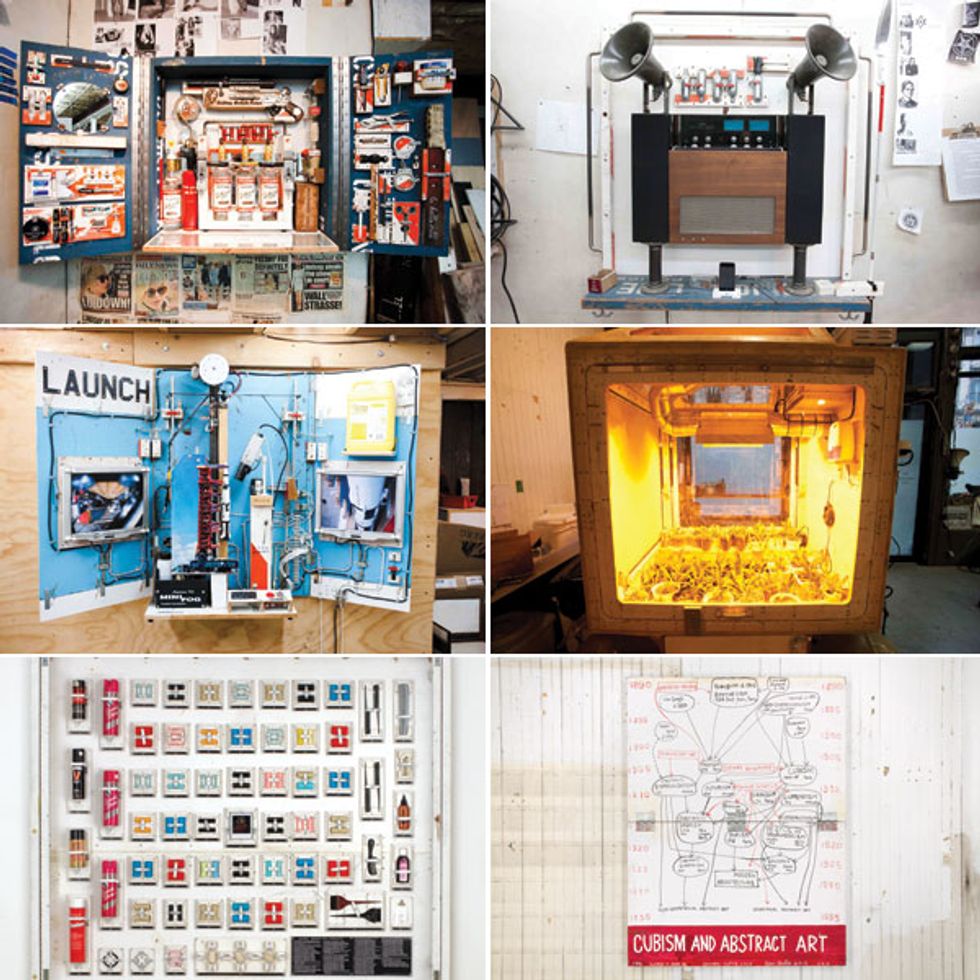 Above, rows 1 and 2: Details of Tom Sachs' studio. Row 3: Two pieces from Sachs' show, "Work."
Sachs is currently working on two massive projects at once: a solo show called "Work," which opened this month at his gallery Sperone Westwater, and a monumental interactive installation, "Space 2.0," presented by Creative Time at the Park Avenue Armory this coming May, a month-long project documenting his proposed mission to Mars. It's all a bit of a jumble in the studio, neat as a pin though it may be, with two major shows being worked on at once along with other commissions. First we visit a grow room, presumably one he intends or dreams will go to Mars. In it are a multitude of poppies, and Sachs wants to fill me in on the latest in grow room technologies he's employed. But since I wrote for over a decade at
High Times
, it's all a bit boring to me. I explain some opium cultivation techniques to him in hopes that when that part of his interactive installation gets interactive we might do the same. We stop briefly for a coffee at another DIY Frankensteinian contraption where, if you look through the slot where the piston pumps out the coffee, it is lovingly framed by a photo of anal intercourse. The coffee is great, but we may just switch to energy drinks after such juxtaposition. This lies beside his repair station, where all the tools of the trade are preciously aligned on one side while on the other sits a compliment of exercise equipment -- duty to the body being no doubt equivalent to that of work for him. Next up is a kind of isolation construction he calls the "Sample Analysis Chamber" where one can handle precious moon rocks. He's still clearly enamored of his experience visiting the jet propulsion laboratories at NASA -- where he learned of their insane precautions about contamination and the many thousands of tax dollars they spent to clean the space age body suit he wore after his visit.
Feeling a tad guilty to be showing so much of the work from "Space 2.0" when he really should be shilling for his upcoming gallery show, Sachs steers us to one of the many sculptures for Sperone Westwater, a large rooster painstakingly reproducing a nineteenth-century Nigerian ceremonial object, almost exact in every detail except Sachs calls the work "Big Cock," and has left a small portion of the backside unfinished so that viewers may understand the insane level of work that went into fashioning such a sculpture from scratch. "I learned that lesson a few years ago when after something we'd spent so much effort building got painted over and you couldn't tell all the work that went into it," he says.
Over the next two hours as we wound through the labyrinth of Sachs' studio, with far too many treasures to iterate let alone describe here, it was that discipline of hard work that was most evident. Work has always been an unmistakable element of Sachs' art, but by fore-grounding it and calling attention to his craft by naming his forthcoming show "Work," bookended by a quote from his favorite artist James Brown who said, "I thank the lord I'm allowed to work every day," and his own motto, "The reward for good work is more work," Sachs is allowing for more than just a mere consideration of process. "I want labor to be the point," he insists, "because everything in our lives is miraculously made with no idea of how it's done. As an active and critical consumer, and as someone who has attempted to make the flawless and failed, I wanted a transparency of construction here. If we know how it is made and how it falls apart, we will know how to rebuild it." Even as the man dreams of going into space, this it would seem is a good a model for our world as any.
Tom Sachs' "Work" is on display at New York's Sperone Westwater through December 17th.