"Trust me, I'm fully aware of who I am," Yola says, leaning in close as if she's going to tell me a secret. I'm seated across from the singer in Williamsburg's Hoxton Hotel, as she unleashes one of many wild, wicked-witch cackles — the kind of joyous belly-rumble a stranger would hear and find themselves involuntarily laughing with. Yola gestures to her bountiful Afro mane, which is partially held back by a colorful headband that matches her babydoll dress. But it's not just her natural curls she's drawing attention to: moving in a circular motion, Yola's hands frame her heart-shaped, dark-skinned face.
"I am controversial just for existing in the front with this skin tone," she says, eschewing any notion that she'd ever play second fiddle. And then! There's the cheery British accent. Yola hails from just outside of Bristol, England, which is 84% white as of 2011, and by the singer's estimation likely hasn't diversified much since then. She grew up with strict, religious parents who kept a tight leash on her burgeoning artistic pursuits.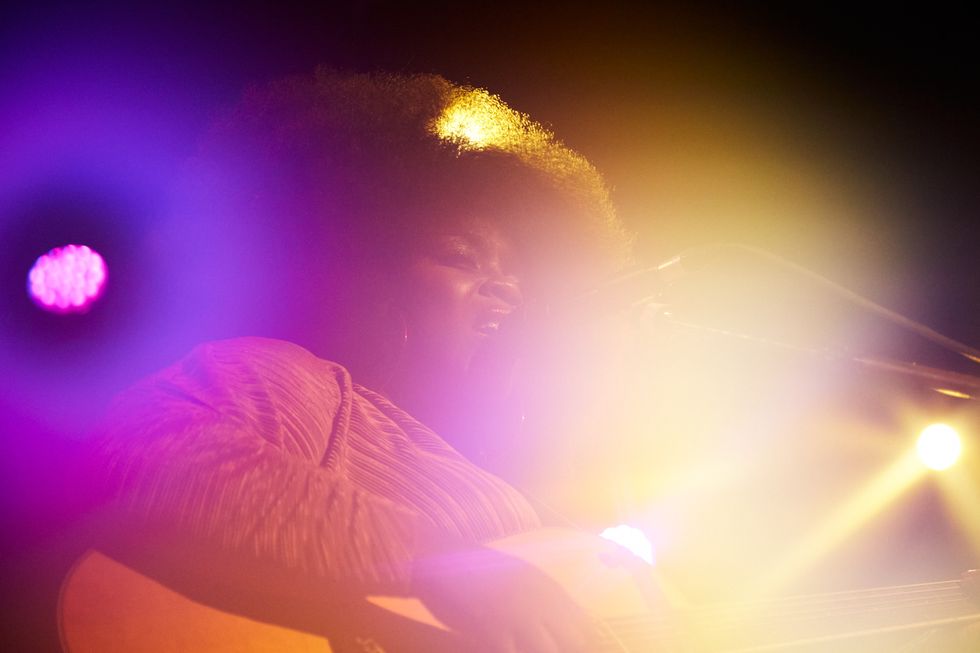 Though Yola says she was punished for singing at home, which she'd been doing since age four, she held onto music as a lifeline to rely on someday. Early on, she listened to as much Parliament Funkadelic and Rotary Connection she could upon first discovering them — progressive Black music that connected her to diasporic African art and culture. That connection to her history was essential for young Yola.
"I grew up in the whitest town, and it was really specifically on the right," she says. "I got it on all sides: White people, colorism in my community, having to physically fight aggression off. People don't understand the concept of isolation until they experience it in an extreme sense. There was nobody like me. The more you're seen as 'other,' the more you feel you desperately need those role models to go, This is who I am, this is what I am into. [Yola exhales deeply] That connection to music was vital for me. Who the heck was I without it?"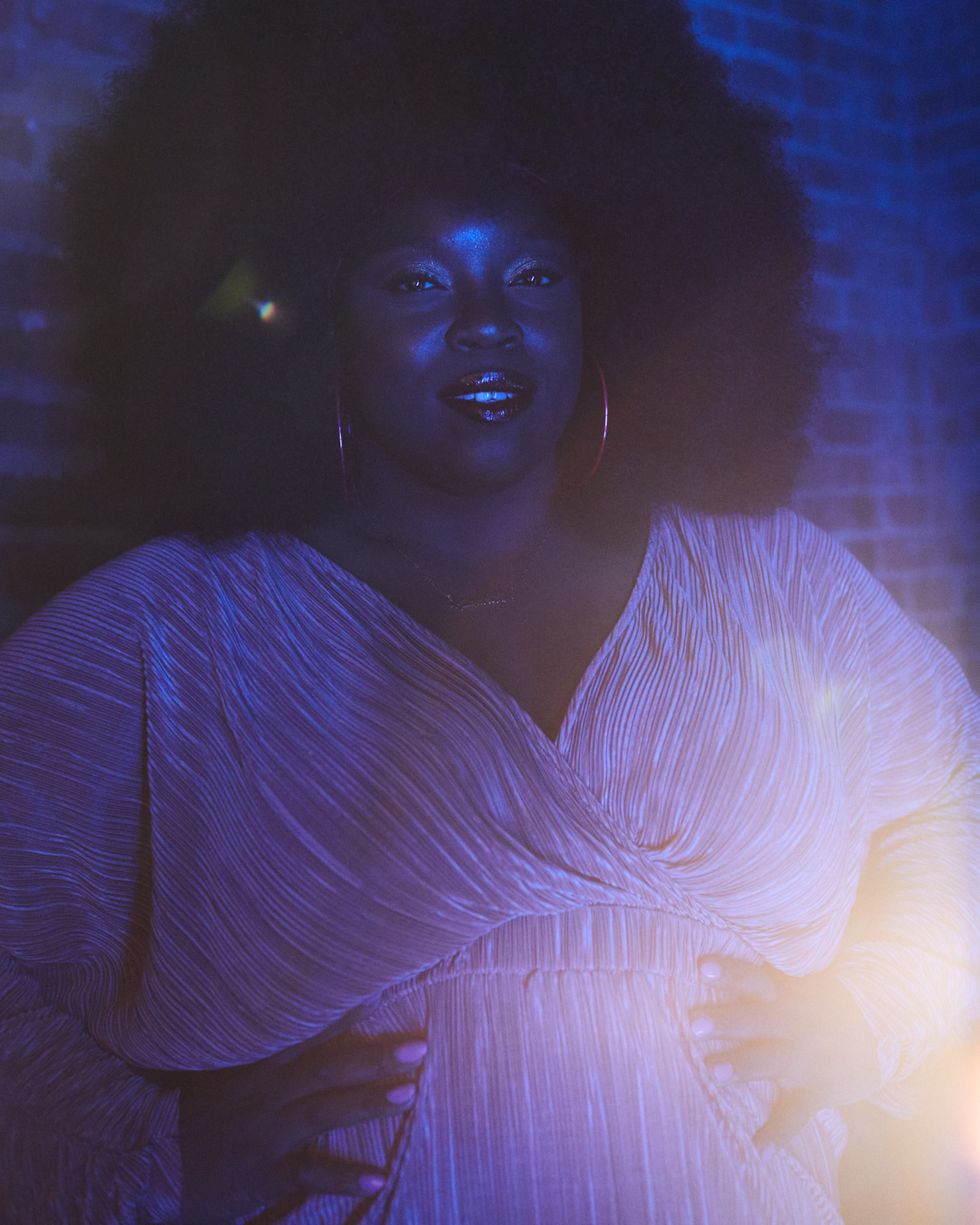 Yola exhales again, "Singing was like the air I breathed. I sing to live." Her voice, a powerful instrument capable of switching effortlessly from guttural growl to soaring falsetto within seconds, is nominated this year for four Grammys, including Best New Artist, and Best Americana Album for her critically acclaimed 2019 breakout, Walk Through Fire. "I wept, bawled my eyes out, the whole bit," Yola says of the honor. She looks over at her manager who nods affirmatively.
"I am controversial just for existing in the front with this skin tone."
For an album produced by The Black Keys' Dan Auerbach, a very vocal Elton John endorsement following a cover of his classic "Goodbye Yellow Brick Road," tours with names like Kacey Musgraves and collaborations with fellow Highwomen Brandi Carlile, Maren Morris, and more, it could be easy to question Yola's organic success. However, for every industry-approved triumph, there's a more epic backstory that no label executive could write.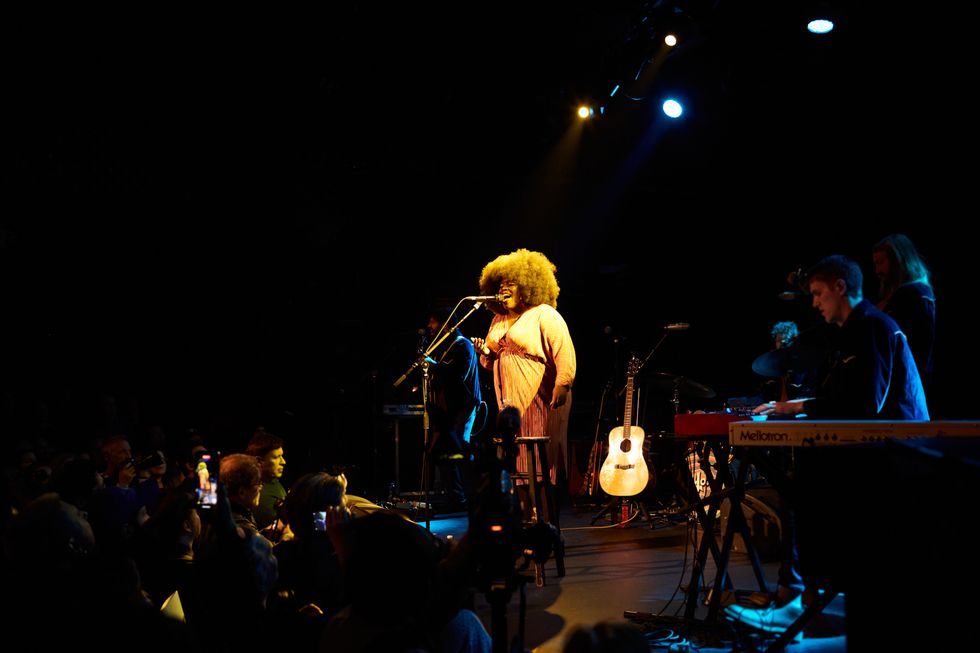 Among Yola's trials was a stint of homelessness in London. And in 2014, Yola did actually catch on fire at home and, once she survived it, emerged like a phoenix with an oracular creative clarity she'd never had before. She says there always were open couches to sleep on, and "enough people in my life who knew me, saw me, loved me and what I was about."
Slowly, the musician picked up the pieces and started taking bigger career risks than ever. She made money building a catalog of songwriting and production credits working with artists from Katy Perry to Duke Dumont. She played for a year in Massive Attack, then led a country-rock band called Phantom Limb comprised of "seven other white guys." After some professional experiences left her feeling depleted, Yola finally tuned into her own emotions and abandoned those projects to fully break out as a solo artist. Looking back, Yola says the literal fire she walked through was a clearing for the career she has today.
"It turns out four-year-old Yola was right," she says of her decision to go solo. "When I was a kid, I never planned to be in a band. I needed to fulfill my own vision. That was the only way forward for me. Plus, I didn't come from money, so the second I made some writing for other people, I was like, I can either give up and put it in a house or I could put it all into becoming visible enough to get picked up by a record label that could really do something."
Soon after, Yola serendipitously teamed with Auerbach to produce her debut, a collection that's equal parts wistful and gritty. From "Faraway Look," a heartbreaking stunner about dreams unfulfilled to "Shady Grove," a bittersweet song about past lives and regret, she captures all she's experienced with direct lyrics given deeper poignancy by how she sings them. "I gave it all away," she sings. "It takes my breath away."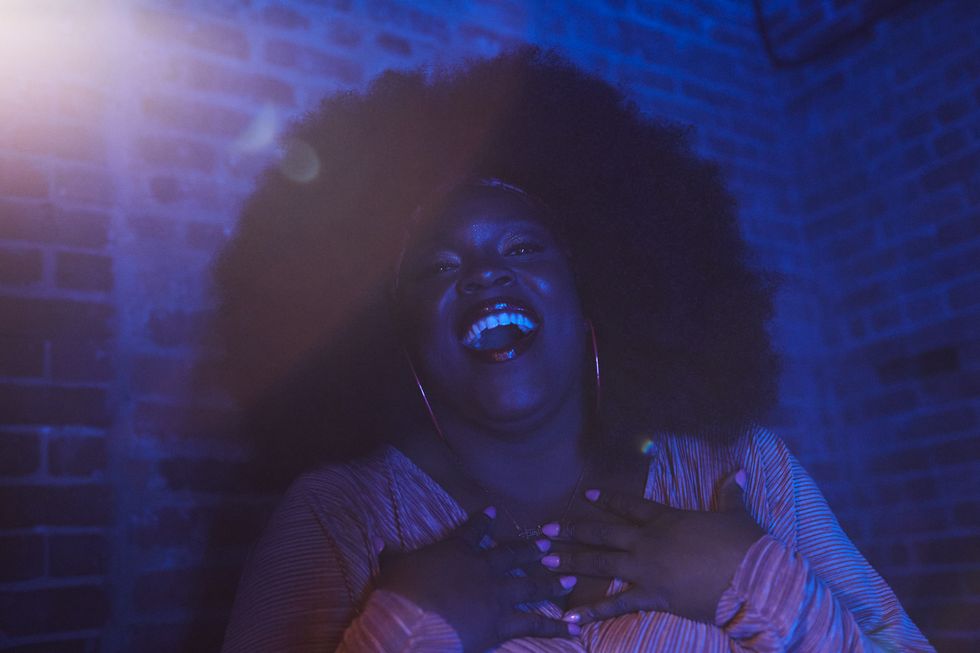 For as many timeless tearjerkers as there are, Walk Through Fire is suffused with a defiant spirit like on its title track or on "It Ain't Easier." When making the album, Yola learned to play guitar and did so onstage before she was "ready," defying how she's long been told that "ladies shouldn't [play guitar]." Yola cites Dolly Parton, Ella Fitzgerald and Mavis Staples as examples of women whose lives have encouraged her to rebel against these types of expectations.
She's similarly outspoken, and a Black woman singing roots-based rock music during a political moment in America confronting its own hideously racist origins. "I will not be stopped by views that I should be in a role of service because I look how I look," she says. "Not when I have this much to say."
Now, there's no stopping Yola. She's only had a week off touring in the last six months. Just the other night, she was in Boston, and weeks before, she was buying expensive shoes in Milan. She wore them onstage the other night, and strummed her guitar before a packed house. Very intentionally, she closed by singing Aretha Franklin's recording of "You're All I Need to Get By." Franklin, another one of Yola's heroes, sang just about everything, regardless of genre.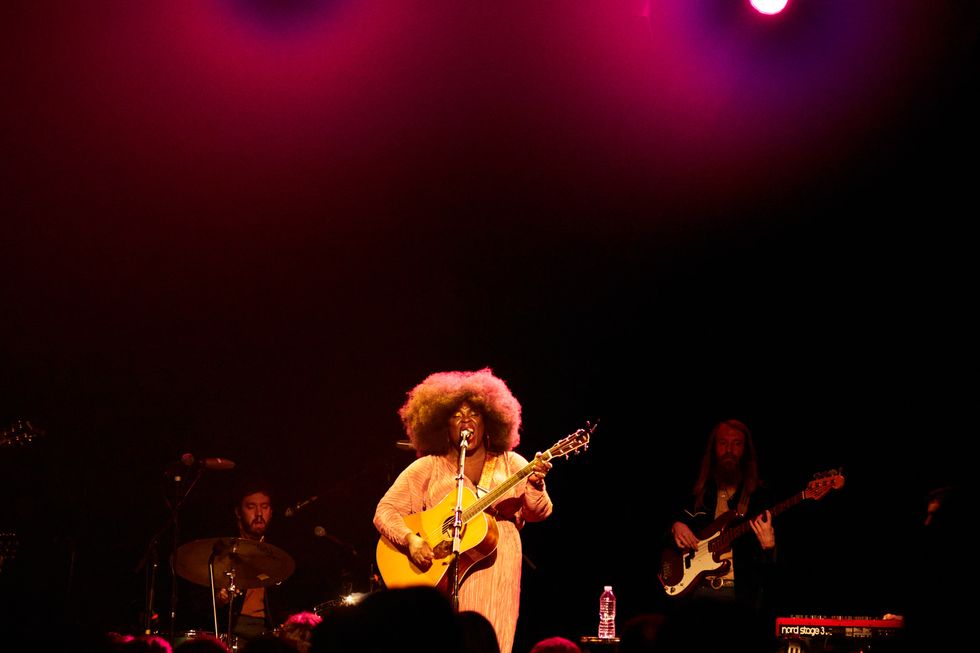 Artistic flexibility and a desire to help others connect to their history is now what's most important to Yola — beyond seeing fans wear her merch or sing her lyrics back in sold-out venues, or being occasionally stopped in the street by people who thank her for being herself. For someone who never quite fit anywhere, those experiences are undeniably validating and something she'd now like to pay forward.
"I knew I was always going to be fighting to highlight the relationship of people of color to all of these genres of music," Yola says. "And I'm going to want to talk about the erosion of Black people in rock 'n' roll music, considering Sister Rosetta Tharpe and Big Mama being main creators. This career is about having an arc, and a long enough time to explore it all, instead of just being a one trick pony. That's what drew me to music: a need to tell that story in many ways. The story of where I come from... where we come from."
Stream Walk Through Fire, below.