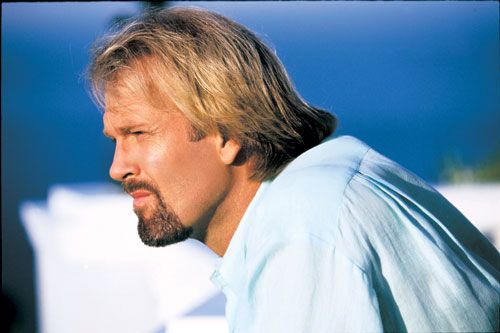 Welcome to our new feature, Ye Olde Papere, wherein we pore over old issues of Paper magazine, looking for juicy nuggets from yesteryear to share with you. Today, we feature a nutty piece of music journalism from the July 1997 issue of Paper, in which writer Steven Blush declared New Age icon/former
Entertainment Tonight
host John Tesh "cool" after interviewing him on a StairMaster at the Trump Taj-Mahal Casino in Atlantic City. Blush got him to talk about his first time at CBGB, where Tesh recalled, "crazy shit was going on." Amazing.

JOHN TESH IS COOL  -- Talking Head Turned New Age Piano Man
John Tesh is cool.
You probably remember him as the dashing blonde robot who dished celebrity dirt on
Entertainment Tonight
for nearly a decade. Tesh gave up his cushy seven-figure salary as a talking head to pursue his musical vision, and for that alone he deserves serious props.
Suffice it to say that Tesh is no Rick Springfield novelty artist: He has become a dominant force in the so-called New Age market, with over a dozen albums under his moniker (either as John Tesh or the associated John Tesh Project) that far outsell virtually every hip alternative rock band out there. In terms of indie credibility, Tesh made it to the top through his own GTSP label (last year he sold a minority share in GTSP to Polygram for a reported $8 million). Tesh's music-career breakthrough was his
Live at Red Rocks
fund-raiser for PBS, the soundtrack of which sold well over a million copies, but many of you already know his music as the themes for sporting events like the NBA on NBC ("Roundball Rock"), "Tour de France" and the unforgettable "Music From the Ironman Triathlon."    
I spoke to Tesh while he trained on his StairMaster a few hours before his debut performance in Atlantic City, at the prestigious Trump Taj Mahal Casino-Resort. He was warm and gracious, and even complimented me on my questions and interviewing skills -- quite an affirmation from such a consummate media professional.    
Tesh grew up in Garden City, Long Island, where he began his musical odyssey playing in high-school bands with lame names like the Daze of Night and the All-American Band. "We were always in competition with Billy Joel's band, the Hassles." Tesh recalls. "They'd always win the Battle of the Bands and we were always second or third. There were many places to play on Long Island, like the old beach clubs, but they'd only let you play covers. People loved slow dances for obvious reasons, so we would do 'Hey Joe' slow, 'Hey Joe' medium, 'Hey Joe' fast. We played Sam and Dave, but mostly Blood, Sweat & Tears. Then when Three Dog Night came out, everybody wanted you to play that stuff."     
In the late 70's, Tesh was a lifestyle reporter for WCBS-TV news, where he gained entrée into New York nightlife. "I was going to Studio 54 a lot," Tesh reflects, "so I did a piece on Steve Rubell and Ian Schrager. Then my friends and I were totally in. I loved that scene, I thought the music was great. I still have tapes of some of those disc jockeys. Their mixes would blow away anybody today.   
"The first time I was in CBGB was when they sent me down to do a piece on punk, back when people said the Police were punk," he says. "I did a story on the Cramps. It was one of those superfluous stories where it's like, 'This is punk' and they show people floundering around on the ground. I was definitely a lifestyle reporter. It was good times, though, you know? Crazy shit was going on."    
The 6-foot-6-inch, fortysomething Tesh has become one of America's biggest whipping boys, something he simply does not deserve. "That's probably because I'm 'the television guy trying to do music,'" he explains. "Also, there's the honesty issue. Here's a guy who's straightforward about enjoying his family and his spiritual beliefs. People ask me, 'Are you really that square?' There's no reason to defend against that. What I say onstage is honest; everything we play is honest."   
Tesh makes serious music for people who don't seriously listen to music. At the Taj, we sat behind three children under the age of seven and were surrounded by people who couldn't tell Rod Stewart from Martha Stewart. His stage demeanor was genuinely funny at times. My wife accurately pointed out that everybody in the band blow-dried his hair, and that the most talented of the ensemble was the sexy flamenco dancer who accompanied many of the songs.    
Our concert was Tesh's own little "musical journey around the globe" (his words), which explored Celtic, Iberian, Arab, West Indian and Kenny G-ish grooves and rhythms. Clearly, Mr. Tesh and his ensemble have never visited Africa, the South Bronx or even Motown for that matter. Don't expect any fresh Wu-Tang remixes anytime soon. To be fair, "Teshmusic," as it's sometimes referred to, is white-bread in the majestic pomp vein of his boyhood idols like Jethro Tull, Yes and Emerson, Lake and Palmer. If the Chieftains were a rock band, they'd come off like Tesh '97.
While Tesh's music may be a little too twinkie for my heathen tastes -- a side of me wanted to run home and reread the lyrics to Marilyn Manson's
Antichrist Superstar
for grounding -- in the end, this master of all media now sells around 1.5 million copies per album. Yo, you can't touch that!
The ultimate Tesh moment occurred right after the show when I overheard a gaggle of old ladies who were exiting the hall. The loudest of the bunch, whose attire was straight outta Boca, blurted out, "What's his name, Yanni? Oh, he's much better than Yanni."  
When we chatted on the phone the following afternoon, Tesh apologized for his Atlantic City performance, claiming it wasn't indicative of what his gigs are truly all about. Casino patrons are certainly not the ideal audience. But in the end, I couldn't care less because, like I said, the man is totally fucking cool. ★