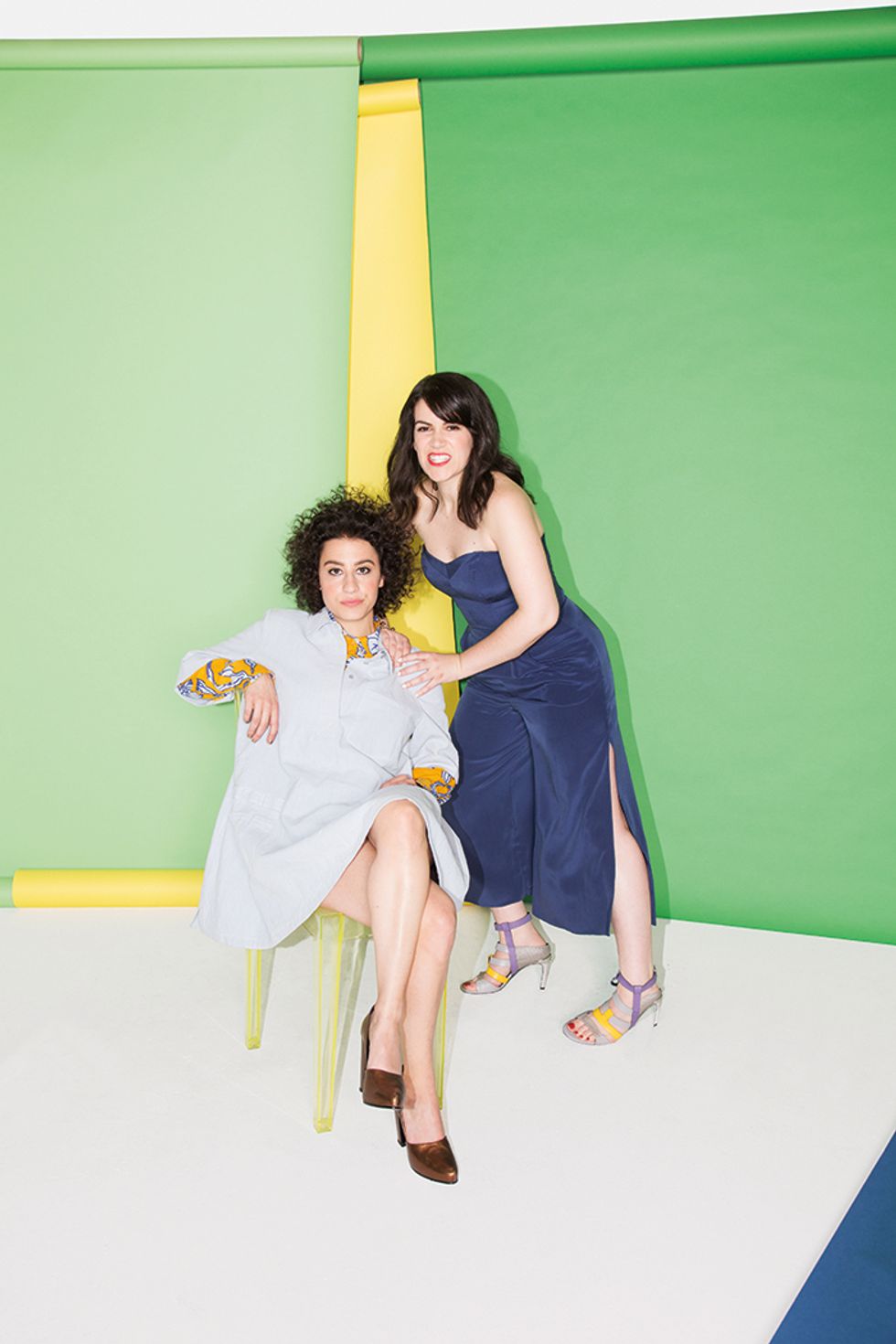 At a glance, Comedy Central's Broad City is the archetypal story of two young friends trying to make it in New York City: cleaning up pubes at the gym and hoping to get noticed by the head trainer, or dealing in stolen office supplies to buy Lil Wayne tickets. Abbi and Ilana, the show's inseparable heroes, have New York, they have each other and they probably have a little weed. But Abbi Jacobson and Ilana Glazer, the show's equally inseparable creators, are living a very different dream these days. Just two years ago, when they joined PAPER's Beautiful People Class of 2013, their franchise was a Web series with an Amy Poehler-produced pilot; when we caught up with them for our American Dream issue, Jacobson and Glazer were about to start writing the third season of a show that's come to represent a vast, messy and endlessly funny swath of big-city life. 
Here, they offer a glimpse of their past, their future and what's fueled them all along.
What do you think of when you hear "American Dream"? Has the meaning changed since you started doing Broad City?
Ilana Glazer:
The American Dream is for someone who is more first-generation, like my grandparents and great-grandparents, who immigrated. A suburban upbringing is what my Russian great-grandparents would have hoped for me, but we're a little bit removed from that idea. People will say to us us, "You're living the dream!" I don't feel like we're making art on a patriotic scale, but with the access that we have in general, the world being the way it is with the Internet, everyone just gets to be a free agent. We're definitely living, like,
a
dream, a personal dream, but it becomes more grounded with the minutiae and tedious details that go into everything.

I think that when people talk about "livin' the dream" it tends to be kind of reductive, like, "Well, you did this one thing! I guess that's all you're going to do!" Or sometimes it's steeped in some kind of jealousy, or coded in something else. It becomes, "Can I get that?"Abbi Jacobson:
I don't always take it as a negative thing. It makes me realize that I'm very lucky with what I get to do. We're both doing a bunch of other projects outside the show, which is exciting and only fuels
Broad City
 more. I think what people mean for the most part when they make those comments is that we're getting to be our own boss. The dream is to be your own boss and to have control over how you make money, and a lot of people don't have that luxury or are working in jobs that aren't their dream jobs. And, right now, we're getting to do our dream job.

Glazer:
I do see how the idea that we're "livin' the dream" could be reductive. Just in general, in life, when anybody tells another person what they're experiencing, rather than asking them and finding out a person's personal perspective, it's reductive. Certain details get left out. It definitely reduces the whole experience to three words, you know?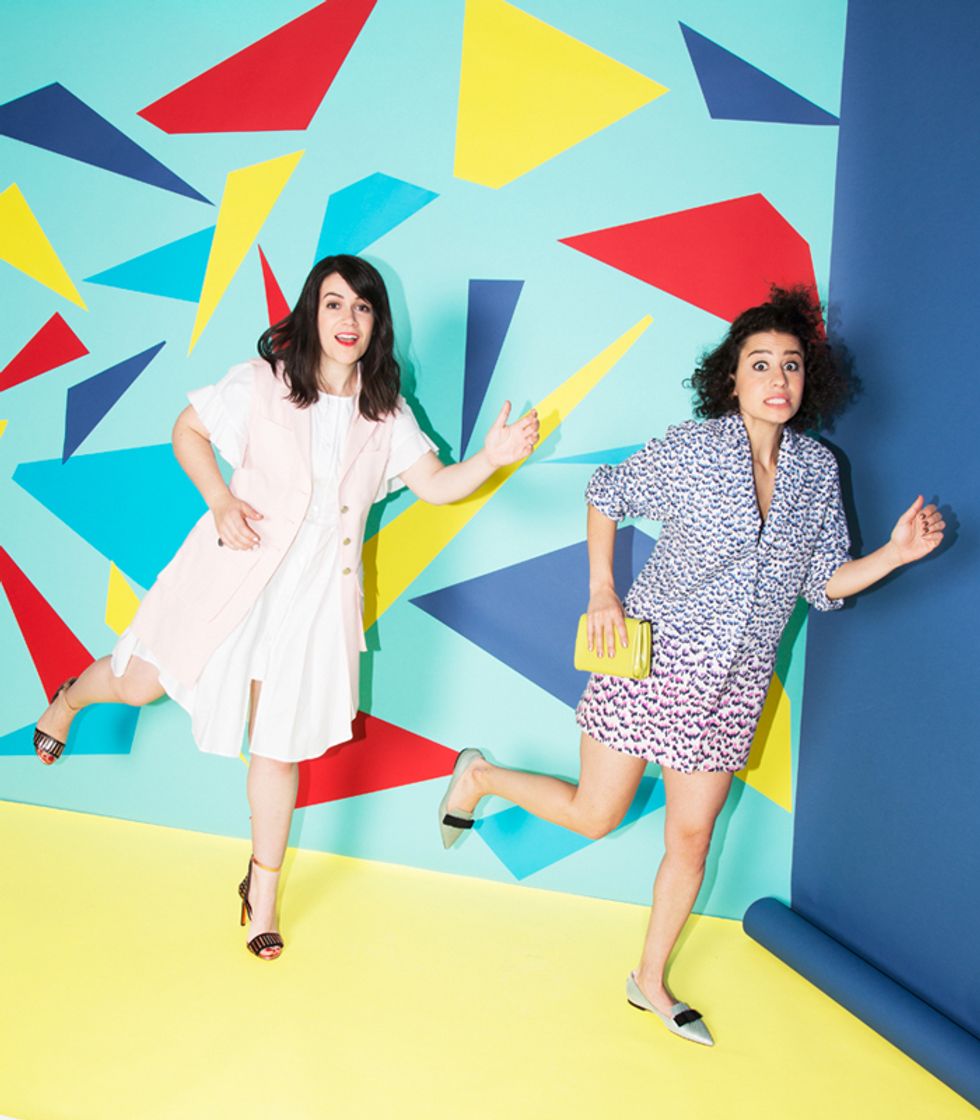 Abbi wears a dress by Rachel Comey, a vest by Nanette Lepore and shoes by the Santoni Rose Collection. Ilana wears a blazer by Comptoir des Cotonniers, shoes and a bag by Jimmy Choo.

What were your aspirations before you guys met?
Jacobson:
I moved to New York to go to the Atlantic Theater Company program and to be more of a dramatic actress. I was there for a week, and it was just not for me, so I quit. I stumbled across Upright Citizens Brigade because my roommate at the time said, "You've got to check this out; I just think you'll like it." I was doing videos in college that reminded her of that theater. Then I went and it was like love at first sight.
Glazer:
I was a total comedy nerd growing up with my brother Eliot, who's a comedian and on the show, and we used to constantly film sketches. From a young age we'd watch Comedy Central, and I would also go into the city and see the alt-comedy scene happening around me and think, "Aw man, I wish I was there." I was a teenager when UCB popped up, and when my brother went to NYU, I thought, "I'll go to NYU and we'll join the scene together." I also got really into Stella, the Tank, Rififi; it was a very lucky time to see that there was an alternative to SNL or club comics in New York.
Is there anything you can tell us about writing season three?Glazer:
We're starting on Monday! We're just trying to be the bossest possible at it. When you first go through this sort of process, you just want to get it done, but now I'm less anxious about it and want to take it further.
Does the process start with just the two of you writing together, or do you bring everyone together right away?Jacobson:
I mean, Ilana and I have never left each other. [
laughs
] So it will be them coming in as we just continue to work over this hiatus.
I'm always impressed by your tenacity, and I wonder how your self-determination fueled your career early on.Jacobson:
This is stupid, but "tenacious" just means, like, an inner fire? Right?
Yeah.Jacobson:
Yeah. I think that when we were starting out, and even now, that's our thing; that's how Ilana and I ended up working together. It was just a string of, like, "You know what?
Fuck it
. You know what? Let's make this!"
Glazer:
You know what? Let's
keep
making it.
Jacobson:
Fuck it, let's fuckin' do it!
Like a dare?Jacobson:
It's like that! What's the worst that could happen? Being on this improv team that we're already on? Fuck it, right?
Glazer:
Fuck it! You have nothing to lose in trying!

Top photo: Ilana wears a dress and shirt by Karen Walker and shoes by Rachel Comey. Abbi wears a jumpsuit by Milly and shoes by Prabal Gurung.

Styling by Savannah White
Hair by Marcel Dagenais
Makeup by Kerrie Jordan

Set design by Amy Henry

You May Also Like