The re-branding of Las Vegas didn't start with Drake, but he certainly helped. When the artist announced an exclusive string of shows with Wynn Las Vegas nightclub XS earlier this year, his presence on the strip (alongside the likes of Cardi B and Lady Gaga) heralded a new era of chic boutique residencies a far cry from the tragedy-tinged ageing diva routines of old.
Partly responsible for this change is the Wynn's managing partner of nightlife Alex Cordova, who oversees both the hotel's massive music venues. He's all about the A-list names: XS is celebrating its tenth anniversary this year, and to celebrate Cordova has booked a series of celebratory shows with KYGO, David Guetta, Diplo, and The Chainsmokers. Alongside Drake, perhaps his crowning achievement has been establishing a mutually beneficial relationship with Virgil Abloh — the designer has been playing sets at XS for the past three years, and will open an Off White store in the Wynn's label-stacked shopping plaza next month. In October, the Wynn acquired Arrows and Flower Neon Sign, Abloh's neon sculpture collaboration with Takashi Murakami. Las Vegas clubs are all about contemporary art these days.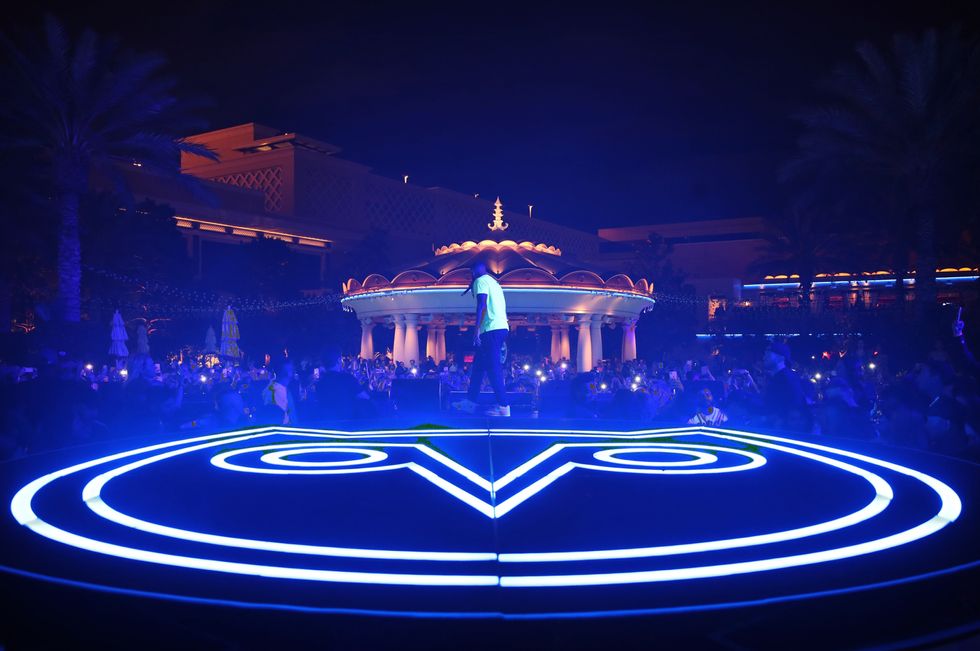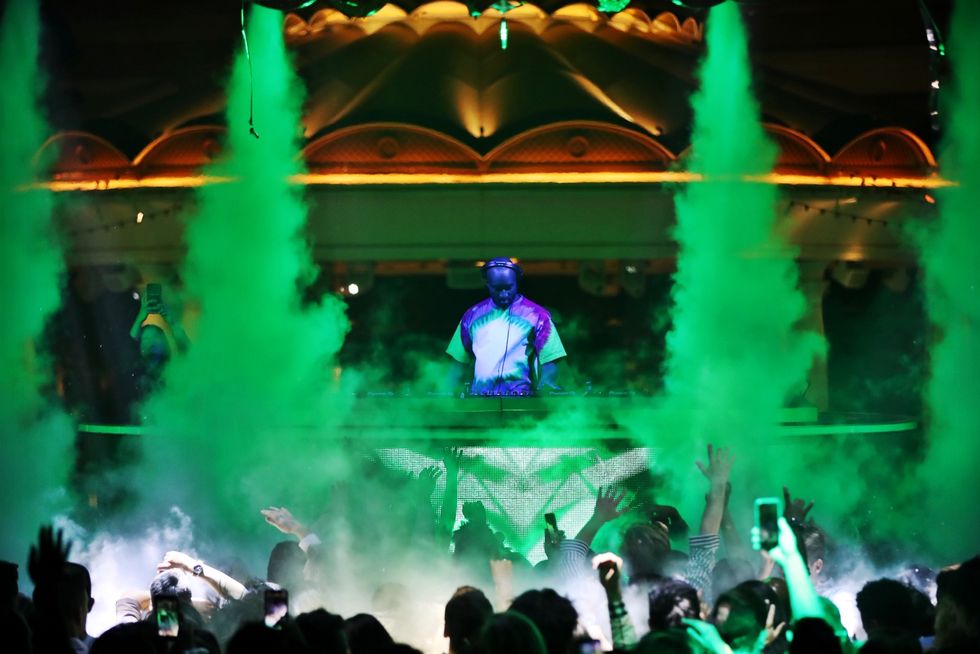 PAPER recently attended one of Virgil's low-key shows at XS, where an enthusiastic crowd bumped to new and old classics: Beyoncé, Daft Punk, Kanye, Sheck Wes. It was a shift from The Chainsmokers bringing down the house the night before, but in a good way. "We don't stick to one lane," Cordova told us. "Diversity is very important. We feel as though we have the best electronic dance line up, we know we have the best live performer in the world with Drake, and from the fashion perspective, there's no one bigger than Virgil right now." Abloh is a surprisingly versatile and chameleonic DJ — he can pick through chart hits, or go full techno: "I've seen him open for Travis Scott and then I've seen him go to Ibiza and play for CircoLoco and rock it there as well."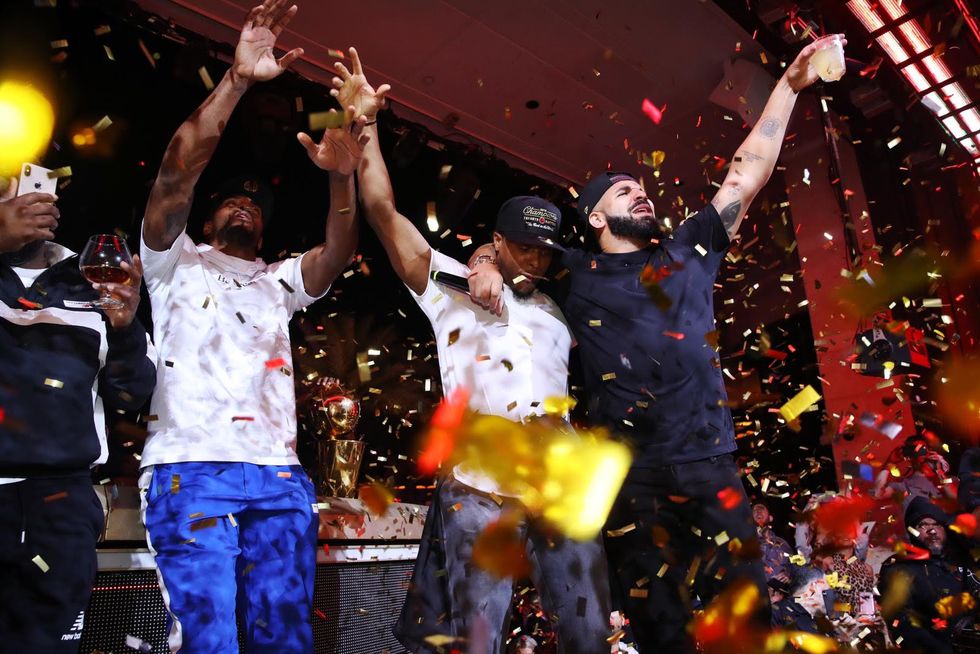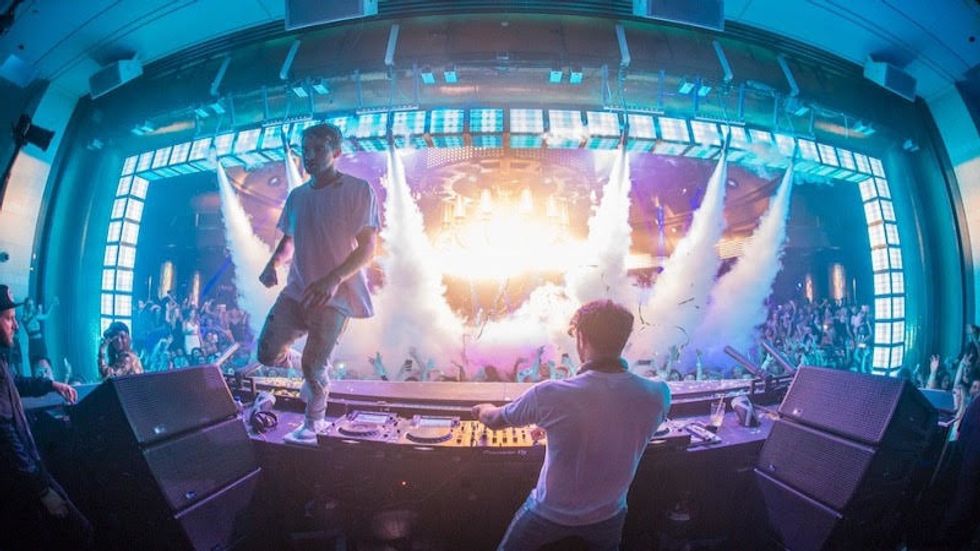 Cordova has witnessed first-hand the dissolution of Vegas stigma, and for a longtime music industry expert, plucking club residents from the charts has always made good business sense. "It's just about being on the pulse of popular music," he explains. "I think artists like Drake have made it a lot more approachable for other acts to come through, and you're going to continue to see that happen. I'm happy that he is the trailblazer, because that's what he's known for. For us, it's exciting, because, in the past it was, 'I'm in the later stages of my career and I'm going to go do something that's memorable to end my career.' Now it's, 'No, it's okay to do Vegas at the height of my career.'"
Don't worry, Vegas purists — outside Wynn's palatial grounds, the strip remains as gloriously seedy and neon-lit as ever, if you know where to go. But inside the lights are low, red carpet rolled out, and bottle service flowing. Hey, if it's good enough for Drake...
Photos courtesy of Wynn Nightlife
Sign Up For The Morning PAPER