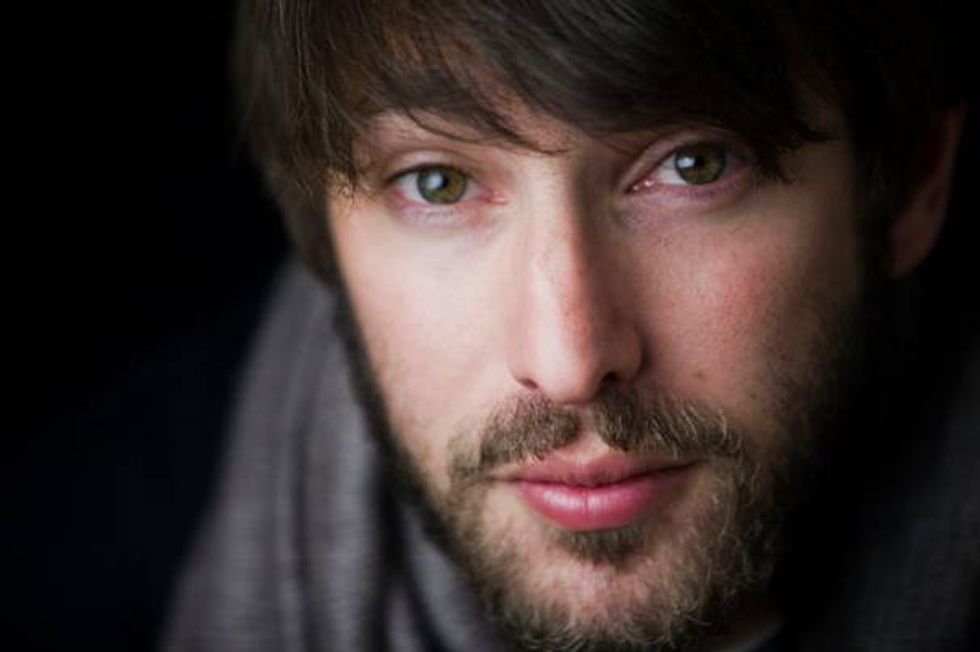 For her semi-regular PAPERMAG column, WWWe Could Be Next, digital expert Amanda Mooney introduces us her favorite fresh creative talents she's found somewhere between Flickr, Twitter, Facebook and Tumblr.


"Vermont. Born. Israel. Confused. England. Lost. New Orleans. Miseducated. Las Vegas. Misguided." So begins
Jonah Kessel
's life and work as a photographer, filmmaker, writer and graphic designer. His journey has taken him on a head-spinning adventure, from growing up in Burlington, to discovering his passion for photography during months of aimless driving with an "almost stranger," from East Timor, to Fiji, to being chased by a monkey near Borneo, to working with the State Department as a photography and design consultant, to a job as creative director for
China Daily
in Beijing and now, on an entirely new adventure running his own company. I "met" Jonah on Twitter, before my own journey took me to China. In the course of a few emails, tweets at odd hours and eventually a meet up in Shanghai, I tried to learn more about his journey and work. In the end, my attempt to figure out Jonah's path and the scope of his work reminded me of Anthony Bourdain's opening lines in his
No Reservations
profile of Shanghai: "Saying 'I've been to China' is like saying 'I've been to planet Earth.' It means that maybe you've seen a little, a nibble, a slice off the edge." Saying what follows in this post captures the full summary of Jonah's story and work would be equally as misguided. I hope, at best, it gives you a good enough taste to compel you to follow his journey, his photographs, his films, his writing for yourself.
 Your basic bio on your site is more interesting than some of the best travelogues. Tell us about your journey from Burlington to Beijing and from your first camera to your first job as a designer in China. How did you get your start as a photographer and designer and how did you end up in China?
The path from Burlington to Beijing has been a whirlwind of trip and has definitely landed me in some less than normal places. I would sort the past 12 years of my life into two categories: learning that I wanted to travel and photograph, and photographing.  
At age 18, I left Vermont for New Orleans and "attended" Tulane University. This only lasted 1.5-years, as I was "attending" and not actually attending. Following the (fun but not productive) stint in New Orleans I didn't really know what to do and like so many directionless 20-year-olds, at some point I got into a car with an almost stranger who would turn out to be one of my best friends. We drove around the country relatively aimlessly for many months, stopping here and there, camping, hiking and thinking. Directly before I left on this trip, I got a Canon Digital Elf. My friend Aaron who was with me was a photo hobbyist and while we traveled, I watched him take pictures.  For the first time in my life I had a camera (be it almost a toy camera) in my hand all the time.  
I do believe a natural extension of traveling is to photograph. This is pretty clear these days. Just watch your friends' Facebook walls when they come back from vacationing anywhere. Well, that's how I started. However, after a couple years of shooting with a point and shoot the thought crossed my mind: How could I continue to travel and take photographs ... and get paid? The first step was going back to school. 
In the next four years I ended up either traveling, photographing or going to school in a large array of places from East Timor to Fiji, or from Los Angeles to Vermont. I think I applied to hundreds of photography jobs around the country for an entire summer. While I was really only looking for photo jobs, somehow a little mountain paper called the
Tahoe Daily Tribune
got my resume and called me looking for a "presentation editor." I was pretty much completely broke and was pretty fed up with the job market (this is circa 2006). The word 'presentation' shared the same first letter as 'photography' and so I said, well -- maybe it's a start? Three years later I was running the photography and design department of this newspaper working as the Visual Director. 
After playing 'big fish in small pond' for a couple years, my feet got itchy and I started looking for jobs far, far away. 
Low and behold I found one in Algeria as a photography and design consultant working for the Journalism Development Group which was a U.S. State Department funded organization that "embedded" western journalists into North Africa to help raise journalism levels and hopefully instill democracy into the place. While I was working in Algeria, a recruiter from
China Daily
found me. A wee bit later, I'm in San Francisco in a fancy hotel interviewing for a paper I knew nothing about, with a man whose name I couldn't pronounce. I ended up convincing this man that
China Daily
should hire me as their creative director.  
And just like that -- I'm on a plane to China with a driver waiting to pick me up and bring me to apartment located on the government-controlled, state media compound of
China Daily
. That was nearly two years ago now. And the last two years has probably been the most interesting time. I redesigned the 300,000 circ. paper about 6 months after I got there and about a year after that ended up getting outsourced to the actual Communist Party of China to help develop its first ever English website. 
 What was it like to start out as a foreign creative director in China?
The differences between a Western designer and Chinese designer (at least in the newspaper world) are fairly massive. While I believe in rules and logic when it comes to design, I also believe in breaking those rules and allowing for creative design. You don't necessarily get this so much with Chinese designers. 
For decades in China, people were told what to think and how to think it. Today, the level of freedom and artistic expression is booming. However, in print media design I think the industry is pretty far back from reaching a level of creative sophistication. Chinese designers are usually taught how to do things, and then they don't stray too far from those guidelines. I'm not sure if this is an after effect of the communist system, but you can't really compare the East in the West in the design world, in terms of creativeness. I think it's very hard to tell someone to be "more creative," in general -- especially in place where people were once raised to not ask questions and not to be creative. 
What's the best and worst advice you've received from a colleague or peer in the US?
If it weren't for the advice of many wise people, I would never be where I am now. Thinking of one single piece is pretty tough. My advice on advice --listen to as many other people's advice as possible. But the worst advice: "Why would people care?" 
What's the best and worst advice you've received from a colleague or peer in China?
Best advice: "The mountains are high, the emperor is far -- so you can do whatever you want."
Worst advice: "You can't do that." 
Recently, I interviewed NeochaEDGE co-founder Adam Schokora about the creative scene in China. In our interview, he said that the web is not changing or fueling the creative scene in China. Rather, he described, "The web, in many ways, is the local creative scene in China." Have you found this to be true as well? From your perspective, what is the relationship between the web and the creative scene in China?
I think that's a smart statement. The online atmosphere in China is certainly booming. People are plugged in -- both creative types and not. The microblogging community and blogging community are raging out of control. You have more Web users in China than people in the United States. Or, you have twice as many mobile phone users in China as people in the United States. Soon all of those people will have Web access too. So it's growing quickly. 
The Web is an outlet to be creative, to offer an expression or opinion without great fear. This opens up doors to people who in "real life" wouldn't dream of commenting on someone's work. 
You have now moved from creative director of China Daily to starting your own company. Tell us more about the new company and some of the projects you're working on at the moment?
While over the past six to seven years I've been doing a wide array of visual communications, now, as a freelancer, I'm really focused on photography and video production. Right now,
JonahKessel.com
is the basic venue in which I disseminate my work. I just finished a big project on cultural heritage protection in China. Then immediately, I set off to generate more content. I have two videos coming from India, one from the Philippines, recently headed to Inner Mongolia to start another video project and am still taking small daily photo assignments when I'm around Beijing.  
My work in India focused on the reality of Western concepts of fair trade. I spent a month following an American who sells fair trade products, examining the places and people where her products came from and seeing if the reality matched the ethics fair trade preaches. This was an amazing assignment. However, the story is very difficult. The other stories have to do with women's empowerment, life at the amazing rice terraces of Northern Luzon and desertification in China.  
I think my favorite still project to date has been a photo essay I did alongside print journalist Jeff Munson called "The Will to Live." It documented the life of Tanya Gludau, who miraculously survived a flesh eating bacteria. 
On a travel photography level - every place is special. In the last year I've photographed in a good dozen provinces of China, Tibet, Nepal, Malaysia, the Philippines and India. Every trip brings back images that are unique to those people and those places. 
Describing your recent trip to India, you wrote, "After avoiding it for some time, I've finally washed up in India. I'm not exactly sure why I've been avoiding India. Perhaps because the country is so big, I didn't want to come here unless I had a good deal of time to explore. Perhaps I was scared off from travelers' tales of Delhi belly. Or perhaps, I was scared of being trampled by the 1.1 billion people who call India their home." Tell us about your experience working in and exploring India.
These days, I love traveling with a purpose. I find it much more gratifying to be someplace studying something, rather than just going there to take photos. You end up in tons of places you would never go as a tourist or even travel photographer. The images of India that stick out in my mind are certainly not the ones that you see in tour books or postcards, but the images from the rural areas where India's rapidly booming GDP is apparently not making it. 
It's an amazing place to travel (although amazingly hard on the stomach) but the general state of India's modernization is so far behind my expectation I feel silly even thinking back to a couple months ago when I thought I had an idea. You hear over and over again -- India is rapidly modernizing. India's GDP is rising annually at 9 percent. Statement's like this would make you think, well, things must be getting better there. And while they are clearly getting better for a few, for an enormous amount of people in India they are living in abject poverty without basic life amenities. The economic dichotomy of India tops anything I've ever seen. 
What area of the world or subject are you most excited to explore next in your work?
This is a super tough question. Is everywhere an answer? 
Right now the three enormous areas I want to explore most are central Asia, Saharan Africa and South America. But it's hard to leave Asia right now. I've got a lot going on here and there's an endless amount of stories floating around in my head that I would love to materialize into videos before heading off someplace far away where I would want to base myself next and work from there. 
But - to give you some destinations ... on the top of my list right now is Reunion/Seychelles/Madagascar, Antarctica, Myanmar, Bhutan, Ladak and perhaps the entire South American continent. 
As a topics I'm most interested in cultural heritage areas (both labeled that and those not) and environmental issues.  
In your own backyard in Beijing, imagine you have an entire day free to explore and photograph the city... Where would you go? What would you capture?
Without a doubt the best thing to do in Beijing is to walk around the
hutongs
, the old alleys within the second ring of Beijing where the communal atmosphere of the past still lives. This area is definitely the most cultural unique and real area of Beijing. Seeing the Forbidden City or the Summer Palace is fine, but you won't see China or Beijing. Hutong in Chinese literally means "alley" however, for Beijingers its much more than an alley. It's a way of life. These alleys are kind of like communal living rooms. The alley is used for dining, playing games, exercising and socializing. Photographically people are very friendly and colorful. So - just wonder and get lost. There are no right or wrong directions.  
Finally, leave us with some links. Who are a few of the designers, photographers, writers or filmmakers that you're particularly excited about at the moment?
On the commercial side
Vincent Laforette
or
Phillip Bloom
are guys whose work I always watch. On the news side, I love watching the cinematic quality
Dan Chung
or
Ed Kashi
are bringing to mixed media news production on the run. At the same time, watching the more traditional photojournalism work of
James Nachtwey
or
Todd Heisler
helps put what I am trying to do into perspective. 
But in general, I think it's helpful to view work out of your field and see what you can take back to your field. Working in a more documentary-based style of video right now, every Hollywood, Bollywood or independent movie I watch, I can't help but dissect how they are filming it. When I look at fine art stills or photojournalistic essays, I think - how can these frames be transported into the video platform? Even reading an article and trying to dissect storytelling format is extremely helpful.