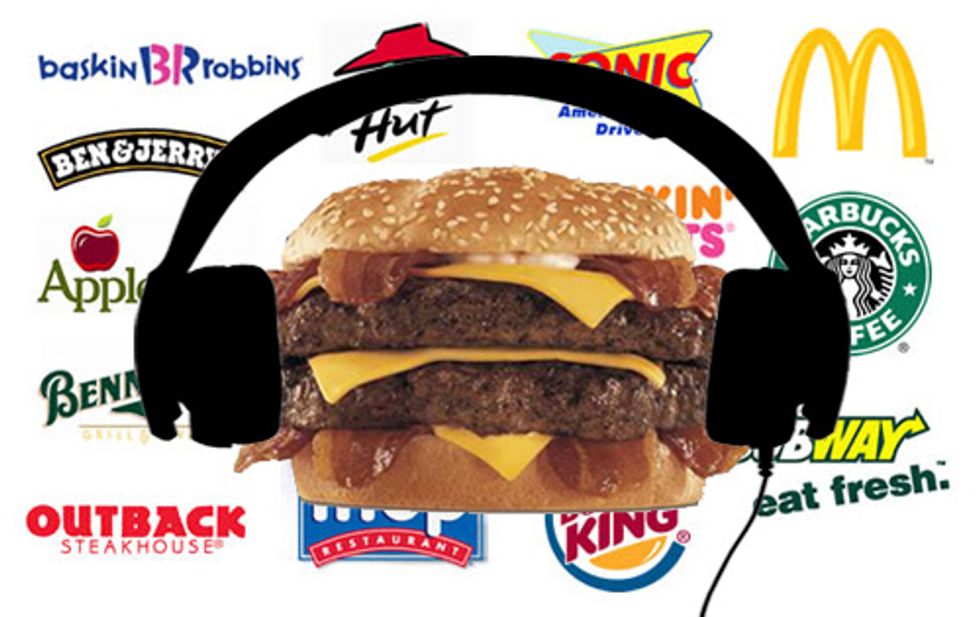 In honor of Das Racist's appearance at the Bell House tonight and the duo's wonderful semi-rap, "Combination Pizza Hut & Taco Bell," we at PAPERMAG have assembled a list of our favorite songs about fast food. This list is anything but comprehensive, so feel free to mention overlooked tunes in the comments section.
Robert Johnson, "They're Red Hot" (recorded 1936)

Blues moaner turns up the tempo and the heat for tamale-fueled innuendo.
Sample lyric: "Hot tamales and they're red hot/Yes, she got 'em for sale!"
Ramones, "Oh Oh I Love Her So," Leave Home (1977) and "I'm Against It," Road to Ruin (1978)


Forest Hills punks find love at the Burger King. Two years later, things must not have worked out, as the chain join Joey's list of unexplained gripes.
Sample lyrics: "I met her at the Burger King/We fell in love by the soda machine."
"I don't like Burger King/I don't like anything!"
Devo, "Too Much Paranoias," Q: Are We Not Men? A: We Are Devo! (1978)

30 years before McDonald's stole their hats, the Akron quintet stole the burger franchise's tag line.
Sample lyric: "Think I got a Big Mac attack./Hold the pickles hold the lettuce/Special orders don't upset us/All we ask is that you let us/Serve it your way."
Descendents, "Weinerschnitzel," The Fat EP (1981)

SoCal slobs prefer their weiners sperm-free.
Gang of Four, "Cheeseburger," Solid Gold (1981)
Listen
Leeds University's most famous Marxists take aim at consumerism in what must be the only instance of Britons critiquing another nation's cuisine.
Sample lyric: "Sometimes I think money is my only goal/It makes me sad./Work on up another four miles/Coffee, fries, and a cheeseburger."
Beastie Boys, "The New Style," License to Ill (1987)

Eminem, "My Name Is," The Slim Shady LP (1999)

There must be something about white rappers and White Castle. (Honorable Mention to the Dictators, who posed at the chain restaurant on their first album's back cover.)
Sample lyrics: "I chill at White Castle 'cause it's the best/But I fly at Fatburger when I'm way out west!"
"This guy at White Castle asked for my autograph/ So I signed it, 'Dear Dave, Thanks for the support, asshole!'"
De La Soul, "Bitties in the BK Lounge," De La Soul Is Dead (1991)
Listen:

Hippie-hoppers follow the Ramones to burger love, coining Dane Cook's best joke in the process.
Sample lyric: "I can tell/She's a BK mademoiselle."
Wesley Willis, "Rock N Roll Mcdonalds," Greatest Hits (1995)

Schizophrenic Chicago busker provides the future soundtrack forSupersize Me.
Turbonegro, "The Age of Pamparius," Apocalypse Dudes (1998)

Swedish glam-punks promote their pizzeria with fast food's heaviest jingle.
Sample lyric: "So you think you've had a pepperoni?/Well, not like this!"