"Anything that's athletic and outside of the norm is what I enjoy [shooting]," New York-based photographer Andréanna Seymore says. "Anything outside of what we're supposed to accept as what normal sports are -- like basketball, or football, or hockey…what we're supposed to pay to see. Anything that's outside of that, I find to be interesting." To that end, Seymore recently shot a photo series called "Women of the Gridiron," that focuses on female athletes in both the (non-traditionally) traditional women's football league as well as the 'Lingerie League.' Dedication to sports -- particularly those that fall outside the conventional realm -- is a topic that has personal resonance for Seymore who, in addition to shooting for publications like the New York Times Magazine, Marie Claire and Newsweek and teaching photography at the New York Film Academy, plays recreational roller derby. We sat down with Seymore to hear more about how "Women of the Gridiron" came to be, her roller derby career and why she shoots 'alternative sports.'
How did you come up with the idea of photographing female gridiron football players, and how did you get in contact with the women in your collection?
I was assigned from Bloomberg Business Week to go and photograph at the time what was called the Lingerie Football League, and so they flew me to Chicago and I did a story for them there, and I knew for me it was going to be of interest. When I approached the Independent Women's Football League, which is the traditional gridiron, I realized that there was a lot of conflict [between] the women who play traditional gridiron football and women who play in their lingerie. When I was there, my assistant was like, "we should photograph [lingerie football]," and I could see [the conflict] from their faces. So from that point I thought "oh, this is actually sort of interesting, maybe this is an interesting idea"...so I wanted to photograph both. A lot of the women I photographed recently at tryouts for the lingerie football league, they play football, but there's no real place for women to play football, so they just kind of had to find the place that fits them.
How do you think that photographing lingerie football players next to traditional gridiron football players particularly enhanced your project?
Well, you know, especially with the Lingerie Football League, they pick a very particular type of athlete. You have to look really good with basically no clothes on, and you have to be good at football…those are top athletes who kind of have to have a checklist of their skill, and their looks, and their drive, and their personality.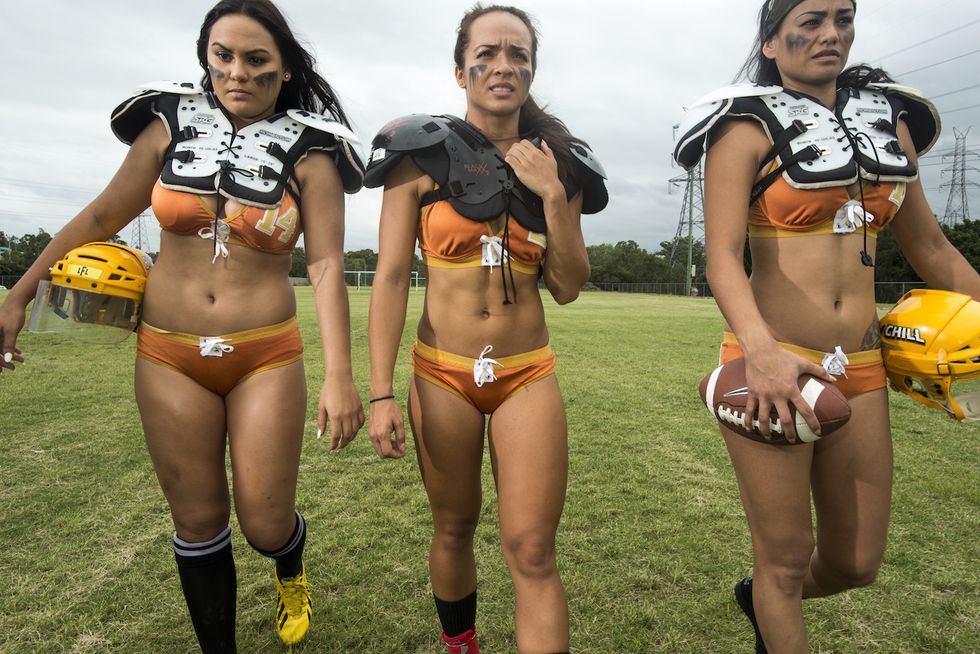 Players in the Lingerie Football League. Photo by Andréanna Seymore

Did you learn about the athletic careers and the personal lives of the female football players you photographed, and were there any stories that stood out to you, or inspired you to take certain specific photos?
I met [a woman] at roller derby who played roller derby and football at the same time, which I thought was really insane…she's a teacher, and I'm sure that can be really stressful, so it's nice for her to come and go to a practice and just hit people. And there's also, with all of the sports that I photograph, there is a sense of community and a sense of belonging to something, which I think a lot of the women like.
When I was at the tryouts, the people who were trying out, there's a lot of women who came from all over the place. One woman that I photographed traveled 3 hours to practice every week, and she doesn't even live in the same state…there's no real teams that you [can] join in your local communities.
What are you trying to get viewers of the project to think about and take away from it?
I think that there's an appearance that it seems easy, but a lot of these women have a lot going on. Some of them have families, some of them are married, they have full time jobs. For sports, especially for alternative sports, I don't think it's as mainstream or as accepted as I think it should be. When I first photographed the women playing football with their uniform on, which is traditional gridiron, there were two FDNY EMTs standing there. And they thought for a good 45 minutes that they were watching men play football. And then as soon as [I] said "women," they kind of devalued what they were doing.
How is it different to photograph a sport that you play versus one that you don't really play? Did you prefer photographing roller derby, since it's a sport that you've played for many years?
I didn't play roller derby when I started photographing it. So I started photographing the project, and at the time, you would think that, because I'm a woman, that I would have easy access to photograph these women's leagues. But no. I could not even infiltrate this world, especially in New York. I also wanted to get access to locker rooms and these certain moments. [Playing] enabled me to get the access to it, but then I also became an athlete in it.
Then I was able to still skate, but pick up the camera and take the pictures I needed to take for the project. I thought I was going to photograph this for maybe two weeks. If you told me that when I started this that I was going to be photographing this for five years, it'll take me a year to do the book, I would have said [you] were crazy.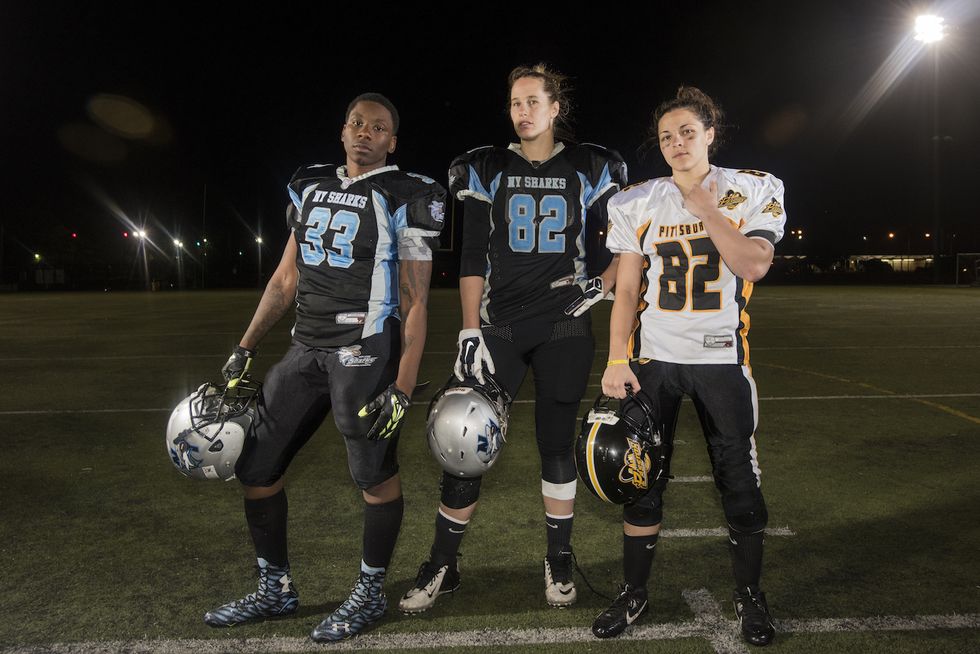 Players from the Women's Football Alliance. Photo by Andréanna Seymore

In "Women of the Gridiron" you observed that both versions of women's football are highly competitive and athletic. Have you noticed anything about the different ways that each league challenges gender stereotypes?
With the gridiron football, I saw the women with their gear on. For me, I look at that as an athlete. I don't look at it as a male, or a female, I just see 'athlete'…there's something kind of nice about not knowing, and that's what I really like about the women who play traditional gridiron. With the Legends (lingerie) football, the first thing I noticed was that these women are hot. And you're engaged kind of by eye candy…then you're like "holy crap, that woman can catch a football. If I ever go out there, she'll knock me down."
Even for me, when I had to identify the project, "Women of the Gridiron," I'm also doing it. So having this gender identity for some reason in our society and our culture makes a difference. But I don't really know what that difference is.
To see more photos from the series along with more of Andréanna's work, go HERE

Splash photo by Andréanna Seymore

You May Also Like