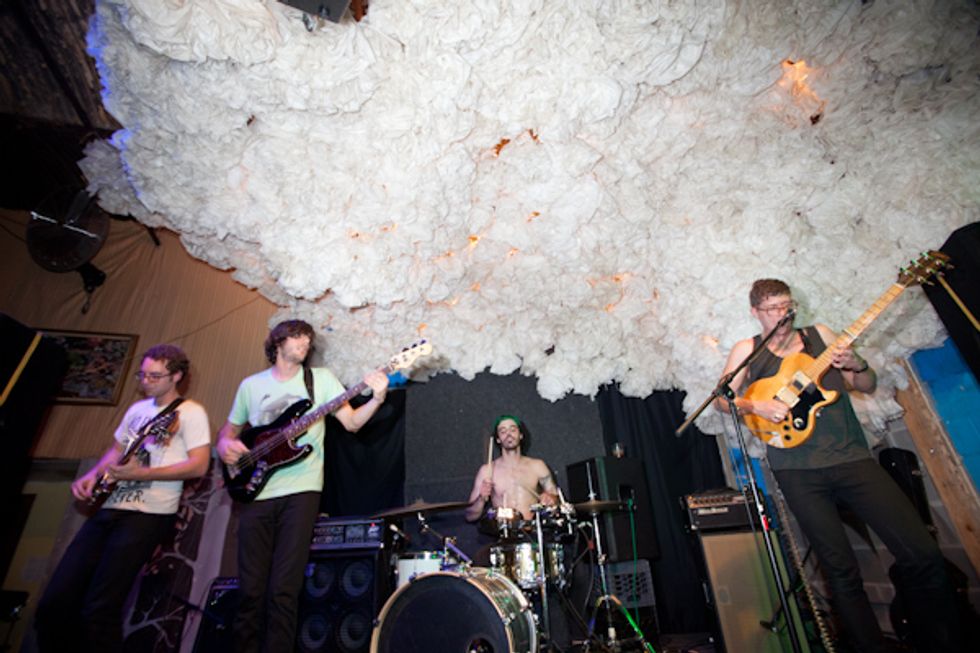 Gauntlet Hair performs at Glasslands in 2011.
Photo by Rebecca Smeyne
.
On New Year's Eve while woozy couples in cheap, plastic top hats kiss at midnight, the last vestige of Williamsburg's DIY music scene, Glasslands, will go out with a clatter and bang and shut its doors. The blocks on South Kent Street that it shared with other, also-closed DIY institutions -- 285 Kent and Death By Audio -- were
snatched up by VICE
and will soon be home to the media behemoth's new headquarters.
The irony is hard to miss. VICE is, in effect, cannibalizing the very culture it purports (or used to purport) to represent. "[The closing of] Death By Audio and Glasslands is a reflection of culture eating itself, gentrification eating itself," Ric Leichtung, former booker of 285 Kent says. "That's a hard pill to swallow as a young artistic person. It's definitely depressing to say the least."
Though we've lost three important cultural venues -- two in the last month and a half -- their closings don't come as much of a surprise.. Oliver Ackermann, guitarist/singer for A Place to Bury Strangers and owner of the
Death By Audio
effects pedal company that spawned the venue and shared the space, offers a matter-of-fact explanation for DBA's closure. "Our lease was coming to an end and we were in a good deal with the landlord," he says. "He let us come back throughout the years and we were under the impression that it was going to end. They got a good offer from VICE and it was kind of inevitable. I'm surprised we lasted this long." Death By Audio closed its doors for good in November, after
a month-long farewell extravaganza
.
Popgun Presents, the booking and promotion group in charge of Glasslands, respectfully declined to comment until after the venue's closing tomorrow night. Over the last several weeks, they've put on a series of #lastlands shows, as they've dubbed the final days of the venue, which have included performances by some of the countless bands that have graced the venue's stage, How To Dress Well, TR/ST, Delicate Steve, Beach Fossils, Com Truise and Waxahatchee.
Though it's easy to write overly-sentimental obituaries for these venues -- and for Williamsburg itself -- that's not what we're interested in here. New York is full of people who like to romanticize earlier eras when "creatives had it better" and there will undoubtedly be plenty of folks who will do that to this neighborhood. But that's missing the point. While it's  disappointing that these venues are closing, it doesn't necessarily seem indicative of a larger cultural drain that Brooklyn's young, creative community has fallen victim to. Where the DIY scene is concerned, it's never been about the actual spaces so much as it has been about the community of musicians, artists and creative minds that gather and produce in them. As Leichtung, who also runs the music site
Ad Hoc
and books shows for Webster Hall, Baby's All Right, and more says, "At the end of the day, DIY is not about doing some crazy shit in a warehouse illegally, it's about community building."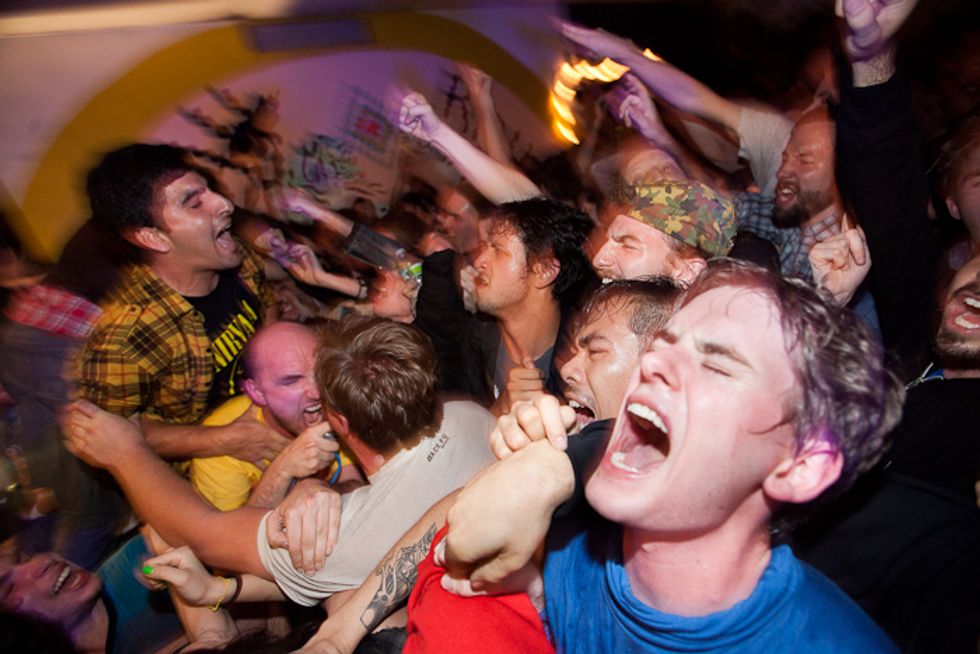 The crowd at a Double Dagger and AIDS Wolf show at Death by Audio in 2011. Photo by Rebecca Smeyne.
And the artists leaving Williamsburg aren't disappearing, of course, they've just been decamping to neighborhoods like Ridgewood, Bushwick, Bed-Stuy, Crown Heights or Sunset Park where they can find cheaper rents. Similarly, there's been a proliferation of new venues on the Williamsburg periphery of East Williamsburg, Bushwick, and Ridgewood -- Silent Barn, Shea Stadium, Trans Pecos, and Palisades -- who all operate with a strong DIY ethos in the vein of Death by Audio, Glasslands and 285 Kent.
That's not to say that these newer venues are carbon copies of their predecessors. The main difference between a handful of these venues and those closing in Williamsburg is they're run "
above ground
," with promoters making sure all of their licenses are in order so that they won't get slammed with any
noise violations
or
Cabaret License-related
infractions. Longtime DIY promoter Todd P recently went above ground, opening Trans Pecos in Ridgewood as a self-proclaimed avant music venue, and others have been following suit. "After a while it just gets hard to pull off. As you can see with Todd P's case, the longer you do it, the higher profile you get, the harder it is to do things [underground]," Leichtung tells us. "I've been doing shows for eight or nine years now and after a certain point, you're like, 'I can't do it DIY.'"  
Leichtung also offers up Palisades, on the border of Bushwick and Bed-Stuy, as another torchbearer for DBA and Glasslands. "I feel like [Palisades is] really a reflection of things to come in that they are a fully-legal venue but operate with the ethos of a DIY space, with the sensibilities that would prioritize community over financial gain. That kind of attitude is really absent right now in a lot of venues around the city." 
And then there's the Market Hotel. Rumors of the reopening of this storied show space and artist residence, also on the border of Bushwick and Bed-Stuy, have bounced around the local music community for the better part of the year. A long-time resident and event organizer for the currently shuttered space, Leichtung confirms plans to reopen. "In the past year or two we all had to move out of our studios [in the Market Hotel] so that the construction could happen to bring the building up to code. It's very, very difficult to bring a building that's more than a hundred years old up to code and it's very costly... It's been a slow process but I'm confident that hopefully in 2015, Market Hotel will re-launch as a fully legal venue."
Meanwhile, the pedal-making branch of Death by Audio is currently looking at locations south of Williamsburg in Clinton Hill. DBA the venue, on the other hand, has a hazier future. Edan Wilber, the affable head honcho of the DBA show space explained, "It's all up in the air. It's all kind of sudden so we're looking. We can't say anything concrete yet unfortunately, but we definitely want to [find a new space]."
So is this the death knell of independent music and the DIY scene in New York City? Definitely not. But if there is anything to be concerned about, it's that the people who make up the city's music community are moving further away from each other, making creative cross-pollination less common. Seva Granik, producer of the acclaimed roving DIY party
SHADE
observes, "At this point, my take on what you'd be seeing now, is things are so far spread out that it will be much more difficult to forge communities that would be capable of producing culture at large."
But whatever the effects of dispersion might be, Leichtung is confident that the demand for these types of cultural venues in New York City is still very much alive and well. "It sucks that these venues are closing but in the end it doesn't really matter," he says. "There's always going to be people who want to do cool shit."