There are a million excuses not to try. Whether it's headlining a festival, tipping off in the NBA playoffs or landing a solo opening in a top gallery, success is there for those who have the courage to seek it—to ask, "why not?" It's a philosophy that five-time NBA All-Star Russell Westbrook credits his success to, and a belief he hopes to pass on to anyone hoping to do big things — on or off the court.
"Whenever there are times when people doubt you, you can think to yourself, "Why not?" Westbrook explains. "It gives you motivation and a sense of confidence. It's a mindset that always keeps you on your toes." And it's a mindset that Westbrook believes can work for anyone who's determined to achieve their goals, especially when there are obstacles in the way.
If the standard pathway to success in the music world still exists, up and coming artists Unlocking the Truth and Lady Leshurr couldn't be less interested in following it. They've both walked away from major record deals to maintain authenticity over their art and image. Each act is uniquely defining their own terms to the game and playing by their own rules.
Teenage Brooklyn metal trio Unlocking the Truth took their music directly to the people, playing a string of shows on NYC sidewalks that would go viral almost overnight. Meanwhile, Birmingham grime rapper Lady Leshurr took to the internet to school us in how to speak fluent contemporary slang with her "Queen's Speech" series. You've seen both acts blow up on the internet; now find out how they're forging the next chapter of their young careers.
Lady Leshurr: Straight Outta Birmingham
Whether she's Snapchatting with fans or stepping into the booth at the studio, Melesha O'Garro aka Lady Leshurr, is fully in control. With the presence and charisma of a stage actress and the rapid-fire bars of a neighborhood freestyle champ, Leshurr is a presence wherever she goes. On this unseasonably warm spring day in New York, the MC is flexing in Moschino, gold shorts and a fresh pair of crisp white Jordan Westbrook 0 lows. Her energy is magnetic and her confidence is palpable. After a string of viral hits, Leshurr is preparing to drop her first full-length studio record, but success didn't come easy.
"I've decided to do it my own way," Leshurr says. "A lot of people try to get to you, but I have integrity. I follow my own rules." In 2013, Leshurr was offered a lucrative record deal. While many hungry MCs would have jumped at the contract, Leshurr didn't bite. From the jump, the execs were looking to pit her against other female rappers, building her career on an imagined rivalry. She happily turned them down and focused on building her career in her own image.
"You're much better to get attention staying true to yourself instead of trying to chase the money and the label," Leshurr adds. "They're things that you shouldn't be thinking about when you're trying to find yourself as an artist." In many regards, Leshurr found her lane by staying close to her fans and keeping an ear to the streets. Part of the success of "Queen's Speech"—Leshurr's episodic mixtape project on YouTube—is its intimate relatability for the Snapchat and internet fluent generation. While some rappers rhyme about Bugatti's and Rolexes, Leshurr is pulling bars inspired by what's trending on Twitter, keeping up with the internet's frantic conversation pace in near real time.
"Nine times out of ten, all of my supporters can relate to everything I'm saying," Leshurr explains. "They've either witnessed what I've said or they've gone through it themselves. It's a connection really, it's something they can understand and they can sing along with." And the conversation goes both ways. Leshurr credits her frequent interaction with fans for keeping her sane as her fame rises and keeping the music real.
Known for her comedian-like tendencies in front of the camera, Leshurr's new record delves into more personal territory. The artist describes this as the story of her life, her progression through the ups and downs of rising in Birmingham's grime world as well as family experiences. "My mother keeps me motivated. She's my queen," Leshurr says with pride.
The MC counts early experiences with reggae and drum and bass music at home as key influences. She never doubted her own desire to make it as a performer and the naysayers only fired her up even more.
"It's not something I can just put to the side and get a 9-to-5," she says, before a pause. "Because when I wake up the only thing I think about is doing music."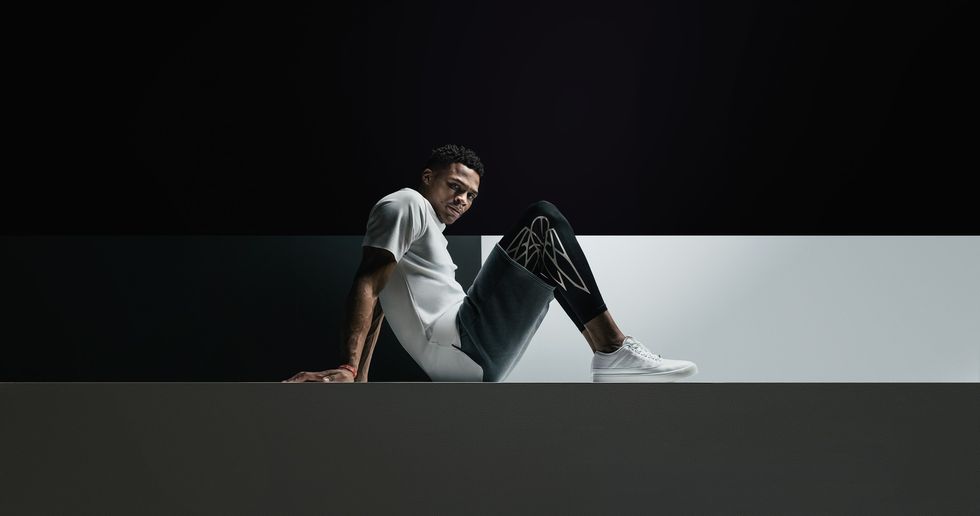 Russell Westbrook wears the new Jordan Westbrook 0 lows.
Photo by Timothy Saccenti


Unlocking the Truth: From the Sidewalk to Center Stage
It's no secret that many of today's top musical acts are focus group-informed concoctions brewed up by record executives. For the few bands that form the old fashioned way, there's still major pressure to adopt a new image once the deal is signed. No one knows this better than Brooklyn-based teenage metal band Unlocking the Truth. After inking a $1.8 million deal with Sony, the band grew weary of the label's attempts to direct their image. Several lengthy meetings later, the band was free. If they were going to make music (and they were always going to make music) they'd be doing it on their own terms.
Three kids playing heavy metal on the sidewalk is bound to draw a crowd, but UTT managed to turn these performances into a professional career. Based on talent and sound alone, the band was worthy of the attention, but these weren't the kids stereotypically associated with metal. They were black, from Brooklyn, and hadn't finished middle school.
"At the time, I wasn't one of those kids who was just into hip-hop," explains singer and guitarist Malcolm Brickhouse. He's calm and economical with his words, as if he's confident of his talent but unwilling to entertain developing an ego. "I just listened to music that was good." Brickhouse got into metal through anime. His favorite show at the time, Beyblades, featured intense metal tracks in the background. Drummer Jarad Dawkins (who started playing at just two-years-old) and Brickhouse shared a taste in music. After playing together, they decided a bassist was necessary to complete their sound. After recruiting their classmate Alec Atkins (and teaching him bass from scratch), the band was born.
Inspired by biking and skateboarding through the streets of New York, the band carries a confidence beyond their years. Donning tight, black skinny jeans mixed with leather jackets and street wear; UTT is a walking endorsement of individuality. In the early days, the band says they got some flack in their neighborhood for being different. "We got through it, because we had each other," explains Dawkins. "We're like brothers in a sense, we're the best of friends."
In UTT's new studio debut, Chaos, the band put an emphasis on incorporating positive messages in their music. "We want kids listening to our music to know that anything is possible," says Brickhouse. "If somebody is getting down on you, you don't have to listen to them. You can be the person you want to be. You just have to believe in yourself."
UTT wears Jordan Westbrook 0 lows.
Video & Photography: The Life Collective
Hair: Mike Fernandez at Wilhelmina
Makeup: Kim White at Wilhelmina
Styling for Lady Leshurr: Nora Bussolari
Styling for Unlocking the Truth: Damari
Production Lead: Nathalie Ramirez