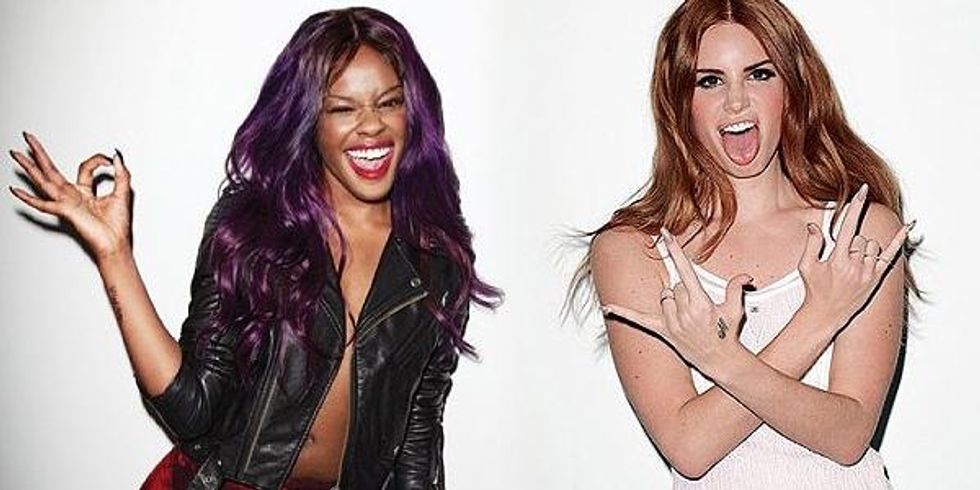 Who would have thought that the reigning chanteuse of torch songs and a spit-fire rapper who's the queen of Twitter beefs would form an alliance? Despite their superficial differences, we can't help but think that the friendship between Lana Del Rey and Azealia Banks is a match made in a glittery, Tumblr-fied heaven. In a new interview with
Galore,
LDR didn't hesitate to express her admiration of Banks. For those who have been following both artists, this doesn't come as a surprise. Since each burst onto the scene in late 2011, Banks and Del Rey have supported one another like Butch Cassidy and the Sundance Kid scoping out the fringes of pop culture. While recent pop culture history has had no shortage of bromances, 2014 has been the year of female celebrity friendships (other notable BFFs include
Taylor + Karlie
,
Cara + Kendall
). And because they don't just look pretty in a picture together but actually praise one another's work, come to each other's defense and, supposedly, bonded over a shared taste in men, Azealia and Lana's relationship might be our favorite (they also get bonus points for nail games on fleek). We take a look at the history of their friendship, below.
January 13, 2012:
Lana Gets Interviewed by MTV, Mentions Azealia Banks
Right before her infamous appearance on
SNL
, Lana Del Rey
discusses
her early beginnings in music, metaphysics (which she studied at Fordham), and the rap scene in Brooklyn. In addition to Azealia Banks, the "Video Games" singer also lists Flatbush Zombies and A$AP Rocky as favorites.
February 19, 2012: Mulberry Fall/Winter 2012 Runway Show
Spotted: Lana Del Rey and a purple-and-pink-haired Azealia Banks sitting on either side of Pixie Geldof at the Claridge Hotel in London for
Fashion Week
.

May 7, 2012: Met Gala 2012
Del Rey and Banks hit the red carpet for the
Metropolitan Museum of Art Gala in New York
. Banks arrives with designer Alexander Wang, while LDR is escorted by Joseph Altuzarra. Although there aren't any pictures of them posing on the carpet together, someone later
uploads
snaps of Del Rey and Banks together inside the event.
May 10, 2012: "Blue Jeans" Remix
Banks teams up with Del Rey for the
Smims & Belle remix of "Blue Jeans."
The end result is a thumping, aggressive, electronic-heavy track that blends Del Rey's dreamy vocals with Banks' sharp delivery.
August 11, 2012: Banks Reveals Dream Collaborations, Including Lady Gaga, Grimes and Lana Del Rey
On her Tumblr account, Banks
replies to a fan
: "I've done a remix for Lana, but yeah i'd def love to collab with her on something original...I think all of these girls are great..grimes is really cool, i love her hairstyles. :)"
September 4, 2012: GQ Men of the Year Awards
Banks posts
a photo
with Del Rey on her personal Instagram from the 2012
GQ
Men of the Year Awards at the Royal Opera House in London. The two fandoms collectively freak out at the possibility of a Banks/Del Rey collab.
December 4-5, 2013: Lana Del Rey Premieres Short Film Project, Banks Makes an Appearance
Del Rey debuts her short film project, which features songs from the
Paradise
LP. The project,
Tropico
, explores Del Rey's usual ruminations on love, death, greed, happiness, and the meaning of life. Del Rey stars as Eve and model Shaun Ross plays Adam. On her Instagram, Banks uploads a photo
with Del Rey and Ross
, in addition to a
Tropico
poster signed by Del Rey, complete with a heart. Banks
captions
the latter photo #mybish. 
June 22, 2014: Azealia Banks Loves Ultraviolence
Banks
voices her love
of Del Rey's much-anticipated sophomore LP,
Ultraviolence
. She also confesses that she's a Kesha fan.
November 7, 2014: Lana Declares Her Love for Banks
No one thought it would happen, but Banks pulls a Beyoncé and unexpectedly drops her official debut,
Broke With Expensive Taste
. It's met with critical acclaim. Del Rey isn't shy about showing her support and
tweets
multiple times about the album's release, including, "love my one and only girl xxx."
November 11, 2014: Eminem Threatens to Punch Lana Del Rey in the Face, Azealia Comes to the Rescue
Eminem releases a video, "SHADYXV -- THE CXVPHER," to promote his upcoming compilation album. At one point, Eminem raps, "Bitch I'll punch Lana Del Rey right in the face twice, like Ray Rice in broad daylight in the plain sight of the elevator surveillance / 'Til her head is banging on the railing, then celebrate with the Ravens." Although Del Rey, who previously stated she was a big fan of Slim Shady, doesn't publicly respond, Banks
tweets
, "tell [Eminem] to go back to his trailer park and eat his microwave hotpocket dinner and suck on his sisters tiddies." Eminem ignores Banks.
November 14, 2014: Azealia Defends Lana, Agai
n
In an
interview with Dazed
, Banks explains her outrage over Eminem's Del Rey diss verse. She says, "Don't you tell Lana Del Rey that you're going to fucking punch in her face! What the fuck is wrong with you, you fucking idiot! What about Lana Del Rey would evoke anger? Like, do you get angry when you listen to Lana Del Rey? Does she make you angry? It's like, you're fortysomething now and you have a daughter whose [sic] like a teenager now."
November 19, 2014: Banks Names Del Rey As Her Only Music Industry Friend
In an interview with
Vogue
reporter Mark Guiducci, Banks speaks about her friendship with Del Rey. She says, "We can talk and have dinner and it's just regular with her...I have one really good music industry friend and her name is Lana Del Rey."
December 1, 2014: Galore Interview
Interviewed by her sister, Chuck Grant, for
Galore
and photographed by her boyfriend, Francesco Carrozzini, Lana discusses upcoming projects, why she left New York, and her unwavering support for Azealia. She says, "I fuck with Azealia Banks because I have the same artistic inclinations as her and the same taste in men." A solid foundation for friendship, indeed. 
December 6, 2014: Banks Instagrams Del Rey's Maxim Cover
Captioned with "Look at my bitchhhhh,"
Banks posts
her copy of the December/January issue of
Maxim
, which features her bestie on the cover.