There is no stylist waiting in the penthouse of The Raleigh Hotel in Miami. There is no rack of designer clothes, no table piled with jewels. Every article of clothing and glittering accessory for this shoot arrives with N.E.R.D frontman, super-producer, style arbiter and newly-minted jewelry designer, Pharrell Williams.
He strolls in just before noon wearing a black T-shirt and red baseball hat from his own line, Billionaire Boys Club, a pair of high-tops that are by A Bathing Ape, and a diamond-encrusted Jacob & Co.-designed keychain that's hooked on the belt loop of the dark, slim-cut Levi's he picked up in Tokyo last week and from which the key to his Ferrari Enzo dangles. It's a look of studied nonchalance that Kanye West might spend an hour calculating, but when Williams says it's just something he threw together, somehow I believe him. And that's the beauty of being Pharrell Williams. Since everything he owns is already imbued with his own stylistic stamp, he can roll out of bed, throw on a pair of jeans, a T-shirt and his most comfortable kicks and, like that, he's ready for his close-up.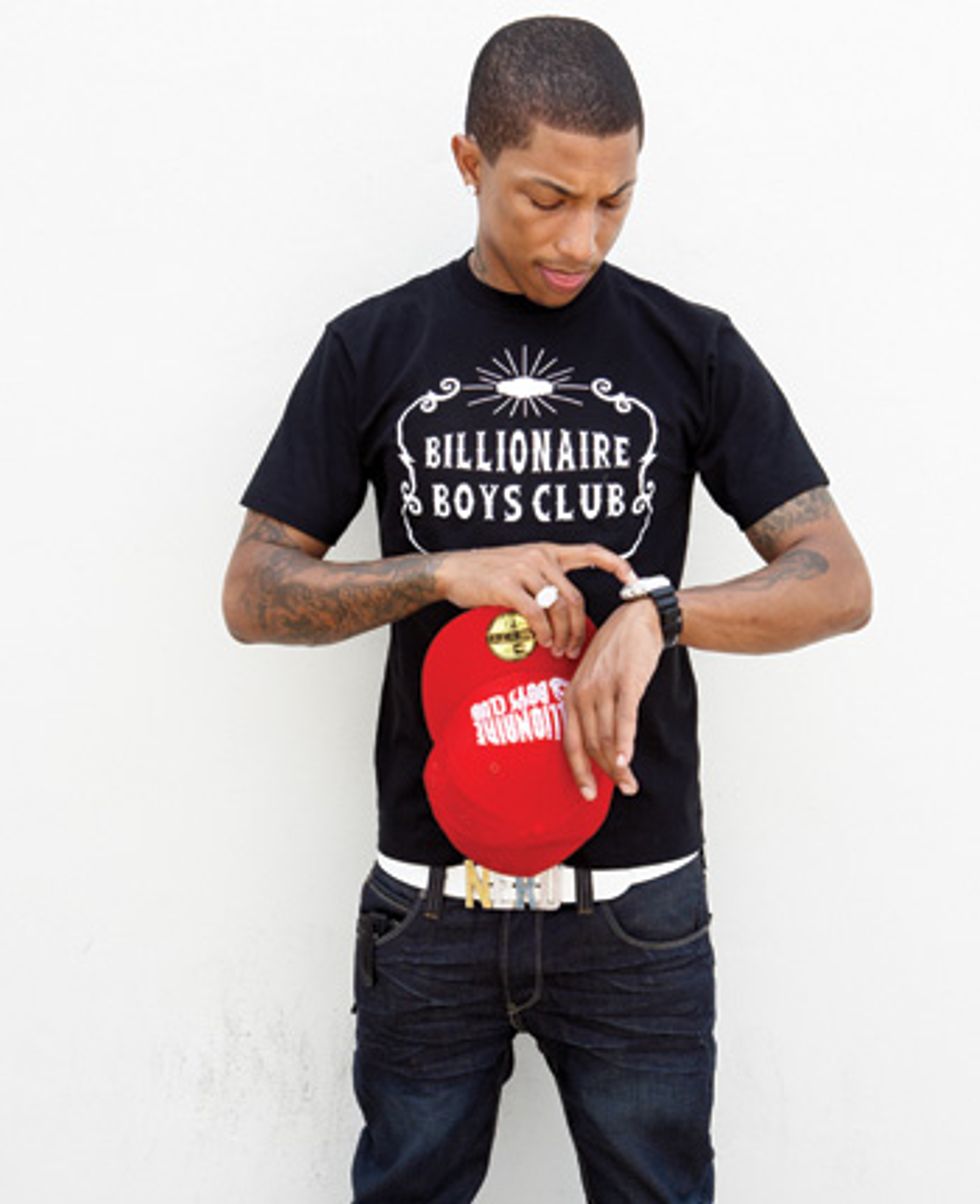 "Style is about who you are, where you're going, what's comfortable," he says with a shrug, stepping out onto the wraparound balcony where the photographer waits. "It's your attitude that makes it hot." He presses the sole of one sneaker against the wall and peeks out at the camera from under the stiff brim of his hat, his 4.5 carat diamond studs and 23 carat Asscher-cut ring, both designed by his close friend and gem mentor Lorraine Schwartz, glinting in the Miami sun. As the camera clicks, he admits that he has never used a personal stylist, which makes sense. He's one of the world's most watched stylemakers -- a setter of trends, not a follower. Still he feels the need to clarify. "I don't want to sound snotty or cocky," he says for the first of several times. "Let's just say I'm blessed to have my own company. Whatever I want, I can have it made."
Can and does. Everything in his possession seems to be a specially customized creative collaboration of some kind. The Goyard wallet stamped with his initials. The iced-out BAPE G-Shock watch (another Jacob co-creation) with the cartoon logo that was featured on the cover of his debut solo album, In My Mind, hidden on the underside. The white leather belt with the oversized N.E.R.D buckle. The bug-eyed shades from the Millionaire line he designed for Louis Vuitton. Even his boxers are BBC. But as conversation pieces go, The Bag has no rival.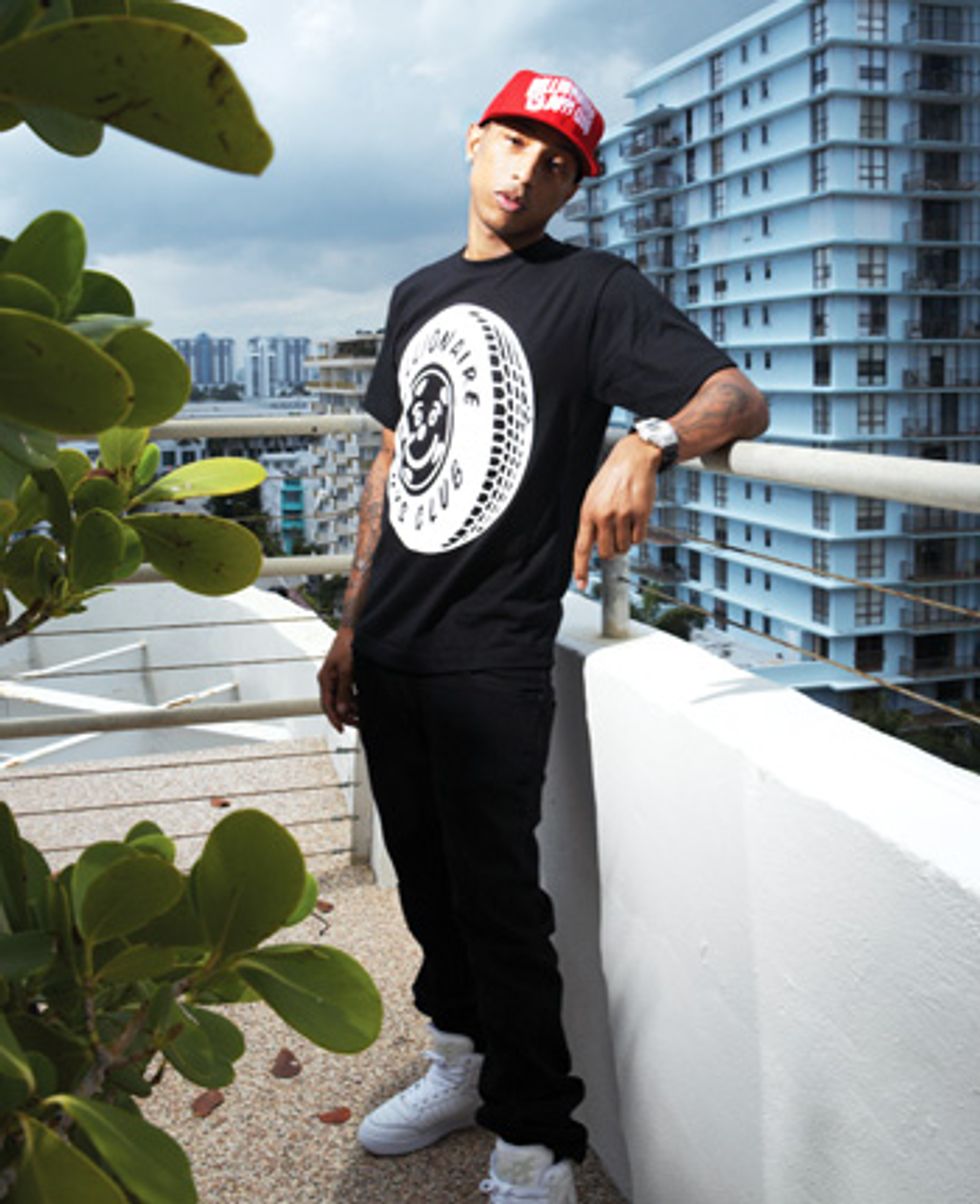 "Don't call it a murse," he says, pulling out his second look from the gargantuan purple croc Hermès tote, which he has accessorized with another Jacob keychain, this one covered in yellow diamonds to match the bag's gold hardware. "It's not a man purse. It's my travel bag." A custom-made Haut a Courroies to be exact, the bag that inspired the smaller, obsessively collected style that was named after British actress Jane Birkin. Williams declines to say how much he paid for it because that would be "tacky," but when pressed, admits that it costs as much as a high-end Mercedes. He has six of them in various colors. And another on order.
His style and taste level have evolved by leaps and bounds since he blew his first big paycheck -- about $15,000 for writing the 1992 Wreckx-n-Effect hit "Rump Shaker" -- at the Polo store. His first piece of jewelry, a necklace purchased from a diamond district dealer named Tito whom he'd heard people like Biggie rapping about, cost about the same. "It was called a handmade chain. White gold. I was a backpacker then, so I'd be riding in my little Porsche with a backpack, handmade chain -- couldn't tell me nothing."
These days, he spends more time on private planes or pimped-out tour buses than cruising in his fleet of luxury vehicles. He's about to hit the road with Kanye West, Lupe Fiasco and Rihanna for a U.S. tour, then N.E.R.D is off to Europe for the summer. While his buddy Kanye plays with the idea of nerd chic, Pharrell Williams lives it. "It's not that I'm necessarily proud of being a nerd," he says, as if he isn't the coolest one around. "It's who I am." After detailing the fashion history of his pricey bag, he seems slightly embarrassed that he has no idea how to spell the name. When I find it listed in my notes and show it to him, he closes his eyes and tries to spell it from memory, grimacing when he gets one letter wrong. His favorite television channel is Discovery, and when he finally recalls the name of the movie that gave him an idea for a song the other night, it's the quintessential hipster nerd flick, Rushmore. He strips down to his boxers to change outfits in the middle of the penthouse, revealing the lanky body of a teenage boy and, although he just celebrated his 35th birthday, responds like one when asked what he likes to see a woman wearing: "Other than nothing?" His only response to the inevitable follow-up question -- dating anyone? -- is to look down at the jeans he's slipping into, which I take as a non-verbal "no comment." If he is single, he's not looking to mingle. His partying days are over. "Who wants to be around loud music and drunk young bitches all night? I ain't with that at all."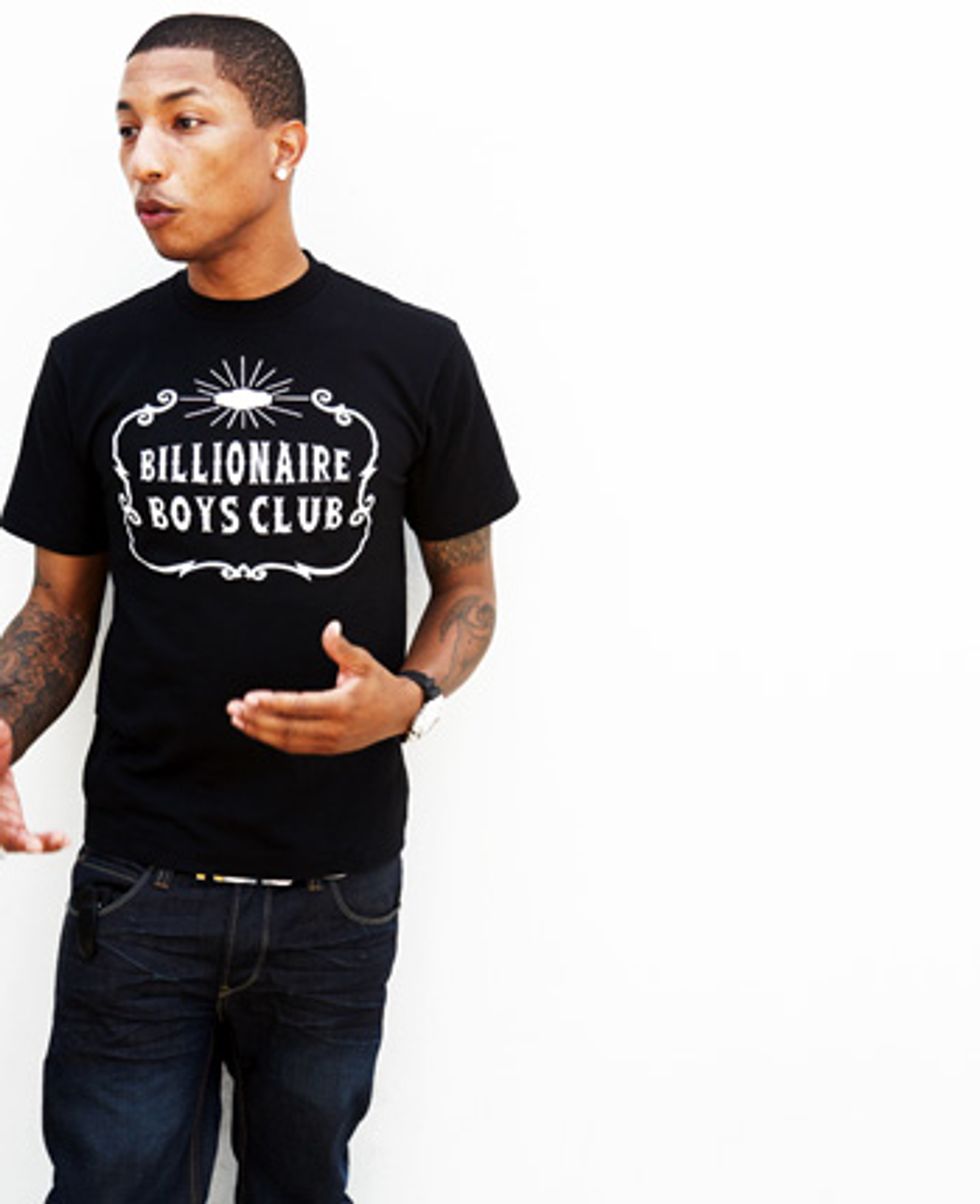 He prefers to be in the studio here in Miami, the city he calls home, and finds his creativity flows best when he's on a plane, in the shower or walks in circles. "That's sort of what my album is based on -- synesthesia," he says of his new N.E.R.D album Seeing Sounds. He's surprised that I don't know what that is, as if this is basic common knowledge, and offers a detailed explanation. "Synesthesia is when your eyes, for example, send electric impulses to your brain, to the vision department, sometimes it sends that same information to the auditory part of your brain. So we see music." Mick, his low-key assistant plays some tracks on his MacBook while Mike, his assistant's assistant, and Ben, his enormous security guy, sit idly by. One song is called "Yeah you," and it was written about the only woman in Williams' life that he is willing to talk about publicly. "I have a full on stalker in Japan," he says. "I didn't do anything and she just started stalking me out of nowhere. I'm telling you, out of her goddamn mind!" He has another persistent fan stateside, and this ditty, with its chorus of "I bet you heard this song, wondering who I'm talking 'bout," probably isn't going to do much to shake them.
In addition to the new album, the multitasking Williams has a newly opened Billionaire Boys Club/Ice Cream store in New York, and a new venture, a jewelry line for Louis Vuitton, hitting the market soon. Standard hustling for the hip-hop world, but how many other rappers would travel to Basel, Switzerland to attend a jewelry trade show and learn about the business of bling? "He's very studious," says Lorraine Schwartz, his personal diamond merchant, who invited him to the Basel show six years ago when he first became a client. "He'd come to our office and look at stones with the cutters. He was really fascinated by the design, the workmanship."
Not only did he take it upon himself to learn about everything from baguettes to bezels, clarity and cuts, Schwartz says he has educated his hip-hop brethren on the subject. "You can actually credit Pharrell with a lot of the changes that happened in the hip-hop world. A lot of those guys were about wearing pave, blingy objects, you know, Jesus heads. They had no idea about quality. It was just about the look. Pharrell doesn't buy something because it's fashionable. Pharrell makes fashion."
Schooled in the basics by Schwartz, the consummate student earned his graduate degree at the Université de Vuitton when his friend Marc Jacobs tapped him to design the jewelry line Blason. "There I learned more about the artistry of different periods and functionality," he says of the collection, inspired by French heraldry, that he designed with Vuitton creative consultant Camille Miceli. "It was a learning experience. And I love that I got paid to learn."
His desire to branch out -- he co-designed with Domeau & Pérès two chairs and a table that will be part of a show at Emmanuel Perrotin's gallery in October -- may have resulted from his close relationship with Nigo, the Japanese founder of A Bathing Ape and his partner in Billionaire Boys Club who got him into collecting art, particularly the work of conceptual artist Kaws, whose three-picture Smurf series hangs in Williams' Miami apartment. "Meeting Nigo was a confirmation that you could turn your imagination into reality if you really, really want to," says Williams. Wasn't he already doing that? "I thought I was until I met him. He does it across the board, the whole gamut -- his house, his stores, his idea of design -- he's a genius."
So is Vogue editor-in-chief Anna Wintour, in Williams' opinion, and when the subject of LeBron James' controversial Vogue cover with Gisele Bündchen comes up, he snaps out of the bored stupor the fourth round of photos has put him in. "I was happy to see that it happened," he says about seeing the first black man on the cover. But what of the racist imagery? "I'm black so I don't get King Kong outta that. I think that says something about the person who sees that. [LeBron] doesn't look like a monkey to me." He wants to be challenged and when he is, a heated debate ensues. "It's an iconic picture for fashion. That's the most important thing," he says. "And I hate it when people drum up controversy over stupid shit like that. It's like, yo, look at it objectively. Remove your own personal baggage. Artistically, it's an iconic picture and it will go down in the books as striking, brave, risky, edgy -- and that's what fashion is. Now, had we given him a safe picture, no one would care. And some of us might even be complaining -- 'See they put him in a suit? They couldn't give him nothing iconic!'"
His perspective on this particular issue is uniquely his own. One of the few black men who has been featured editorially in Vogue, he is also a personal friend of Wintour's. "That's why I love her," he says. "'Cause she doesn't give two fucks about what nobody thinks -- even when she does controversial shit, it always goes to her benefit. She's a genius chess player. And far from racist." Ten minutes later, he's still debating. "Shit, it might have been considered racy if it had been me in gym shorts screaming like that, but I would've looked crazy as hell. 'Cause that's not who I am. But [LeBron] is a monster on the court. You goddamn right, let him in there in some gym shorts, basketball in one hand screaming like the monster that he is with the baddest bitch in fashion." He claps lightly. For the picture? Anna's perceived bravery? Himself? "I applaud it."
For his last shot of the day, he's asked to step out on the balcony and hold his enormous Haut a Courroies tote out at arm's length for four frames. "Four?" he says, letting the photographer feel how heavy it is. He nods at his beefy security guy. "I'm not him." After the camera's final click, he drops the bag to his side and ambles inside, mumbling, "I think I just pulled something."
He's heading to the studio now where he's working with Common, but it turns out the Ferrari key was purely decorative. Parked in the hotel driveway is his silver Mercedes SLR McLaren. So on a typical day, after he leaves the studio, what does he do? Have dinner and go home? "Yes," he says. "That's a good day."
PAPER's June/July music issue is on stands nationwide Jun. 3rd.