Whoopi Goldberg is an EGOT winner, which is Hollywood's most coveted title, and one that only 12 entertainers in history can boast. But the four-part achievement fails to recognize her status as an unexpected style icon, having always championed rising designers, from Vetements to Gypsy Sport. Most notably, she's supported Christian Siriano since the beginning of his fashion career, tapping the Project Runway alum for some of her most high profile appearances.
Related | Nicola Formichetti on Gigi Gorgeous' CFDA Awards Dress
Last night, Goldberg worked with Siriano yet again for the 2018 CFDA Awards, and wore an instantly iconic magenta pantsuit with puff sleeves, slouchy legs and a matching wide-brimmed hat. The loud '80s-leaning outfit was accessorized with black sunglasses, chunky platforms and her chest tattoo peeking out — the perfect balance of Goldberg's own bold, risk-taking style with Siriano's queer, colorful elegance. And remember, if something's labeled "worst dressed," it's almost always the best.
PAPER called up Siriano after fashion's big night to talk about designing Goldberg's look and taking on the CFDAs with one of Hollywood's most beloved actresses.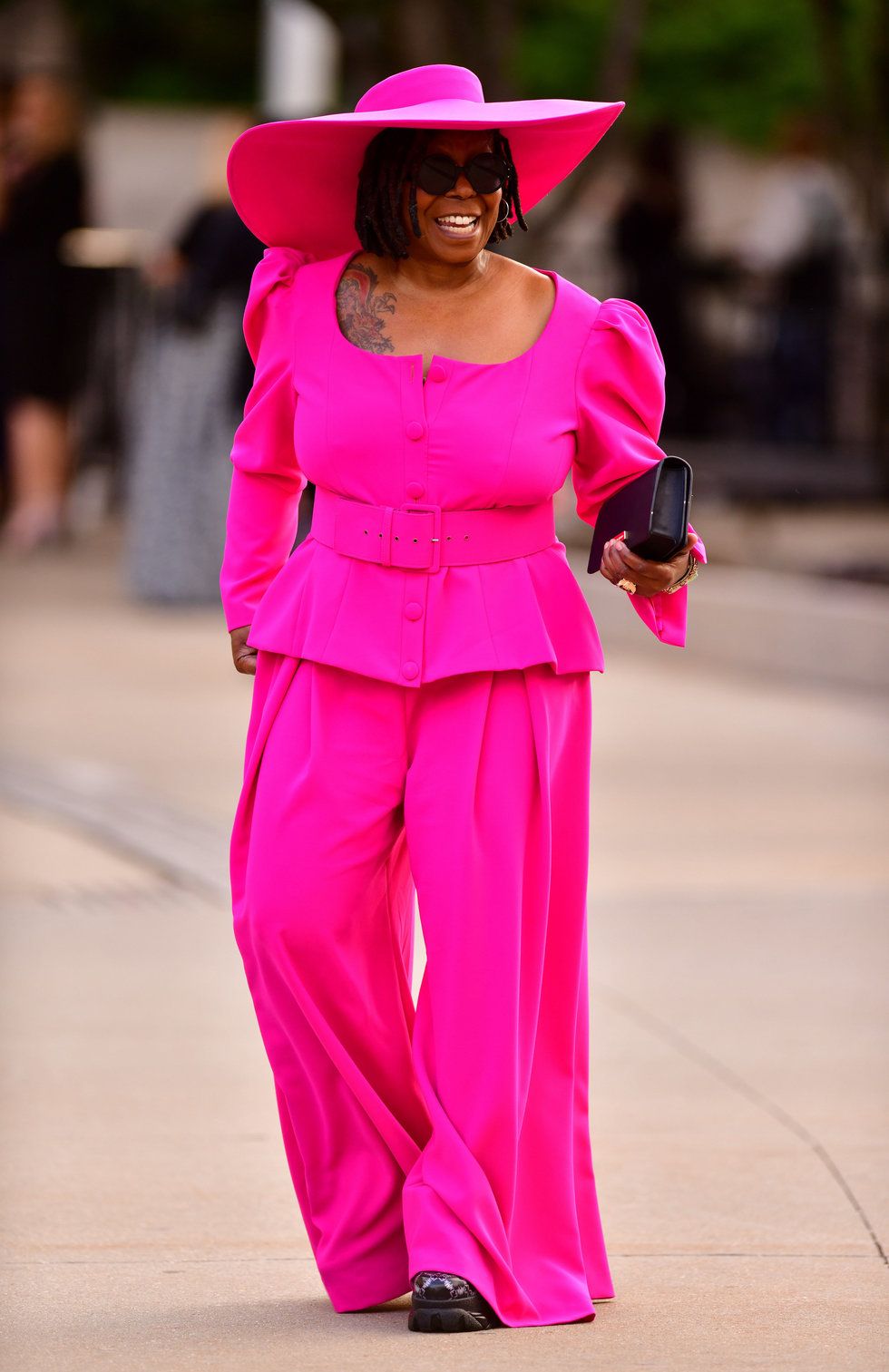 How are you feeling after the big night?
I'm so tired, but I had a fitting at like 9 AM. That's the life!
How did you and Whoopi pair up?
I've been friends with Whoopi forever. She was actually one of my first major red carpet [subjects]. I dressed her for the Tonys 11 years ago when she was hosting, and then we became friends. I just dressed her again for the Oscars recently. We have a blast together, and I always try to push her and have fun. But she loves fashion and I think it was her first CFDA Awards also, so we wanted to play with it. She doesn't take anything too seriously, which is good.
Related | Top 10 Takeaways From the 2018 CFDA Awards
What were the conversations that led to this look?
What's so funny is, literally I was just like, "Hey, you wanna wear a fuchsia pink suit and a big hat?" And she wrote me back and was like, "Yes I'll see you there." That was it! [Laughs] It was so funny, but that's how she rolls. It's super casual, it's not like you do 10 fittings — that's not the vibe. She's very go with the flow, which is amazing.
Whoopi seems like she knows exactly what she wants style-wise, and always goes to the best designers' shows. She always attends your show, and I see her at Gypsy Sport.
That's the thing. Listen, she's been in the business a really long time. She's an icon. She's an EGOT winner. She's done a million carpets, a million events. Now she just goes with what she likes, and what makes her feel good. And I think it was really nice to just hang out with her last night. It was a nice moment to watch people like Naomi Campbell run up to her.
Related | Is Naomi Campbell the Most Powerful Person in Fashion?
How do you think Whoopi's fuchsia suit reflects your own aesthetic?
I like to take risks, go for it, be playful. I think that's always been my vibe. I like that it was more of a slouchy suit, it wasn't sexy bombshell moment. That isn't what it was supposed to be. I love the drama, so Whoopi was wearing the big hat and she had her sunglasses. It's a fashion event, so that's when you can really do it.
Do you have a favorite memory from the night?
Probably when we were on the red carpet and all the camera crews were asking her to talk about Roseanne and the show [cancellation]. She literally screamed, she goes, "Why do you wanna talk about some white lady when this black lady looks so fly right now?" I almost peed my pants, I was laughing so hard. It was so amazing. It was in front of everyone: E, Extra, Access Hollywood. She really gave it, so they would all shut up. It was pretty great.
That's why she's a legend.
Exactly, she is! It was so major. Also, the fact that she left at the beginning of the night. She stayed for like an hour, it was pretty great. She's like, "Baby I gotta get up in the morning, I gotta go."
Photos via Getty