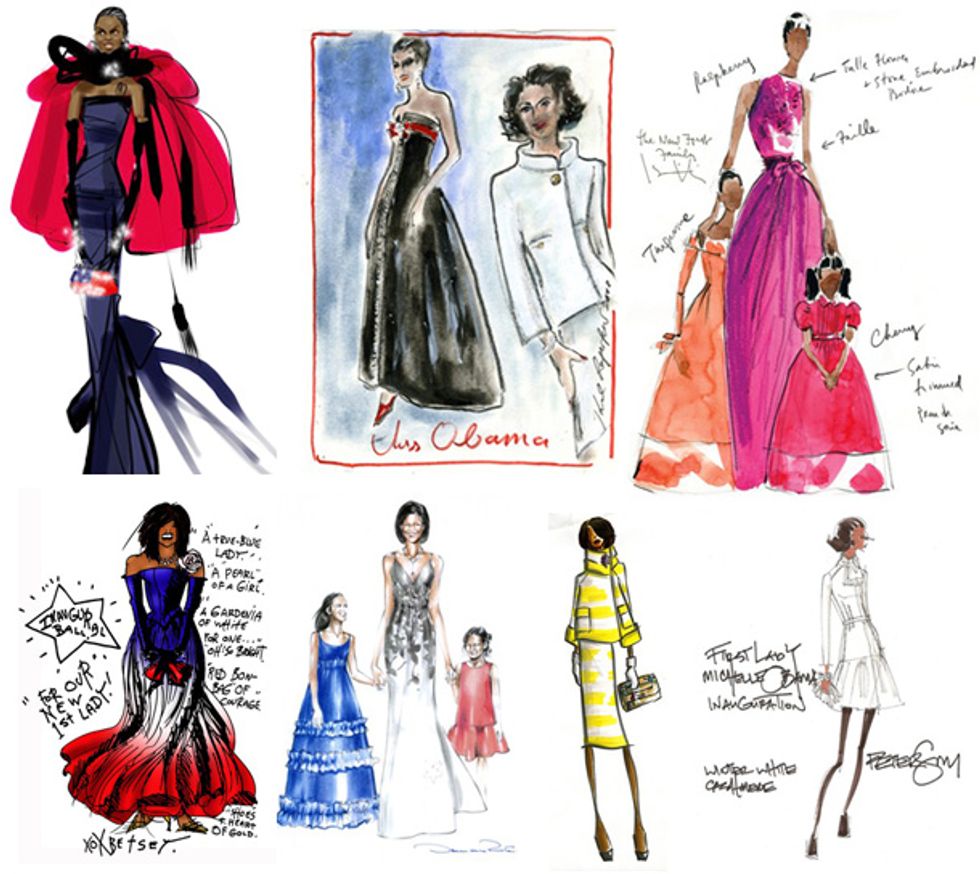 This morning I was reading about how the Obama Inauguration Committee is in a bit of pickle in terms of balancing the depressed mood of the nation and the celebratory nature of the historic inauguration of our first-ever black president. In all the stories, one question -- how they're going to pull off this delicate balancing act -- constantly came up. What kind of tuxedo will Mr. Prez choose, what will be deemed the official ball and will they keep the celebs at bay, etc. It was all a little bleak. But then, I came across WWD's commissioned portfolio featuring what various designers, if given the opportunity, would create for the First-Lady-to-be Michelle Obama for the ceremony and party after, as well as Malia and Sasha. And wow! This was a such a double fantasy of a window shopping experience that picked me right up. Some were outrageously over-the-top (hello, Betsey Johnson and Christian Lacroix!) and some were tastefully glamourous in white. But seeing as how Michelle seems to go for bright happy colors and her penchant for American designers, maybe she'll choose Isaac Mizrahi's delicious raspberry number. But I must say, Christian Lacroix's sketches are OMG-amazing!
Click here to see the entire portfolio.
Clockwise from top left: Christian Lacroix, Karl Lagerfeld (for Chanel), Isaac Mizrahi, Betsey Johnson, Osacar de la Renta, Diane von Furstenberg and Peter Som
All photos from WWD.com.