Stepping into dating app Bumble's headquarters, 31 floors above downtown Austin, is like walking into a well-curated Pinterest board come to life. Diptyque candles burn on every surface, a gold bar cart is stocked with goodies, cute bee imagery adorns almost everything -- and there's the energetic buzz of six young women discussing strategies and typing purposefully on their MacBooks. Overseeing this hive of activity is 26-year-old CEO Whitney Wolfe.
For those unfamiliar with the world of digital courtship, Bumble is similar to Hinge and Tinder, Wolfe's former company, because of its swiping mechanism, but different in that after a woman and man are matched, only she has 24 hours to message him before he disappears from her lineup. (For same-sex matches, both are free to message first.) It may seem like just a simple adjustment to the well-worn formula, but to Wolfe, the shift in power dynamics causes a ripple effect resulting in more confidence, respect and kindness -- all things that online dating desperately needs.
Kindness, more than anything, seems to be the Salt Lake City native's mission. Her ugly departure from Tinder, where she was co-founder and vice president of marketing, might be one reason for that. Wolfe brought a highly publicized lawsuit against the company in 2014, in which she claimed that fellow co-founders (one of whom was her former boyfriend) sexually harassed her. It was settled within a few months.
"I cried for maybe four months straight," Wolfe says of the experience. "And then I was like, you know what? I'm okay, I'm healthy, I have a support system. There's definitely a 13-year-old out there who has zero support system, and they're reading [sexist] stuff like this about themselves. How does that make them feel? So if I am in this position to change that, it's pretty much my duty to do so."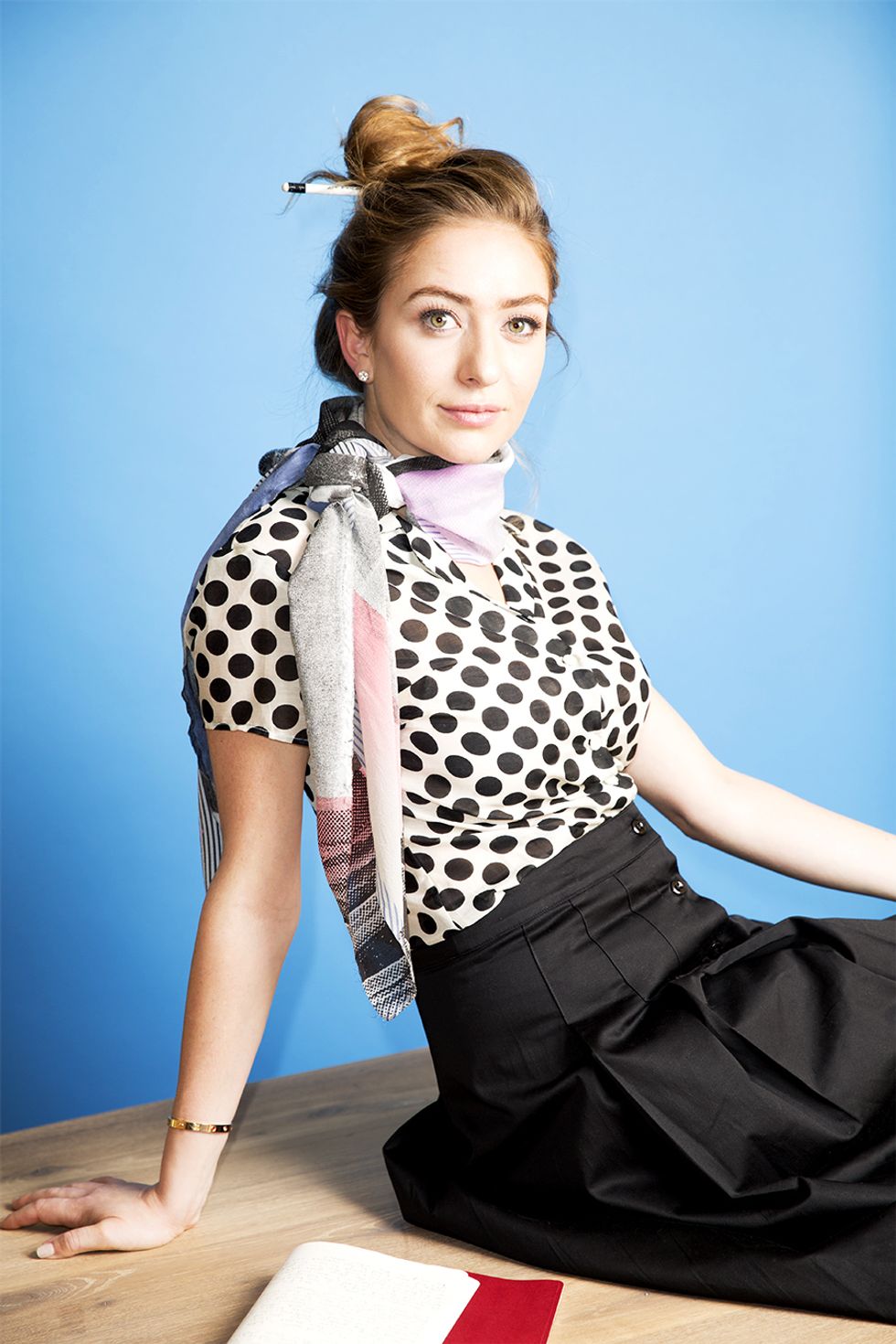 Whitney wears a blouse and skirt by Evelyn Muir and a scarf by Light/Dark Studio

Wolfe moved from Los Angeles to Texas, an area becoming nearly as famous for its thriving start-up scene as it is for its live music and barbecue, and launched Bumble in December 2014. Wolfe chose it over San Francisco or New York because, as a graduate of Southern Methodist University in Dallas, Texas has "always felt like home," she says. Wolfe majored in international studies in college and after graduating spent time in Southeast Asia working at orphanages. When she came back to the United States, she got a job at tech incubator Hatch Labs. "I thought it was such a great opportunity because after being in Asia and seeing their limitations, really, the only thing that separated it was tech," she says. "And so that was a no-brainer for me."
She was inspired to create Bumble after thinking about her own reluctance to text a guy first -- a modern-day flirtation sin, according to the other young women in her social circle. "I thought, Let's create an ecosystem where the girl's the only one who has the guy's number. The only way for her and him to get anywhere is for her to make the move," she says. Now the app is global with more than 1 million active users and has facilitated more than 150 million matches.
So far, the feedback from users is mostly positive. A particular point of pride for Wolfe is the relatively low levels of reported abuse and harassment, with only 620 cases in all of 2015, less than 0.1 percent of the app's user base. While comparative numbers are hard to come by for other apps, ask most women about their experiences and it seems likely that the rate of harassment found on Bumble is much less than average. "I wanted it to be a place not only for women, but for everyone to just chill out and be nice to each other and to treat each other with kindness," she explains. "If you put kindness and respect at the helm of anything, it's all good."
As if on cue, an employee pops her head around the corner. "Oh, you look very pretty!" She exclaims. "We're very nice to each other here," Wolfe says, with a laugh.
Hair by Toni Jennings / Makeup by Brooke Hampton
Prop styling by James Whitney for Artist United Agency
Photographic Assistant: Ellie Hogue