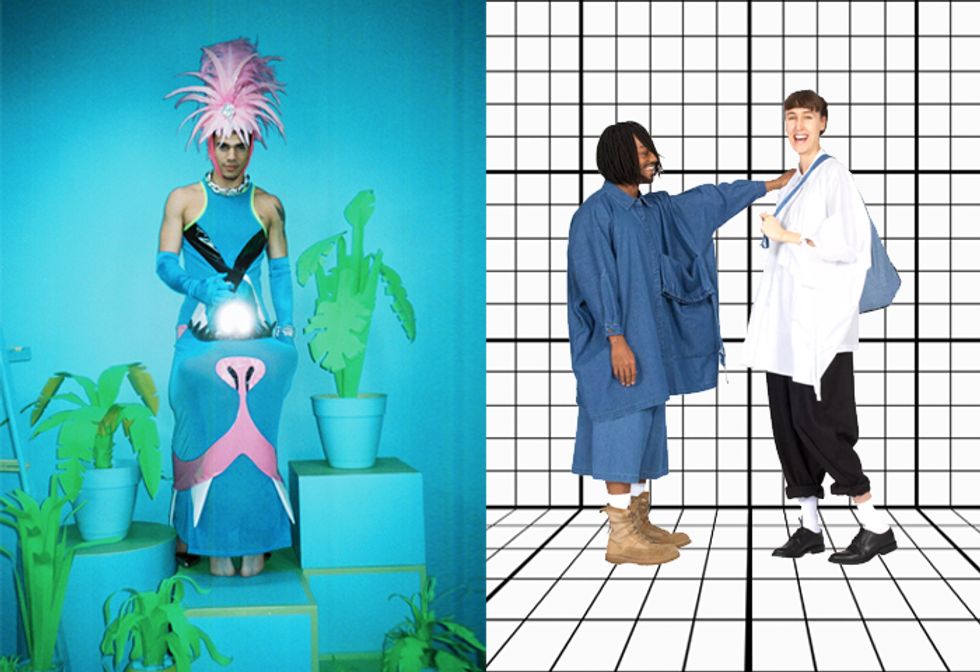 (BCALLA design on the left, 69 on the right)
When pressed to describe his customers, Brad Callahan, founder and designer of
BCALLA
says that they're "attention seekers, through and through. That's the reality of it... You're not being a wallflower in BCALLA." This is perhaps the understatement of the year. BCALLA, known for supplying tight-bodied club kids and drag queens with the equally tight vinyl they crave, is all about showmanship. 
BCALLA, which outfits performers like Azealia Banks and Lady Gaga (not in costumes, mind you, but "performance wear" that is "costume-y"), has no ambition to turn out sensible sweaters or office-ready pencil skirts. You cannot pop into Macy's to shop the latest collection.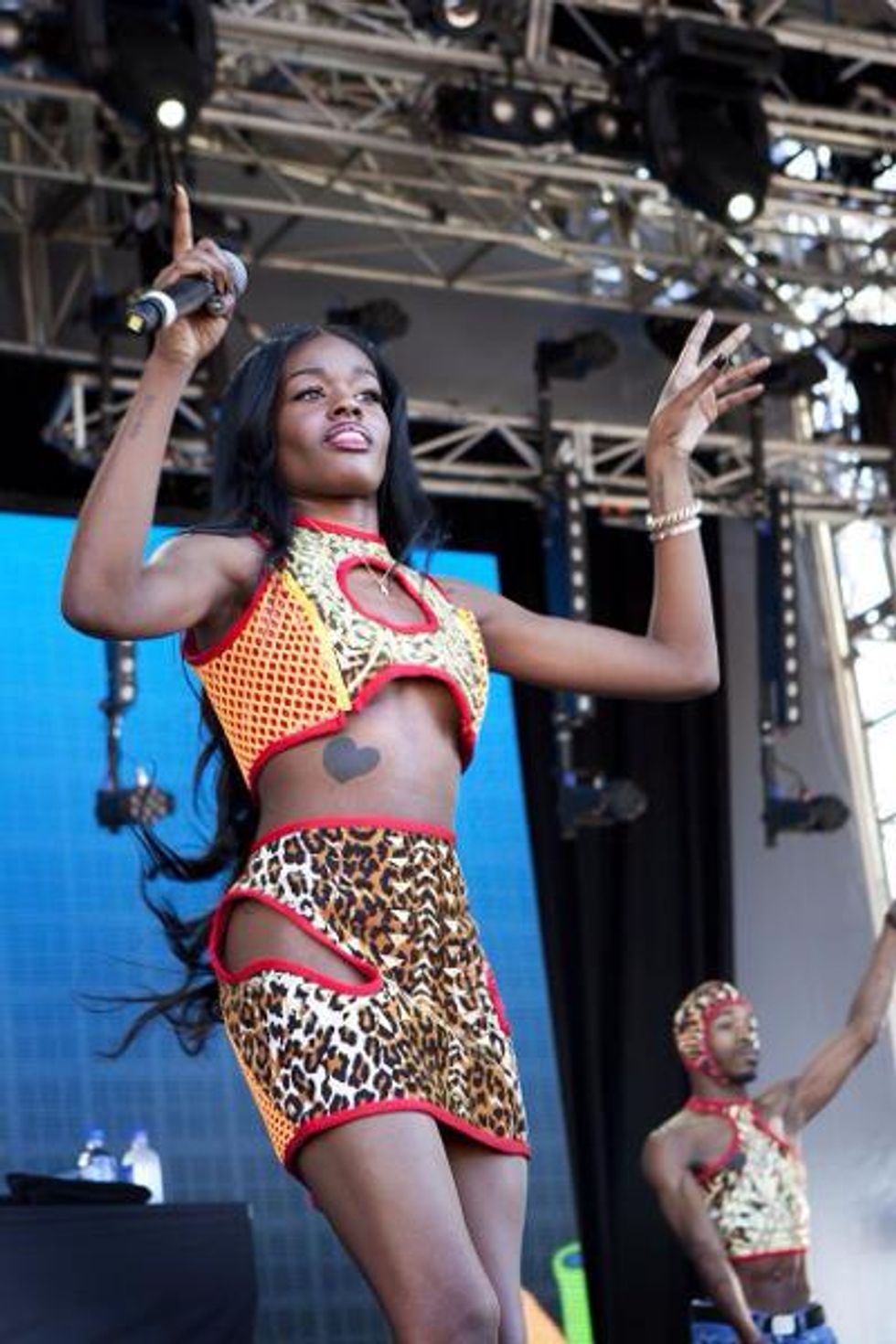 (Azealia Banks wearing BCALLA)
Callahan himself makes a point of mentioning that he doesn't "see the brand going into a crazy commercial space." That's a marked difference from the direction of the industry at large -- many designers have come to depend more and more on the highly commercial Resort and Pre-fall collections. Moreover, the fashion industry is in the midst of a contraction, and a famously difficult business has become even tougher. Which begs the question, how do you survive in a consumer industry when you make things that so few people can actually consume?

Put simply, they hustle. When
non-demographic clothing line 69
launched their line of drape-y non-gendered overalls and knee length tee-shirts, its focus was mainly on wholesale. But as the line grew more prominent, they began taking commissions for items ranging from stage backdrops for MOMA PS1 to custom muppets for Jim Henson's studio. And now, dissatisfied with the creative limits of what they call "the beast of wholesale," they're pivoting toward a studio model and hoping to do more commissioned works with greater creative freedom. 
The industry knows what to make of some designers -- especially those who offer up a readily commercial package, complete with elements of both fantasy and functionality that can be easily translated into dollars and cents. But brands like these, and their well-respected industry forbear, avant garde label threeASFOUR, see fashion as more of an art practice than a purely commercial undertaking. In these cases, the designer dream of an order from Barneys may not be as seductive.
Where success for other brands might be judged purely on sales, both BCALLA and 69 define it more loosely. When asked what success for 69 would be, a member of the design team (who asked to remain anonymous and genderless, in keeping with the brand's creative philosophy) put it most succinctly, saying with a laugh "my first initial reaction is to be happy... just be totally creative, without any restrictions. Do more art projects."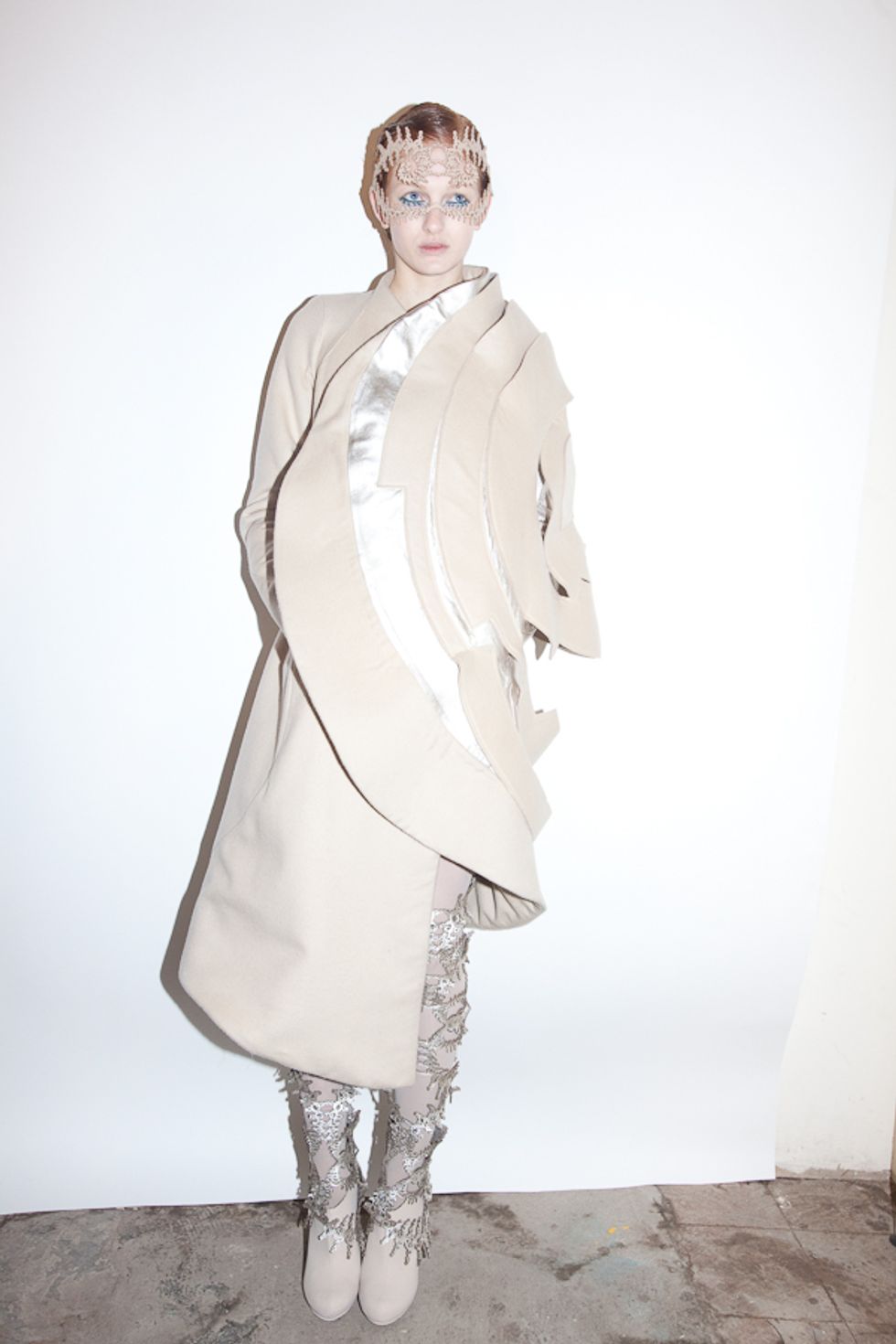 (threeASFOUR design, photo by Rebecca Smeyne)
Adi Gil, one of the three founders of threeASFOUR -- an avant-garde fashion collective active since 1998 -- makes it clear that success is all about context. Gil, who is Israeli, notes that "In our Western context, especially in America, [people] look at it as a financial thing," but she makes a point of stressing other possibilities. "I feel very successful, because I have beautiful people in my life, and I feel very lucky to have my partners. I think it's a very special thing. And no money in the world can buy that." She is quick to acknowledge the financial realities of the industry, noting that threeASFOUR might not appear successful to an observer concerned with "the capital other companies have."
All three brands want to play a larger role in culture than commercial fashion allows, and they each view fashion as a tool to communicate a larger vision of what the world can be. But a lack of commercial viability can make it more difficult to reach a large audience, and in turn communicate that vision. Fashion is a business: Rent has to be paid, samples have to be made, and seamstresses have to eat -- and when your product isn't super commercial, times can get tight, especially when you're just starting out. Callahan admits that "it was really a struggle until [he] got picked up by Azealia... You kind of take jobs as they come." If New York's restaurants are dotted with the next generation of A-list actors waiting tables, its editorial desks and shop floors are lined with the next generation of design talent, building their collections at night with the money they make folding jeans during the day. 
But the greatest asset that these designers have when it comes to navigating the commercial world is the same creativity that informs their artistic work -- because, ultimately, there is no formulaic approach to success in fashion, even less so when the clothes are not designed for a broad audience. 69, for example, is working to create accessories at a more affordable price point (well-made denim does not come cheap), hoping to appeal to a broader audience. Meanwhile, BCALLA has found success with more out-there looks. The brand appeals to a very specific niche, so when they do simpler pieces people react with confusion. As Callahan puts it, the response has been "...these are great but where are the crazy things?"
Where 69 is hoping to find success by broadening its reach, BCALLA has found it in specificity, and without a doubt other designers are finding other paths to their own unique goals. The thing that unites them all, however, is a singular passion and intent. The lead designer at 69 said that for it to work, "You just have to want to do it. And be prepared that it's gonna be your life, that it's gonna take over." It's that degree of unflinching commitment that is the key to success for emerging designers and what, for BCALLA and 69, will surely provide for their fortune, financial or otherwise.

You May Also Like
America
Zoom photo direction by Full Tac
Beauty
Photography by Silvia Draz / Styling by Craig Hemming and Caitlin Forbes