In Hollywood, there's safety in pairs. Stars couple up with each other constantly (TomKat, Brangelina, Ellen and Portia, Jay-Z and Beyoncé, et al.) in a quest to find a partner to tackle the public tumult of Tinseltown. Who else but another celebrity can relate to the drama of navigating Los Angeles' paparazzi traps or being busted by Perez Hilton looking "shiteous"?
Flying just below the radar of the super-duper famous, Danny Masterson and Bijou Phillips are nonetheless the epitome of the Hollywood power couple. Between them, they make movies, record music, DJ around the planet, model, own trendy restaurants with other celebs, throw parties and lead a fabulously cool life that makes us mere mortals green with envy.
Danny wears waistcoat by Rag & Bone, shirt by Conference of Birds, pants and tie by Band of Outsiders and vintage belt from Screaming Mimi's.
Danny and Bijou fell in love four years ago, at a celebrity-packed poker tournament in Las Vegas, where they were seated next to each other at the card table (Masterson is a hardcore poker player). "I was asking him for advice," Phillips remembers, over lunch at the The Waffle on Sunset Boulevard. Her voice is girlish and chipper, and at 28, Phillips still looks weirdly like a teenager. "Every guy at the table was flirting with me but Danny. He wasn't laughing at my jokes. I was like, who is this Danny Masterson and what does he think he's doing?" Phillips had just gotten out of a long-term relationship with Sean Lennon and is the type of girl who's used to being hit on. "We started texting that night," she continues. "We've been together four years. It's been really cheesy and peaceful. There's no craziness or neediness. It's the way it should be."
Masterson and Phillips didn't want to be interviewed together, so I meet Masterson two days later. He's lounging on a big chair in the dimly-lit lobby of the Roosevelt Hotel, where he hosted a live jazz party at the hotel club, Teddy's, the night before. The first time he met Phillips, he tells me, was at a party he threw in Sunset Plaza. Phillips was 15 years old, a notorious media wild-child, vamping in Calvin Klein's infamously pulled "kiddie porn" billboards and having her disco-pades reported on Page Six regularly. "I had only known her as the little crazy girl," Masterson says with a sly smile. "After Vegas, and talking to her a few times, I was shocked by how unbelievably intelligent she was. She knew every book I had ever read. I was like, this girl is amazing."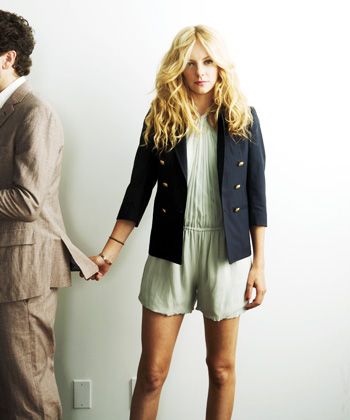 Recently, the couple finished three movies together, among them Made for Each Other in which they star with Masterson's younger brother Christopher and their close friend Lauren German (probably best known for her role as the hitchhiker in the 2003 remake of The Texas Chainsaw Massacre). They filmed the indie last August in a big house in Connecticut. "That's the way to do it," says Phillips. "If you're going to make movies and get all your friends in it, it's awesome."
The two will also star together, along with Ving Rhames, in actor Blair Underwood's upcoming directorial debut, The Bridge to Nowhere. Phillips plays a prostitute who falls in love with her pimp, played by Masterson. "It's not easy," Masterson laments about acting with his girlfriend. "We have different work styles. When I'm at work, I'm working and when she's at work, she still sort of wants to be boyfriend and girlfriend. I'm like, we can chat later. I found myself being a bit rude to her. I felt like an asshole. It was fun at one time and then it became more and more difficult, to the point where now we have decided to never ever do scenes together. We can be in a movie together, but not in the same scene."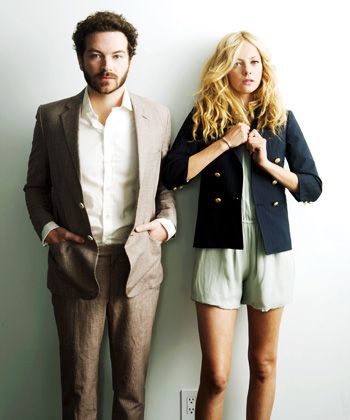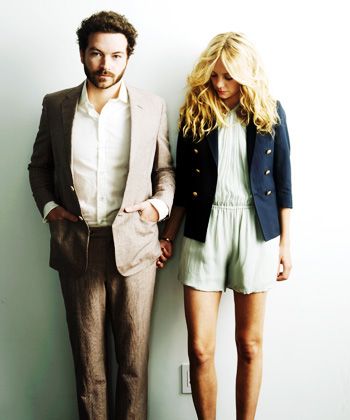 Masterson's been acting professionally since he was five years old. As a child growing up in an Irish family in Long Island, he did hundreds of commercials for brands like Hostess and Tang. "I loved Tang at the time," he adds. "I ended up projectile vomiting it for hours. You're supposed to spit it out. I didn't really have sugar as a kid in my house so it was like a fucking field day." Masterson starred on That '70s Show for eight years, although he claims to have only watched the show about 15 times. He's still tight with fellow '70s alum Ashton Kutcher, with whom he co-owns the popular restaurants Dolce and Geisha House. "I see Kutcher every Sunday," he says. "We're part of the same fantasy football league."
Since That '70s Show, Masterson has morphed into a mini-mogul of hip. He just opened a new restaurant (with celebrity partners Mark Ronson and Steve Aoki), a sleek Korean barbeque in Hollywood called Shin. In October, he debuted Confederacy, a massive, high-end clothing store and hangout space in East Hollywood, with uber-stylist Ilaria Urbinati running the show. And he's making movies like mad, the latest being the big budget Yes Man with Jim Carrey.
Opposites attract when it comes to Masterson and Phillips' favorite ways to let loose. Masterson is all about poker, a game Bijou tells me she finds "boring, boring." Their house has a " giant poker room and art gallery, with a 50-inch TV and a bar," boasts Masterson, who also collects guns. "I have lots of guns. I go to firing ranges all the time. It's so much fun." Phillips drives daily to a stable in Burbank, where she keeps two horses. "It's my favorite thing," she raves of riding. On the back of Phillips' Dodge Ram a bumper sticker announces: "My horse is more pampered than my boyfriend." Phillips says her love of horses inspired her vegan diet. "I have horses and they don't eat meat. I like that we have that in common. I could feed them my sandwich and they'd be totally fine." Meanwhile, Masterson tells me he's allergic to horses. Phillips has to wash her hands vigorously before returning home from the stable. "She'll give me a hug and I'll start itching on my neck," he says. "I am very allergic to fucking animals." And Masterson is no vegan. "Danny eats meat. He almost only eats meat," Phillips laughs. "We're totally yin and yang."
Life with Masterson has visibly mellowed Phillips. Her calm demeanor is far from that of the hyper It Girl I first met in New York over a decade ago. Phillips readily admits that she's changed a lot. "I'm definitely more mature. All that weird stuff you have as a kid, where you overanalyze every situation, I don't have that stuff anymore. And that's a blessing. I don't wonder what people think about me. That's part of growing up. You finally know who you are. I wouldn't go back to anywhere below 25 if you paid me."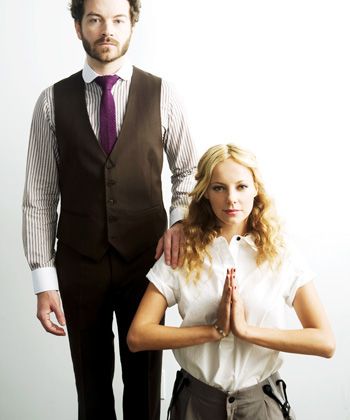 It's hard not to mention that both Masterson and Phillips are devout Scientologists. At one point, Phillips goes off on a long tangent about the dangers of psychiatrists medicating patients for depression or anxiety. "My grandparents didn't take any pills and they were fine. Just buck up and get over it. Stop being such a fucking pansy," she says, her bird-like voice taking on a deeper tone. I ask Masterson if Scientology helps him be successful in Hollywood. "The definition of Scientology is 'the study of knowledge,'" he explains carefully. "Obviously, the more knowledge you have in a given field, such as life, the more confident you are as a person. I don't feel any pressure from Hollywood at all. It's 80 percent a community of artists creating art -- there's no pressure making art, it's a necessity."
Later in the week, at Shin, the couple sits around a table with a pack of friends. In L.A., people often describe places as having "a New York vibe" and the scene at Shin has an urban edginess. "We're New Yorkers living in L.A.," Bijou says. "I think New Yorkers do things a little bit better. I bet if you looked at New Yorkers in relationships as compared to people from L.A. in relationships, New Yorkers have more long-term relationships." As they leave, they hold hands. Masterson always drives the car, tonight it's his 1970 Porsche 911S. "He's Irish and stubborn," Phillips says. It's a perfect starry L.A. night, and love is in the air.
Makeup by Amy Chance for Chanel/celestineagency.com * Hair by Johnny Stuntz at Photogenics Beauty Smashbox
(Danny) Hair: John Frieda Frizz-Ease * Fragrance: Gucci by Gucci
(Bijou) Hair: Sebastian Professional Whipped Crème * Foundation: Chanel Lift Lumiére * Mascara: CoverGirl LashBlast * Lip color: Maybelline Superstay in Strawberry * Fragrance: Daisy Marc Jacobs