Jake Shears's purple silk pants sag around his lower belly as he wanders about the photo studio, wondering aloud whether or not he's showing too much pube. There's a leer on his face that says, I'm fishing, I know I am. (He's nearly shirtless, and, yes, he's showing a lot of pube.) "Honey, you can never show too much pube," says PAPER's Mickey Boardman, taking the bait, and Shears beams. He loves it, all of it: the styling and the makeup and the relentless frenzied pace of the camera's flash. He's dressed like a sugarplum Bee Gee, and his band members come across something like gay Victorian science-fiction heroes -- in his nipple-high red pleather pants, guitarist Del Marquis looks particularly like one of Ming's minions from Flash Gordon -- and they're ludicrous, laughable, amazing and inspired all at once. They look the way pop music sounds. They're fast weird rock stars who are perfect for these fast weird times, and if you don't have a clue who they are, you need to spend more time reading the British press. In England they're enormous. In New York...
Well, they started in New York. And they're working on it, OK? It wasn't that long ago that Jake Shears -- whose real name is Jason Sellards and whose onstage persona differs so little offstage it's a wonder he adopted a pseudonym at all -- was one of the interns running clothes to photographer Richard Phibbs's studio for PAPER cover shoots. Half a decade and an eon ago, it seems, especially since the Scissor Sisters's Grammy nomination (Best Dance Song for "Comfortably Numb") and their earning a trio of Brit Awards (Best Group, Best Album, Best Newcomer) in February. At the turn of the century, Shears was an intense kid with a head full of ideas who couldn't wait to write articles for PAPER about musicians like Mouse on Mars or Miss Kittin or Sylvester Boy. These days he's eclipsed them all. These days he has conversations with his Scissor Sisters cofounder Babydaddy that go something like this:
"VH1 wants to book us for a special."
"What's it about?"
"It's a special about gays."
"Like, 'The 100 Gayest Moments of 2004?' 'The Year in Gay?'"
"Something like that. I told them we'd talk about it."
"I don't think we should do it."
"We could use the American press."
"I know, but not like that. It's great that they called, but I don't want us to pigeonhole ourselves. It's not right for now."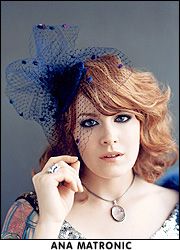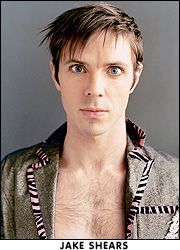 To say that they're big in Britain is something of an understatement. The Scissor Sisters are regularly covered in British tabloids that are so sleazy they make US Weekly look like Good Housekeeping. They sang with Elton John at his Oscar party in February. Elton loves them. They collaborated with Kylie Minogue on her single "I Believe in You." They've sold 2 million copies of their self-titled debut in the U.K. ("That's more than the population of my hometown," notes Ana Matronic, the band's Portland, Oregon-born backup vocalist and fearsome redheaded stage presence), which is equivalent to them selling about 8 million albums in the U.S. Overseas, that places them squarely inside incredibly gigantic superstar status. Their rise has been quick and unforgettable. And to hear them tell it, it's not safe for them to walk the streets of London.
In the U.S. their story's drastically different -- as a small item in The New York Times pointed out last January. Here, the Times reported, they've sold around 190,000 copies of Scissor Sisters (Universal). That has provided the band with an interesting perspective on the dichotomy between the Old World and the New. It's long been said that in order for a rock act to break in the States, they've first got to conquer Britain. But when the frontman of the band (and his bassist and lead guitarist) are openly, flamboyantly, fantastically, irrevocably gay, the rules . . . change. Britain doesn't care, but the uptight ol' family-values U.S. has a few objections. "It just kills me that [former Libertines frontman] Pete Doherty is still a star over there," says Shears. "I feel bad for him -- I mean, God bless him -- but he is a crack smoker. And they are obsessed with him because he's an out-crack smoker. He's like, 'I smoke crack! And I think that's OK! Come see my shows!' Even the reality-show people over there are wild, like the first winner of Pop Idol, Will Young. He's gay. And out. And he came out on TV when he won. He's still a big pop star, and he will be for a long time."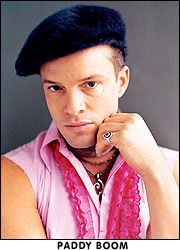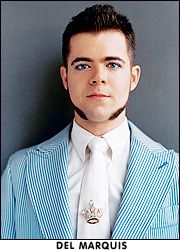 "The average intelligence level in Britain is definitely higher than it is here," says Matronic. "They're a lot more open-minded. And they like freaks over there. They really enjoy things that are coming out of left field, things that are more challenging. In America something that challenges social mores is shocking to the point of going against [adopts stentorian tone] 'What America was founded on.' I say again and again and again, let's not forget that America was founded by the Puritans and all the pagans stayed over in Britain."
Well, not all the pagans -- at least not the sort who write juicy, '70s-vibe-style pop songs and like to dress in pimp gear. Between Shears, Babydaddy, Matronic, Marquis and their drummer, Paddy Boom, the band looks ready to star in a musical about hookers with hearts of gold. (Unsurprisingly, Shears tells me he'd like to write a Broadway show one day.) And that's not to say that they've been ignored by the American media, because they haven't. They played to the cameras on Conan. They gave Saturday Night Live a madly passionate performance, which prompted an after-party discussion between cast member Amy Poehler and Lindsay Lohan about how much they loved the band. They've even appeared on that staple of the American airwaves: the morning show.
"Kelly Ripa loved us," says Shears of the Scissor Sisters's gig on Live with Regis and Kelly last fall. "After the first time we played, she gave me a hug and whispered in my ear, 'I just want you to know that this is my favorite music performance we've ever had.' It was amazing. Jimmy Fallon was on the same show, and he introduced us as Regis -- he used to do Regis on SNL. He was really excited that we were there. I made a dirty joke. Regis didn't even get it, and it made it on the air."
"He asked, 'What is a Scissor Sister?'" explains Matronic. "And I was like, 'Well, there's a handshake..."
Shears continues, "I was like, 'I can't really say what it is on this show,' but I took his hand and went like this" -- he separates his middle fingers from his ring fingers and interlocks his hands in an unmistakably lewd gesture -- "and Kelly and Jimmy were like, 'Oh. My. God.' Regis turned to Jimmy and tried to do it to him, and Jimmy was like, 'No, no, no, thanks.' It was really cute."
"Regis was like, 'You guys are called Scissor Sisters, but I only see one lady up here!'" Matronic says, laughing.
"Yeah," Shears says, finishing the story, "And Ana's like, 'You'd be surprised!'"
Before grunge's stranglehold choked the joy out of rock and hip-hop's self-serving moneymakers began rapping exclusively about their bank accounts, it used to go without saying that this is the way popular music is supposed to be: madcap stories from wildly charismatic people who are doing what they do because they love it -- entertainers who know that the onus is on them to be entertaining. Whether you like the Scissor Sisters or not, their ardent attention to melody, song structure and fun, just fun, is transparent on their debut. It's obvious how much they care when listening to mega-disco jams like "Take Your Mama" and "Tits on the Radio," the Barry Gibb-inspired falsetto on their dance revision of Pink Floyd's "Comfortably Numb," and even "Filthy/Gorgeous," the one song on the album that sounds distinctly like electroclash and gives listeners a clue to the band's roots in Larry Tee's bedroom-DJ Williamsburg scene. They've put out four singles, and they've filmed four videos to accompany them. (The one for "Filthy/Gorgeous," shot by Hedwig and the Angry Inch director John Cameron Mitchell, was banned by MTV Europe. In the video -- a bacchanalian vision of New York excess -- Shears kisses another man and rides a little person like a pony, both of which were considered "not safe for kids" by the censors at Viacom.) They've also recently released a DVD, We Are Scissor Sisters and So Are You, which features them playing live in Brighton and comes with humorous title screens. In one of those interstices, Babydaddy brushes imaginary dust off his sleeve. In another, Shears strips down to his tighty-whities. Just as he's about to whip them off, he bursts into flame.
So, yes, naturally, they've taken some flack. Some have said that they're too pop for the States. Some have said that they're too much like their icons Elton, Barry or even ELO. Some don't buy their energy. "I'm sorry," Matronic says, "but Kurt Cobain's stripy GAP T-shirts and mohair sweaters were just as contrived as Jake's weird Brian Boitano leotard outfit." To paraphrase Cameron Crowe's Singles, if not having an act was Cobain's act, then it's precisely the inverse that qualifies the Scissor Sisters. And their act -- fabulous, sparkling, extroverted and celebratory -- has kept them on the road for most of the past two years.
"I fully understand how people get hospitalized for exhaustion," says Matronic.
"We sympathize with Mariah Carey," Shears agrees.
"Mariah, if you've done this for 15 years, and we've done it for a year and we're losing our minds, I completely understand where you're coming from," says Babydaddy.
"I look at Michael Jackson, and I think it's no wonder he's so messed up," Matronic says. "He's been doing it since he was four. I cannot even imagine. I'm 30 years old, and thank God I have the fucking wherewithal, the maturity and what little handle on reality I do. And thank God we've had some measure of success so we can upgrade to the nice bus. Not in the States, though. Tomorrow we've got to get on that other bus..."
"That fucking bus," finishes Shears.
These days, the Scissor Sisters live on rock 'n' roll time, a strange procession of days that bleed into each other without break for personal time, sleep or laundry. (After the PAPER photo shoot, Shears is booked to get on the loathsome bus -- too small to comfortably accommodate both the band and their roadies -- at around 9 p.m. In between now and then, he's been scheduled to speak with three other magazines, which he says shouldn't be a problem: He'll just talk and pack and eat and say good-bye to his boyfriend and grab a cab all at the same time. Isn't that why they invented cellphones?)
Not that the Scissor Sisters are complaining. The thing of it is, they want this. They want to be famous. They want to be loved. And they're unashamedly proud of the work that they've done to achieve that. Yes, the American bus might suck, but that's a small price to pay for not having to drag their gear onto the L Train. And the difference between 2005 and 2001 is stark. Back then, when Shears interned at PAPER and made rent by go-go dancing in the East Village, the band was a twosome -- Shears and Babydaddy. That was at the height of electroclash, when party promoter and insouciant nightlife Renaissance man Larry Tee ran three parties every weekend -- Mutants on Fridays, Berliniamsburg on Saturdays and NYFC (New York Fuckin' City) on Sundays. They all took place in Williamsburg at Luxx, which has since shuttered and reopened as the less buzz-worthy bar Trash. The Scissor Sisters played the Sunday party, the most sparsely attended of Tee's nights. They were honing their skills with early songs like "Bicycle of the Devil" and an act that was more performance art than rock show. (The documentary about their beginnings on We Are Scissor Sisters includes footage of one of these shows, in which Shears, covered in fake blood, mimes being born from what looks like a black latex bag. It's a little gross.) But after hooking up with Matronic, who caught a set in New York, and, subsequently, Marquis and Boom, the band's songwriting took on a distinctly radio-friendly flavor. They never wanted to be underground, anyway. They wanted to be pop stars.
And that's why Shears is nervous. He's a smart 26-year-old, and he knows the rules of the game. He's worried about the sophomore slump, apprehensive that his follow-up collection of songs won't be as good as the first, that he'll fall into the same void that's all but claimed the Strokes. Every time I've seen him lately, Shears talks about how much he wants to carve some space into his schedule to just screw around in the studio. Last October, at a party PAPER threw to honor Spanish director Pedro Almodóvar, Shears told me a story about meeting Bono. He described the scene as an odd garden party, where U2's lead singer grabbed Shears's hands and flipped them over as if he were about to read the younger man's palms. In typically exuberant Bono fashion, he implored Shears to write, to keep writing, to never, ever stop writing. "That made me feel terrible, since it's the one thing I know I should be doing but can't find the time," Shears explained. "Bono said, 'If you stop writing, you're dead.'" And while the fame thing is fun because he gets to meet people he respects and be treated as an equal and listen to their advice -- when he recounted the Bono story he was sitting on a banquette beside Michael Stipe, absently smoking one of the R.E.M. singer's cheroots -- that's also partially where the anxiety comes from.
After the photo shoot Shears and I take a walk across Manhattan to Union Square. He wants to go record shopping at the Virgin Megastore. Along the way he tells me how proud he is that he got Don Bluth (An American Tail) to illustrate the Scissor Sisters's video for "Laura," even if the band couldn't afford Bluth's rate for the whole thing and had to combine filmed footage into the cartoon. He talks about other projects -- writing a musical maybe, or directing an 80-minute cartoon, something along the lines of Pink Floyd's The Wall, only fit for kids of all ages. But first he's going to write more songs. "It's so different now," he says. "I know I've only got to make myself happy, that I can't worry about what everyone else is going to think because then no one's going to like the songs. But that's almost impossible because you know when you're writing that the fans and the critics and the magazines are all going to be paying attention." Although it's difficult to empathize, it sounds like his head's in the right place. Earlier, Matronic had told me, "When it was just three of us, we'd play a song, we'd wear funny outfits, and we'd talk to the crowd." That gave Shears reason to grin. "Performance and rock 'n' roll shows are supposed to be entertaining," he said. "That's why a lot of people keep coming back to us. We've never played the same show twice. We might play the same set, but it's never the same show. It succeeds to varying degrees, but that's the fun of it. I don't think they're ever really bad, but sometimes I'll think I'm saying something funny, and it's just [mimics a microphone hiss] ssssssssss. But that's what makes it worthwhile the next time I try and it works." That's the valuable lesson -- so long as his heart's in it, there aren't any mistakes. If his life were an episode of VH1 Behind the Music, Shears knows that he'd still be in its first 15 minutes. He's just as excited as everyone else to find out what comes after the commercial break.
* Makeup by Troy Surratt/ Contact using Maybelline New York * Hair by Nathaniel Hawkins/ Contact