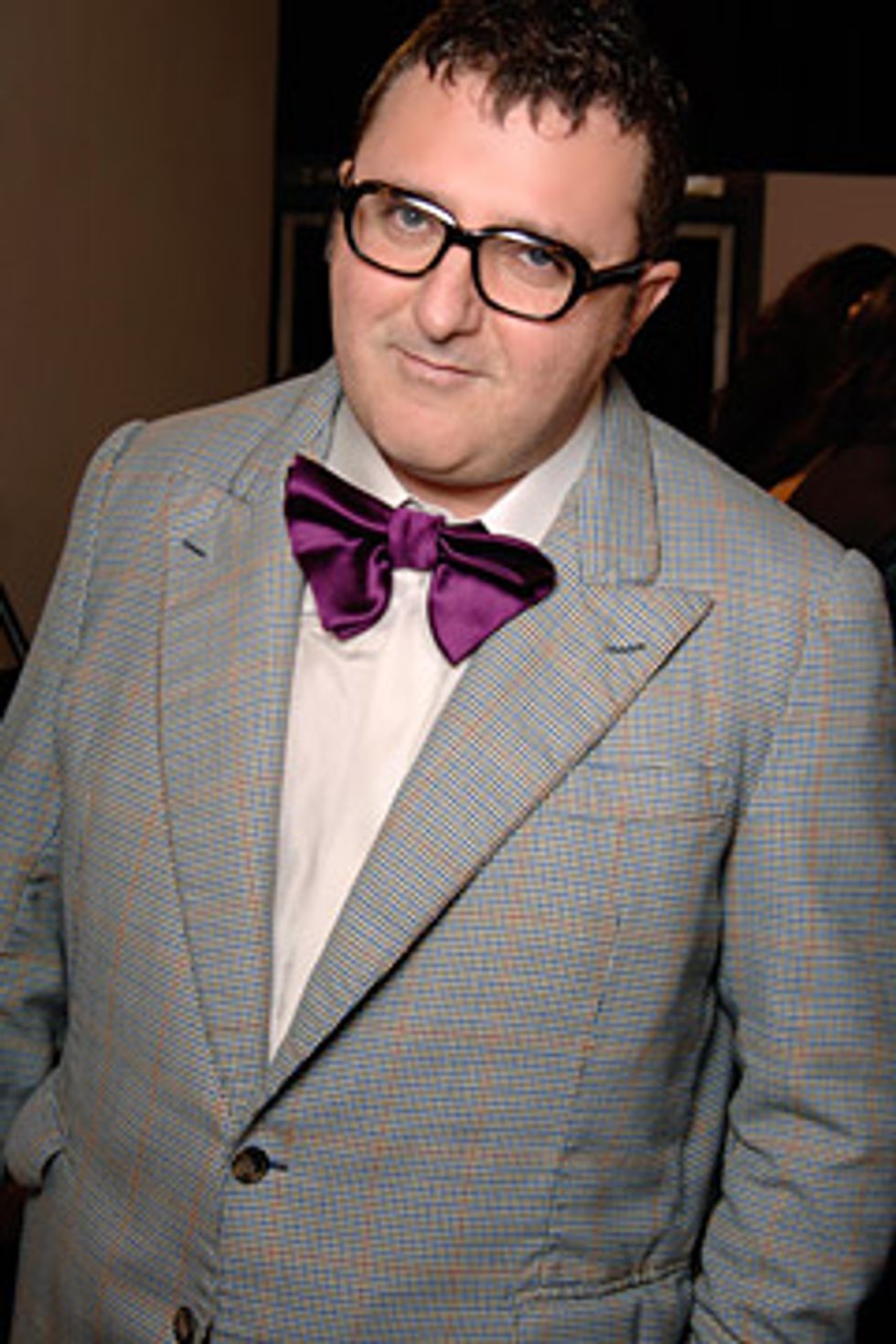 This Fashion Week is nuttier for me than any one I can remember in years. First of all, NOTHING makes me crazier than a taxi strike in New York City. I refuse to take subways and am too poor to get a car and driver for Fashion Week, and so with the insane fashion show schedule coinciding with an insane taxi strike compounded by my ridiculous schedule, I have had to edit severely. For God's sake, the fashion world wants us to travel from an 11 a.m. show on Sixth Avenue at 40th St. to a noon show on Grand and West Broadway to a 1 p.m. show on a pier at Tenth Avenue and 36th St. to a 2 p.m. show in a church on Ludlow Street to a 3 p.m. show back at the tents at 40th and Sixth Avenue. And with no taxis? I mean, GET REAL. It's a bit over the top.
Not to mention, my dearest friend, designer Ingo Maurer, is opening his show at the Cooper Hewitt on Monday night right at the same time as the Marc Jacobs show. Oy. I will go to Ingo's opening, scoot to Marc Jacobs at the Armory, scoot back to the Cooper Hewitt for a dinner after the opening and hope no one notices. PLUS, I will be multitasking fashion and art this Saturday, going to five shows PLUS squeezing THE FABULOUS ART PARADE which PAPER, CREATIVE TIME AND DEITCH PROJECTS sponsor at 4 p.m. on West Broadway in SoHo. DONT MISS IT! I will be driving the Heartschallenger ice cream truck so scream, "Hi!" if you're there. On top of that, I am preparing to learn to play the TRIANGLE (the musical instrument), because next week I'll be dingling a triangle in Los Angeles for three days at the Hollywood Bowl with my old friend's orchestra Pink Martini, who will be collaborating with Carol Channing (divine).
And so, all this on my plate has forced me to severely edit during this particular crazy week, which has kind of been fun and undiluted. I made it up to say congrats to my dog-run friend, the artist Marilyn Minter, at her show opening that Tom Ford threw her the other evening. It was hilarious. I went up there with the glamourous Jennifer Sample from PAPER, our new ad director, and our art guru Carlo McCormick. What a sight we were. Carlo looked like a vagrant and was wearing baggy shorts, a dirty T-shirt, low white socks and a fly fisherman's hat over his three-foot-long pony tail. I thought the Tom Ford people would have a heart attack when they saw him. I just kept saying, "he's a good friend of the artist", so theyd let him pass easily...
As soon as we got in, we saw crazy Marilyn (who I adore), who screamed at us hello. Tom Ford was a doll and didn't flinch when I introduced him to our PAPER vagrant Carlo. Looking around, I saw many other of my art-world friends who looked vagrant-like as well. We saw the whole Artforum crew, the Art Production Fund crew (Yvonne Force etc.) and our old Artnet friends Walter Robinson and Lisa Rosen. And the wild-haired, leopard-bespectacled Kiki Smith was there in hippie sandals and an Issey Miyake shmatte with a giant cluster of house keys hanging around her neck. I love Kiki. We shared a cab downtown together. She's the real deal and it was great to see her. Art puts everything back into perspective I think. It was a fun party.
Then the taxi strike. OY. I schlepped uptown on the Madison Avenue bus to the Rainbow Room to toast my old friend Alber Elbaz (the brilliant designer of Lanvin) yesterday where he was being honored at a huge luncheon benefitting F.I.T. thrown by the "Couture Council," which I think I am on the committee of. It was really fun to see Alber, who moved several people in the audience to tears with his speech. He's so eloquent and lovely and talented. I adore him. I met him years ago when he was the assistant to Geoffrey Beene who was an old friend. (see photo of Alber above.)
Anyway, I'm off today to see our BARNEYS WINDOWS!!!! (check them out at the corner of 61st at Madison) They're amazing! (see Prada illustration below!)