NOVEMBER 30
Art Basel Miami Beach 2016 opens their "Private View" for media and VIPs today from 11 a.m. to 8 p.m. and tomorrow's "Vernissage" runs from 11 a.m. to 3 p.m. Both sessions are invite only, but then starting at 3 p.m. on December 1, it's open to the public daily through Sunday in the Miami Beach Convention Center (1901 Convention Center Drive, South Beach). Tickets are available HERE. Here's what to expect: 269 exhibitors from 29 countries, artworks by 4,000 artists and over 70,000 visitors during the fair's 15th edition.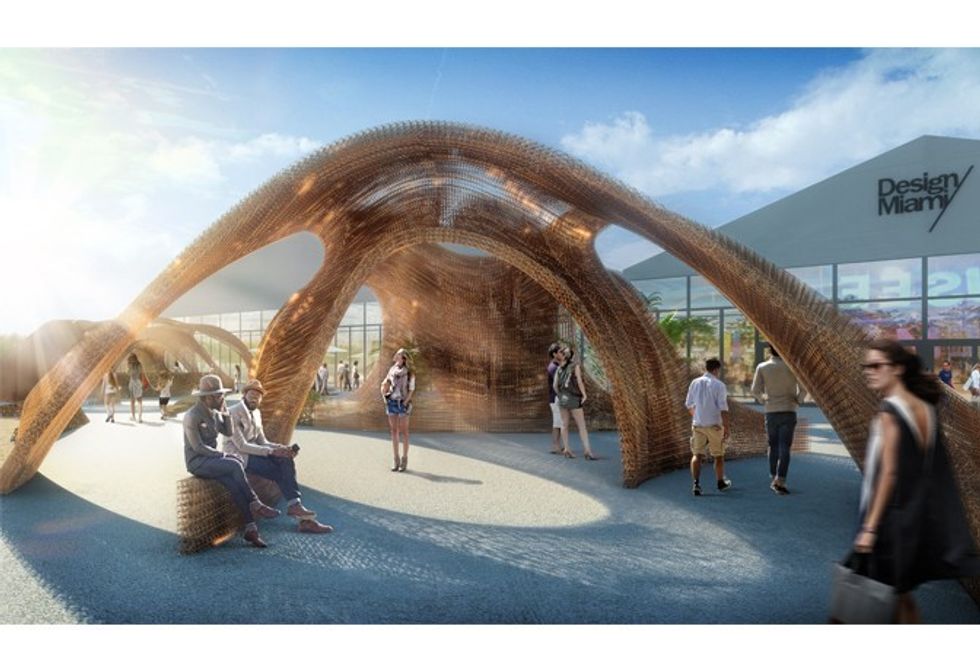 "Flotsam & Jetsam" rendering by SHoP Architects
Design Miami — "the global forum for design" — is back at 19th Street and Meridian Avenue, behind the convention center, today thru December 4. This year's Panerai Visionary Award went to the NYC firm SHoP Architects (Barclays Center, LGA, 626 First Ave., Pier 15 etc.) who created an installation called "Flotsam & Jetsam" for the public-plaza entrance to the fair. After AB/MB, "F&J" will move to Miami's Design District.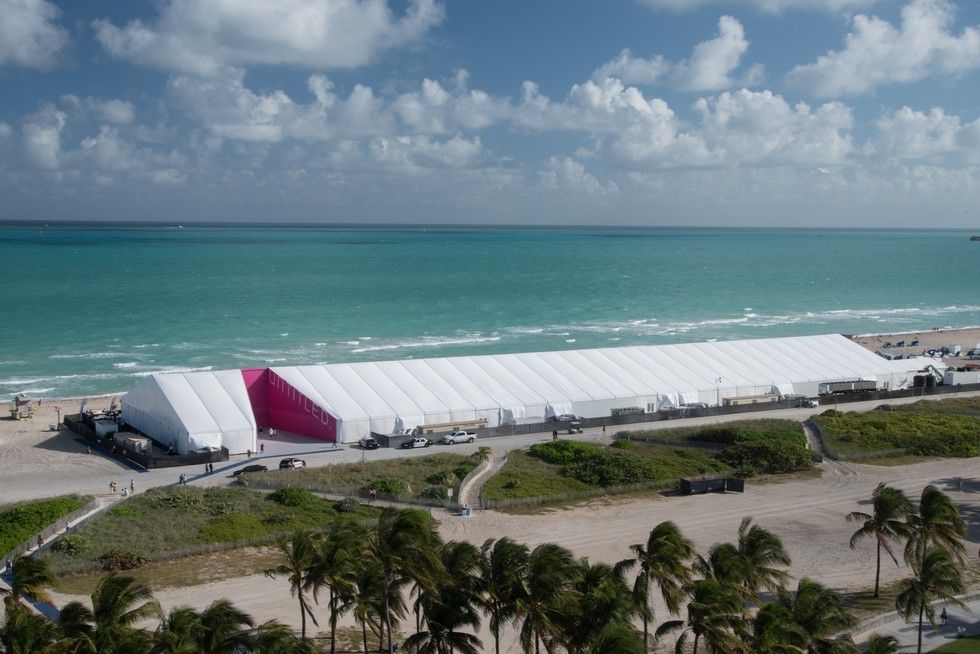 The fifth edition of Untitled Miami Beach features 129 international galleries with 37 new exhibitors in an "expanded" space on the beach at Ocean Drive and 12th Street from November 30 to December 4. They are hosting several projects including a participatory installation by Rirkrit Tiravanija and Tomas Vu called "Do We Dream Under the Same Sky?" that features surfboards inscribed with Beatles lyrics, a T-shirt stand, surfboards that you can borrow and a shower to rinse off after you wipe out. This year's immersive-environment Jungle Lounge was designed by Brooklyn-based artist Daniel Gordon. Several non-profits including ICA Miami, Aperture Foundation, Microscope, ArtPod and Site:LAB will also be exhibiting.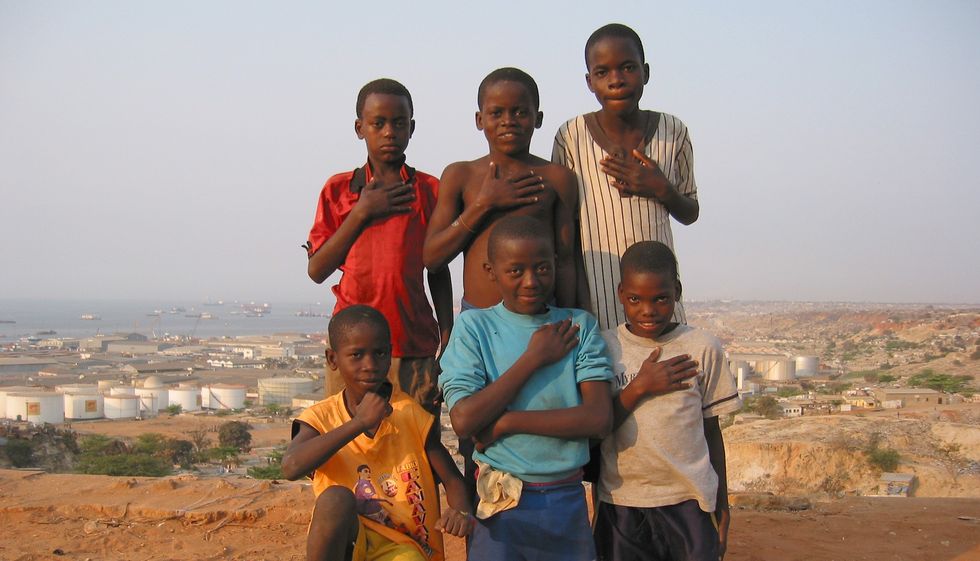 Alfredo Jaar, "Muxima," 2005. Courtesy Art Basel.
Art Basel's 2016 film program in Miami Beach includes the first film by Chilean-born artist Alfredo Jaar, a silent film about music by Christian Marclay and a special screening of Maura Axelrod's "Maurizio Cattelan: Be Right Back." Over 50 films and video works have been selected for screening outdoors and inside the convention center, as well as at the Colony Theatre on Lincoln Road. For his sixth year as curator, David Gryn has also chosen 28 short films by international artists that engage with music for a 2-hour program called "Best Dressed Chicken in Town," named after THIS (https://www.youtube.com/watch?v=OhlAi2FfPhw) reggae tune, with screenings at 8 p.m., Wednesday thru Sunday in SoundScape Park adjacent to the New World Center (500 17th Street, South Beach).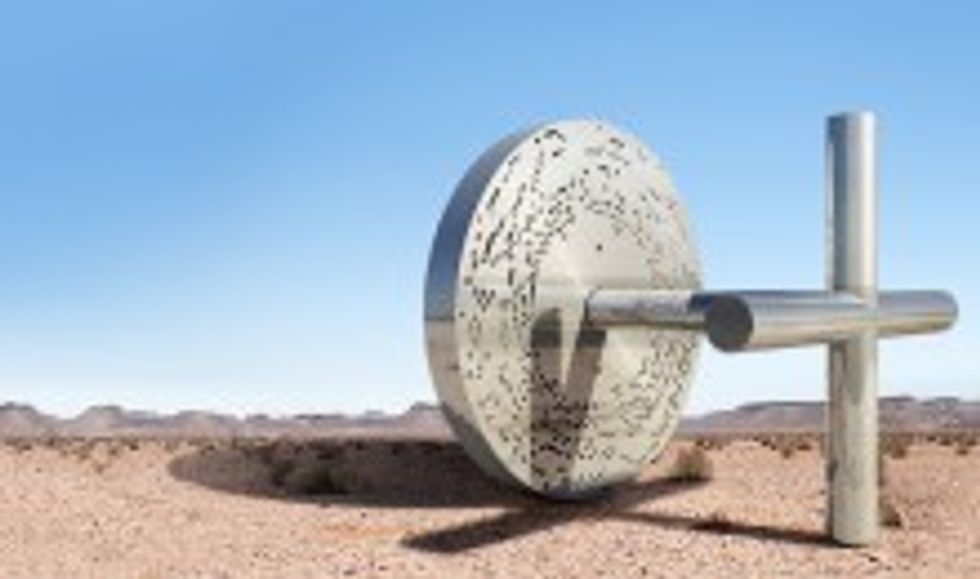 The Other Dimension, via Museum of Contemporary Art North Miami
The Museum of Contemporary Art North Miami (770 NE 125th Street, North Miami) will present a solo show by Cuba-born artist Antuan Rodriguez called "The Other Dimension" opening on Wednesday, November 30, 7 to 10 p.m. His sculptural works "address the human concern for universal communication through forms, symbols and codes."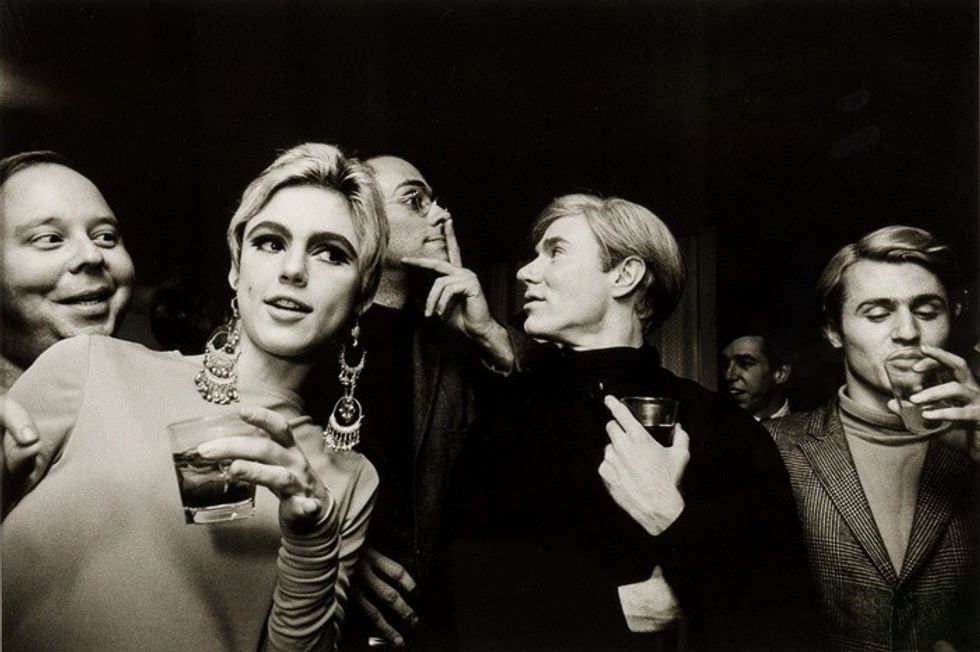 Andy Warhol, Edie Sedgwick, and Entourage, New York, 1965, Steve Schapiro via the Brett Ratner auction
SOHO Beach House (4385 Collins Avenue, Miami Beach) brings their big event tent back to the beach with daily programming including a private party today for the Paddle8 auction of selected memorabilia from director and producer Brett Ratner's extensive private collection. Jean Pigozzi, Thomas Hesse and Alexander Gilkes co-host with Ratner. This is a benefit for the Museum of Tolerance and the Simon Wiesenthal Center and the auction runs until December 6. Check it out (and bid) HERE.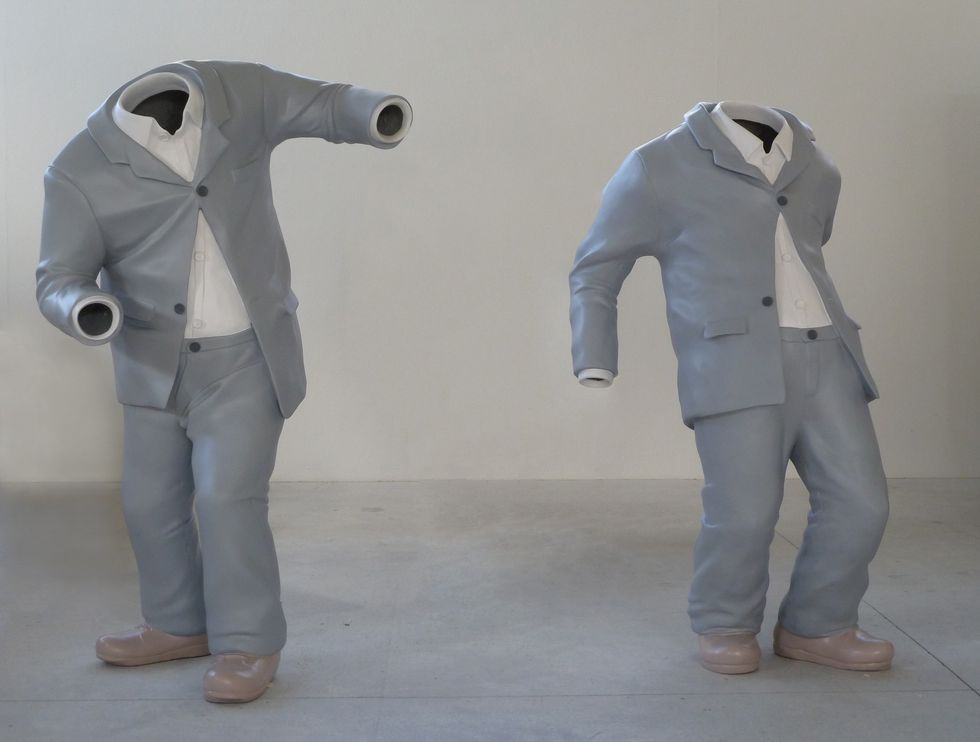 Big Disobedience, 2016 by Erwin Wurm. Courtesy of artist and Lehmann Maupin, New York and Hong Kong
The AB/MB PUBLIC sector, produced in collaboration with The Bass Museum, will feature 20 site-specific installations in Collins Park (Collins Avenue between 21st and 22nd Streets, South Beach) beginning Wednesday, November 30, 8 p.m. Using the theme "Ground Control" (and inspired by David Bowie) works by artists from 10 countries will be on view all week. Some highlights: Edwin Wurm's larger-than-life sculpture of two figures called "Big Disobedience"; Tony Tasset's monumental sculpture of arrows; David Adamo's small bronze sculptures of everyday objects (flip flops, styrofoam cups etc.); and a street light by Wagner Malta Tavares that will glow in the dark. Performers at Wednesday's opening include Lady Bunny (who will transform the park's rotunda into a spaceship-disco tribute to Bowie), Rob Pruitt, Naama Tsabar and Davide Balula. W Magazine, Phillips and The Bass host a private dinner in celebration of Ugo Rondinone's "Miami Mountain."
Artsy and SoundCloud present "Collective Reality," an immersive virtual reality experience, in the Time Capsule dome on the beach behind the Faene Hotel (3201 Collins Avenue, Miami Beach), today, 8 to 11 p.m. They are planning several site-specific works by artists including Rachel Rossin, Jon Rafman and Jacolby Satterwhite, plus singer/songwriter Abra. Note that this an "invite only" and RSVP mandatory event. GUCCI provided support.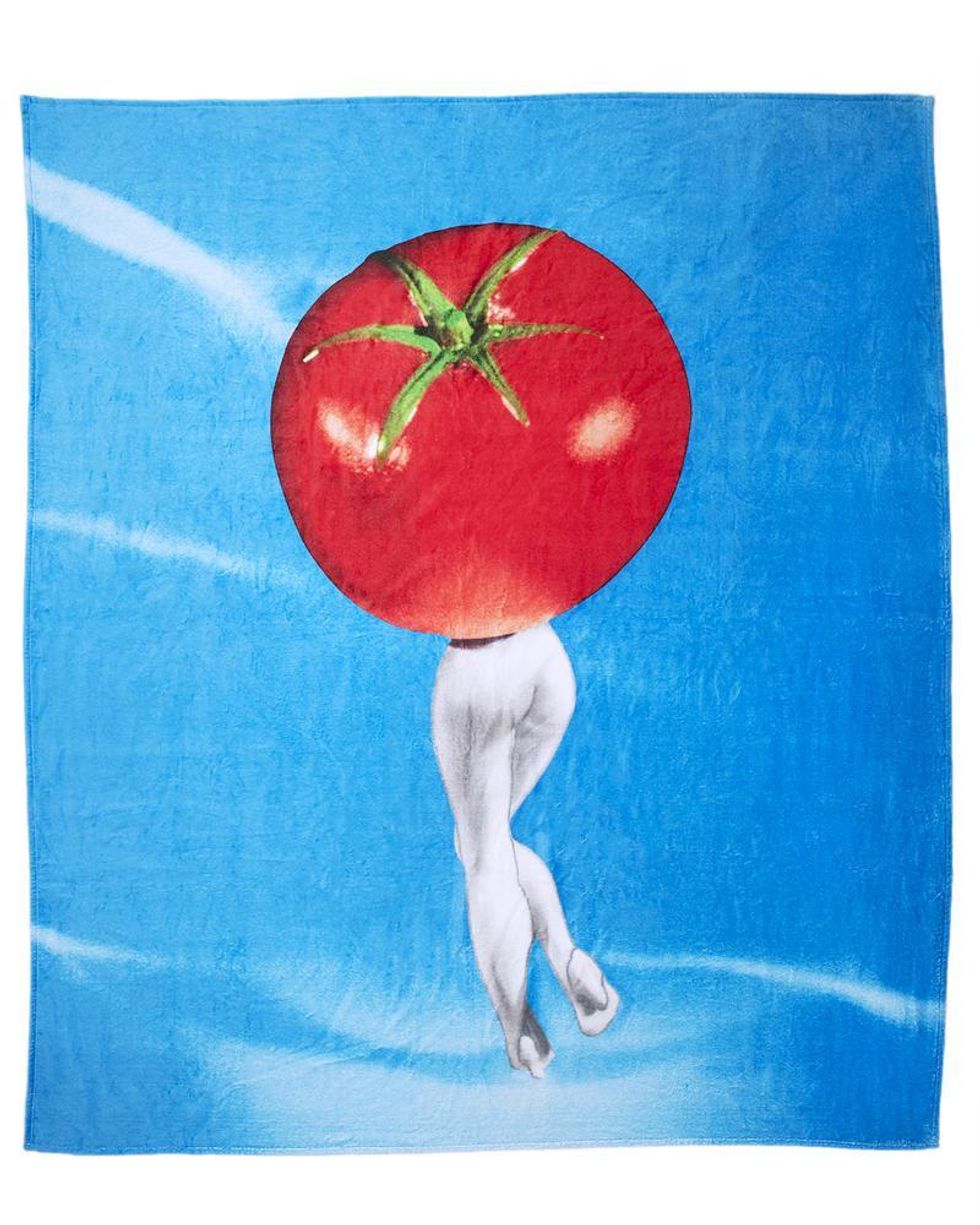 The Delano South Beach (1685 Collins Avenue, South Beach) has a big week lined up for AB/MB. There's a pop-up show in the lobby featuring photos by award-winning UK photographer Terry O'Neill who has shot celebrities since the 60s including Judy Garland, the Beatles, Faye Dunaway, Elton John and Frank Sinatra. And, starting tonight, the hotel's basement lounge will host a 3-night music program called "Cool Down," curated by MoMA PS1. The hotel is also launching the Art Production Fund's new series of artist-designed towels by John Currin and Laurie Simmons, with both available for purchase in their gift shop.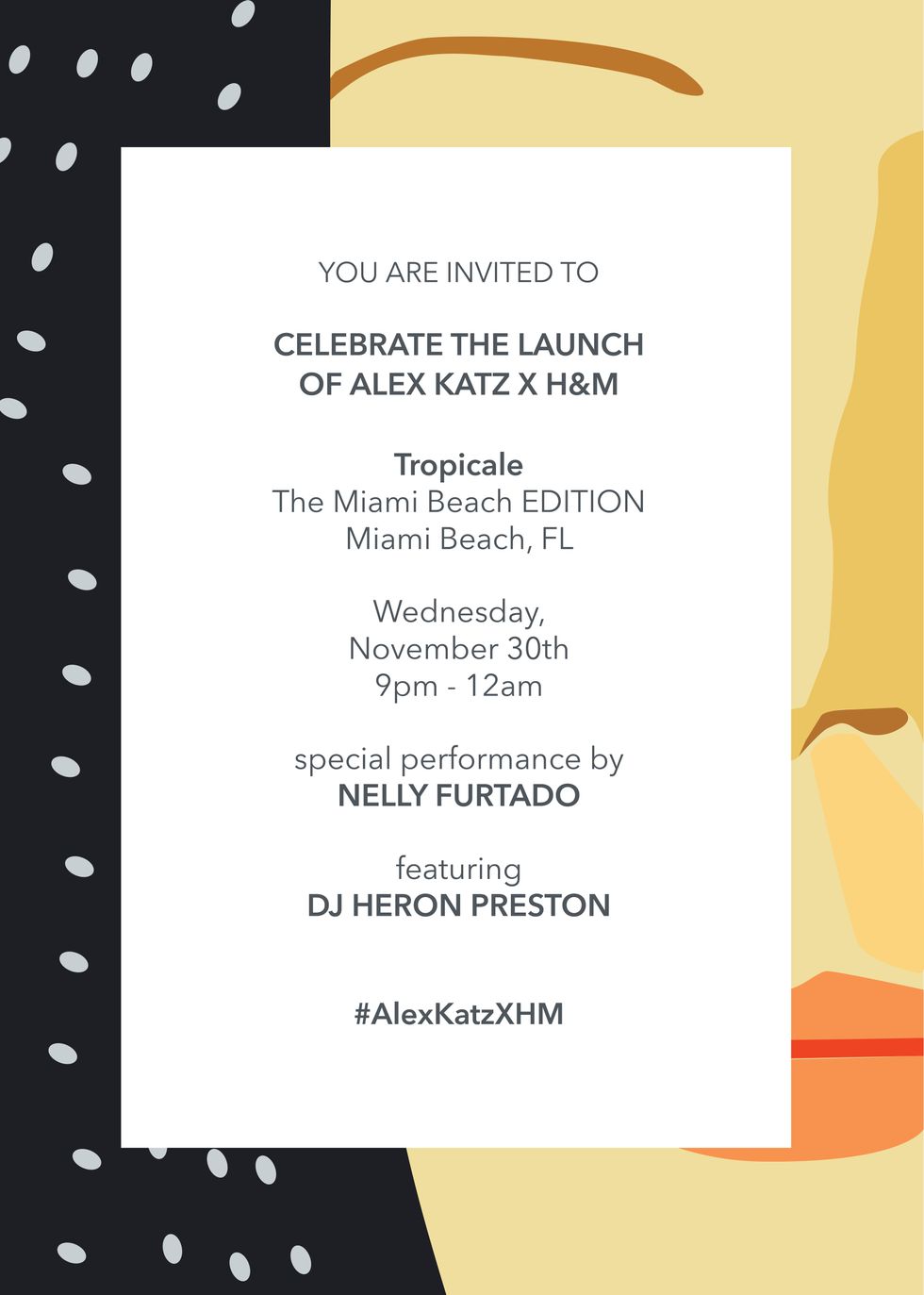 Celebrate the launch of the Alex Katz x H&M collection at a private party hosted by PAPER Magazine at the Miami Beach EDITION (2901 Collins Avenue, Miami Beach) tonight, 9 p.m. to midnight. There's a special performance by Nelly Furtado and DJ Heron Preston is spinning. RSVP w/invite mandatory.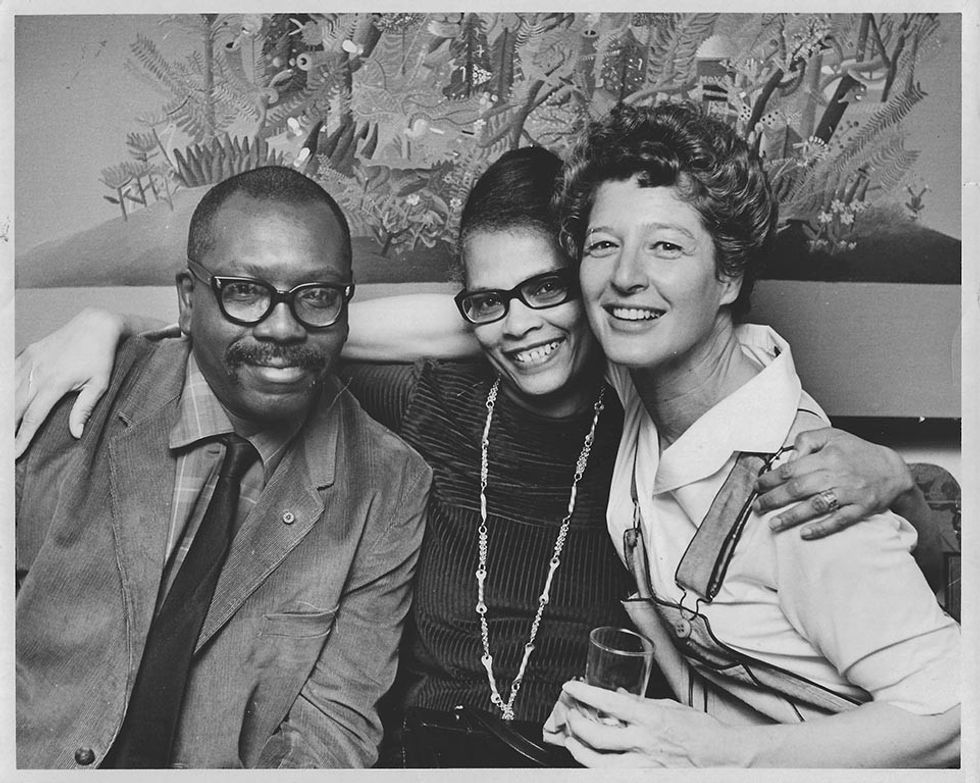 Via X Contemporary
The second edition of the X Contemporary fair is at the Nobu/Eden Roc Hotel (4525 Collins Avenue, Miami Beach) starting with a VIP vernissage on the morning of November 30 and ending with a big, private outdoor closing party on December 4. They're expecting 35 international galleries along with an exhibition curated by Michael Klein that's dedicated to "The Women Who Made Modern Art Modern," profiling 16 art dealers from the 40s, 50s and 60s. NYC artist Nemo Librizzi hosts a cocktail party tonight in the hotel's Bar Nobu.

Sin Titulo, Leonor Anthony via Aqua Art Miami
Aqua Art Miami is back in the Aqua Hotel (1530 Collins Avenue, South Beach) for their 12th edition from Wednesday, November 30 (VIP preview), through Sunday. Look for emerging and mid-career artists in the rooms of a classic deco hotel and it's courtyard. Highlights: Hebru Brantley's fiberglass sculptures at Vertical Gallery; Cuban-born artist Leonor Anthony at Simons Gallery; and a panel discussion on December 2, 9:45 to 10:45 a.m., moderated by Susan Mumford from the Association of Women Art Dealers. Aqua is a satellite fair of Art Miami.
The Rhode Island School of Design (RISD) celebrates alumni who are showing during Miami Art Week with a private reception today at The Ritz-Carlton, South Beach (1 Lincoln Road, South Beach). President Rosanne Somerson and Diego & Gisela Lowenstein host, along with media partner Cultured Magazine. RSVP mandatory.
The 10th edition of Red Dot Miami (1700 NE 2nd Avenue, Miami) runs from November 30 (VIP opening from 6 to 10 p.m.) through December 4 with 75 international galleries in a 55,000-square-foot structure adjacent to the Spectrum Miami fair. Check out their "pARTicipate" immersive experience presented by Life Is Art, Virtual Relief and Miami International University of Art & Design.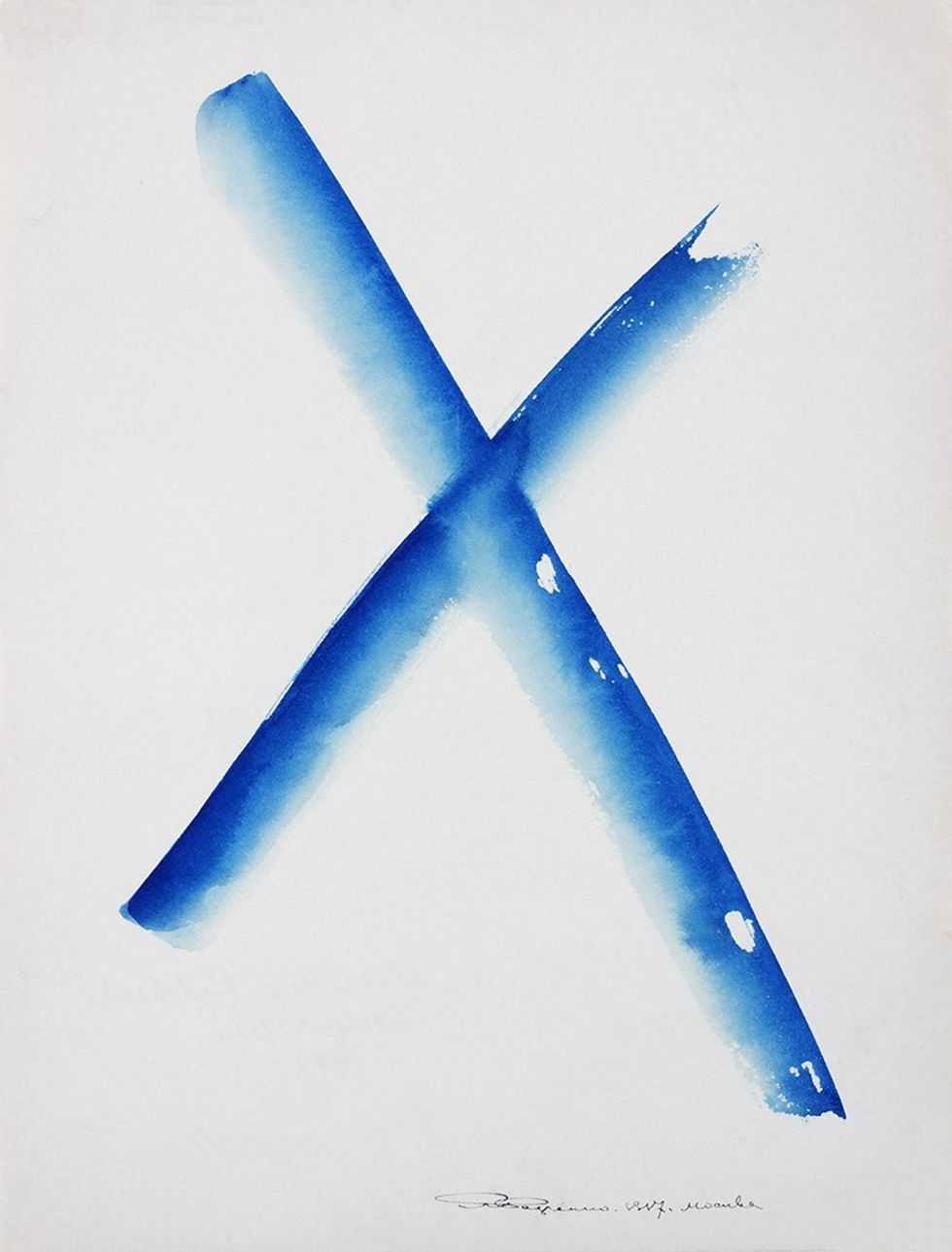 Alexander Rodchenko, Composition, 1917
Claude Picasso, Sir Norman Rosenthal, Krystyna Gmurzynska, Mathias Rastorfer and Isabelle Bscher are hosting a super-private, VIP only cocktail party at the Faena Hotel (3201 Collins Avenue, Miami Beach) today. The event honors the opening of Galerie Gmurzynska's exhibition of Russian avant-garde works in their AB/MB booth, designed by Claude Picasso.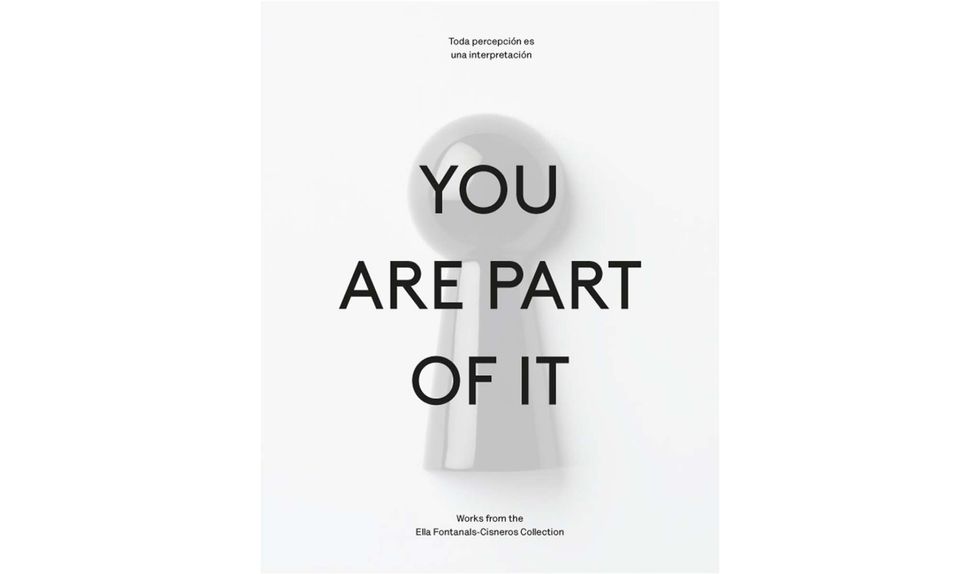 The Cisneros Fontanals Art Foundation (1018 North Miami Avenue, Miami) opens "Toda percepcion es una interpretacion: You Are Part of It," an exhibition of works from their collection, today until 6 p.m., and on view through March 12, 2017. Over 51 works by 41 artists are included; plus there's a re-creation of a site-specific work called "Wrinkle Environment" by Liliana Porter and a participatory performance by Carlos Martiel on December 1, 11 a.m. Admission to CIFO is free.
Strauss Zelnick and Take-Two Interactive host "Open Worlds: Art in the Age of Interactivity," a talk moderated by W Magazine's Diane Solway and featuring Virgil Abloh, Daniel Arsham, Rosario Dawson and Dan Trachtenberg, today from 5:30 to 7:00 p.m. at the Audemars Piguet site on the beach between 21st and 22nd Streets. The afterparty is in the same spot from 7:30 to 10:30 p.m. with DJs Chelsea Leyland, Kitty Cash and Virgil Abloh. RSVP w/invite only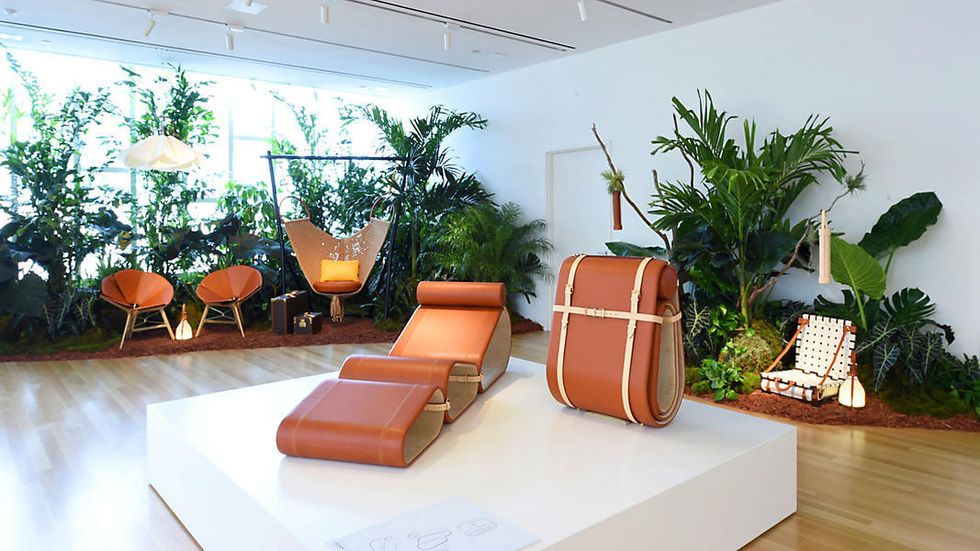 Louis Vuitton's "Objets Nomades" collection returns with two new pieces for 2016: Tokujin Yoshioka's "Blossom Stool" and the Campana Brothers' "Fur Cocoon." Both will be on display at Design Miami today thru December 4 and at Louis Vuitton (140 NE 39th Street, Miami) in Miami's Design District thru January 2017.
DuJour Media with Gilt and JetSmarter host a Miami Art Week kick-off party at The Confidante Hotel (4041 Collins Avenue, Miami Beach) tonight, 7 to 11 p.m. The party celebrates DuJour cover star Kris Jenner and the release of "All-America XVI" by Nan Bush and Bruce Weber. Music by The Extortionists featuring Ibe Soliman and Public School's Dao-Yi & Maxwell Osborne. Invite only.
The International Fine Art Print Dealers Association opens their 11th annual INK Miami Art Fair today and running through Sunday.
The HIVE pop-up lounge is back in Wynwood at 2250 NW 2nd Avenue, Miami, from November 30 to December 4. This year's attractions include a sculpture garden, live music and DJs, cocktail demos and a skate park. The kick-off party is 7 to 9 p.m. today.
The LOEWE Foundation commissioned Irish artist William McKeown and British potter John Ward to create a site-specific installation, "Chance Encounters II" in the LOEWE store (110 NE 39th Street #102, Miami) in the Design District that will be on view from November 30 to March 31, 2017. Jonathan Anderson, The William McKeown Foundation and Dublin's Kerlin Gallery host a VIP event for the unveiling.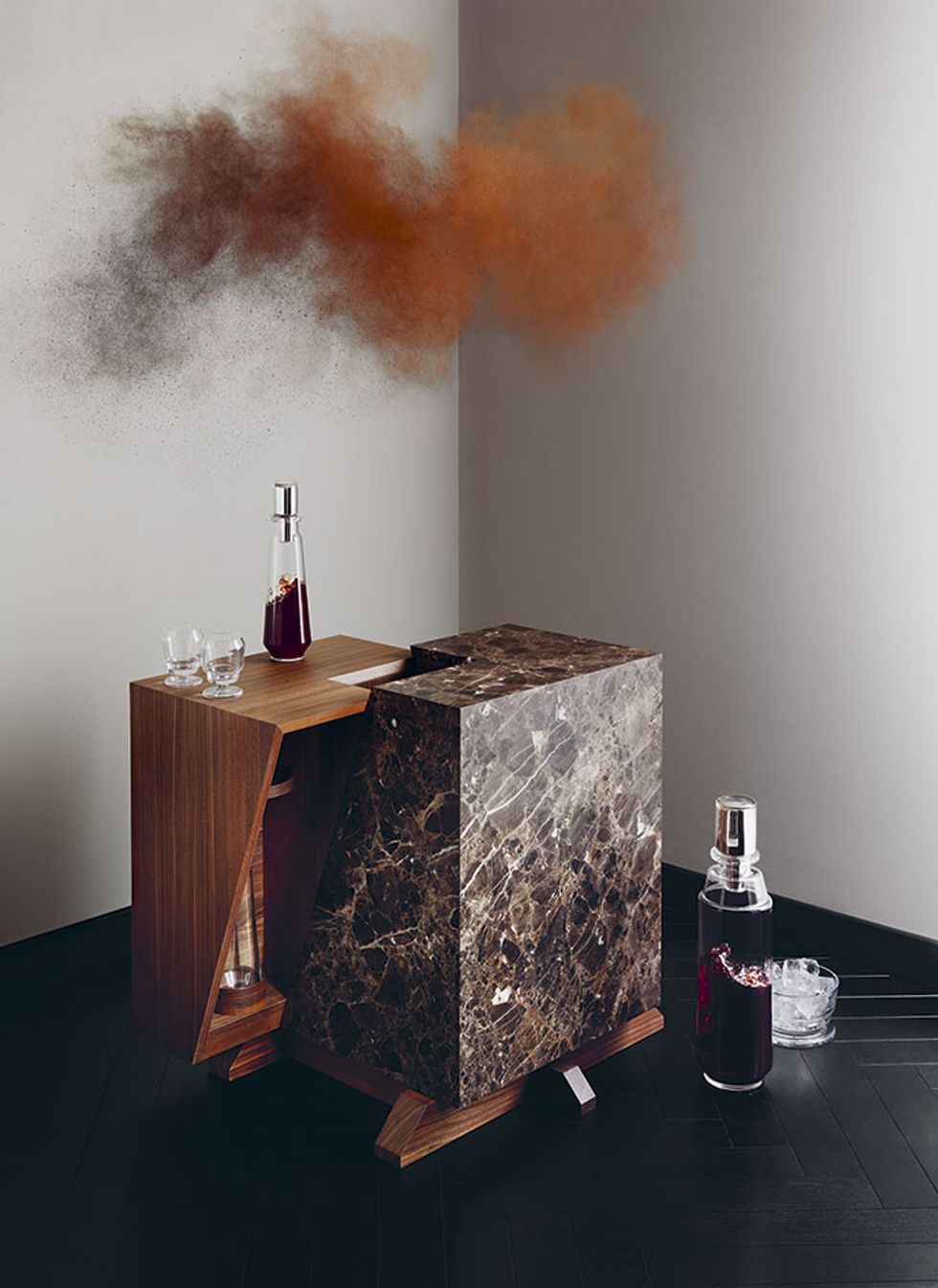 Photography: Tommaso Sartori, via Wallpaper
Wallpaper* magazine hosts an exhibition called "Handmade 2016: Hotel Wallpaper*" at the W Hotel South Beach (2201 Collins Avenue, South Beach) from November 30 thru December 4. This is their annual "salute to creativity and craftsmanship."
Italian architect Piero Lissoni, designer of the Ritz-Carlton Residences, Miami Beach, will unveil his Villa Lissoni (4701 North Meridian Avenue, Miami Beach) today. Lionheart Capital hosts. RSVP mandatory.
Bob Zangrillo and Tony Cho unveil their big new development project and launch the Magic City Sculpture Park at the corner of NE 62nd Street and NE 4th Avenue on Wednesday, 5 p.m. Look for artist Laura Kimpton's "Magic" and new works by Yelena Filipchuk and Olivia Steele.
Gallery 212 (2407 NW 2nd Avenue, Miami) opens a group show called "Art Without Borders" tonight from 7 to 9 p.m. Then there's an afterparty and a Miguel Paredes mural unveiling with artist Michael Perez at STK South Beach (2305 Collins Avenue, South Beach) from 9 to midnight. RSVP mandatory.
The Langford Hotel (121 SE 1st Street, Miami) has a reception for a new "flower sculpture" by Emilio Robba in their Sky Lobby from 6 to 9 p.m. today
Resident Advisor has a big warehouse party on Wednesday, November 30, 10 p.m. to 5 a.m., and they're collab'ing with several local promoters to present Floating Points, Dam-Funk and The Black Madonna in the Factory at Magic City Studios (6301 NE 4th Avenue, Miami). Tickets are available HERE.
The Surf Lodge Bungalow will pop-up in the W South Beach Hotel (2201 Collins Avenue, South Beach) from November 30 thru December 2. Modern OM hosts "sits" with Rockstar Shaman Alyson Charles at 2:30 p.m. daily. Tonight (late) there's a party for L.A. artist Gregory Siff, Lisson Gallery, Cultured Magazine and Shawn Kolodny.
III Points presents James Blake (DJ set) w/ Airhead, Dan Float, Klaus and Mr Assister at Magic City on Wednesday, November 30.
Friday, in the same venue, there's Todd Terje, Totally Enormous Extinct Dinosaurs and Tim Sweeney; Saturday, Chet Faker and Mount Kimbie; Sunday, Acid Pauli.
The Wall nightclub in the W Hotel (2201 Collins Avenue, South Beach) has DJs Behrouz, Damian Lazarus and Jan Blomqvist spinning on Wednesday, November 30, and Blender with David Squillace on December 3.
Mayer Hawthorne DJs tonight, 11 p.m., at The Anderson (709 NE 79th Street, Miami).
Kaskade with Virgil Abloh at LIV in the Fontainebleau Hotel (4441 Collins Avenue, Miami Beach) tonight.
P Diddy tonight (late) at Rockwell (743 Washington Avenue, South Beach).
Splash photo: Tony Tasset, Arrow Sculpture, 2016
You May Also Like
Fashion
Story by Mario Abad / Photography by Alyona Kuzmina / Styling by Stefania Chekalina