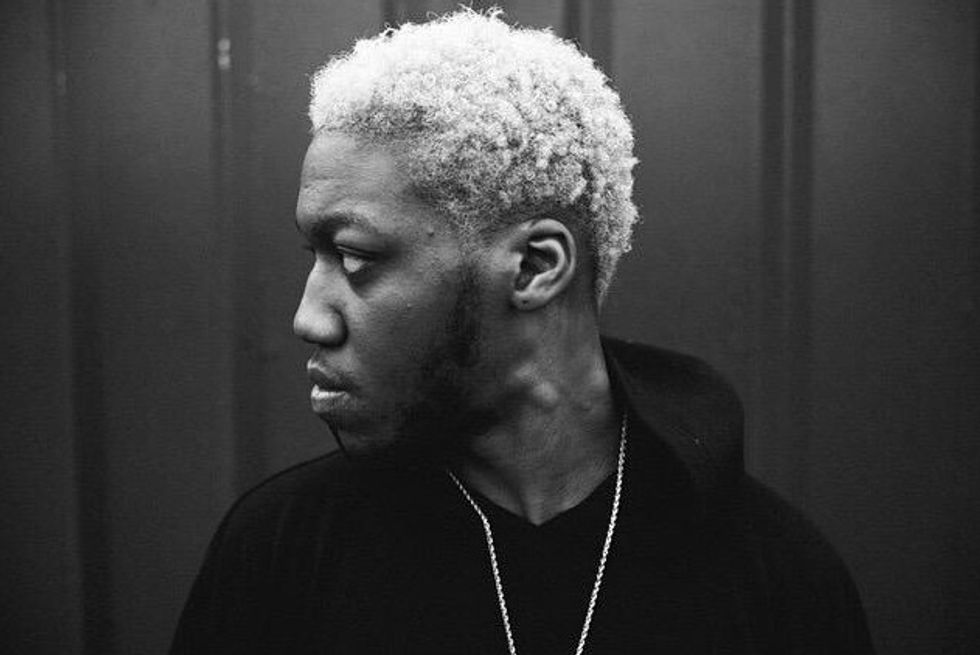 The pitfalls that can trap a perceived one-hit wonder in the digital age are far deeper and more plentiful than they were before social media accelerated the shelf-life of your average flash-in-the-pan from weeks to days. Just ask 23-year-old Atlanta rap upstart OG Maco, whose leftfield hit "
U Guessed It
" went viral last winter, thanks largely in part to Vine (the video proper currently has over 30 million views on Youtube). On its own two feet, the skeletal "U Guessed It" is tense, manic and unnerving -- in other words, what a lot of good rap music should be. But in the hands of teenagers with too much time on their hands, the song was used to soundtrack a variety of
goofy-ass clips
, contorted into an instant parody of itself before it even had a chance to breathe. "People [were] taking my viability as an artist a lot less seriously because they was thinking I was some guy on Vine that made a song and now I'm trying to make a career out of it, when I was already an artist puttin' in work," Maco says, sounding less exasperated and more collected than the character portrayed on the hit he made "off some alcohol and a little bit of frustration."
At this point in his career, Maco's at something of an identity crossroads, but there's no question that, as an artist deeply entrenched in Atlanta's latest rap renaissance, being known only as the "U Guessed It" guy is a tough position from which to navigate. He also seems keenly aware that his fame clock is ticking: "I got a couple of seconds up," he raps on
recent mixtape 15
, "when they said I had 15." Today, the idea of minutes, as opposed to seconds, seems like a luxury. At the same time, it's going to be a challenge to tow the line between pumping out the kinds of tracks that his "U Guessed It" fans want to hear while also showing off his lyrical skill and artistic potential. "A lot of people who aren't ready for the complexity in the majority of my music, they just wanna hear some fuckin' noise," he says matter-of-factly. "So I give it to 'em. It's just, 'to yell, or not to yell?,' you know?"
Maco grew up on Atlanta's South Side, surrounded by the same ills that plague a lot of young men and women in our inner-cities, despite the best efforts of his parents ("they tried to keep me me out of trouble, keep me out of shit"). Of Atlanta he says, "If you really out here making it happen, that shit... it ain't easy. I had a bunch of friends die. A bunch of friends go to prison." His best friend Dale Mattox was murdered while playing basketball when Maco was 13, and, unsurprisingly, drugs have impacted his life and work in significant ways. "You know I'm seeing all my homies still selling drugs, still making it happen however they gotta make it happen, and for some of them it's because they're addicted to money, they're addicted to the hustle. But for others, it's all they got," he says. "There ain't a million ways to make a million dollars."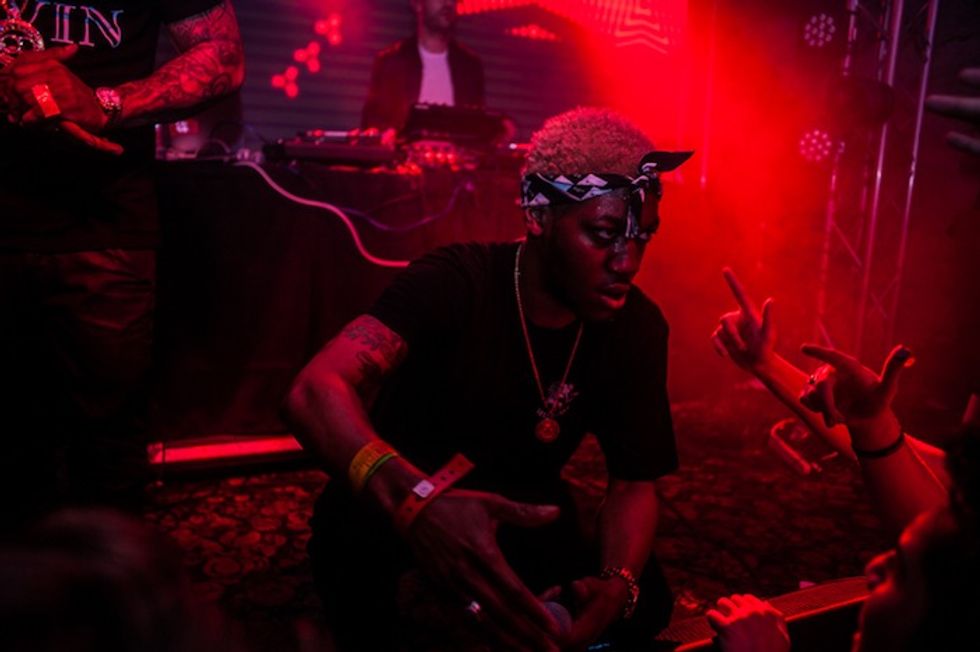 Maco performing at SXSW this year
Maco has been frequently pigeonholed as a trap artist -- a tag he neither embraces nor eschews -- but the realities of his environment are impossible to ignore in the music he makes. "Violence wasn't just in my early life, it was continuing through last year. It's been non-stop. So it never stops influencing it." That reality is compounded when considering the fickle ins-and-outs of the contemporary rap game, something that Maco and his contemporaries understand all too well. "A lot of these people came from environments where they was in the streets, and they went from in the streets to rapping," he explains. "Or in a lot of cases, they still in the streets. Just making music at one point, and famous on Monday, and then Tuesday they back in the trap. So we have authenticity to our music, and we're easily misunderstood and don't give a fuck. Everybody's trying to figure out the mojo, and we ain't trying to figure out shit. We're just doing what we do."
It's that same "don't give a fuck" attitude that's led Maco down several different creative paths in his short but prolific career. While his breakthrough
OG Maco EP
contained the same kind of hard-headed urgency as "U Guessed It," it was far more nuanced than most gave it credit for, complete with mainstream radio bids like "Let's Get It" ("'Let's Get It' should
definitely
be on the radio"). More surprising was
15
, which was as introspective and restrained as anything that's come from from the "New Atlanta" scene. But it was with the
Breathe EP
that Maco showed just how dexterous an artist he's willing to become, offering three songs that collectively tackled everything from racist slut-shaming to marijuana legalization to, most importantly, police brutality. While many saw these overtly "conscious" recordings as a counter to his trap-minded releases, Maco sees them as two sides of the same coin. "We want to be free. We want equality. Real equality, not fake-ass, 'we can walk around and breathe the same air' equality. And that's obvious. We could do that when there was still Jim Crow laws." This past week, he released
OGZay,
a collaborative mixtape with super-producer Zaytoven, which finds Maco "back in the pots and pans" and "back whippin' dope." He says, "You never stop letting those experiences craft your music because they never stop crafting you as a person. You can get trap music from
OGZay
from the same perspective that I had from
Breathe
."
You May Also Like
Break the Internet ®
Photography by Oscar Ouk / Styling by Caitlan Hickey / Hair by Sean Bennett / Makeup by Kento Utsubo