Who says going out isn't work? Before these bedazzled, painted and lubed up partygoers head into the club, they tell us about the long hours, exhaustive research and Bob Mackie-level costume design that goes into making them the most head-turning crowd in New York.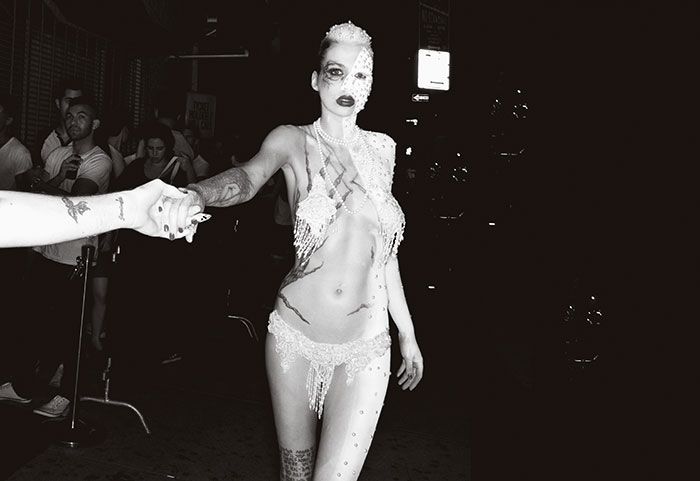 Jessica Love
Muse, Model, Dominatrix, Fire Performer
The Name:
"My middle name's Love. My mother was a bit of a hippie. My name isn't an alter ego or anything I created. It's actually my name."
New York City Debut:
"I first moved here when I was fifteen to model, and I've been bouncing back and forth from California and Europe ever since."
Intro to Nightlife:
"A fashion show that I walked at Limelight. This was when I was fifteen or sixteen. I wasn't old enough to get into clubs yet, so it was eye-opening -- although it wasn't like I hadn't snuck into clubs before that!"
Night Look:
"We were assigned a 'white summer dream' theme tonight. I had an Inked magazine shoot today and I was supposed to be all in white latex, but I didn't have time so this is as far as I got."
Prep Time:
"Three hours"
Day Look:
"My day looks are still looks. People always think my look is gothic but I honestly
just think a lot of black in your wardrobe is sleek and it flows together nicely. I like matching things. I also love skimpy things, anything sheer or fishnet."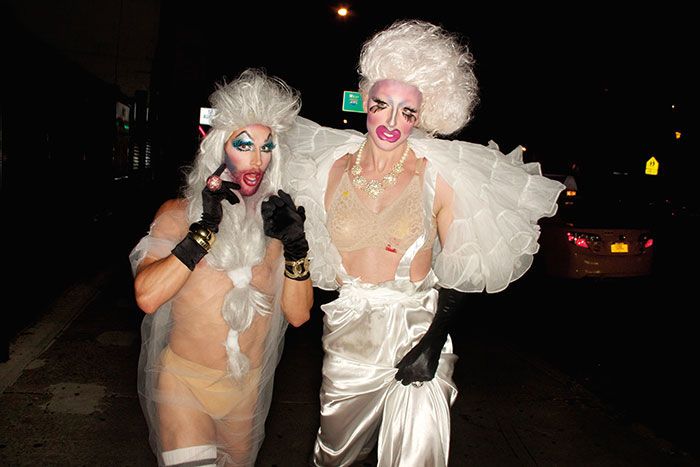 The Dairy Queens
Yoohoo (a.k.a. James Whiteside), Ballet Dancer; Milk (a.k.a. Dan Donigan), Merchandising Manager
First Influential Party:
Milk:
"'On Top' at Le Bain. It was so diverse. There were straight girls from Australia and a large amount of queers, fags and straights hanging together... a collage of people having fun at the top of a fucking hotel."
New York City Debut:
Yoohoo:
"We both got jobs here at the same time, serendipitously, so we decided to come live it up! We were already dating for like four years in Boston, so we're old cat ladies."
Prep Time: Yoohoo:
"Three minutes, look at me, honey... No, like, two hours."
Night Look: Milk:
"Tonight it's trashy, teased, tampon-wearing. Scratch that. More like Sporty Spice and Merlin's baby and then Ursula fucked Bozo and had Yoohoo."
Favorite place to chill: Both:
"We don't really do that."
Day Look: Milk:
"'Normal' clothes? If you saw us on the street during the day you'd definitely think we were dudes. We only really do 'gender fuck' shit at night."
Stella Rose Saint Clair
Beauty Writer, Fashion Designer, Muse, Model
Night Look:
"Tonight I had to go to a movie with a friend, then I hit up some really
shitty punk bar in Brooklyn, and now I'm at Marquee, so I'm kind of dressed for everything at once right now. Usually my night look is more Lolita scary-doll thing. Whatever happened to little Baby Jane Hudson?"
Nightlife Influences:
"I'm consistently inspired by Kembra Pfahler. I was wearing her wig that I caught at one of her shows last night."
Favorite Place to Chill:
"Lately I've just been hanging around at a lot of really scuzzy punk bars. Clockwork is a good one in the city. It's by my house. I was at one in Brooklyn tonight, but that doesn't mean I don't hate Brooklyn. I honestly never want to go there again."
Craziest Night in New York City:
"When I was twenty-two, I did a naked photo shoot
at Webster Hall and for years after that, if you Googled my name, that's all that'd come up. Thank god they're gone now."

Day Look:
"A working woman should always have as many white, collared, button-down shirts as possible. There's something about a white collar that's so powerful."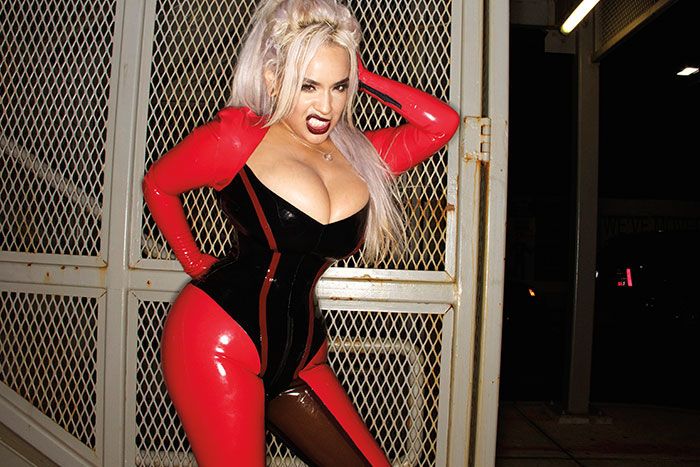 Mistress Kelly Lee Dekay
Designer, Domina
The Name:
"Kelly is my natural born name. Lee because Lee Alexander McQueen is such an inspiration to me. And Dekay is from my comic book, Pink Dekay."
Intro to New York Nightlife:
"'Miss Rubber World.' It's an all-latex event, and I was so fucking excited for it. Clearly." 
Night Look:
"I've always had a love for comic books, Jessica Rabbit and [fetish photographer] John Willie. I'm a combination of all those things."
Prep Time:
"If I'm going to tightlace myself into my sixteen-inch cincher and then wear a catsuit, probably three hours. I like to use lube when I'm in latex. I'm always lubing up because it looks better aesthetically against the city lights."
Day Look:
"I legitimately can't fit into regular clothes any- more. I've been tightlacing for three years, and they told me I wouldn't be able to do eighteen inches -- and I can do sixteen now. When I work out or eat, it feels kind of different."
Craziest Night in New York:
"Susanne Bartsch, myself, and a bunch of other friends went to see
Sleep No More
and then went to Susanne and Patricia Fields' Valentine's Ball. Let's just say we did something with a very famous [fashion] designer. I won't name names, but it was so New York in that it would never happen anywhere else."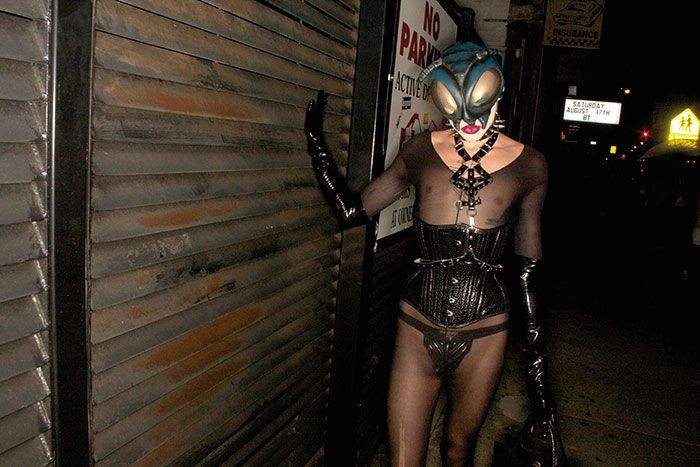 Christian Ellermann
Nightlife Blogger
New York City Debut:
"I moved here officially a year ago. I grew up in Texas and I had to get out because I'm a total man-hating tranny witch and that didn't really fit there, obviously. I got to New York and became the most fabulous person in the room because I am a man-hating tranny witch."
Intro to New York Nightlife: 
"Susanne Bartsch's 'On Top' at The Standard. It was like a deleted scene from Caligula."
Night Look:
"I'm serving a little bit of [Thierry] Mugler's line for Party City. Or a genderless witch alien."
Nightlife Influences:
"James St. James is the end-all, be-all for me -- smartest person who ever lived."
Favorite Place to Chill:
"Sway on Sunday nights. Best thing I've ever seen. It's all Turkish tiles and they play the Smiths mixed with Jay Z. Hoodlums jamming to the Smiths -- there's nothing better."
Day Look:
"Nothing... and no, I don't live alone."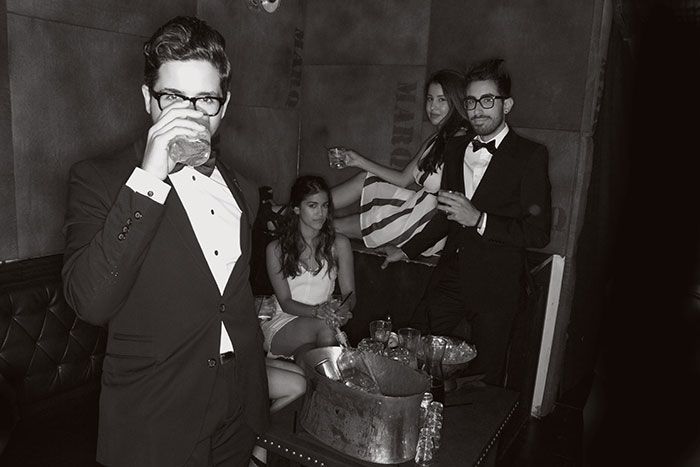 (l-r) Michael Fragoso, Thana Telphon, Stephanie Madrid, Ramy Abdel-Nabi
Michael Fragoso
Cultural strategist at ExtraExtra
New York City Debut:
"I moved here six years ago to go to college. I studied at Parsons [the New School for Design] in the Design and Management program."
Intro to New York Nightlife:
  "My first party I attended was a fashion week party at the Boom Boom Room that I was snuck into by a cool older friend who runs a perfume store. I was eighteen years old and all the people I used to read about in high school attended. I thought it was the coolest thing I'd ever seen and I knew I wanted to be a part of it all."
Nightlife Influences:
"Susanne Bartsch is, and will forever be, my nightlife inspiration. She is amazing, talented and, above all, professional. Without her I'd really not have a nightlife direction."
Craziest Night in New York:
"I was about nineteen and went to some crazy Marc Jacobs after-party where I had to be snuck in through the back because Lady Gaga was there. I wound up doing some unmentionable things at the Eagle. I got my YSL Johnny Boots spit-shined by a skinhead while two of my designer friends laughed and took pictures."
Favorite Place to Chill:
"A hidden sake bar in the East Village. I refuse to name it because I don't want people going there. It's really relaxed, and open past my bedtime."
Night Look:
"I like to wear bow ties and blazers. I always like a classic look. I think it's a bit kinky because it's like a uniform."
Prep Time:
"It takes me around thirty minutes because all my clothes are pre-dry-cleaned. I spend the most time doing my hair since I'm Latin -- and God knows curly hair takes time."
Day Look:
"I wear similar looks to what I wear at night, but part of the appeal of being known for a specific look is that nobody recognizes me on the street without it."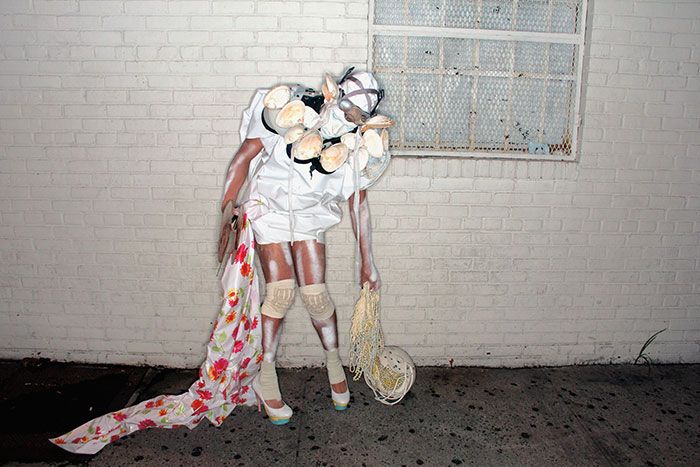 Gage of the Boone
Performance Artist
Intro to New York Nightlife:
  "'Vandam' made New York fun again."
Night Look:
"Today it's football-pearl-diver-alien-child-spaceship."
Nightlife Influences:
"Desi [Monster] is really amazing. He was one of the first people I met that I saw who was really giving it."
Day Look:
"I run a space called The Spectrum in Williamsburg. It's a queer performance community space. And I wear this. But it really depends on the day -- how I feel when I wake up, and what gender I am that moment. I change everyday."
Prep time:
"A lot of times it's a fucking full-day process. It takes hours to make my costumes, then hours to do makeup. I usually have to get with the program by five p.m. if I'm rushed, so
that I can always make it out by midnight."
Favorite Place to Chill:
  "Rooftops. Just give me a rooftop and some champagne and I'll be happy. I'm pretty easy."
Craziest Night in New York:
"[Any night at] my monthly party in Brooklyn called 'Ova the Rainbow.'"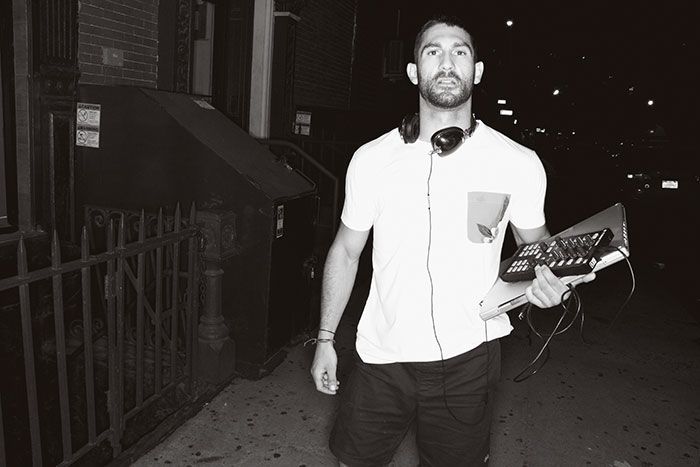 Carlos Jadraque
DJ
New York City Debut:
"I came to study for a summer at Parsons [the New School for Design]. Then, the stars aligned: I fell in love, I found a job, and I decided to move here."
Craziest Night in New York:
"There are so many! If I had to choose one, I'd say the night there was this girl following me around and I had no idea who she was. She was all like, 'I love your music,' and I found out later she was some actress. Hayden something? Panettiere! That's her name. I had no clue at the time, though."
Night Look:
"Easy, comfortable and European. I'm a DJ -- no one really looks at me anyway."
Amount of Times Hit On Per Night:
"I don't know because I'm always busy."
Favorite Place to Chill:
  "Marquee."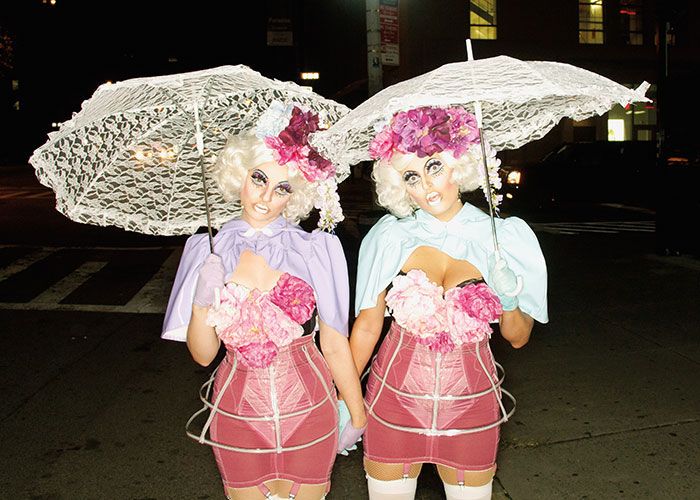 The Daughters of Devotion
Laura Devotion, Hair Stylist; Kindra Devotion, Creative Director

The Name:
"We are devoted to drag in a way that honors those who have inspired us. We take this very seriously. But we also have fun with it. I mean, come on."
New York City Debut:
"We've been best friends since living in Seattle years ago, and we moved here when one of us got a job here four or so years ago." 
Night Look:
"Tonight we're giving a little bit of a twist on
A Midsummer Night's Dream
and turning it into
A Midsummer's Eve Nightmare
, which ties into the performance we're going to do later."
Prep Time:
"We always take three hours on the dot. Every time. We get ready together and we take turns in the mirror and trade vanity spots."
Intro to New York Nightlife:
"'Vandam' at Greenhouse. We'd go with all our gays and it'd be the best time."
Favorite Place to Chill:
"Nothing we do is casual. Unless you consider the drinks we have while we're getting ready. I guess you could call that 'low-key kiki-ing.'"
Craziest Night in New York:
"I once smoked Amanda Lepore out in the bathroom at Cafeteria. It was a crowning moment."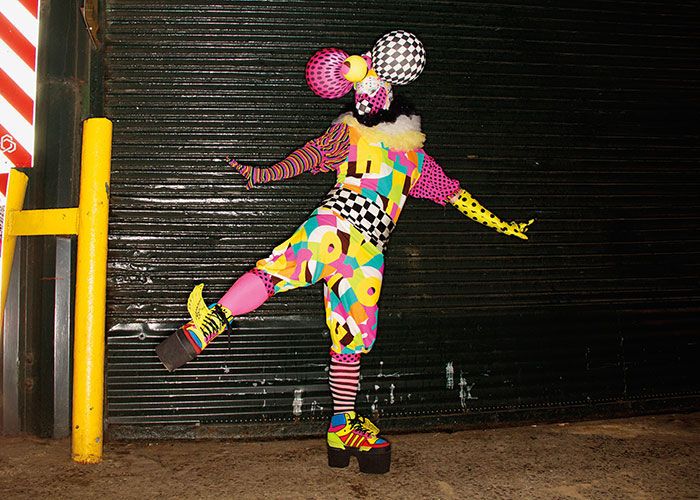 Muffinhead
Artist
The Name:
"I was doing lots of drugs and I woke up and heard this name in my ear, and the rest is history."
New York City Debut:
"It was 2005 and I just wanted to have an adventure. New York had always been calling my name."
Intro to New York Nightlife:
"Susanne Bartsch and Kenny Kenny's Happy Valley party. The quality of the performers was all I could focus on.Coming from L.A., it was the first time I'd seen such talent."
Night Look:
"I'm a painter more than anything, so I'd have to say it's really surreal. I'm very inspired by Klimt and Dali and other fine artists, but also Alexander McQueen and Leigh Bowery."
Favorite Place to Chill: 
"A Thai restaurant called Bangkok House."
Day Look:
"I wear jeans and a T-shirt. When I dress up like this, it's so extreme that you have to go the other way to live your life."
Craziest Night in New York:
"I was a drug addict when I lived in L.A. and I'm past that now, so I don't really have crazy nights here, per se. It's more about style than anything else nowadays."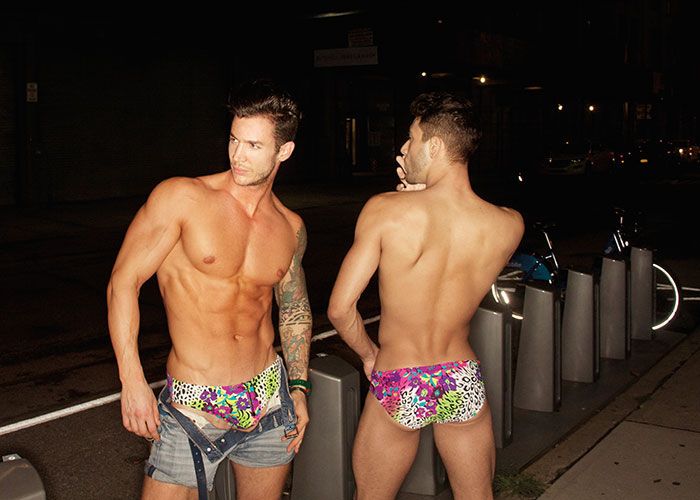 VasaBoy and  David Terzian 
Go-go Boys

New York City Debut: VB: "I always knew I would end up here, and last year I did." DT: "I'm from here."

Night Look: VB: "A little bit gypsy, a little bit pin-up."

Intro to New York Nightlife:  VB: "'WestGay' at Westway -- Frankie Sharp's party when Maluca Mala performed. It was culture shock for me. It was so live. I can't forget it."  DT: "Eastern Bloc, two-and-a-half years ago."

Favorite Place to Chill: VB: "Le Bain or Boom Boom Room -- if you're feeling extra classy."  DT: "Westway or Eastern Bloc."

Craziest Night in New York: VB: "One night at the Dream Hotel downtown..." DT: "I can't remember. I'm usually blazed off my ass. I'm a flower child."

Nightlife Influences: VB: "I feel like I'm a part of the whole nightlife family now and I respect everyone.There's no one specific person I can name."

And check out this behind-the-scenes video!


Photographer's Assistant: Jeff Ludwig