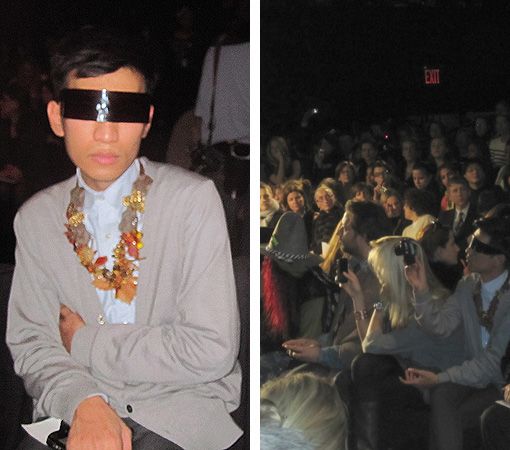 The fly Filipino blogger and PAPER favorite
Bryan Boy
snagged a front row seat alongside fellow fashion icon
Patricia Field
(clad in a McQueen skull scarf) yesterday a
t Diane von Furstenburg
's Fall 2010 show. We chatted briefly with him about his thoughts on puffy jackets and why it's OK to occasionally whore it up... 
Tell us a little bit about the accessories you're wearing today... 
I'm wearing a necklace from the Philippines, the designer's name is Shara and she's a good friend. She made this for me. And the glasses are Margiela. 
What's one trend people are wearing right now that you'd like to see disappear? 
Puffy jackets. Puffy down jackets are everywhere and they're so horrible. 
What advice would you give to aspiring fashion bloggers hoping to make it big and land some seats at the next New York Fashion Week? 
I would say be themselves, but also put themselves out there. I would say the reason I'm a successful blogger is that I put myself out there, I constantly think of ways to get myself attention, and at the end of the day it's all attention whoring, you know what I mean? The more you put yourself out there, the more people recognize you, the more opportunities come your way.
CLICK HERE FOR PAPERMAG'S COMPLETE DOWN-LOW FASHION WEEK FALL 2010 COVERAGE. >>