Your grandma had knitting circles. Your mom had book clubs. Now, adventurous, sexually fluid modern ladies have Skirt Club, "an underground community for girls who play with girls."
Founded by Genevieve LeJeune, the club began in the UK before spreading to Sydney and Miami. Now, New Yorkers can also enjoy decadent social events that offer a safe space for women to let loose and experiment.
Skirt Club -- which LeJeune refers to as "a private members club for the curious-minded, bi-curious, bisexual, open-minded straight women looking for adventure" -- aims to offer a luxury experience, so the dress code is strict and the clientele exclusive. Those who manage to score a membership (a stringent process that requires a referral from a current member and strict vetting) become part of an elite group that receives discreet invitations to gatherings at secret locations mere days, or even hours, in advance.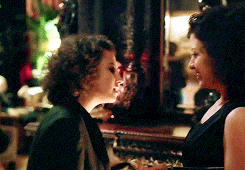 Each evening begins with a glass of champagne and includes performances and presentations on a variety of erotically-themed topics from an invited speaker. The club aims to be as informative, non-judgmental, and welcoming as possible: the organizers go to great lengths to make newcomers comfortable, outfitting them with a vintage key around their wrists to identify them for extra support and attention.
So if you're looking for a new extra-curricular activity that's not as vanilla as, say, softball or cooking classes, start sussing out who in your network can get you hooked up with a membership.

[h/t The Daily Beast]