[UPDATE 03/02/2016, 9:05 p.m.: The official Twitter of Nina Simone's estate has just tweeted the following to Zoe Saldana. Seems pretty clear how they feel about the issue.]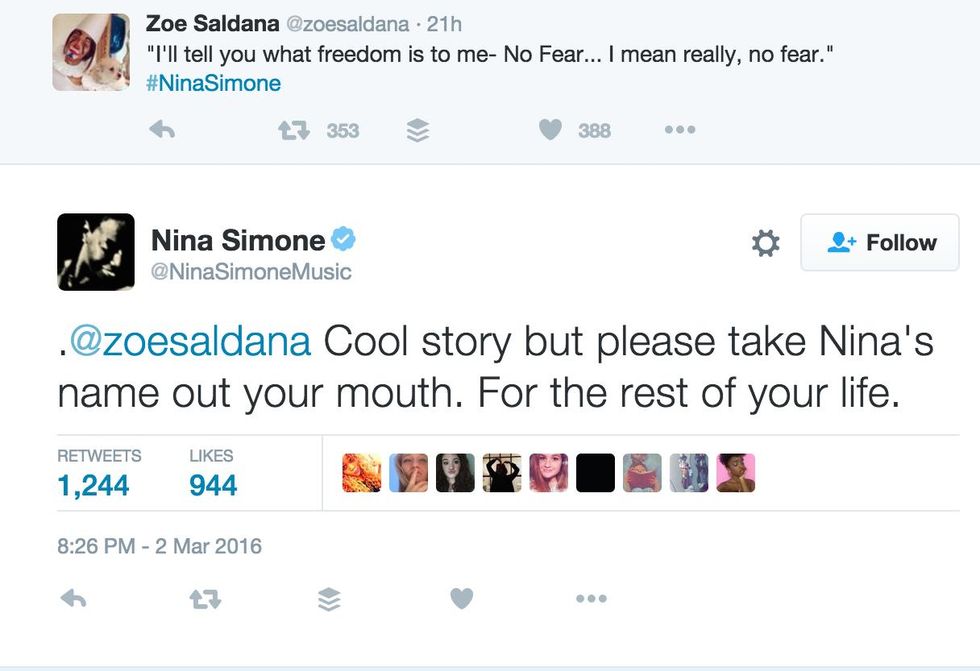 Earlier today, the first trailer for Nina, the forthcoming Nina Simone biopic, was released -- and it's reaffirming many previous concerns re: the casting of actress Zoe Saldana as Simone.
Back when the project was announced in 2012, there was much discussion about Saldana playing Simone, as many felt she was too fair and too pretty to play the legendary artist, whose music, as anthropology professor Lanita Jacobs said "taps into a certain kind of awareness born of the way she looks". An awareness that would go unrepresented by a film starring an actress darkening her skin and wearing a prosthetic nose, which Jacobs added would be offensive to women who had to struggle to accept their own dark complexions.
"We understand that there are these beauty issues," Jacobs told NPR, "and sometimes what sanctions people's right to speak on these kind of issues is whether they have had experiences born of what it means to have kinky hair, or to have wide noses or darker skin. Nina's music taps into a certain kind of awareness born of the way she looks."
Watch the trailer for yourself in full below.
[h/t Entertainment Weekly]