During Hood By Air's Fall/Winter '16 presentation this past February, models stormed the runway, some nervously hobbling and others confidently plowing forward, some visibly shorter than the industry norm and others unusually tall and lanky. Sliding past Anna Wintour and Business of Fashion's Tim Blanks, HBA's street-cast models seemed like a conscious "fuck you" to fashion's homogeneity, inviting in outsiders and genuinely celebrating those on the fringes.
This refreshing shift in casting is being spearheaded by Walter Pearce, the brain behind HBA's diverse range of faces. Along with his work for the brand, he's also begun tackling outside projects for an impressive client roster that includes Man About Town and CR Fashion Book. At only 20 years old, Pearce has made a name for himself in the industry by redefining what it means to scout new talent through an inclusive approach that embraces social media. Whether he's slipping into a black hole on Instagram or stopping strangers on the subway, Pearce has an affinity for finding the beauty in the bizarre.
We recently caught up with the rising fashion star at Soho House, where Pearce had donned his signature pajama pants, scrunched up hoodie and bug-eyed HBA shades. He told us about getting his start in fashion, why he decided to drop out of FIT and what he looks for in a prospective model.
Take a look at Walter's recent casting:
How did you first get involved in fashion?
I grew up an hour away in the woods, so I was literally 14 and coming into the city to intern for DIS Magazine -- that was my first internship. I'm impatient in a way, work-wise. It's hard for me to wait for things, and that's less so now because I'm doing a lot of work, but back then I wasn't going to wait until college. I've always liked fashion [and] I've always cared about how I dressed, but it used to be more [about] art. I took a lot of photos and was interested in conceptual stuff, but it wasn't like I was 14 and saying, 'Fuck yeah, I love fashion. I want to be a casting director.'
Do you prefer being busy?
I'm not depressed if I'm working a lot. I live in a basement and I only have red and blue lightbulbs, so it's the same color no matter the time of day -- 3 p.m. or 12 a.m. It's always the same, which is good for after-hours parties, but sometimes it drives you crazy. The combo of that, and if I'm not working, I'm just in my room all day, I fall into these terrible holes. I already have depression and anxiety, but when I'm working, I feel like a normal fucking person. It turns out I actually like working more than anything.
When did your relationship with Hood By Air begin?
Through DIS [Magazine], I asked for an internship at Hood By Air when I was 16. After a while, Shayne [Oliver] and Ian [Isaiah] saw something in me and Shayne suggested to the former casting director that he take me under his wing. I learned a lot from him, but when he stopped working with the company, they asked me to help out on a more regular basis and I started getting paid a small amount. I'd be sending PDF's of 40 people and Shayne would maybe pick 3 that were cool. I was only street casting at this point, it had nothing to do with agencies, and it progressed from there. They really gave me a chance. Shayne and the others putting belief and trust in me started my entire career. It's a really family-oriented company. Shayne is beyond a client of mine -- beyond a boss. he's literally my mother. He raised me.
For you, what does "street casting" mean?
When I say 'street casting,' I mean not a signed model -- someone that offers something an agency girl or boy couldn't. There are times when it's literally on the street [or] on the subway. Half the time, my phone's dead, I don't got a business card, I'm wearing something crazy. They're in Bushwick, they've been there their whole life, and they're like, 'What the fuck?' I get their Instagram and that's usually all I need. Then there's parties, but New York nightlife is like -- I see the same fucking corny people every time I go out.
How do you approach finding models on Instagram?
I don't want an 'Instagram Girl' or an 'Instagram Boy.' That's the last thing I want. I want 31 followers, doesn't even know what the fuck Hood By Air is, or i-D Magazine. That's what I'm really trying to find. You have to get into wormholes. You click someone and click their friend's account and click their tagged photos. That's the swag I need. It's much more genuine, I think. They're separate from the world and that's what makes them interesting, [which is] the same reason I don't cast at parties.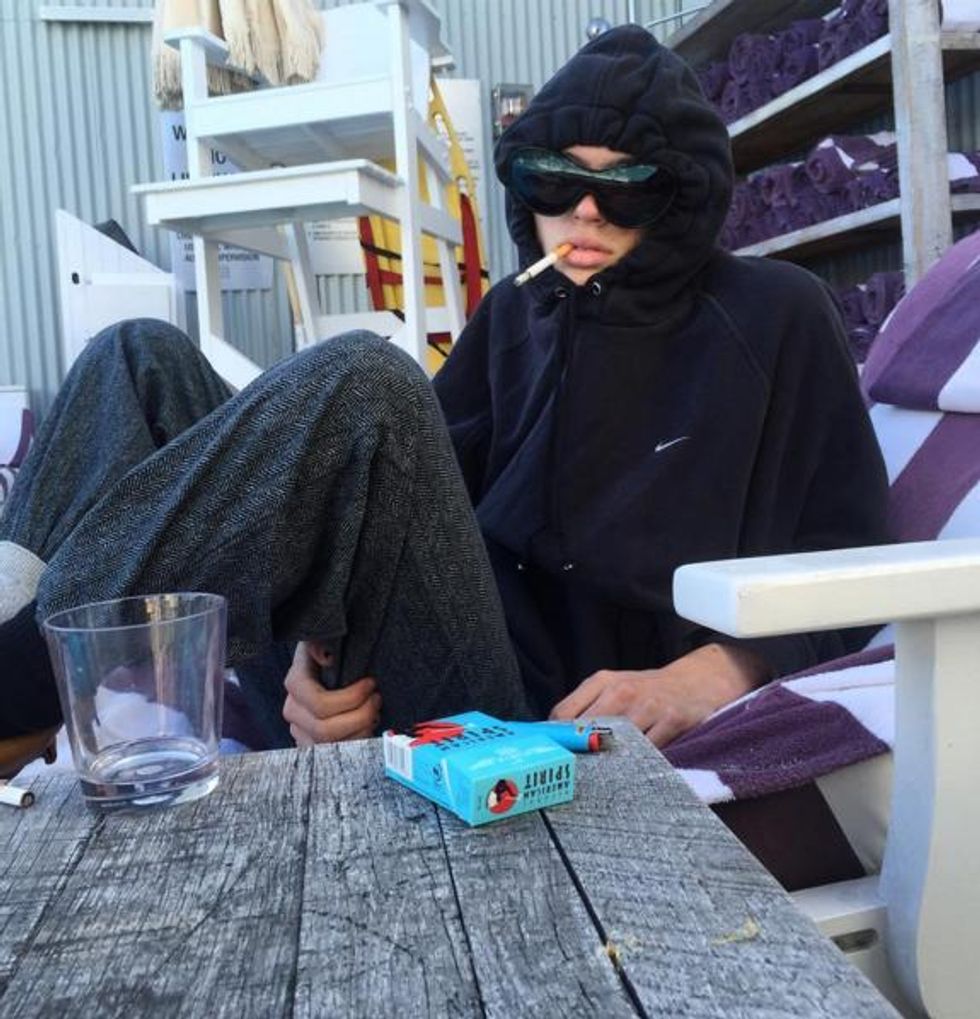 What're you looking for?
The goal in all my casting [is for] there to be a level of, I don't want to say discomfort, but something about them should be 'not right' looking. I want to take that to an extreme in a lot of ways.
At your casting calls, what direction do you give prospective models?
What I always say is, 'Walk like you're late for your train.' Or when I have them walk at castings, I'm like, 'You're about to miss your flight home from Paris. You've been there way too long, you're tired as hell, you have to catch a flight. Go.' And then I put on a beat, [but] some of them don't get it and they walk 1 mph. I'm like, 'Did you hear what I just said?' I literally said, 'Run for the train.'
What's the story behind Hirakish, who you cast for Hood By Air and has become a face for the brand?
My friend brought Hirakish from New Orleans to visit and the first day I met him, we were at a rooftop party in the summer, and he was jumping around wearing this crazy ass ripped outfit. He dressed like a rockstar, he's so skinny, grabbing every girl he sees. I was like, 'You're not going back to New Orleans.' He was basically a muse at Hood By Air for a long time [and] still is in a lot of ways. In the best way possible, he's out of his fucking mind. He has the best walk of all fucking time, but he's the opposite of an agency model.
You have a background in photography. Do you see any parallels between your photography and casting?
It's really the same. You're painting a story, especially if it's a runway show, five-person editorial or a five-person campaign. What is it about these five people that complement each other and complement the clothes? At some point, it becomes second nature. You don't have to think, 'Oh, their eyes are all spaced apart.' You realize that after you've already done it. Shooting architectural photos and casting are the same -- they're both design, you're looking at features, you're looking at shapes. I really do love the idea that a person can represent different things. It's like a puzzle. What type of face represents this in the way you want it to? It's the same thing as [asking], 'Why does this picture of a chair look good?'
You recently dropped out of FIT, where you studied photography. How was your experience there?
In general, I'm against art school now, just because I think the point of art school is to meet people that are super inspiring to you. There's absolutely no one inspiring there, just people taking pictures of flowers on a pink seamless -- the worst of the worst work and in critiques, everyone told everyone how much they loved everything. Most of the professors didn't know what to do with me because when I was in school, I was doing a little bit more. They knew I was 'something,' but I didn't listen to assignments, I skipped millions of classes. They didn't know if they loved me or hated me -- if they should fail me or give an A. I'm very happy with my decision to drop out.
How do you feel your age has changed the way people interact with your success in the industry?
I'm not ashamed of my youth. I like being aggressively youthful, but I want to make sure that's not the focus of my success. Why do you think my work is different than anyone else's? It's obviously partially because I'm younger and have a different perspective on things, but I hate the idea of it becoming a gimmick.
What're your thoughts on the current casting system?
The system that casting is based on right now, particularly in runway, there's a kind of robotic aspect to it. Sometimes it's the same 10 girls that do every show. Some of them deserve it, they're monsters, but this isn't always the case. That's why there's a part of me that's scary to the industry because I'm doing something a bit different and I'm much younger. Change is scary to everyone, but at some point it has to happen. I'm fighting 24/7, so it's hard.