Comedian W. Kamau Bell has helped redefine the genre of political comedy, through his supremely refreshing takes on race and socio-economics.
Bell rose to prominence in the San Francisco stand-up scene, releasing a successful comedy album Face Full of Flour in 2010, and was the host of the sociopolitical comedy show Totally Biased with W. Kamau Bell on FX in 2013.
Now, Bell is remapping his own country, in the CNN show United Shades of America, which premieres this Sunday. The series has the comedian mixing his passion for social and political issues with his love of travel, with W. Kamau visiting the places most of us overlook, indirectly or intentionally.
In the show's premiere episode, Bell visits the Kentucky and Arkansas, exploring (with an open-mind) the continued legacy of the Klu Klux Klan--still very much active today. Bell went deep, from accepting an invitation to a cross burning on the back roads of Kentucky, to meeting with Thomas Robb, the national director of the Knights of the Klu Klux Klan, and his heavily indoctrinated family.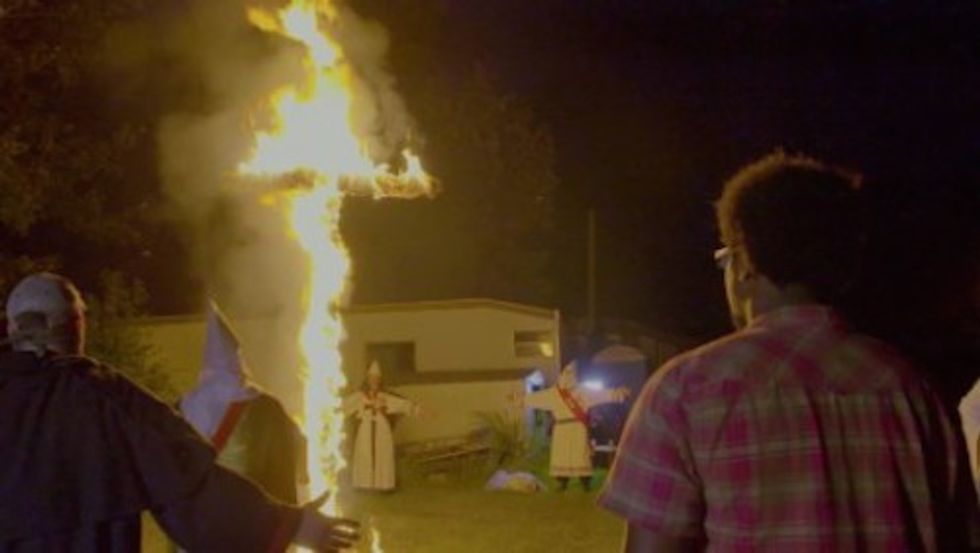 In another episode, W. Kamau heads to San Quentin State Prison, north of San Francisco, where he spends time with a surprisingly driven group of inmates, dedicated to their various jobs within the prison. They demonstrate firsthand how much more they could benefit from positive education reforms within the prison system.
We caught up with Bell to talk about taking these roads less traveled.
How did you and the producers come up with the KKK episode? It's such a great way to open the season.
That was my idea because it was a pilot at that point. If we're going to do a pilot for a TV show, it's gotta be big. I also felt like we had to do something that no other show can do. They were pitching a lot of other ideas, but I was like, "Yeah, but what about the Klan?" Eventually, they were like, "Well, let's look into it. I don't know." Then they looked into it and eventually found three different groups that would talk to us. For me, it was go big or go home.
They all seem very willing.
They think of it as an infomercial.
How did you find them? Google "Approachable Klansmen?"
If you type "Ku Klux Klan" in the internet. They all have websites, Facebook groups, Twitters. It's a different level of K—the Kardashians and the Klan.
The opening was like a horror movie. Were you pretty scared?
If my face ever looks afraid, it's not acting. It's actual fear. But I kept my cool; I had to. We're making a TV show, and I didn't want to give [the Klansmen] any power in thinking that they were freaking me out. It was really important for me to find my sea legs. If I'm making jokes, then I know I'm making myself comfortable.
Making people laugh is a good way to disarm them.
Humor was a way to keep an upper-hand in that situation.
The best part about that episode was that you kind of found their weird humanity. Like when you met with Thomas Robb, and then went to his organization's compound/church and met his daughter.
It was very surreal.
I love how you kept asking why they all live down in these off-beaten paths in the woods.
Yeah, they never live in a triplex.
The family reminded me of a lesser-known Westboro Baptist Church.
It's a less successful Westboro Baptist Church. He has indoctrinated his whole family--his daughter who's in the episode, and his grandson, who's also in it. Even though they said we could show his grandson's face, we blurred it out. I have two kids, and I wouldn't want that. I feel bad for him because he doesn't really know what's happening. He's already eleven or twelve, and is already having an awkward time. I wouldn't want the episode to air and then for him to go to school on Monday and have kids ask him, "So that's why your family is so weird?!"
I think it was great how you were kind of taking charge of directing them when they filmed their webisode. It was a great way to show how inept and out of touch they are.
His grandson directs their episodes and puts everything online. Forget the racist ideology part; it's just not good TV. I was like, "Let's make this better." I think they really did enjoy my notes as much as they tried to pretend that they didn't.
Have you always wanted to do something with finding white supremacists?
I've always talked about racism in my act, and I'm just curious about the nature of oppression and how it works. I've also always been into documentary travel shows. So this brought those two things together. The whole season isn't about racism, but it's about different forms of oppression and the different ways to escape what people define as oppression.
Especially in the prison episode, I think you really tapped into the kind of systematic oppression.
That was important to me. That was the episode the producers pitched, and I was like, "Oh, I don't want to do another TV show about prison," because I feel like I had seen a lot of them. I didn't want to make prisons look sensationalistic. For me, it was about going there and making what I call the "anti-Lockup" episode. Do you know the show Lockup?
Yeah!
Nobody likes the show but we all can't stop watching it. For me, I didn't want to make that. Being a black man in this country. I didn't want to make black men in prison look worse. The people that were in prison were super nice guys, and have been in prison for half their lives. They did the things that they did when they were 19 or 20.
When you left, they looked really sad.
The whole crew felt incredibly sad at the end, and nobody expected it.
Yeah, I've never seen anything like that.
The media loves to show the more fearsome side of the whole system, so the outside looking in is saying, "Prison is so awful! I never want to go to prison!"
A lot of the men you met really seemed committed to the jobs and passions they were pursuing. Especially, Rashad, with running the prison newspaper.
Yeah! He's a great dude! I live a half an hour away from there. It's not far from my house. I hope he gets out. Move into my neighborhood! The other thing is though… all of those guys have worked really hard on themselves to improve their physical skills, their education, or their emotional life. That's stuff that people on the outside don't do. Black men of that age aren't really talking about their feelings.
I think a lot of places could benefit from the guidance of "Wall Street."
Who ever thinks that guy is in prison? He sounds like the guy that has the education, talks very naturally, like he taught himself. And I was very happy to introduce the term "Blerd" (black nerd) to him.
I had never heard that either.
[Laughter] We have to leave this in!
It was so great. And I think its really going to shine light on our country's current prison crisis.
America is built on white supremacy. No surprise or breaking news there. But prison is something that affects all of us. You know what I mean? That's a complete system that needs to be broken down and re-built, if we really want to be this great society. If we really want to be this great society, if we really want to make America great again. [laughter]
It was frightening when you mention how much more is spent on prison than basic education in our country.
It just doesn't make any sense. Especially when you can educate people way before imprisoning them.
Where are some other places you go this season?
We visit cops in Camden, New Jersey. We're going to the top of the United States of America, in Alaska, to figure out what it's about. We also visit East L.A. for the Latino demographic, and talk about people who are off the grid in North Carolina. And we even do an episode in Portland and talk about the hipster gentrification, which is ironic, because here we are in Brooklyn.
United Shades of America premieres this Sunday, April 24th at 10 PM on CNN, and watch out for Kamau's Morgan Spurlock-directed comedy special, Semi-Prominent Negro, on April 29th on Showtime.