The 2016 Video Music Awards came screaming into our collective consciousness last night, a three-hour yell-y jigsaw featuring strange interludes from a rotating cast of aggressively eager hosts including DJ Khaled, Key and Peele and Jay Pharoah .
And though the evening never really gelled into coherence, there were bright spots, particularly performances from Beyonce and Rihanna.
Below, the highlights:
Beyonce
Beyonce stole the show last night before the Awards even began, walking the red carpet like a futuristic fairy from a nearby glittering galaxy in a dress by designer Francesco Scognamigli. She was joined on the red carpet by her 4-year-old daughter, Blue Ivy, who was a vision of tiny resplendence in a gold and tulle Mischka Aoki dress.
Beyonce, one of the few celebrities to bring politics to an evening otherwise curiously void of comments about the election and issues of police brutality and racial violence, was joined on the red carpet by Sybrina Fulton, Gwen Carr, Lezley McSpadden and Wanda Johnson -- the mothers of Trayvon Martin, Eric Garner, Michael Brown and Oscar Grant III.
The "Mothers of the Movement" were also joined by some of the young stars of Lemonade, including Quvenzhané Wallis, Ava Clark, and Chloe and Halle Bailey.

And then there was her performance, a searing, 16-minute Lemonade medley. She was joined on stage by fleets of female dancers, forming the female symbol at the end of "Formation." It was glorious.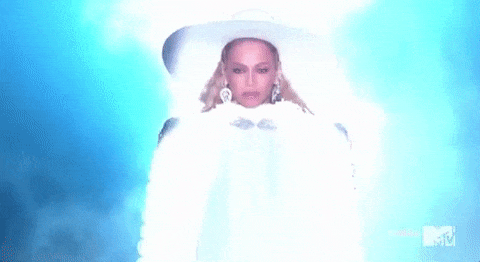 Rihanna
Rihanna was the recipient of last night's Video Vanguard Award, and marked the occasion with four incredible medley performances of her biggest hits.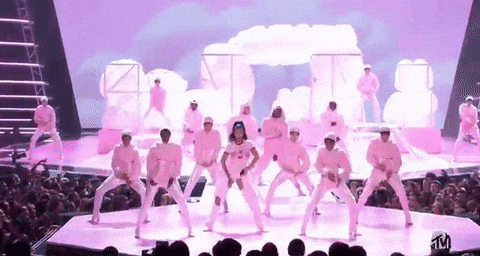 A vision in baby-pink Hood by Air, she opened the show with a medley of "Don't Stop the Music," "Only Girl (in the World)," "We Found Love" and "Where have You Been."
Joined by 50 undulating dancers, she next took us to a dancehall rave with renditions of "Rude Boy" "What's My Name?" and "Work."
Then, as lightning flickered around her on stage, it was into the eye of the Bad Gal storm with "Needed Me," "Pour It Up" and "Bitch Better Have my Money."
She ended with the ballads and delivered soul-shattering renditions of "Stay," "Diamond" and Anti doo-wop treasure, "Love on the Brain."
Drake, her collaborator and on-again, off-again something, took the stage to present her with her Vanguard Award.
Dressed in a tux, his voice shook as he lauded the 28-year-old for her accomplishments, referring to her by her full name, Robyn Fenty, and, later, professing his love to her.
Rihanna rolled her eyes and laughed. Swerving like a true pro.
In her acceptance speech, Rihanna dedicated her success to the community that's particularly held her up -- "it's not my own, " she said. "It's my family's, my fans, women, black women."
Kanye West
Given four minutes of air time to do what he pleased, Kanye West took to the stage to, once again, acknowledge his feud with Taylor Swift, list off the role models who have shaped his career -- including Henry Hughes and Walt Disney-- and address the violence in his hometown of Chicago.
If you feel like you're seeing people dying right next to you, you might feel like what's the point? You know like, life could be like, start to feel worthless in a way. I know times for me, I sit down and talk to older, rich people, you know (AKA WHITE!) and they tell me, "Don't compare yourself to Steve Jobs, don't compare yourself to Walt Disney."
My friend Sekaya told me it's three keys to keeping people impoverished; taking away their esteem, taking away their resources, and taking away their role models. My role models are artists, merchants. It's less than 10 I can name in history.Truman, Ford, Hughes, Disney, Jobs, West

He thanked the people in the room who have influenced him, as well as the black male artists currently shaping pop culture. "I'm standing in front of my idol, Puff Daddy," he said. "I'm standing in front of my wife, Kim Kardashian West." He then shouted out Chance the Rapper, 2 Chainz, and Jaden Smith. "We are undeniably the influence," he said. "The thought leaders."

West also acknowledged his ex-girlfriend, Amber Rose, whom he publicly tangled with earlier this year, resulting in Rose sharing his sexual proclivities in an infamous tweet.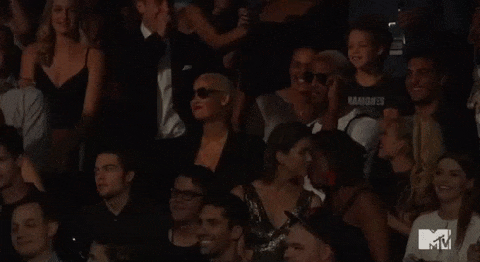 "I see you, Amber," West called from the stage to Rose, who was sitting in the audience, before acknowledging Kardashian West. "My wife is a G, not a lot of people's wives would let them say that."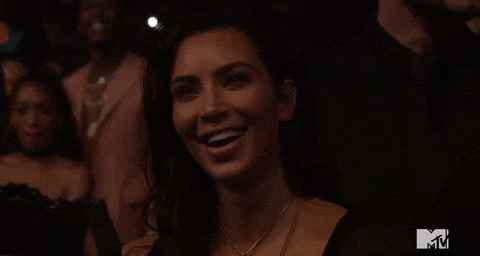 He then debuted the video for penultimate The Life of Pablo track "Fade." The video, an otherwise fairly straight-forward affair featuring the effervescent Teyana Taylor performing Flashdance-like moves in an empty gym, that ends on a gloriously bizarre note, with Taylor, transformed into a cat, flanking partner Iman Shumpert.
A flock of sheep surrounds the couple. Bye, @LizardSheeple.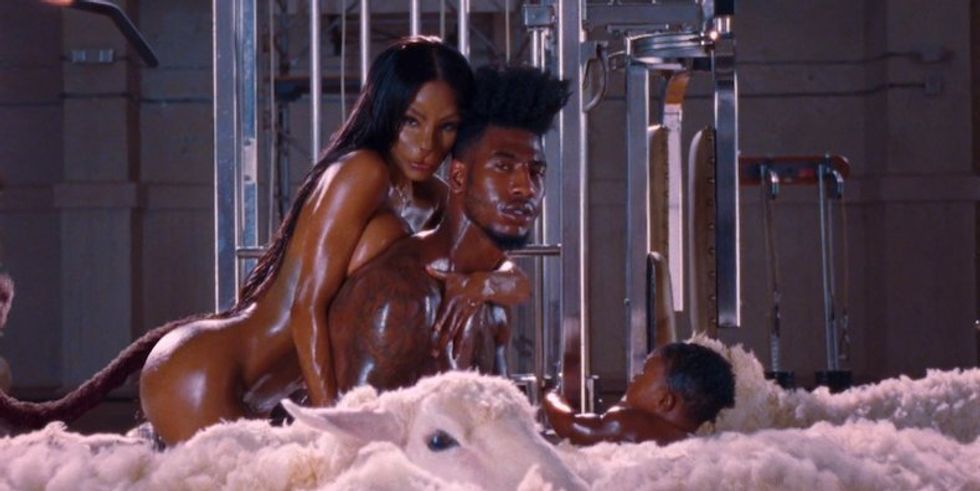 The video was directed by Kanye and Eli Linnetz, who also directed the "Famous" video, and is exclusive to Tidal.

Britney Spears
Returning to the VMAs stage for the first time in nine years, Spears performed a short and sweet rendition of her newest single, "Make Me," and "Me Myself and I" with G-Eazy.
And then...
Kim Snapping During Rihanna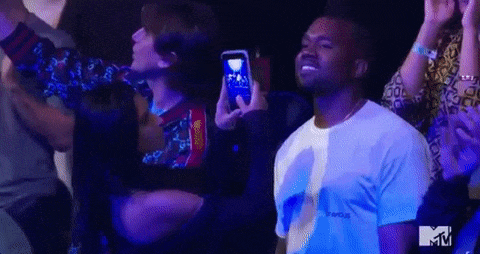 Always and forever.


LOL.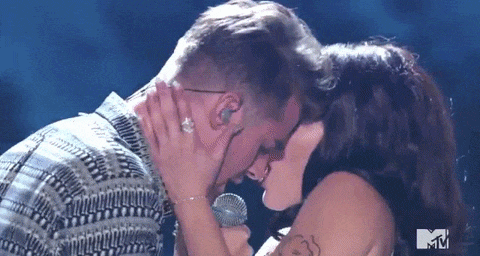 And this.

In 2011 she rejected Gaga's kiss. In 2016 she rejected G-Eazy's kiss. #BritneyOnVMAs pic.twitter.com/qHSVMUJW7C
— Bren (@gagakneefanboy) August 29, 2016
You May Also Like