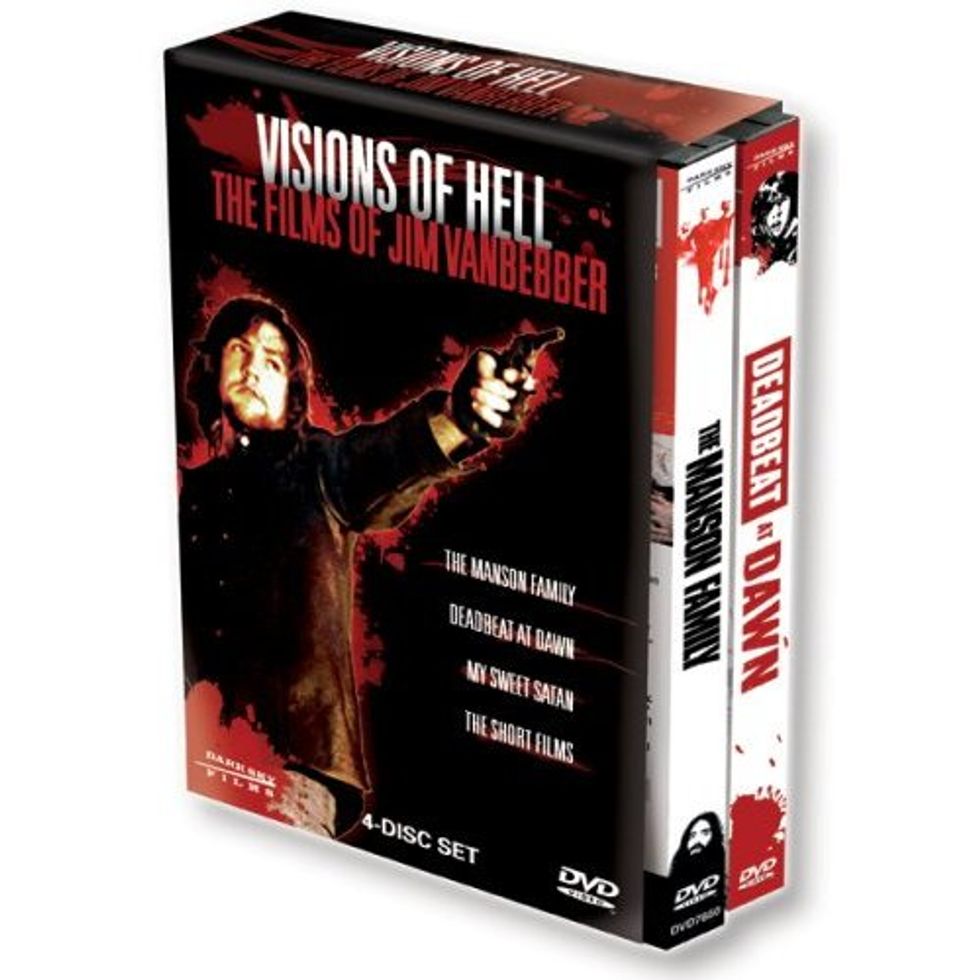 Out this week is a must-own DVD box set, Visions of Hell (The Films of Jim VanBebber). A true underground film legend, Jim VanBebber's films are artful as they are disturbing and violent. This terrific box set of his collected work includes Deadbeat at Dawn, his first feature about two rival gangs and one member (played by VanBebber) who has to exact revenge when his girlfriend gets killed. It's schlocky and action-packed in a good pulpy way, but it's VanBebber's notorious second feature that deserves the most attention: The Manson Family, a violent meditation on hippie cult leader Charlie Manson, his "children," the massacre of Sharon Tate, and a wrap-a-round story of a TV journalist doing a piece on "the Family" who gets attacked by the next generation of Charlie's kids. The story behind the film is just as fascinating (and is included in an amazing feature on this film's second disc).
VanBebber started the movie with a rag tag crew and devoted friends, ran out of money, shot more footage, ran out of cash, shot more footage -- this went on for years, which radically reshaped the movie and took a toll on his life and those around him. It's astonishing that the final film turned out as good as it did and it's pretty great -- a raw, angry, in-your-face assault that says a lot about the culture that created Manson and his followers.
Also included in the set is My Sweet Satan, a short film loosely based on a true crime story about drugged-out suburban kids who dabbled in Satanism and savagely killed a buddy who ripped them off. It does more in it's brief running time to capture that specific scene than almost any movie I can recall, and it's still pretty potent and provocative. Other short films like the grisly Roadkill: The Last Days Of John Martin, Doper, Kata and Into the Black are included in this refreshing blast of renegade guerilla filmmaking.