This isn't the first time Victoria's Secret has been called out for its misogyny and culture of sexual harassment, but The New York Times has gone into a deep investigation and found some pretty gruesome details regarding the toxic work environment within the lingerie company. Models and other VS employees have gone on the record to talk in detail about their horrible experiences.
According to The Times' report, multiple complaints have been made against Ed Razek, former Chief Marketing Officer at VS's parent company L Brands. He's allegedly made unwanted sexual advances towards models, such as asking them to kiss him or sit on his lap, and he's also touched one model's crotch. A model named Andi Muise came forward and claimed that the brand stopped giving her work after she rejected Razek's advances.
Two years into her work as a VS Angel in 2007, The Times learned that the then-19-year-old Muise was invited to dinner by Razek. He kept trying to kiss her, she said. And based on e-mails the publication was able to review, the L Brands executive also sent intimate messages that, at one point, suggested that they move in together. He wrote in one e-mail, "I need someplace sexy to take you!"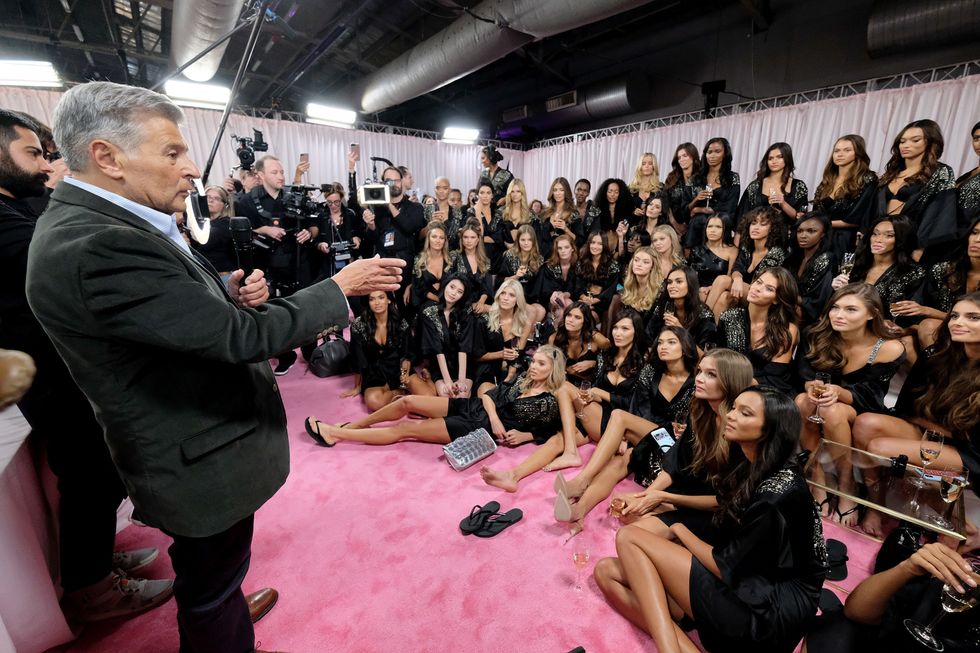 Four employees also told The Times that Razek made disturbing comments as he watched supermodel Bella Hadid's fitting for the 2018 Victoria's Secret Fashion Show. "Forget the panties," he said. He then allegedly said that the bigger question was if the TV network would let Bella walk "down the runway with those perfect titties." During the same fitting, three employees also claimed that Razek touched another model's crotch.
And though people brought these issues up with L Brands's CEO Leslie Wexner, they went nowhere. Wexner himself has also reportedly been heard demeaning women.
Razek denies the allegations made against him, and told The Times via e-mail, "The accusations in this reporting are categorically untrue, misconstrued or taken out of context. I've been fortunate to work with countless, world-class models and gifted professionals and take great pride in the mutual respect we have for each other."
Complaints have also been made against VS photographer Russell James, who asked models to pose nude for him. And though they consented, this was work that they did not get extra pay for, whereas the photographer made (and still makes) money from the books he later published with the nudes.
To read more about the findings of The New York Times regarding "The Culture of Misogyny" within Victoria's Secret and L Brands, click here.
Sign Up For The Morning PAPER