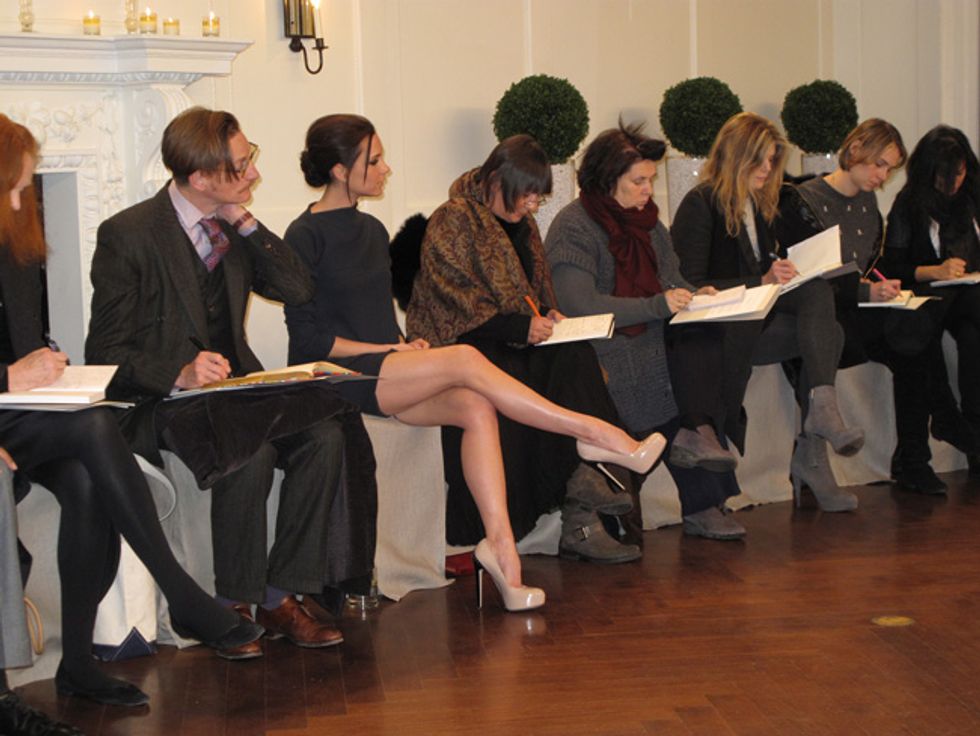 We must confess that we're a little bit in love with
Victoria Beckham
. She presented her new collection to small groups of glamourpusses yesterday, while giving a running commentary that showed her actual involvement in the collection and an ever-growing knowledge of the industry. The clothing (influenced by Martha Graham and the Dick Tracey comic books) was sexy, form-fitting with a splash of 1940's glamour. Beckham claims that as she gets older her personal style gets more casual and loose, but she still looked like a sex-bomb to us. We stole a few moments with Beckham after the presentation. 

You said you have had to prove yourself in everything you have done.  Have you found the fashion industry more welcoming or skeptical then the music industry?
Maybe I can answer that tomorrow; I mean I don't know. I was telling my kids yesterday that  'Mommy is doing a big test.' And Brooklyn told me to write it on my hand or on my arm so I can remember what I have to say. But I really have enjoyed the whole process, and I feel really passionate about what I do... I think it is great that people have noticed my attention to detail and quality. And yes, I have had to prove myself but I think that is a good thing. I think everyone has to prove themselves not just me. Each season I have to continue to better myself. I mean, my competition is myself and each season I want to better myself and grow as a designer and learn techniques that I want to use more and more.
You mentioned your sons, do feel like you're a sexy mom? Do you worry maybe when they are teenagers their friends will want to come over because you are a MILF?

Oh God, as long as it is not the girlfriends trying to get their hands on my handbags, I don't care about that. I don't mind being a sexy mom.
CLICK HERE FOR PAPERMAG'S COMPLETE DOWN-LOW FASHION WEEK FALL 2010 COVERAGE. >>