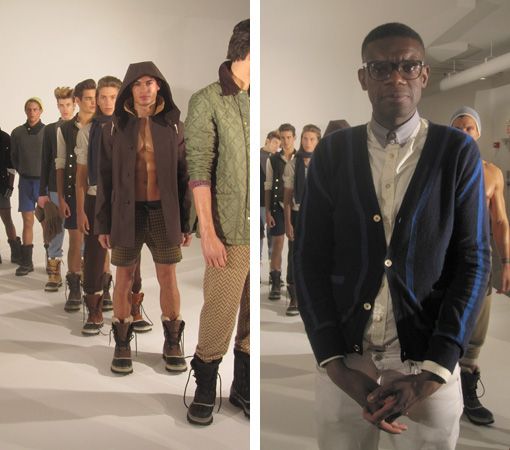 I rounded out the weekend at my favorite New York Fashion Week locale Milk Studios, where four presentations at once led to a rather unpleasant line outside on the frigid February night. However, the work certainly did not disappoint at a joint presentation from Camilla Staerk (decked out in her signature turban) and the effervescent menswear maven Victor Glemaud. Both designers' collections were superb, but it was Glemaud's that truly blew me away. As one great emaciated oversize-sunglasses-clad stylista might say, "I died" for his incredible Fall collection.
Last season your collection was very LA beachy, this seems much more Northeastern collegiate...
It's not really collegiate so much as your ski instructor before and after he works with you. It's very après-ski; he's had too much to drink, is a bit undone... getting ready to go to work and get a bit fucked up. That's the guy.
Aside from fashion, you've worked in fairly extensively in PR. How has that affected the way in which you plan your presentations?
I actually worked downstairs at KCD! It's affected me in that I know exactly what I want. For all the shows and designers that I've worked for, I'm like, 'okay, this is what it needs to be...' I'm very specific and a bit annoying to everyone who works with me because I say no a lot. You should really ask them.
You and Camilla Staerk go back quite a bit, but you've never shown together. Why choose to do so this season?