Last weekend, Chicago rapper Vic Mensa, as part of his ongoing community-building and activism work with his Save Money Save Life initiative, warmed hearts across the country by turning something hateful — Chicago police trapping black people with "bait trucks" full of Nikes and designer shoes to make arrests during a weekend where 75 people were shot — into something uplifting. Together, in partnership with shoe sponsors including Reebok and Under Armour, Mensa and company donated over 15,000 shoes to Chicago families in need.
PAPER caught up with Mensa to discuss the endeavor, new music projects, and the ways to keep black youth empowered, including the process of unlearning biased American history. Read on and see pictures of the event, below.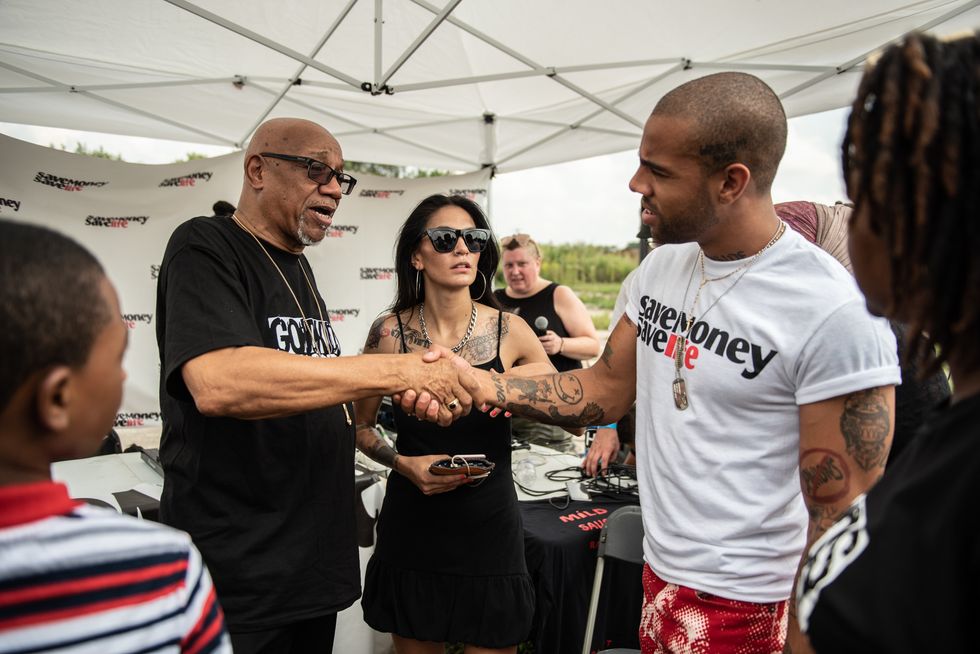 What was the impetus behind the anti-bait truck event?
The way that they were baiting and trapping my people was absolutely disgusting and I needed to do something about it. It was egregious considering that it was on a weekend where 75 people were shot and killed, and this is the response from the police department. I posted this to Instagram and a friend of mine reached out to me with the idea to give away the shoes on the same street where the bait trucks were parked, and I thought it was brilliant, so we sprang into action and mobilized everyone in about 10 days. We were able to get close to 15,000 pairs of shoes donated. We got so much support from [activist] Shaun King. He helped publicize our GoFundMe page.
The point of the event was to put some sort of investment into the community. This isn't the end-all, be-all, of course. But we felt it necessary to give back to a community that even in times of crisis is being stripped of its dignity and humanity, from being massively incarcerated to access to top quality education to access to clean food. And then they wonder why the violence is so uncontrollable — because there's no investment in the community, no resources. People are not given messages of value and worth.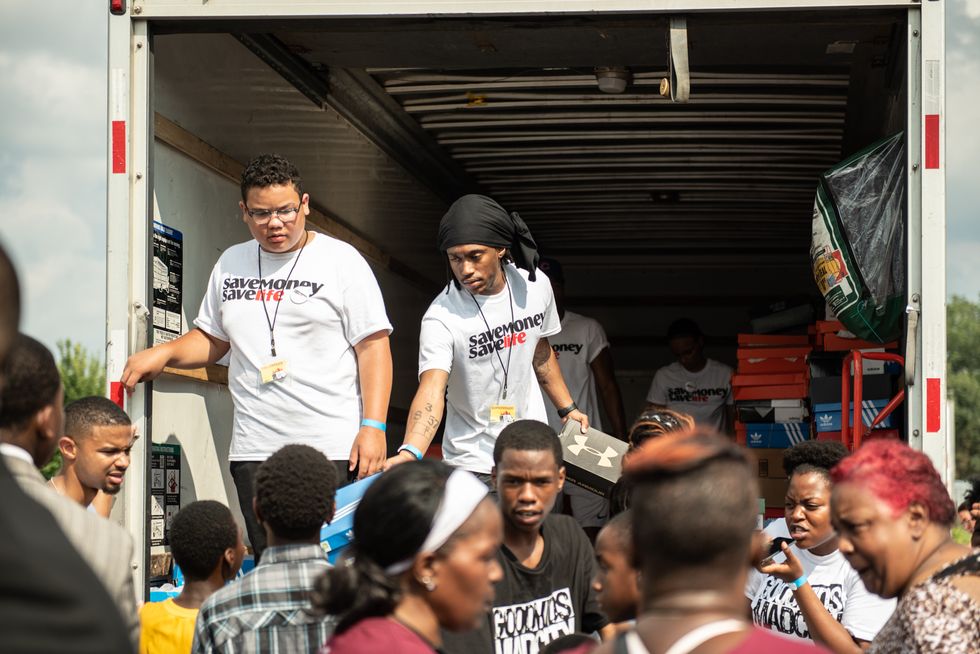 When you first found out about the bait trucks, what was going through your mind?
I wasn't aware of the bait trucks in particular, but I know of the police using nefarious tactics to ensnare black people. At the end of the day, this is America, baby. It's built on genocide and run on racism. That's just how the game goes. We have been able to accrue certain levels of influence, and with that, we're going to take care of our own because you know the city won't take care of us; the state won't take care of us; the nation won't take care of us. So as black people in America, it's our duty to put our own survival and well-being as number one priority.
I really feel that. Is this something you hope to take to other communities, in other cities?
We actually have a lot more shoes on the way. I'm in touch with some of the children in the DCFS [Department of Children and Family Services] system, and kids in group homes. So I'm really trying to get these shoes to the kids that need them the most. We may just do another truck, but right now, we're meditating on it, but we want to move in a way that has maximum impact.
"We felt it necessary to give back to a community that even in times of crisis is being stripped of its dignity and humanity."
Do you think using shoes in this kind of activism is more powerful than what the police were intending to use them for?
Definitely. As black people in America and having been held back from access to material resources for so long, we've developed status symbols through material items. Shoes are, more than that, essential.
Tell me about the partnerships you formed for this initiative.
We partnered with Reebok and Under Armour. Both brands sent us a lot of shoes. It was a bit unfortunate that we weren't able to get that support from companies like Nike and Adidas, who we reached out to on the early side and had some conversations with, because the black community is the hugest consumer of these things, so we really want them to support us in our times of need. I do understand however that there are corporate hierarchies in place, so it is what it is.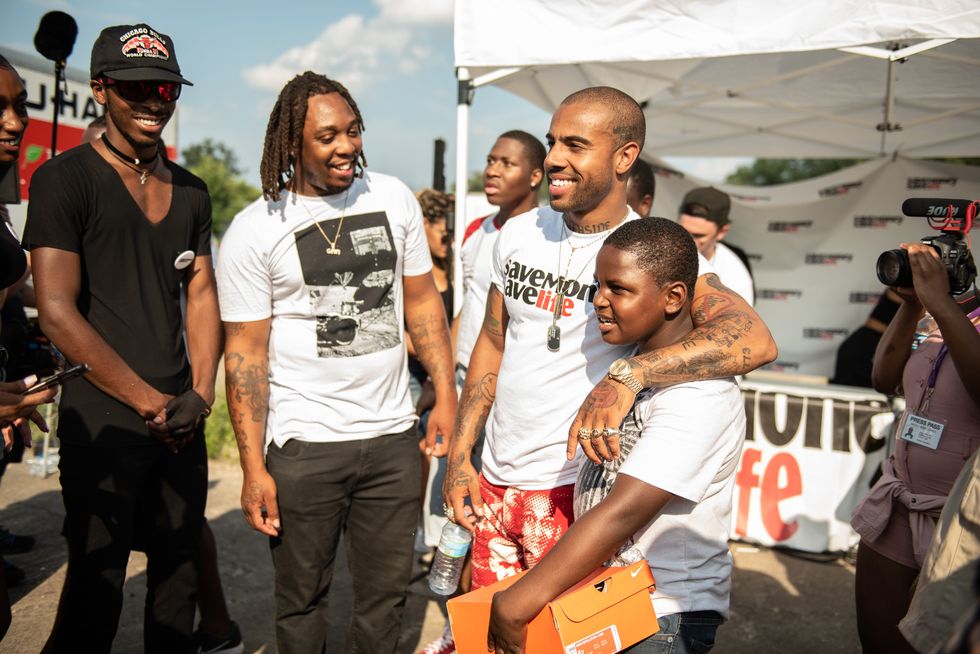 So you are set to receive the DuSable African-American Trailblazer Award at DuSable Museum of African American History, a Smithsonian affiliate, this October. Past award recipients are Michael Jordan and Chance the Rapper. What does that mean to you, and how did you find out about the honor?
It's a ridiculous honor, so amazing... My dad has told me repeatedly in recent times to place awards bestowed on me by own people on the highest importance. I don't take it lightly, and I'm very appreciative, excited, and honored.
Going forward and being a voice for the community, how do you feel black youth can become empowered, even in times like these to become leaders in their own communities?
I think it's about changing educational curriculum. There is still a lack of focus on teaching kids of African descent about themselves, where they really come from, and not the version of history that's based solely on American struggle. That used to upset me so greatly when I was in school, that history was all so Eurocentric. Like I'd get one chapter out of twelve years of grade school about African history, and teachers made it sound like black history starts and ends with slavery when you're in school.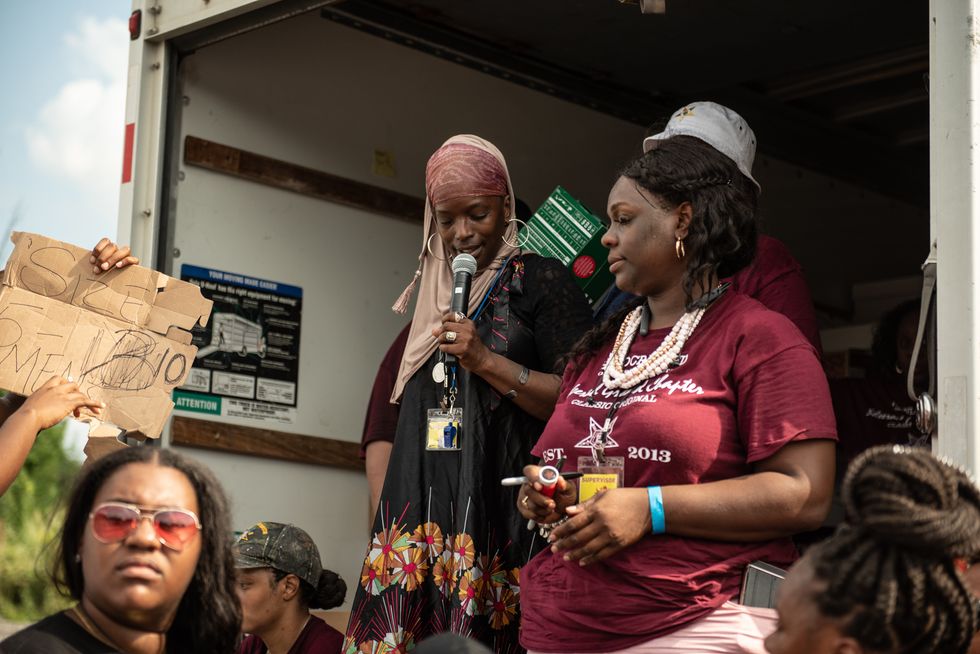 What do you feel like was the biggest lie of black history that you've worked to undo now?
I think the biggest lie was being primed to be a patriot. Being set up to stand for the national anthem all through grade school and then getting pizza parties for Christopher Columbus Day. The biggest lie of all is the myth of the inherent "greatness" and "goodness" of American history. Early on, I rebuked it. I stopped standing for the national anthem when I was in sixth grade.
Did you get in trouble?
No! It's only seemed to make more waves recently. I would just sit down, you know? And that's the thing: it's ridiculous to even think about getting in trouble for not standing for the national anthem as a black person. There is literally a third verse in the song that talks about killing slaves, and was written by a slave owner. How can anyone get in trouble for protesting that?
"The point of the event was to put some sort of investment into the community."
100%. That's definitely an important thing that most people miss. So, what else are you working on? Do you have some new music coming soon?
I have two projects that will be released in close succession. One is a straightforward rap project and the other one is punk rock music. It's all original, compact albums. I'm releasing the rap project first and the punk one second. The punk project aligns with the line of leather jackets I have, 93 Punks.
Dope! Are you able to say who you're collaborating with on the new music?
Yeah, I'm back in the studio with my boy Ty Dolla $ign, and we're going to Philly to meet H.R. from Bad Brains. I've been in the studio with Joel Madden from Good Charlotte. Trying to work with The Mars Volta right now. We have a lot of dope stuff in the works, so be on the lookout for that.
Photos Courtesy of Vic Mensa / Save Money Save Life
You May Also Like
Pride
Story by Jonathan Borge / Photography by Pol Kurucz / Styling by Marko Monroe / Hair by Gigi Goode / Nails by Juan Alvear