Vetements, the fashion equivalent of that kid at high school who is so fucking cool and super smart but doesn't apply himself because he just doesn't care and is always really rude to your substitute teacher but is actually super insecure and trying really hard, showed its Fall-Winter 2018 collection 'Stereotypes' in Paris today and it was a whole LOT.
With numerous collaborations with everything from noughties bangers Juicy Couture and Champion, to DHL, to Canada Goose, Vetements has often taken the whole 'normcore-fuck-high-fashion-but-still-pay-$400-for-this-tshirt' horse and run it until it's heaving and very near collapse. This has proved popular with the kind of hypebeasts who embroider their own hats as a hobby and sell them for 'friends & family' rates to their friends for a cool $50 bucks. Luckily for them, this Vetements show would be no different.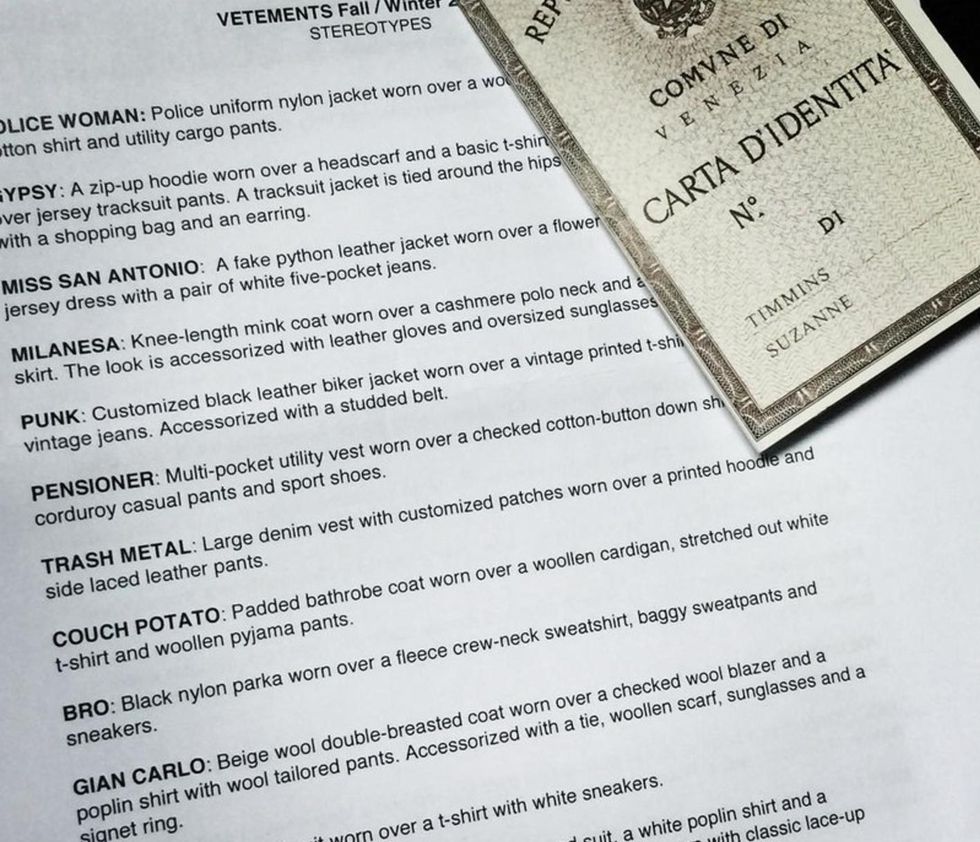 Image via Pinterest.
Printed on the program/A4 sheet handout in Arial font was a menu of stereotypes that would feature on the catwalk and which pieces of clothing would go into quietly stripping the individuality from each member of society. 'Milanesa', 'Couch Potato' and 'Pensioner' were among the many 'normie' models.
The irony in this, is of course, too real, but not for the reason creative director Demna Gvasalia is probably intending. The same crowd who would scoff at a 'Bro' or 'Punk,' for their perceived lack of style, is selling their Supreme merch to get their hands on exactly what a 'Bro' or 'Punk' might wear. Individually, many of the pieces are beautiful, well-crafted or highly innovative. But the cyclical nature of everything Vetements produces/makes fun of means that at some point they're starting to eat their own tail. Like when you have an argument with your cousin who thinks they're infinitely cooler than you but can never think of a comeback so he just infuriatingly repeats everything you say in a cynical tone.
But that's not going to stop anyone from buying it. No one wants a Vetements 'STAFF' t-shirt just to smirk. They don't buy it because they genuinely want to wear a velour tracksuit with sequin embroidery IRL. They're buying it because it's Vetements. Gvasalia has positioned himself as the all-seeing, all-knowing, anti-designer of the fashion industry who operates within their realm but doesn't buy into the pretension, whereas those who are buying into his brand are the most pretentious of all. No one's laughing with you Vetements buyer, they, like Gvasalia are laughing at you.*
*Several members of PAPER staff have been severely dragged in this article. May they rest in peace.
Image via Vetement official Instagram.
Sign Up For The Morning PAPER
Music
Photography by Grace Scuitto / Story by Jade Gomez / Makeup by Marla Vazquez / Hair by Abraham Esparza / Styling by Heather Picchiottino