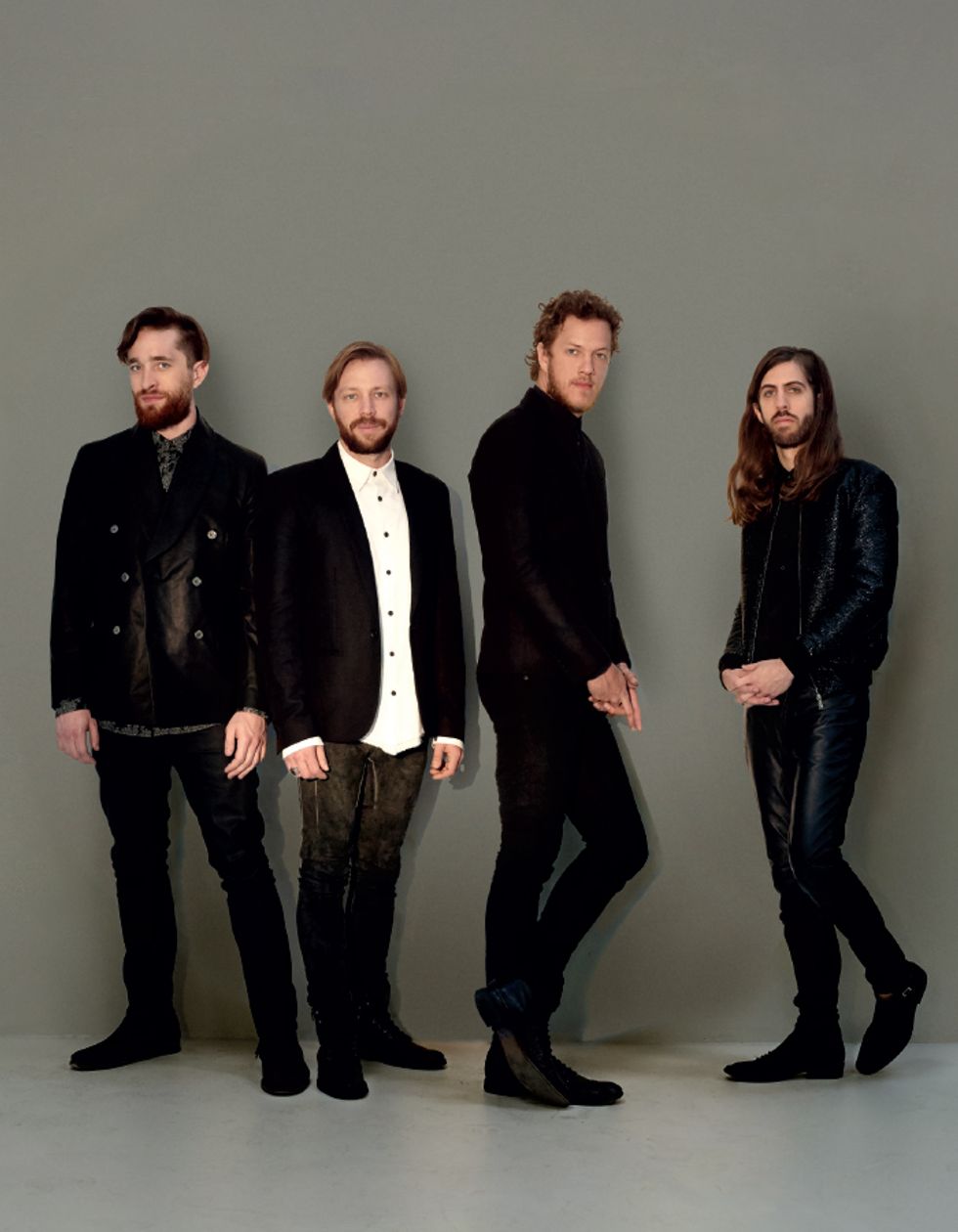 (Platz wears Jenny Schwarz blazer, Diesel shirt, Levi's jeans, and Frye shoes; Ben wears a Guess blazer, Decks shirt, Boris Bidjan Saberi pants and Pail shoes; Dan wears a Guess blazer, Diesel shirt, Levi's jeans and Frye shoes; Wayne wears a DSquared jacket, Topman pants and Kooples shirt and shoes)
Nine living legends of music, the causes they believe in and the worlds they envision. Welcome to PAPER's Use Your Voice portfolio. Get ready to get inspired
.
The easiest way to get the four members of Imagine Dragons to light up like Christmas trees is to ask them about someone named Tyler Robinson. He, the namesake of the
youth cancer foundation
they founded two years ago, was also their friend and a constant source of delight during the few years they collectively knew him. 
As the band was on the rise, Tyler's brother had reached out via Facebook to lead singer Dan Reynolds the night before a 150-capacity show in Utah. He wanted to let him know that his little brother would be coming and that, as he battled chemo, the 14-year-old had fallen in love with the band's song "It's Time." That night, Reynolds told Tyler's story on stage and, sure enough, the crowd began chanting his name, even going so far as to raise the pale, thin Robinson onto their shoulders.
"It was probably the most magical moment I've ever had on stage," Reynolds says while sitting with his three band mates after a photo shoot in Los Angeles.
"I don't know if you guys feel differently," he continues, looking to the semi-circle of guys to his left. Drummer Daniel Platzman, bassist Ben McKee and lead guitarist Daniel Sermon firmly nod in agreement as Reynolds continues the story of how they, a multi-platinum band that's helped reinvigorate the sagging rock genre on the Billboard charts, came to be charity founders.
Reynolds goes on. They were preparing to play a show in a city that Reynolds struggles to remember for a moment. All three band mates quickly chime in: "Chicago." McKee says the date, "March 4," as if by reflex. 
Tyler had texted just days before, asking like a typical 16-year-old about bringing a girl to an upcoming show, this time at an arena. But he had become gravely ill overnight and passed suddenly and without warning. The band called Tyler's family and asked how they could help -- wanting to do more than throw money at one of many cancer foundations. And they learned that the unseen costs of having a child with cancer are desperately overwhelming to families like the Robinsons -- involving everything from airline flights to mortgaging the house in order to pay bills. 
The band can get lost inside of talking about the foundation, each rattling off facts they've learned about the lives of cancer patients and the ways the foundation works. But Reynolds stops himself at one point, making sharp eye contact. "It is the absolute most important thing that we do as a band and our favorite thing that we do," he says, and then lowering his voice amid the buzz of stylists and photographers in the background. "It's great to do photo shoots and interviews, but it's a very selfish lifestyle to be a musician. The most refreshing part of tours is [when] we go meet a family and hear their story."
As organizers of their very own charity, these men all teetering on either side of 30 have kicked things off with a bang. The foundation has already raked in millions, even putting on a gala last year hosted by NFL star Steve Young. But that doesn't mean they're immune to stumbling blocks. 
Reynolds tells a particularly cringe-worthy story: after the first time they'd mentioned the foundation publicly, at the televised Billboard Music Awards, they received a phone call from their manager, who was in tears. Apparently, they'd brought in $11 million in donations overnight. 
"Everyone called their parents and all of us were crying. And we're not criers," Reynolds says.
After a few hours, the phone rang again, this time with an apology from their manager. It turned out the foundation's website hadn't been braced for bogus amounts entered by pranksters and teens with no real access to money, and their donations had been counted towards the actual sum. The real amount, though substantial, was nowhere near $11 million. 
The band squirms remembering it. "So that was a little hiccup," Reynolds says. "The things you learn in the early days of having a foundation." 
The band's dedication to using their international fame for philanthropic measures extends beyond their own foundation. They've partnered with Amnesty International -- a group that Reynolds notes the band is particularly passionate about -- as well as Playing It Forward, an organization for school music programs. Reynolds has also opened up publicly about his own battle with depression in recent years.
And as far as what causes get time and attention of the band, it requires all four bandmates must wholly sign off. "It needs to be something that [we're] actually passionate about. We do a vote together," he says. "It has to be something that's real for us." 
And then the foursome is off again, reminiscing this time about a spunky child from the foundation who wore an orange superhero cape backstage and whose cancer was just declared to be in remission. Says Reynolds, "The families we've met -- these stories have just been the highlight of everything in this band by a long shot."
For more Q&As from our 'Use Your Voice' portfolio, go HERE.
Learn more about the Tyler Robinson Foundation here.