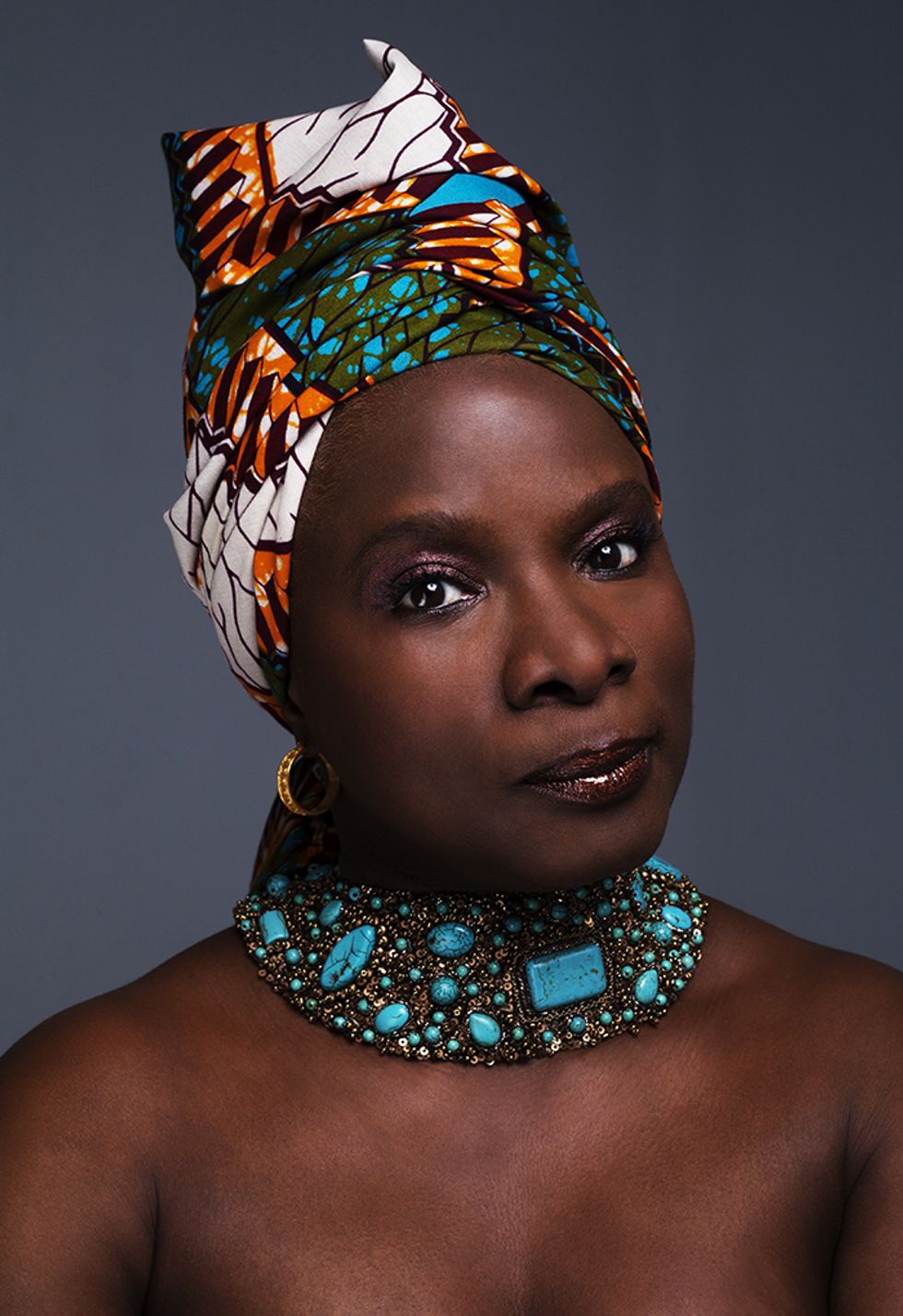 (Necklace by Azeeza)


Nine living legends of music, the causes they believe in and the worlds they envision. Welcome to PAPER's Use Your Voice portfolio. Get ready to get inspired.
Few artists have combined music and activism as seamlessly as Angelique Kidjo. Witness her recent
Eve
album, a celebration of African women -- "their beauty and their resilience." With the
Batonga Foundation
, Benin-born singer Angelique Kidjo offers scholarships to girls across the continent.
What cause do you care about the most right now, and did you first connect with it?
My main passion is promoting access to secondary education for girls in Africa. Why? Because I was so lucky to have a dad who relentlessly put his girls to school in Benin where I grew up. He gave us the most beautiful gift there is: the gift of education, which allows you to understand the world and find your right place there. I want every girl in Africa to have the same chance I had. Pushing for secondary education is key because it can prevent early marriage and also help understand the health messages we're trying to pass to the population. It has been proven that educating girls raises the GDP of a country in a very significant way. This is why I founded the Batonga Foundation in 2007 with John Philips and Mary Louise Cohen, which provides scholarships to young girls in several African countries.
To what extent does your activism inform your art?
Both are so linked together! You can't separate one from the other. I have traveled a lot with UNICEF as a goodwill Ambassador all over my continent and I have met incredible people who are the true inspiration behind most of my songs. They give me the energy to keep on moving to new artistic territories. For instance my last album, 
Eve
, was inspired by African Women, their beauty and their resilience. I traveled all over Benin and Kenya to record their singing voices, but also to listen to what they had to tell me.
Who has inspired you to do what you're doing?
Since I was a little girl I have always been appalled by injustice. I can't bear it, and I can't help it but I have to open my mouth. It has caused me problems sometimes... But I truly believe that things could be better than they are if people were more outspoken about what they feel is wrong.
What are the greatest challenges you face as an activist who's also a celebrity?
The greatest challenge is to balance my schedule and still have a life. In order to have a career today as a singer you need to perform a lot, which means traveling a lot. In the last two months I have performed on four continents! I spend half of my life in planes. But I also receive so many requests to attend events, partner with organizations, go on visits with UNICEF... Sometimes I am overwhelmed but is is so hard for me to say no if I feel I can be useful.
Has fame ever hindered your efforts?
I don't think so. I think fame gives you an advantage because you have access to more attention from the media and from the various organizations. The real risk is that your efforts can look silly, even if they are genuine. People might think, "who needs another artist who wants to save the world?" Early on when I started to work with UNICEF, Maria Zanca, the celebrity coordinator taught me that publicity of a charitable cause for the sake of publicity can be vacuous. Charitable organizations should not be treated just as a "brand." UNICEF or Oxfam are not "selling" you anything. The programs you're promoting need to have depth and research behind them. You can't be careless with a great cause.
How do you deal with the inevitable backlash?
I am grateful I haven't experienced a lot of backlash, maybe because I am trying to be a kind of bridge between the people that need help and the people that have the means to help. A true human connection is often missing with the people you're trying to help. I always try not to be arrogant or condescending. You have to listen to what the communities have to say and not be arrogant. Be humble! And also acknowledge the fact that you learn a lot from the people you're trying to help: maybe you are the one that actually is being helped the most in this relationship!
Do you think all celebrities have an obligation to be activists and/or philanthropists?
I'm not sure. I think you have to feel the need in your heart and a special connection with people. If it is a burden for you or if you do it for publicity you should not do it because it is not going to be easy and people will be able to tell if you're not sincere. If you are serious about it, it will be time consuming and you have to be very careful when you choose the people you're working with!
What do you wish you had known when you first became an activist?
I feel I have always been an activist! When I was a little girl, my mother was part of a group of ladies fighting for women's rights. They asked me to sing their anthem, which was a cover of a Miriam Makeba song. I was not even 10 years old and already being political.
What's one thing you want all your fans to know or do?
I want them to understand that I was able to accomplish my dreams because I had access to a quality education that gave me confidence to speak on CNN or go to the White House and talk to Michele Obama. I want them to help share this gift with as many African girls as possible. People have so many misconceptions about Africa. It is not the land of war and disease that is so often portrayed. It is a land of culture, solidarity and beauty!
What change do you most want to see in the world?
Less anger, more understanding. Whatever the color of our skin, we're not that different! What is the color of your blood? What is the color of your heart?
For more Q&As from our 'Use Your Voice' portfolio, go HERE.
Learn more about the Batonga Foundation here. 

Styling by Anthony Pedraza, hair and makeup by Kim White at Artists at Wilhelmina

Location: Drift Studios

Photo Assistant: Tony Farfalla

You May Also Like
Break the Internet ®
Photography by Oscar Ouk / Styling by Caitlan Hickey / Hair by Sean Bennett / Makeup by Kento Utsubo