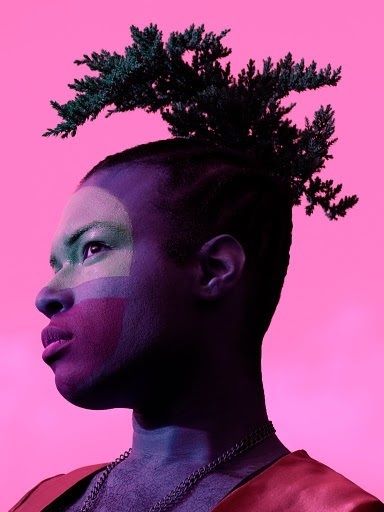 Hailing from Lusby, Maryland, 25-year old Brooklyn-based artist
Clifton
might have come to Gotham to study musical theater, but his work strays far from Broadway. After wowing crowds at the Envoy Gallery after-parties at Home Sweet Home, Clifton embarks on what he hopes to be a long journey of re-inventing pop music with his first big show,
Leap
, at Brooklyn's
Knitting Factory
. Part of a larger community of creative types working in fashion, music production, DJing, and so forth (he refers to it as his "art collective"), Clifton promises that his upcoming performance will be much more than a simple concert. PAPERMAG recently chatted with him about pop music, Halloween costumes, and why the Butthole Surfers would never fly on top 40 radio today.
We hear your upcoming show is just as much a piece of theater as it is a concert. What can people expect to see?
The show is going to be a visual buffet. I don't like to do anything small. When you leave it, I promise that you'll be talking about it to your friends and telling them they should have been there. It's going to be a 45-minute theatrical experience.
Your music has loads of different influences from pop and world sounds, as well as intricate harmonies and crazy time signatures. What was your goal was in creating this kind of music?
Some of my biggest influences are David Bowie, Grace Jones, TV on the Radio, but ,really, there are too many to name.
I wanted to make music that is easy on the ears but, that with each listen, you can pick up something new. So much music now is like being hit in the head with a brick. They just throw the song at you and pummel you until your brain goes numb. Why not have a song in 5/4 on the radio? It used to happen all the time! I often listen to songs from the not-too-distant past like "Pepper" by The Butthole Surfers and think they would never let this on the radio these days. That's a shame.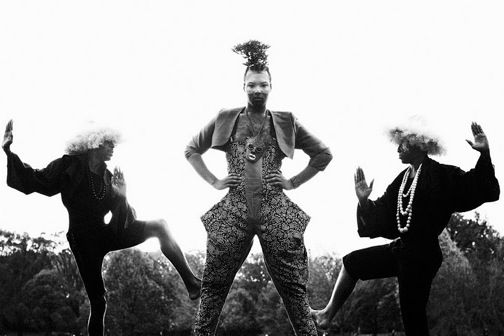 What do you think pop music lacks nowadays?
A soul. An educated audience. More than one thought at a time. I could go on for days. That is really what propelled me to start recording in the first place. I'm not sure if I'm more mad at the music that's on the radio these days or the people that listen to it and think its genius.
I figured if I don't make the music that I want to hear on the radio then it's partly my fault. I think everyone should do the same. We can change things.
Fashion is a big part of your act and daily life -- you incorporate lots of bright colors and pattens. Even your gym look turns heads in South Williamsburg, where you live. How would you describe your style?
I like to wear whatever makes me happy. The world would be much more interesting if everyone did that. I always see how happy people are on Halloween and think to myself, 'Why don't you do that whenever you feel like it?' Could you imagine if everyone had their personal Halloweens? You're having a bad day walking down the street and you see Superman or some shit in the financial district going to work. How could that not bring a smile to your face?
Who are the people you're collaborating with and how do you know them? Adam Joseph produced my album. We work very well together, but I think he may think I'm crazy sometimes. The result, though, is always what I want it to be. I also work with DJ Nita. In fact Adam, Nita and I just produced a version of "Once in a Lifetime" for The Ones.
I work with a lot of different designers, also. Hannah Fallon makes a lot of designs for me. Also One-Half Nelson works with me, and the up-and-coming brand Copperwheat makes me one-of-a-kind pieces. One of my closest collaborators is Xander. We are working on a theater piece coming later in the year that is going to be an extension of this concert. All of this is just the beginning for us.

Leap, featuring Clifton, Right on Dynamite, Ghastly City Sleep, Adam Joseph, and DJ Nita will debut at the Knitting Factory, 361 Metropolitan Ave, Williamsburg, Brooklyn, Sunday, Feb. 28. at 8:30 p.m. $10.
Photos by Steven Chu