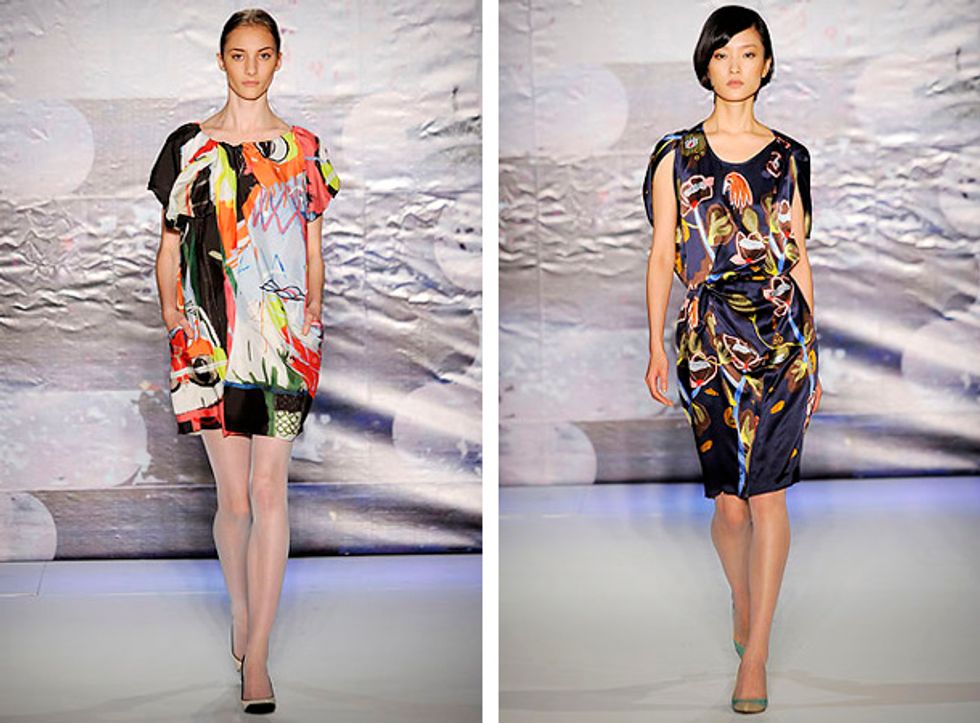 Miho Aoki and Thuy Pham of United Bamboo make a habit of collaborating with their artist friends on their collections. Last season, they worked with Rita Ackermann on patterns for the fall fabrics. For the Spring 2010 runway show, they sent down dresses made with colorful whimsical prints designed by artist Pier Fichefeux with background music by Seans Lennon. At the after-party later at China Chalet near Wall St. Brian DeGraw and Spencer Sweeney manned the decks and turned out some funky tunes. I caught up with Miho on her way to the airport for some q's:
What was the inspiration for the prints?
The prints are based on my boyfriend Pier Fichefeux's paintings. I just picked two of them and made them into fabric. I requested a flower/20s-era/ primitive feeling and he came up with those.
What's the best thing about Fashion Week?
A lot of fashionable people outside and everywhere! It's kind of nice to look at.
What are you going to do when it's over?
I am going to Paris right now!!! Yaay, it's not even over!!!!!
Photos from Style.com
CLICK HERE FOR PAPERMAG'S COMPLETE DOWN-LOW FASHION WEEK SPRING 2010 COVERAGE. >>