Sampha is at a loss for words. "I guess people heard [my voice] and felt something," says the 27-year-old London-bred singer-songwriter and producer. He's humbly musing over his evolution from singing in grade school choirs to lending his ghostly falsetto and heavy-hearted melancholia to cuts by Drake ("Too Much" and "The Motion"), Kanye West ("Saint Pablo") and Solange ("Don't Touch My Hair"). "I'm not usually one to feel confident in doing my own thing."
Nevertheless, after the release of his inaugural EP Sundanza (2010) and 2013's Dual, he's finding the confidence to pursue the milestones he's been most anxious about: embarking on his first solo tour and recording a proper debut album. Out tomorrow, Process is an account of grief and relationships -- the passing of his mother last year weighing most heavily. "She was never someone to show off about things," he recalls, having adopted the same unfailing modesty about his success. "Don't get me wrong. I can get gassed, as they say," he pauses before cracking a smile. "But I want it to be more about the music and being sound in my vision as an artist this time around."
You've waited over six years to put out a full-length solo album. How were you able to stay so patient?
I didn't feel comfortable releasing music unless I was really living life and had personal things you draw from. I'm never doing this just to keep relevant. The idea of writing an album only came recently, like two years ago. There would be times where I was like, "Okay, I'm working on this thing." Then, there were times I didn't want to. But at the same time, I continued to collaborate and make music with people so it kept me busy and pushed me to keep going.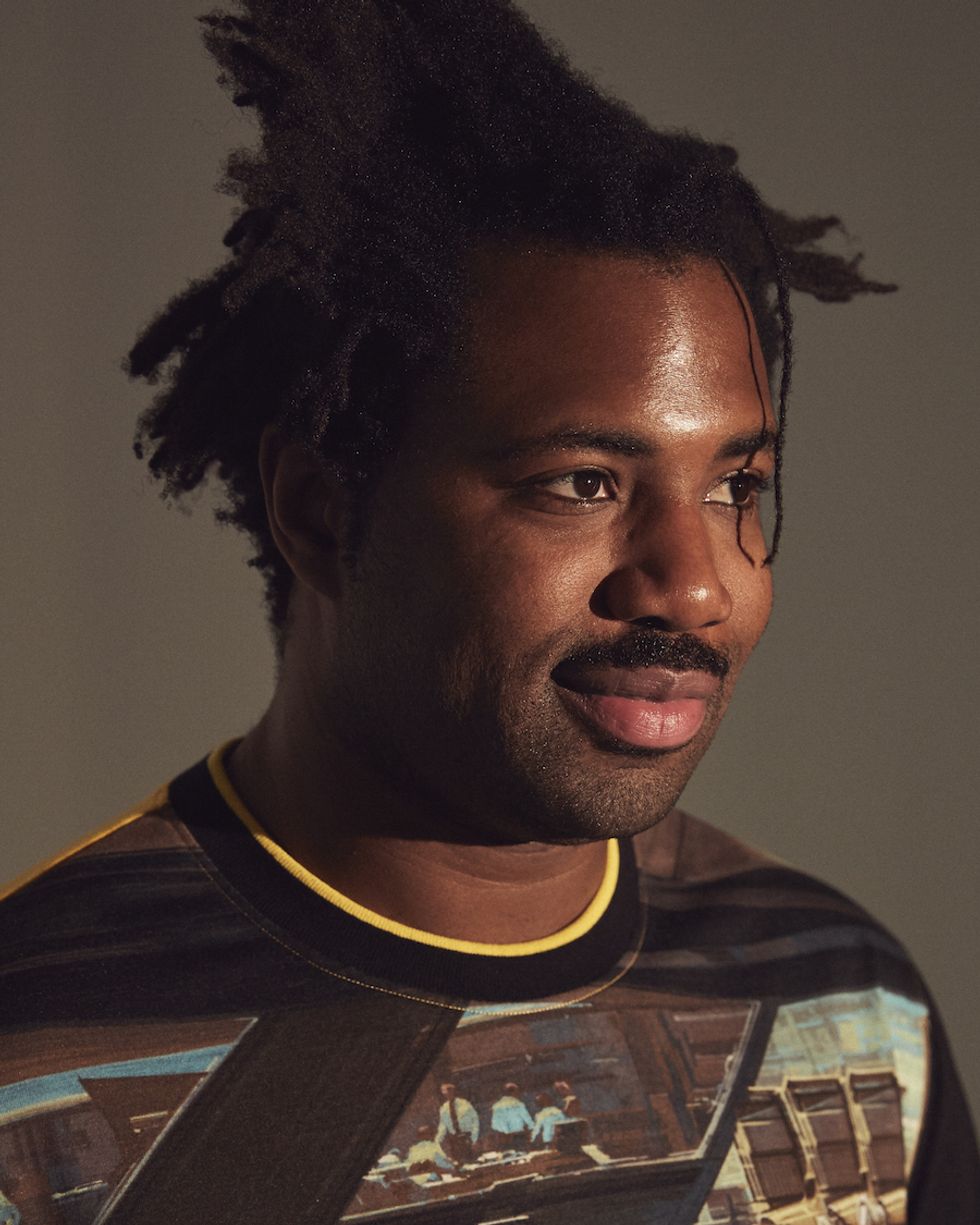 Shirt by Opening Ceremony
So, what can we expect from Process?
Originally it came from the importance of processing things in terms of talking about them or thinking about them, and also just the natural process of movement. My mom passed away while I was making the album, and naturally I was going through mourning and grief and all those stages. I finished the album around three quarters of the year after she passed away, and I'd gone through quite a lot of things so what came out at that time was how the album was built. It talks about relationships and changing, also thinking about the things that don't process, or the things that stay the same. So yeah, it was kind of just a conversation.
A lot of personal experiences find their way into your music -- are there any artists in particular that have inspired you to share yourself in your lyrics?
I think I first came across Tracy Chapman as a young child and that was the first time I actually took notice of someone's lyrics. Her lyrics were incredibly deep and always talked about her relationships and included social commentary. That showed me a depth to songwriting. But probably the most effective person is a guy called Kwes. He's a South London producer and he was someone who I came across on Myspace. He only had a picture of his shoes; I didn't know his identity. But I heard a song of his called "Tissues" and I felt sick. He was talking about tissue acting as an empathetic, personifying thing. I was sort of into rap and not necessarily R&B, but I was like, "whoa." At the time I was writing songs as well, and wouldn't really share them, but I would send him songs. He shared lots with me and pulled me into the light a bit. That was really a turning point for me, and that's the great thing about Myspace and the digital world is that you can find these communities of likeminded people that otherwise, geographically, you would never know were there
What was your recording process like for Process?

Before, I was recording more in a bedroom thing, but for this album, I was in the studio. I always wanted to try that out and it was interesting. I really ended up enjoying it. I started working with this producer who I didn't intend, Rodaidh McDonald. I actually just wanted someone to help me mix stuff, but he ended up becoming a mentor. He has a real talent for not being too imposing, but yet being extremely confident in his opinion. It was great to have someone else's opinion, and it was a big learning process. I learned that no one does anything by themselves at any point or at any stage in your life, that necessarily letting someone help you on your journey doesn't transform your authenticity as an artist. That's one thing I sort of tell myself, is, I want to do everything... But I want it to be more about the music and being sound in my vision as an artist this time around.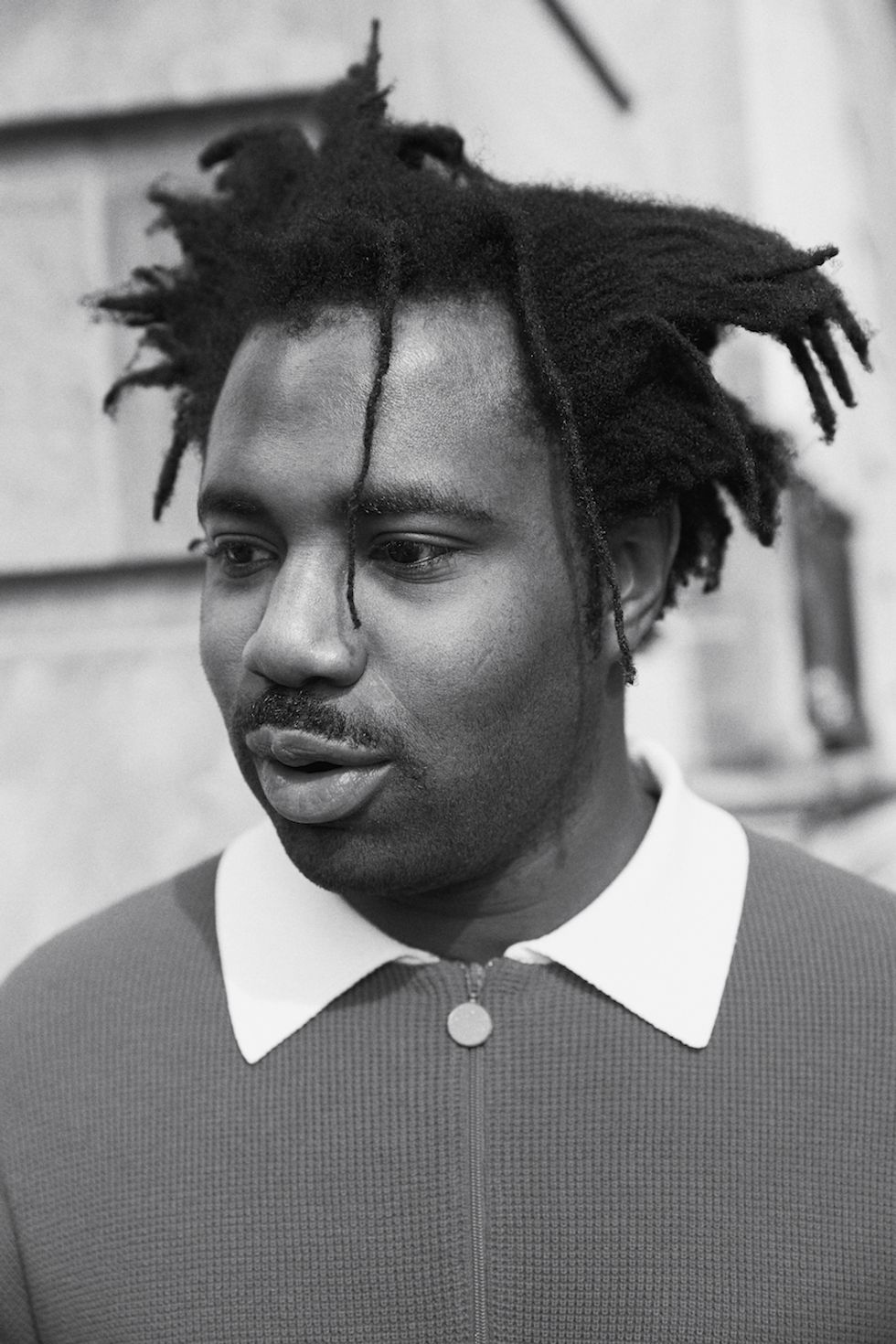 Sweater by Opening Ceremony
Do you feel like your vision is sound now?
Yeah, in some ways. It's always weird when you're growing. It's like some things become clearer and defined to you. And some things start to fade. So it's never like a thing of being fully confident because there's always this naiveté lingering I guess. Even working with Kanye was one of those moments I'll always take with me. He instilled the confidence in me to do my own thing and not to feel so… I'm not one to feel confident in doing my own essentially.
If failure and judgment weren't options, what's one thing that you would do and why?
I'm trying to think of things I'm scared to fail at. That's a difficult question. But I'd probably be a lot more silly on social media. I'm not this recluse everyone thinks. I just think I've got a bit of a phobia of posting stuff up for some reason as soon as I sort of felt the glare of other people. But I'd probably be the biggest goofball. I'd just be doing stupid stuff all the time. Not to say that I'm not doing that anyway, but I could probably have a lot of fun doing that. Probably tell people how I feel all the time.
There seems to still be much more to learn about Sampha. What do you think this album will say to people about you?
I want people to listen and go, "Oh, this is interesting."
Splash photo: Coat by Opening Ceremony
Fashion assistant: Tasmin Meyer Ersahin