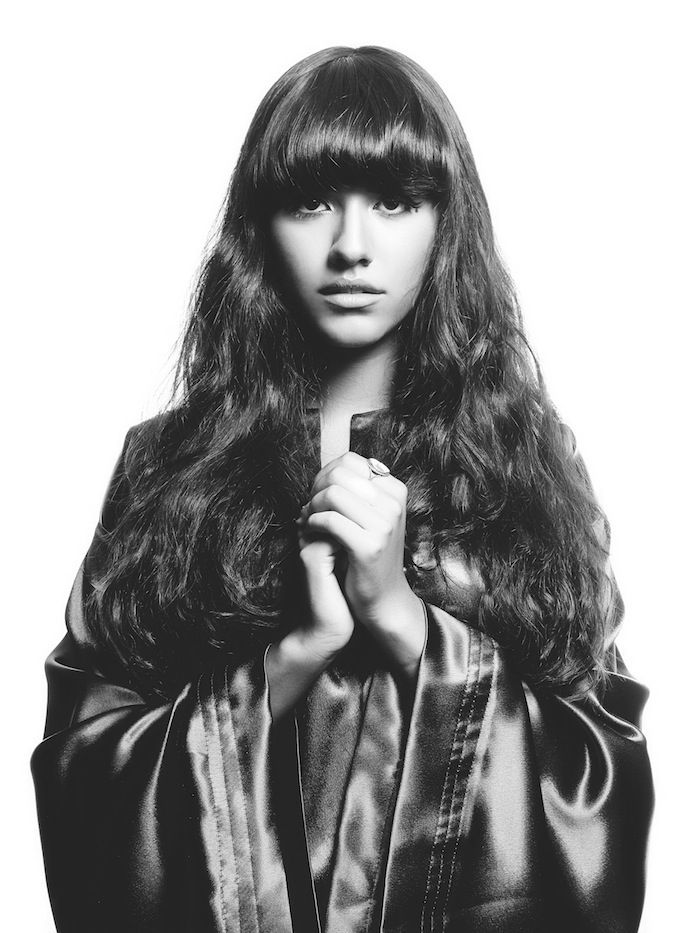 (Photo by Jay McLaughlin)
Hailing from Blackburn, U.K., singer-songwriter Charlotte OC first began playing music when she was five years old and writing songs at the age of 15. She struggled with academics and never attended university, explaining that music is the only thing she ever felt like she could do. "I wasn't naughty, but I just didn't get school," she says. "When my mom and dad realized I could do music, they were just like, 'Go for it! Just do it.'"
Her sound blends elements of ethereal pop, including piano, synths, and violin bass guitar, with powerful lyrics. On September 2nd, she released her second EP,
Strange
, as a follow-up to her debut EP,
Colour My Heart
. This past Thursday, we watched the striking singer -- her heritage is a mix of Malawi, Indian and Irish descent -- perform at the Slipper Room in New York City and had the chance to chat with her about everything from her transformative experience at Berlin's most famous nightclub, Berghain, to hating piano and her thoughts on love.
So I hear you recently went to Berghain.
It's the best place in the world. I was recently there with work, but the first time I went was two years ago to party. I kept asking my friends, "What can I expect from this place?" and none of them would tell me. We were all exhausted because it was the last place we went, but everybody said, "I don't care how tired we are. We're going." I walked up to the building and was like, "What the fuck is this?" It's the scariest place I've ever been.
Did you have to wait in line to get in?
No, one of our friends is a DJ, but [the bouncer] was looking at me like, "I'm not gonna let you in." They were ready to not let me in, but thank the fuck I got inside. It was like heaven and hell. It's people you see just walking down the street and they're completely losing it. It's as if everybody's dancing on their own in the room, but they're with everybody else. Nobody gives a shit. Everybody is letting their inner freak out. It's beautiful. There was a moment when someone was making this African chant noise -- hearing it bellow in the huge space, I was like, "I might cry." It feels like a religious experience.
Anything else particularly memorable from that night?
Monkey Safari did a remix of Bon Iver and it was a cover of "High Life." As soon as I heard that it really hit me. In this moment with everything else going on, it just made a lot of sense. The ideas of what I wanted to do musically came [to me] then. I was like, "I hear what that is and feel like I can do something with it and make it my own."