There are things about Tyra Banks that people don't know and things they seem to forget. Two weeks before her first day at Loyola Marymount University, where she was to study film and television production, Tyra was discovered in a big way after years of model-agency rejection. "An agent saw pictures of me and said that I was the only girl she wanted to take back to Paris," she recalls. "I didn't leave thinking I was going to be some big fashion model. I just wanted to make money for college." She deferred her admission, left Los Angeles for her first season in Paris and was promptly booked for 25 shows. You see, she was a top model too. The real kind. In France.
The UPN girl, who has been on the cover of TV Guide twice in the past year and clogged on the bar in Coyote Ugly, can also tell you how she always wanted to walk for fashion designer Rifat Ozbek but never has, and that she didn't really like doing couture. She considers a Paolo Roversi shoot for Harper's Bazaar to be among the best of her career, and she even has a serviceable Azzedine Alaia story. She remembers being fitted by the designer and correcting his faulty English -- he misunderstood the lyrics to Tina Turner's "What's Love Got to Do with It" as "What's love prostitute, prostitute." "Sweet man," she recalls thinking. "But I'm not going to be here forever. Not my destiny."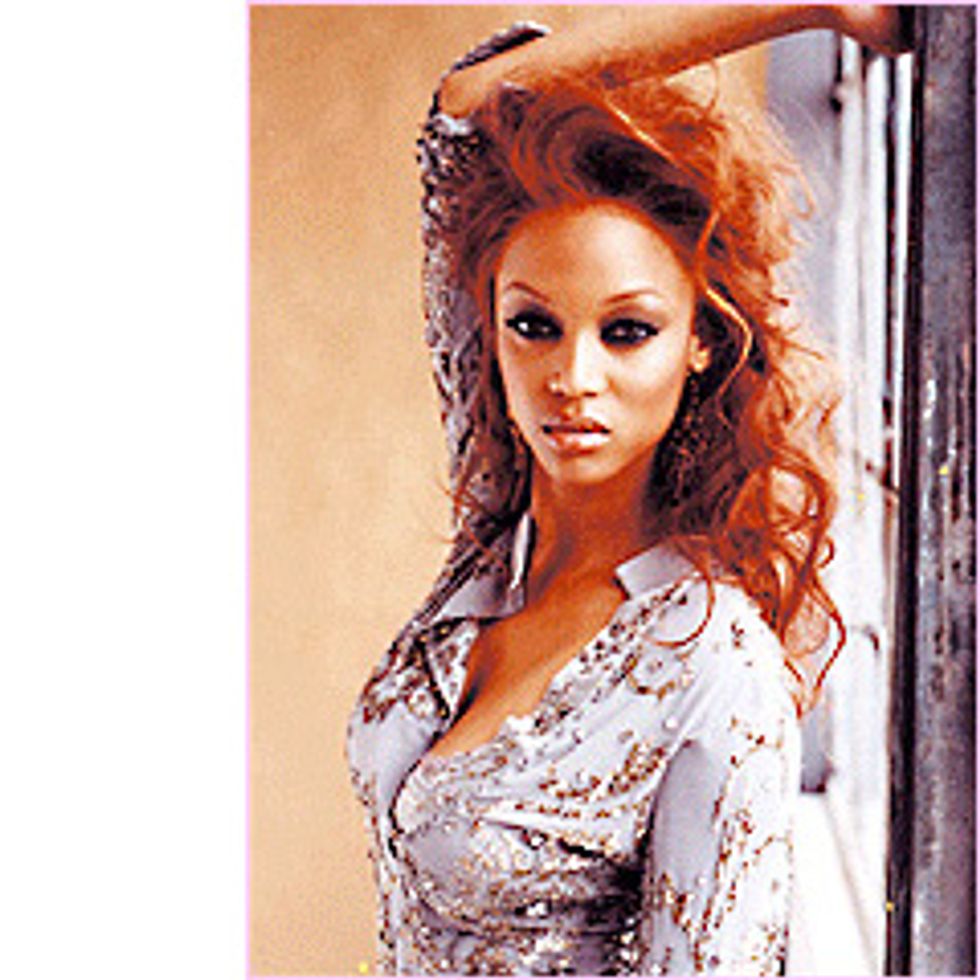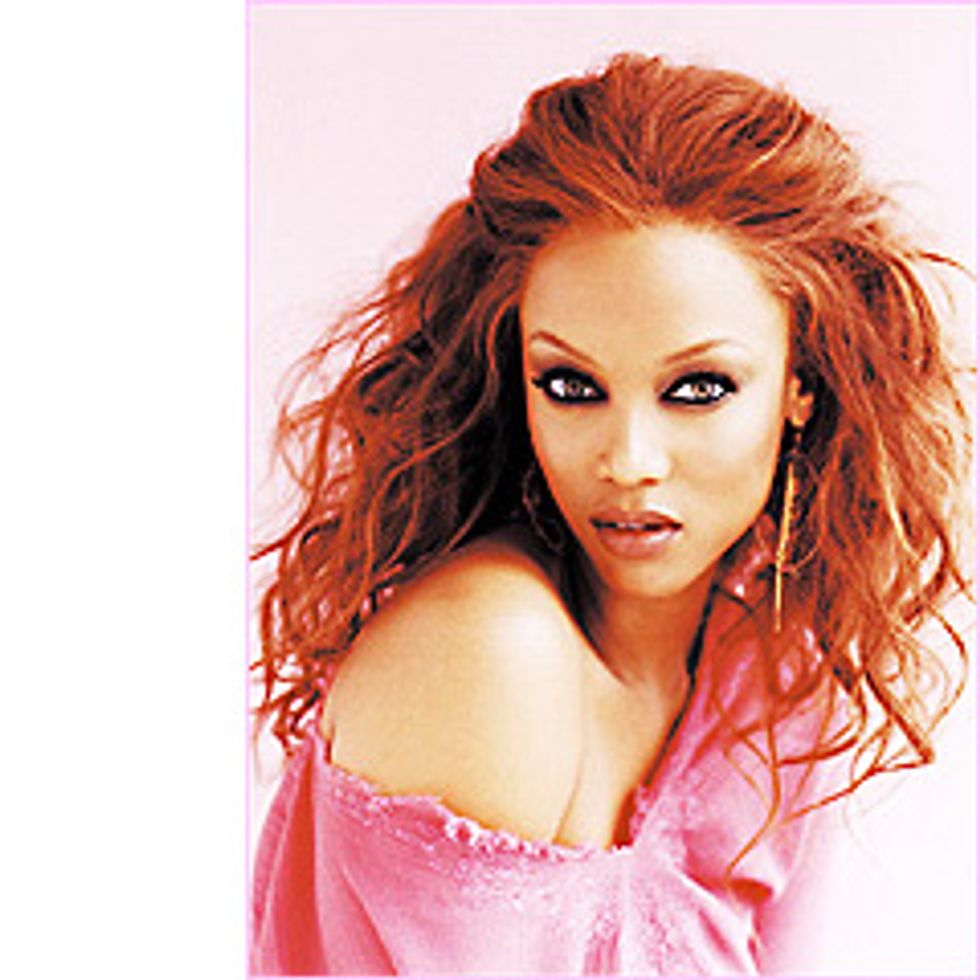 People also forget that Tyra participated in George Michael's "Too Funky" music video, the follow-up to "Freedom '90," which introduced the new fashion girls walking a runway and wearing Thierry Mugler. She had been in Paris for only about six months when she shot her scene, right after Linda Evangelista shot hers. "I might remake that song," she says. "Wouldn't that be cool? I really should. Just change it up a bit? Put a little more ghetto beat into it?"
She might. Tyra is a recording artist now, which you know if you saw the debut of her music video "Shake Ya Body" on her well-received show America's Next Top Model. The single is downloadable while the rest of the album is being completed, with a release date of early next year. "I'm more of a mid-tempo girl, and that's what the public will probably grasp onto when they hear it," she says.
Does she know the lyrics to the theme song from The Fresh Prince of Bel-Air? (She had a recurring role as Will Smith's love interest.) "Of course!" she exclaims. She is encouraged to share. "Well," she begins, "this is the story all about how my life got turned upside down, and I'd like to take a minute to sit right back and tell you how I came from a town called Bel-Air. I pulled up to . . . the corner . . . about seven or eight . . . and I yelled to the cabbie . . . Oh no, I'm singing the end." Good enough for us.
She was also in the closing sequence of Michael Jackson's "Black or White" video. How does it feel to be one of the first people to be morphed? "Well, it feels really good," she says gamely, "because I went from a Jamaican to a redhead. Or a sumo wrestler, I can't remember."
It's as good a time as any to ask her about the popular rumor that Naomi Campbell once wanted her banned from the Chanel runway. "Oh, I won't comment. I've spoken about a model being really negative to me, but never mentioned names and never will," she says. "But they tend to put that name to it." Have you heard Naomi's album? "I haven't. Is it good?"
Tyra says that this year's winner of America's Next Top Model knows more about fashion than she does herself. (She used to know plenty; her mother had her study hair, makeup, photographers and editors' credits to prepare for Paris.) When I propose a fashion questionnaire, she predicts certain failure. But I persist:
What magazines do you read? She thinks O is amazing. What else? "I like Newsweek," she adds cautiously. Do you read Numero? "Never heard of it." Do you wear Lanvin? "Only when I did the show." Do you get what Nicholas Ghesquiere is doing at Balenciaga? "Who? I'm sorry, I'm embarrassed. What's the next one?" Are you interested in how intelligent Maggie Gyllenhaal is? "I don't know who that is. Am I messing up? Who is she?" She was in that Julia Roberts movie. "Mona Lisa? What else?" She was the star of Secretary. "Didn't see it. I know who Scarlett Johansson is." Is Roberto Cavalli too much? "Hell, no. I love his clothes. He is the new thing. I just wore his clothes to [Divas Live]."
Her answers are perfect -- particularly her interest in Newsweek, which is quite chic to those who know. Anyway, Tyra can claim something beyond the reach of either of her television champions. "That country told me I was beautiful," she says about her years in Paris. "I felt beautiful there before I felt beautiful in America."
So what about her lifestyle? "I'm so simple," she says. "If I don't have groceries I eat popcorn and Tang for dinner. I'm like, I think I make enough money to hire a chef." And she does. She has homes in Los Angeles, Manhattan and Orlando but, endearingly, has only one car, a Lexus convertible. She wore a pair of Victoria's Secret flip-flops to our meeting. "I ordered them from the catalog. I wear a bunch of catalog stuff," she says. You order from the catalog? How does that work? "It's free because I have a card." She produces her Victoria's Secret Angel card. "See what my card says? One. It was the very first Angel card ever given out."
"I take my business very seriously," she continues. "Like, so, so seriously. But me as a person, I don't get embarrassed, I don't care. I'll stand on this table and yell if you want me to." She is aware of the camp value attached to her projects. "I'm very aware. I'm a businesswoman. And when you're a businesswoman it's not always about the cool or the chic or the privileged."
There was a time when high fashion was the goal. Now commerciality is the excitement. An assistant recently found an e-mail that lists the shows Tyra was booked for next to a list of designers who have loved her in the past but thought her breasts and hips were getting too big. "I was proactive," she says. "I told my agency to call Victoria's Secret, and I told them to call Sports Illustrated." That was your idea? "My idea. I said my body is changing, and seamstresses are calling me grosso in Italian, and I know what the hell that means. And I'm not about to starve." Although she did try to eat salads for several days.
"This is me and my agenda," she says. She once chose an offer from Cover Girl rather than a more up-market contract, which she declines to name. "I've always been attracted to the masses," she says with a determination not in short supply. When she was 19, after returning to the United States from Paris, she was on a Victoria's Secret set, and a hairdresser couldn't get her hair right, so she was sent home. She didn't work for the company for a year. "I called my agency and said, 'Call them back,'" she recalls. "'I know I told you to call them before. Call them back again.' A year later I had a contract."
She is currently producing seasons three and four of America's Next Top Model and developing a spin-off of the series, in addition to developing a "daily-type" daytime television show, two fish-out-of-water feature comedies ("With or without me," she says) and a one-hour UPN drama. She enjoys her producer, executive producer and creator roles. "I would like some accolades for my producing more than some Oscar or Emmy as an actor," she says. She continues to work with Victoria's Secret ("I've been with them for eight years, child"), but says that contractually she is not permitted to say for how long the arrangement is to continue.
Is it important to her to have had a successful high-fashion career? "In the fashion industry, yes. They know where I came from. But on the street, the guy that was just yelling my name an hour ago, he doesn't know that. He just knows the swimsuits." Does she miss it? "Hell, no. It's a very passive life. Even though you're a star, you're still waiting for the phone to ring. Is Chanel going to want me this season? And how come Calvin Klein didn't use supermodels this year?"
Can you go back after going commercial? "I haven't tried," she offers matter of factly. You seem relatively fearless, I tell her. "I'm constantly afraid. I didn't know Top Model was going to be successful. I knew it was going to be kind of successful, but I thought it might be a little cheesy. Now I have big editors that I thought were going to make fun of me clamoring to be a judge." Will you invite them on? "I'm the boss. I have to interview them on camera and see if they have the personality to carry it. I could care less about a title." Sometimes you need a little cheesiness. "Yeah, cheese is good. Cheese is great." Tyra agrees that some of these editors might not be cheesy enough.
The big question is how would Tyra assess herself if she were an aspiring model on her own show? In response, she offers the kind of rigorous psychological evaluation that is the signature of her model search. "I would say, 'Tyra you know, you're really great; you have a great look. You might want to work out a little bit, firm up. I'm not telling you to lose weight, but maybe go on the Zone Diet or South Beach. Tighten it up a bit. It's not about the right answer. I don't want to see you giving me the right answer. This is not a beauty contest. I need you to just be you and just relax and just have fun. I want to see that smile that you had in the auditions. It's gone away. You look too focused. Relax.'" Then, finally, she pauses before adding, "And I'd say, probably, 'Don't shake your ass as much when you walk down the runway either.'"
Hair by Oscar James for Ken Barboza Associates using Amplify Spray Gel by Matrix * Makeup by Charlie Green for Victoria's Secret Beauty * Stylist's assistant: Leisel Quamie