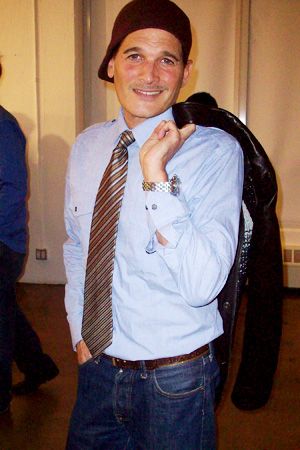 Two of
PAPERMAG
's star reportahs caught up with and chatted up
Phillip Bloch
yesterday. He is quite hilarious, that Bloch! First off, check out MM's q&a with him at Barneys and then
Michel Serruya
's
tête
-
à -tête
at Milk Studios.
Mickey Boardman:
If you had to date a fashion designer, if you were single, are there any fashion designers you kind of have a crush on?
Phillip Bloch:
Well I would clearly only be dating them for the clothes. In that case I would have to say probably
Rick Owens
. I think that
Alexander
[
McQueen
] had an
enfant terrible
thing I could relate to.
John Galliano
used to have a terrible crush on me back in the day. He did! John will admit it! I modeled in his first couple shows.
MB:
Oh, fabulous.
PB:
And let's see.
Tom Ford
is pretty deboniare. Thing is, I like the brothers and unfortunately there are no black boys designing! Give a black boy a chance.
MB:
It's true. That should be our goal, get Phillip a boyfriend.
PB:
Give a brother a break, get a boyfriend. What's that saying? Just two sticks in a dark room away from being gay.
MB:
OK... we have a headline. Anyway, we were just talking about how you used to date
Robert Boyken
.
PB:
I used to date Robert Boyken, who owned Hurrah and then after Robert and I broke up,
Marc
(
Jacobs
) went out with him for years.
MB:
So you sort of have had a fashion boyfriend.
PB:
Sorta, yeah. Through osmosis or a communicable disease. (laughs)
MB:
Thank you babes.
PB:
But we've all been treated!
MB:
Good to know, good to know.
****
Michel Serruya:
Tell me about your look.
PB:
I went to Express and bought 13 shirts for less than $300. I bought this shirt in every color.
MS:
First thing on your mind when you woke up this morning?
PB:
'How I am going to get through this week?' I have so much going on. I'm a developing a TV show; I'm finishing up a book that I have coming out; and then there's the stress of real estate in New York -- I have four apartments and only one ass to put in them! And an hour later, it all became a lot clearer that the little things in life are important and not the big things and you look at Alexander McQueen, and you realize that it's such a thin line that makes it unbearable to keep going. And I'm here wondering how to make it through Fashion Week.
CLICK HERE FOR PAPERMAG'S COMPLETE DOWN-LOW FASHION WEEK FALL 2010 COVERAGE. >>