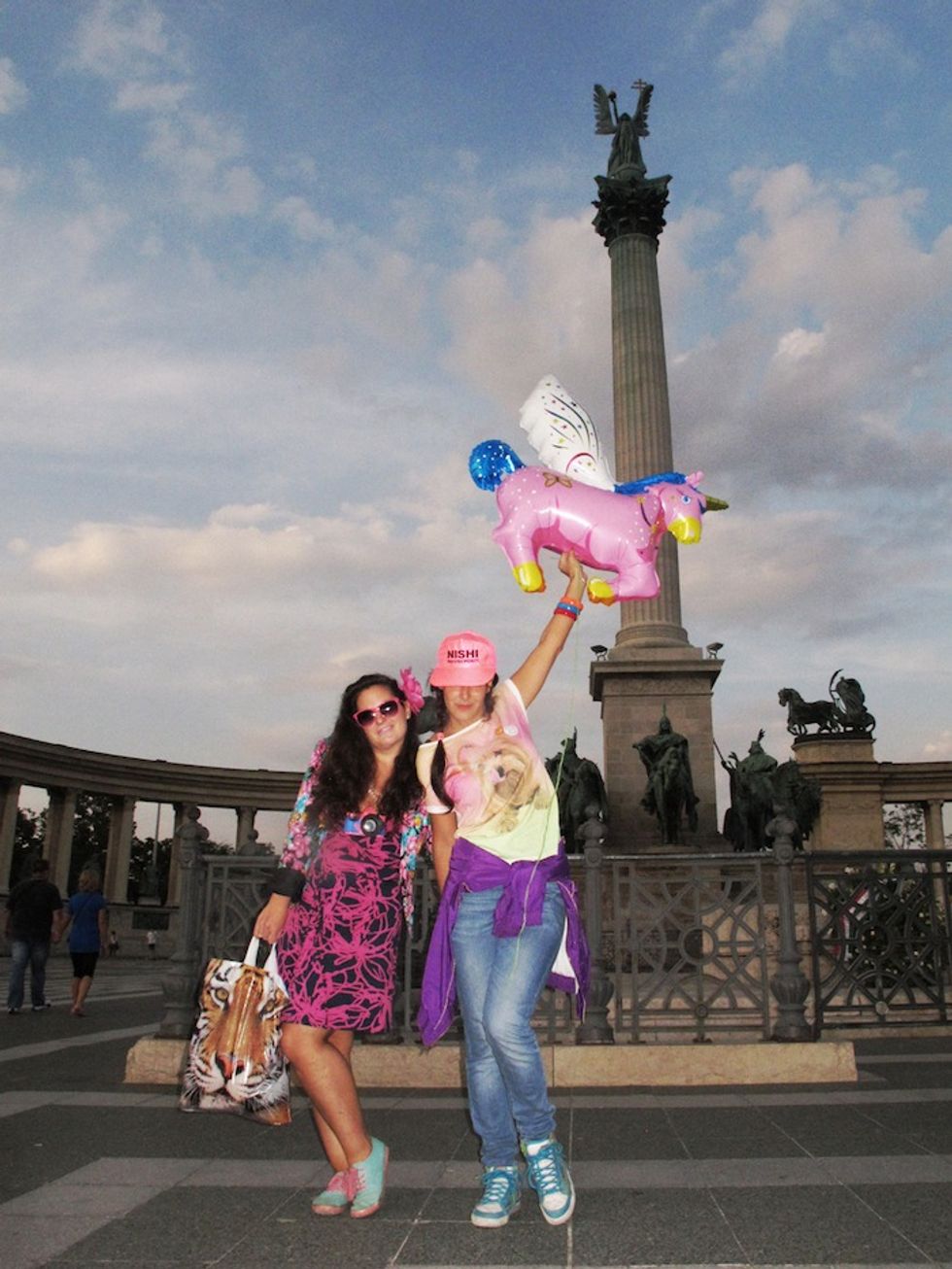 Each week in our new column, "No Sleep Til...," we'll be talking to cool kids around the globe, asking them to fill us in about the bands, DJs, music venues and night spots they and their friends are obsessing over. Next time you visit their home city, leave your Fodor's and Lonely Planet guides behind and go party like a local instead.


Names?
Ív&Candie a.k.a. Eva Szombat and Andi Galdi Vinko
Ages?
27 and 31
Where do you live?
Currently Budapest and sometimes New York
What do you do?
Photography [
Ed. note: Check out their awesome work HERE!
]
What are some Hungarian bands or DJs that you're currently obsessed with and that you think Americans should know about?Ív/Eva:
I like
Silf,
which stands for Synth I'd Like to Fuck (and tells you everything you need to know) and
Route8
,
Yvein Monq
and
Headshotboyz
. Fore more instrumental music, I like
Szagos Hörigekkók
, who is a brother and sister that, since the ages of 7 and 11, have written very melancholic music. The lyrics are especially great (though since it's in Hungarian, in the US you would not understand them unfortunately) and their concerts are unforgettable. All of these bands are friends of mine or I know them through friends. Budapest is a small city.
Candie/Andi:
My favorite bands are
Monkeyneck
,
Yvein Monq
,
Girls and Maths
,
Random Trip
and last but not least,
AkkezdetPhiai
. AkkezdetPhiai is kind of underground hip-hop/poetry and it's very lyrical. But it's in Hungarian so it'd be hard for a foreigner to understand but it still sounds very good. I also think Hungarian music in the '60s and '70s is really funny, too. ['60s-era Hungarian singer]
Kovacs Kati
is an all-time favorite. All of the current bands are either friends, friends of friends, schoolmates or people I grew up with. They've been around all the time.
Where are the cool places to see live music in Budapest?Ív:
Programming and sound-wise,
A38
[a
"reincarnation of an old stone carrier ship"
] is the best. I also like
Kontra Klub
,
Beat on the Brat
and
Roham
, too.
Candie:
I like A38, too.
Urimuri
and
Kolor
are great. I also love classical music and some of the greatest concerts are in MUPA [the Palace of Arts]. I would definitely recommend that for anyone coming to Budapest.
Describe your perfect night out in Budapest.Ív:
Enjoying the nightlife in Pest is my favorite thing to do during the weekend. I consider it a perfect night if I can shoot 3-4 really surreal photos that I can save in the Ív and Candie archives. That can happen really wherever -- at a house party or during a bar crawl. In terms of what I like to wear, it's only gold, black, white or red dresses. Lipstick is crucial, too.
Candie:
I usually always end up in the same places.
Telep
,
Kozpont at Madach ter
, or
Kisuzem at Klauzal
. These are places where you stand outside with your drinks and talk to friends. The best seasons in Budapest are the months from early summer to early autumn. All places are open and close to one another and lots of people are on the streets. But at the same time, during the summer the best weekend for me is when I'm at the lake on a sail boat.
What are the cool neighborhoods in the city?Both:
The 6th and 7th districts. Madach ter, Kazincy street, Gozsdu udvar. Tourists love these areas, too.
What are your favorite bars or clubs in the city?Ív:
Beat on the Brat,
Larm
, and
Vittula
.
Candie:
It always changes. But I really love one in a park close to where I live called
Pantlika
. It is super old school and in the summer Girls and Maths throw really good parties there.
What's a bar or club you would never step foot in?Ív:
I would definitely not go to Piaf at Nagymező street, that would end ugly.
Candie:
In general, I wouldn't go to anywhere around Nagymezo or Vaci utca. Those places are very expensive, and not my taste.
Check out some of Ív and Candie's music recs:


Route 8 -- "Facing Worlds"