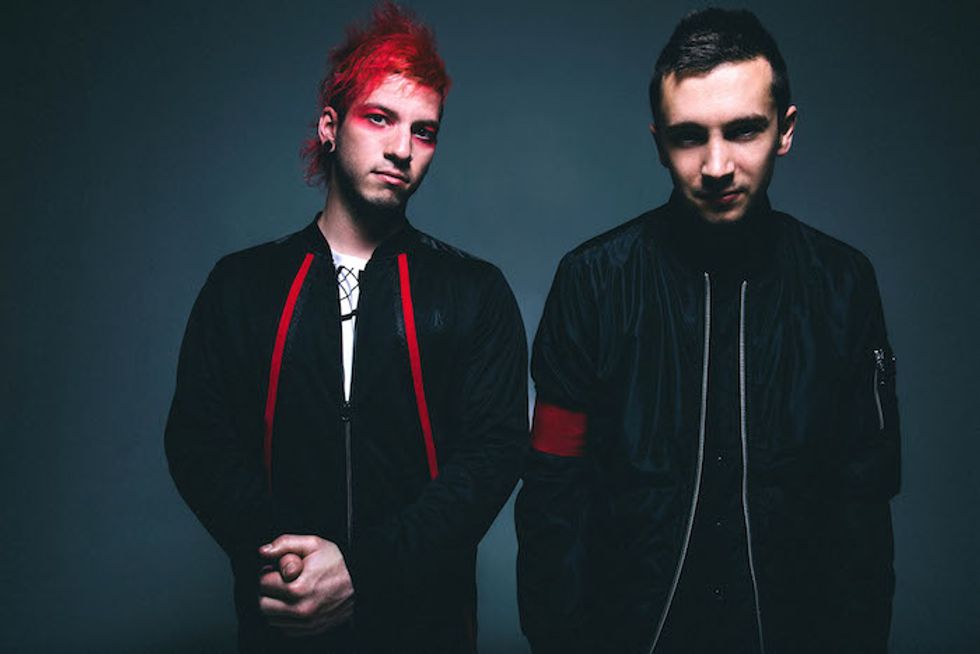 Photo by Jabari Jacobs
Since the release of their 2013 album
Vessel
and its attendant hit singles "Holding on to You" and "Guns for Hands," Twenty One Pilots have become summer music festival favorites. Which makes sense, as the Columbus, Ohio, duo work hard to give you an entire Lollapalooza's worth of music in one convenient... well, vessel. Their new album, 
Blurryface
, out today on Fueled by Ramen, is even more willfully eclectic than its predecessor, veering from dance music thumpers to indie rock-rap hybrids to campfire folk comedowns with little regard for your genre expectations. 
Before signing with Fueled by Ramen, singer/multi-instrumentalist Tyler Joseph and drummer Josh Dun were slugging it out in the Columbus music scene, self-releasing albums and posting songs online. They might have some MTV Video Music Award nominations and Pete Wentz's phone number now, but their basic approach hasn't changed at all; they still just want to impress each other first and foremost. Here's Joseph and Dun on their early days, their new album and the intention -- or lack thereof -- behind their gift for doing everything at once.
When did you guys first meet? 
Tyler Joseph: You know, when we get asked this question, Josh and I like to make something up on the spot to try to make the other laugh. We've come up with a lot of great answers to that question, like meeting in prison, or that we were the only two survivors on a train wreck. Josh always seems to be a lifeguard in his stories and he always revives me, which I think is a little odd, but it always gets a chuckle out of me. In all honesty, we met through a mutual friend here in Columbus, Ohio. Josh came out to a show that I was playing with some other people. So, we actually met at a show and he said, "Hey, let's hang out sometime," and that's something that's said all the time, you know, and people don't really follow up on it, but for some reason Josh and I did hang out. He came over to the house and late hours into the night we got to talking about music and what we wanted to do with it.
Josh Dun: We knew at that moment that we'd be best friends for life. 
When you first started writing music together, how did you guys know that you had something? 
TJ: I think what's cool is that we started out as friends first. When we met each other, I think that we just hung out as friends for about a year before we even started playing together. It is probably pretty important, looking back now, that we'd established that trust with each other, just as friends. We developed a cool relationship and then everything fell into place where we were both available to play music together and not with the other people that we were playing with. It just worked out perfectly. I had some songs that I had written that I was throwing together, and I remember when Josh first started playing his songs live, it all came together and made sense for me.
JD: The first time I actually met Tyler was at a show that he was playing with a couple of his buddies. I remember, because I had been playing music for a little while, and I really had a specific idea of what I wanted to be a part of in my mind, and I had never really seen what I had in mind until I saw Tyler performing. I even remember thinking, "That's what I want to be a part of." I think it was the very first time that we ever met that I just totally knew that I wanted to someday play music with Tyler and be creative and take over the world. 
What was it you were looking for, and what did you find in him? 
JD: I think it's just something that's a little bit different I guess. It was like some sort of itch that I couldn't scratch. What I had in mind was something that I hadn't really heard before and that I finally heard, and I was excited about that.
What was the music scene in Columbus like while you were growing up?  
JD: I think Columbus has always embraced music pretty well, and I think it still does. By the time that we were in high school and early college, I would say there was a pretty decent music scene here, and from all different kinds of things: people playing house shows, or people playing one of the local venues, and people doing pretty well. We made friends with some of these people, and then there was a time when Tyler and I closed our eyes and kind of dug our own little tunnel. The way that we describe it is that a year later, after getting to reach the surface again to catch a breath of air, we look back and realized how far we've been able to go over that past year.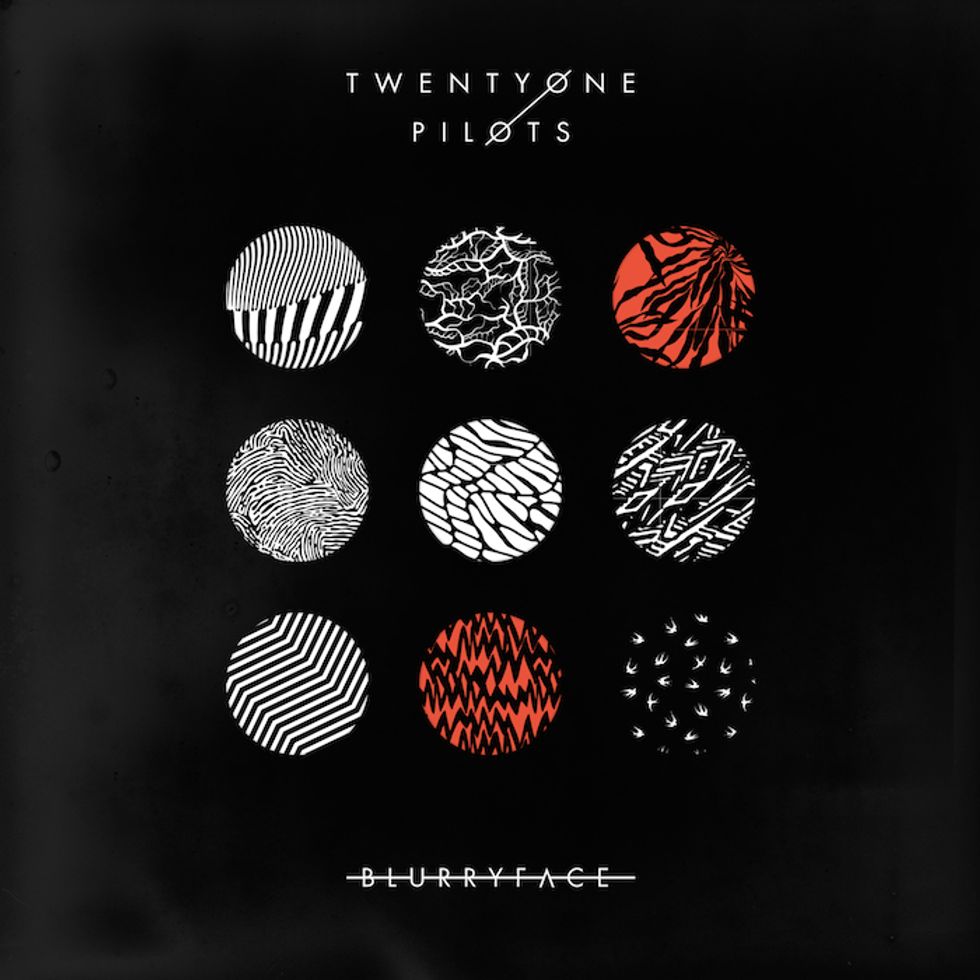 You pull from a lot of different genres at once on your album. There's some rap on there, indie rock, dance music, and even some ukulele. Is that the goal, to sound like someone's iPod, with all these different types of sounds in one place? 
TJ: I wouldn't say that that's the goal. We're not aiming to try to be as all over the place as possible. I think that the landscape of the record is a testament to the type of music that Josh and I like to listen to, which is all kinds of music. We're a product of that generation that has access to everything, and it comes down to it whenever Josh and I are working on a song. There's a lot of outside pressure, a lot of outside opinions, especially going into the second record, and I think that we work pretty hard to all block those things out and ask ourselves the question, "Do we like this?" So I wouldn't say it's intentional, like, "Let's try to make a record that sounds so sporadic and so crazy." I think that's just the product of what we like in music. 
How do you guys make it all work together as one song or one album? Because you'll jump from a song like "Polarize," which is dance music, to a song that's more of a ukulele, acoustic type of sound. 
TJ: Like I said, it's not like an intentional. It just kind of all happened. We wrote the record on the road. We were very influenced by our live shows and being in front of fans every night. There's a couple things that we tried to do: one, we want to say this on our record because we didn't say it on our last record. But then at the same time we're very influenced by what we wished we had in our live set. That is very important to us, and we're very intentional about which songs go where, and when you're writing a record on the road, you kind of get to answer the questions, "What is it that our live set needs? Which song do we wish we had in this moment here?" So I guess a lot of this record is just an answer to that, kind of a rebuttal to what it is that Josh and I think our live set needs. 
The first single, "Fairly Local" -- I believe it has the line, "this isn't for the radio," which is a strange thing to say on your single. But it does seem to be a song about worrying that you might lose contact with where you're from. Is that something you're concerned about? 
TJ: I guess there's always that fear that you're going to change as a person. But also, whether or not you're in the spotlight making music, you're going to change too. I mean, Josh and I are right now sitting in Columbus, Ohio, at my house and we love it here. It's our hometown and it always will be. So I think in the song "Fairly Local," it's more metaphor. We had a lot of conversations with a lot of people who like listening to music or using music to get through tough times. If anything, I think Josh and I learned when we were traveling the world during the last album cycle that everyone's the same, everyone feels the same issues. So it's kind of a way of getting on the same level as these people and telling them, in a sense, we understand what you're going through. 
What does the title Blurryface mean to you?
TJ: Blurryface is this guy who represents everything I'm insecure about. Honestly, we all know that we're insecure about certain things, but what we don't totally understand is how those insecurities affect our day-to-day life. So it's helped me give my insecurities a seat at the table, so I can stare across at him and give him a name and face and personality. I can kind of retaliate and I can see these insecurities for what they are, and so this guy named Blurryface is someone that I'm trying to understand -- but also defeat every day.
Blurryface
is out today on Fueled by Ramen. Details here.
You May Also Like