On a cloudy autumn afternoon, rain trickles into the outdoor area of the Brooklyn Mirage, a massive space that has become a preferred venue for electronic music acts making their way through New York. Only a week shy of the venue's hibernation until the springtime, hardcore punk act Turnstile takes the stage, engulfed in a haze of pink and blue hues. While they're far from an EDM act, the Baltimore natives still know how to tap into the innate desire to dance.
Since the release of 2021's GLOW ON, Turnstile set forth on a path to become the biggest band in America. They ripped through breakdowns on their late-night television debut, landed three Grammy nominations at the prestigious institution's latest awards show and even provided the soundtrack to a series of Taco Bell advertisements. The band touched nearly every corner of the world in support of the momentous record, introducing hardcore punk to the masses without sanitizing their sound.
While it may seem like a stretch to compare almost any band to the sacred institution that is Nirvana, Turnstile comes close. From their high-octane youth crew roots to the dreamy hardcore they've eased into over the years, the band bridges the gap for people apprehensive about punk music while maintaining their ferocity. Comprised of Brendan Yates (vocals), Franz Lyons (bass), Daniel Fang (drums) and Pat McCrory (guitar), the DMV natives further immersed themselves in the instinctual groove of go-go, a funk offshoot created by Black musicians in Washington DC, the lush soundscapes of shoegaze and playful Caribbean rhythms. With hardcore as the backdrop, Turnstile barreled headfirst with their own palette, gatekeepers and genre purists be damned.
At the cathartic night in the cold open air of the Brooklyn Mirage, Turnstile rages on despite the chill beginning to settle in. My camera fogs up amidst the sea of rain, sweat and smoke. As if on cue, the rain crescendoes with the band, matching their ferocity and turning everyone's vision into a canvas. Turnstile dances onstage in their barely recognizable watercolored forms as the crowd rages on. People of all identities and ages crash into each other ritualistically, warmed by body heat as they dance and jump in time with each cymbal crash and guitar strum.
Therein lies the power of hardcore: the beauty within the chaos. Turnstile has planted their flowers.
Below, read Turnstile's exclusive interview with PAPER to discuss their massive year since GLOW ON, touring and more after their big weekend as first-time Grammy nominees.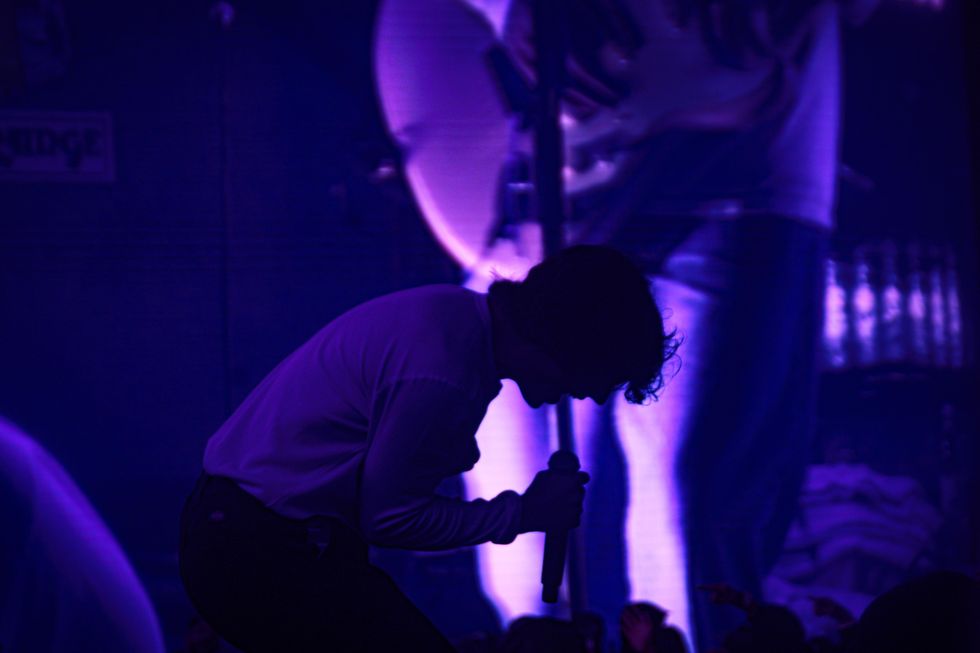 You did two tours in one year following the release of GLOW ON. What spurred that decision?
Pat McCrory: Yeah, we did that first leg of the tour in the spring. After not playing for so many years and releasing new music, we want to play as much as possible. Once we did that tour, we designated 2022 to be playing as much as possible and give everyone an opportunity to do a show. The second, final leg of the tour was mostly places that we didn't go before, a couple of places that we did. We wanted to give as much opportunity for the band to play as possible.
And you played Glastonbury Festival. What was that like?
Daniel Fang: It has been a really fun experience playing festivals that are not necessarily oriented around punk, metal and hardcore music — the communities that we're used to playing in front of. With this festival, you have such a wide mix of different artists and people coming to see those artists. It's really different but really refreshing and exciting to have a new experience every time I play a festival like Glastonbury. We have no expectation for what it's going to be, and I think the crowd has a similar lack of expectation, which results in everyone opening up their arms and minds. They're like, "Well, we're going to hopefully enjoy whatever happens in front of us for the next hour!" It's all about spontaneous thinking and having fun in the moment.
It seems like hardcore punk has come into the larger, mainstream collective consciousness because of your popularity. Have you encountered a lot of people who credit you as their first experience with the genre?
DF: Yeah, absolutely. You can definitely see it at all the shows. It's very palpable energy when you have people just excited and knowing what's going to happen. It's all different kinds of energy. Also after shows, you have people of all ages saying, "That was my first show! That was my first mosh pit! That was my first time jumping off of someone else's shoulders." You have families that bring their kids to their first show and they're blown away, and they can't wait to come back and to go to other shows and check out what's going on at this venue or other venues in their city. That whole dynamic is really interesting and fun to see.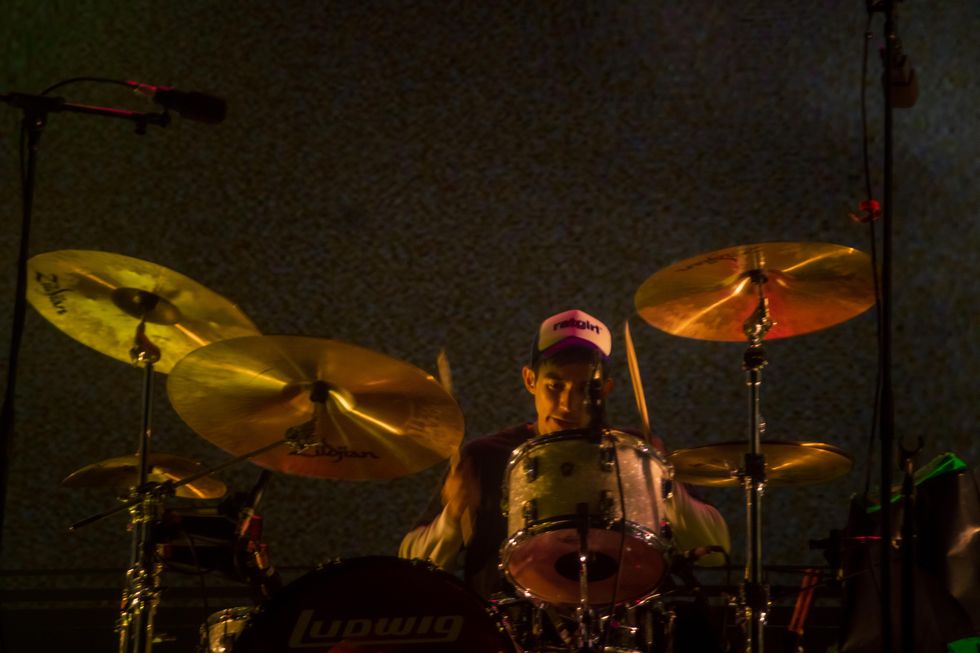 I even saw toddlers at your shows headbanging! Thank god for ear protection.
PM: In those moments, it's hard not to turn into Uncle Pat and be like, "BE CAREFUL!"
How old are you guys again?
DF: I'm seventeen.
PM: Age is a social construct.
Brendan Yates: Time is a flat circle.
As someone who has been in the scene for a while, I've noticed there's a whole new generation of people revitalizing the genre, and you guys are definitely one of them. Is there anything that you think you've noticed has changed from when you released Step 2 Rhythm a decade ago to now?
BY: Yeah, I feel like I've always noticed a constant progression and evolution naturally with new people becoming involved and new bands starting. There are things happening that take a direction in breaking outside the more confined or constricted ways of doing things, the way that hardcore bands can sound, anything like that. There's a lot more openness for someone to be doing something that may be a little different. I really appreciate that kind of progression in terms of building a community, a music scene or being able to play music and try things. I've noticed that kind of change and growth, at least in the world that we're involved in.
Because of the success, it's inevitable for bands to get this. Have you ever been called "sellouts?"
PM: Not that I'm aware of. I mean, I'm sure it probably has, but to us, everything has always felt the same. We've always done everything for the same reason of fulfilling ourselves.
BY
:
When you think of the term "sellout," it always pertains to selling yourself for money or something. Even if somebody threw that in our faces every day and pointed the finger, we will never feel that effect. We're enjoying this. We're doing this because we want to, and we think there are cool opportunities for us to take. So no matter what, at the end of the day, it's always seemed natural to do what we're doing and nothing is ever compromised by the forces that drive the word "sellout."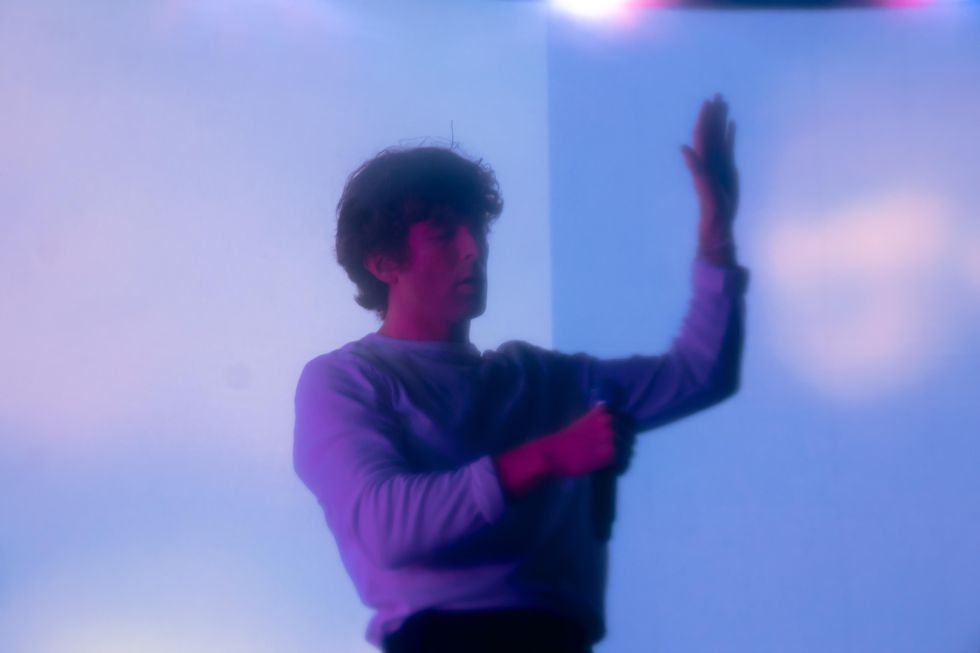 It's been almost two years since GLOW ON. What has it been like to live and support a record for this long? It seems like you really want to make sure you nourish this record and try to get out to as many people before you move on to the next thing.
PM: It gets more thought now because there's more eyes to see it, but that's how Turnstile has always been. I feel like that's how every record always is, because there's so much care and thought put into it that when we're out there, it's purely to play to as many people as we can and experience what we worked on live for as long as possible. It's cool that deadlines haven't really been a factor and that we can spend time playing this record to the extent that we want to play it.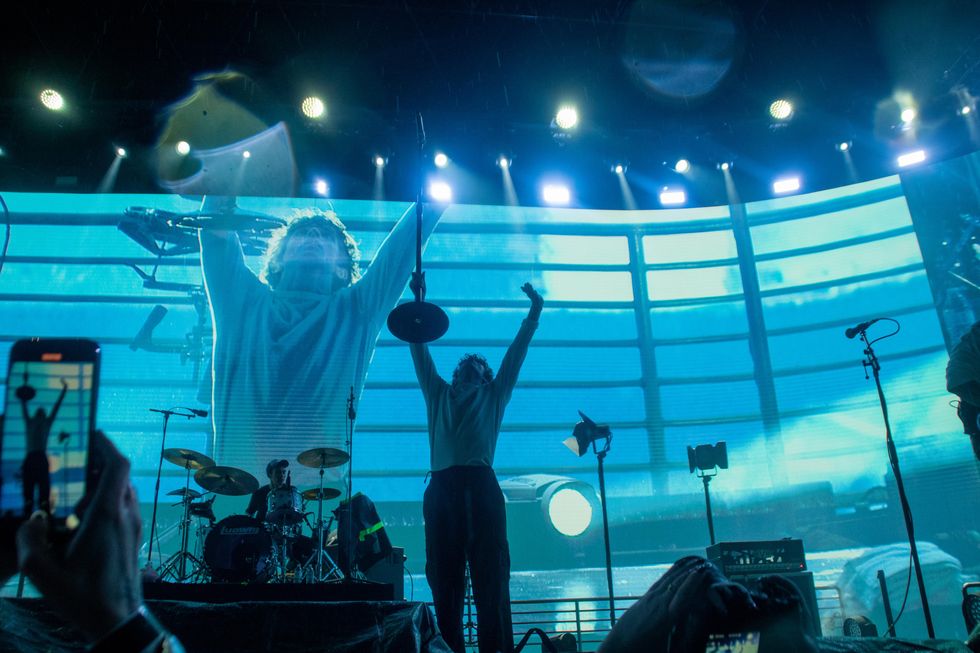 And on your most recent tour, you got to curate an all-Baltimore lineup with JPEGMAFIA and Snail Mail.
BY: That's the dream! That's the actualized version of what we'd like to be doing with music. Being able to reach out to our friends and people that we're fans of and, especially in this instance, if it's Baltimore or DMV-centric, it's our dream to be able to have this show that travels on the road and we get to experience it every night and people come out and hopefully they enjoy the experience. That's kind of the cherry on top, like Pat said. We put a lot of work and love into making a record and then once it comes out, we have so many opportunities for what we can do with it. This is the ideal scenario, where we get to play with our friends and just enjoy exactly what we want instead of being at the whim of what might be good for a record, what might be good for a show and someone else's opinion or an industry standard.
Your DMV lineage shows in your music, and you've spoken many times before about the impact go-go music has had on you.
BY: I think we're really lucky to have grown up where we did in Maryland because we have such a wide range of exposure. Not just in terms of music, but also in terms of the people we go to school with across all types of different socioeconomic backgrounds, races, religions, ethnicities. Not to mention, DC and Baltimore music scenes historically have been so unique and influential. Punk rock started in DC! Go-go is music that is unique to DC. We're really lucky to have been exposed to that very early on. It's very natural. We're inspired by it. It just so happens that a lot of other artists like Snail Mail and JPEG are from DC and Baltimore. I'm glad we're all born here.
Do you all still live there?
BY: Yeah, we all live in Baltimore right now, in the same neighborhood actually.
One thing I've definitely noticed now is people don't really see that much of a need to have to leave their hometowns to be able to sustain themselves. I think that also might contribute to why there are so many diverse sounds now. The whole process has become a lot more accessible to people.
Brendan: You can be self-sufficient when you breathe life into your environment, rather than dragging yourself to somewhere else where there might be potential for more opportunities. It's good to never be closed off from anywhere that you feel inspired by or drawn to, for one reason or the other. We're lucky in the sense that we're inspired by the place that we're from and can also travel and see the world through music. We're always in so many different places, but we have our home and our home base to come back to where we can be self-sufficient and enjoy being where we're from.
You recorded the album in a barn, right?
PM: It was kind of like farmland property. The place we recorded wasn't necessarily a barn, but behind it there were alpacas and farm dogs. It's in this town called Gallatin in Tennessee. It's like 45 minutes northeast of Nashville. Mike Elizondo moved down to the outside of Nashville and he has this cool compound set up in this tiny little town. It's really secluded and nice. The only trips we were taking were to Walmart and one or two local restaurants, that was it.
Was it therapeutic for you to be in that secluded area after the hustle of the city?
PM: We recorded it during the prime of COVID. There wasn't even the option to go see friends. On top of that, being 45 minutes outside of Nashville, let alone 12 hours from Baltimore, it really set us into this place of relying on each other. You have to. You see each other every second of every day, basically. It made the experience as tightly knit as it could possibly be, while also appealing to this quiet, therapeutic side. In the morning, I'd wake up at 8 AM sipping a coffee and Pat comes out 40 minutes later and he has his coffee. We'll sit there and talk about a song, and then Franz has been up for three hours working out, and you're like, Where's Dan? Dan has been on a two-mile run and he comes back. Everybody is a part of this thing that's really small because there's nowhere else to go. It made such a stronger unit of us in the end, which I think benefited the record an insane amount.
What was it like recording and being in such close quarters with each other in the middle of a global pandemic?
BY: Like Pat said, a big part of it is that we were in the middle of lockdown, there weren't plans of leaving the studio to go do a tour. There's nothing on the horizon of touring, or pretty much anything for that matter, other than just making the record. Neing close to each other and not having infinite things in the back of our minds on this to-do list for life and knowing that this is the one thing we're focused on right now and being 100% immersed allowed all of us to be in the moment every day together. I'm hoping that we can have that kind of experience again, because it really felt like a once-in-a-lifetime opportunity to feel that way every day. It was a picturesque, beautiful experience.
There was something meditative and peaceful about everybody being forced to live with themselves during lockdown.
BY: We're immensely grateful that we had that to work on. We had the privilege to not be worried about not having a normal job like so many people had to worry about. I'm glad we were able to make the most of it during lockdown. In more ways than just working on the record, it was a really good time to decompress and think back on what we have been doing and why we do it. It recentered why each of us is committed to Turnstile and how it gives us a purpose in life. e all share a sense of being reinvigorated and being very deliberate. I'm very thankful for that.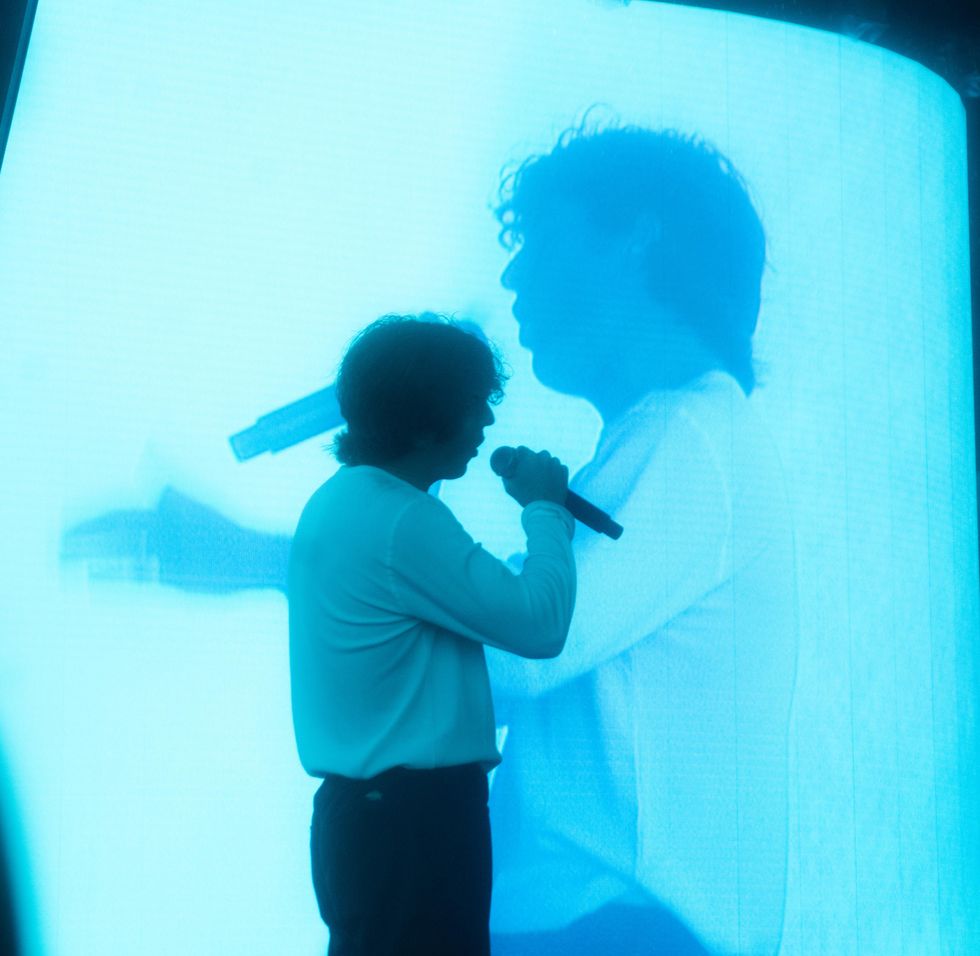 How have you all taken care of yourselves during this time?
PM: I go rock climbing with Daniel, actually. The windows are so small for free time, and there are so many little things that we've fallen into during the day, even while we're on tour. Whether it's reading a book outside at a park or just completely dedicating that time to some form of fitness or a thoughtful date, I know I'm going to need those things to satiate my brain and be physical. The things that keep you sane become more apparent depending on how much you need them. That's a big part of keeping healthy on the road, honoring the things that you need on top of completely sacrificing every element of mental and physical health for the shows.
What does it mean to cultivate this safe space within a genre so tied to masculinity? Turnstile shows have been some of the first times I've seen people like me heavily represented in the crowd.
DY: We put a lot of value into being very in touch with ourselves and the people at the shows, and, you know, just genuinely have a lot of care for the environment. As someone that goes to shows, it's not just the song that I'm listening to. I'm very much a part of it. I think that's what a live show is. You can listen to a song on the album a million times, but being at a show is a big moment for connection and experience. A band is on stage playing the songs, but everyone is equally important in the room. It comes down to paying attention to the kind of venues we play, the bands that we play with and the environment that's curated. Festivals you can't always control because you're kind of a part of a curated world already, but when you do your own shows, you can have a little more control to pay attention to the small things that could be really important or powerful or comfortable for whoever's attending. Maybe some people just come out and want to see some live music tonight, and other people come out and say this is something that's really helping them in this moment.
Was there a specific moment where it clicked that what you had was something very special and that resonated with an even wider audience than previous records did?
DY: Every single show is like that. The dream is making something that's greater than the sum of its parts and putting it out to the universe. Even playing hometown shows, the first show back and the shows we played since then, we realized that the sense of community or just shared relief that can happen from something like that is much bigger than anything we can even control. Those are the kinds of moments that feel very special because it's not really in our hands and you only have so much control. And seeing those kinds of things happen — like being able to play in Baltimore and have so much of the community be outside in the field, all together and singing songs together — it's really those moments of shared release and togetherness that have been really special and fulfilling for us. That's the reason why we enjoy doing this in the first place.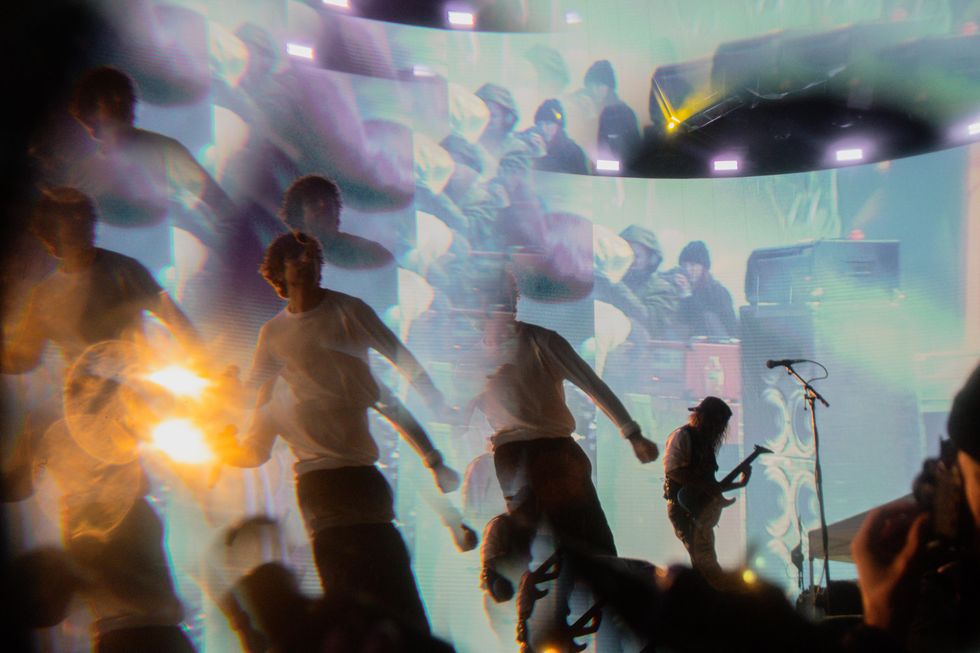 Photos courtesy of Jade Gomez
From Your Site Articles
Related Articles Around the Web
Sign Up For The Morning PAPER