[UPDATE 07/25/16, 1 p.m.: Designer Adam J. Kurtz has created a website where you can compare the work of 20+ indie artists with Zara rip-offs, buy the original designs and resources to submit tweets to Zara. Check it out at shoparttheft.com.]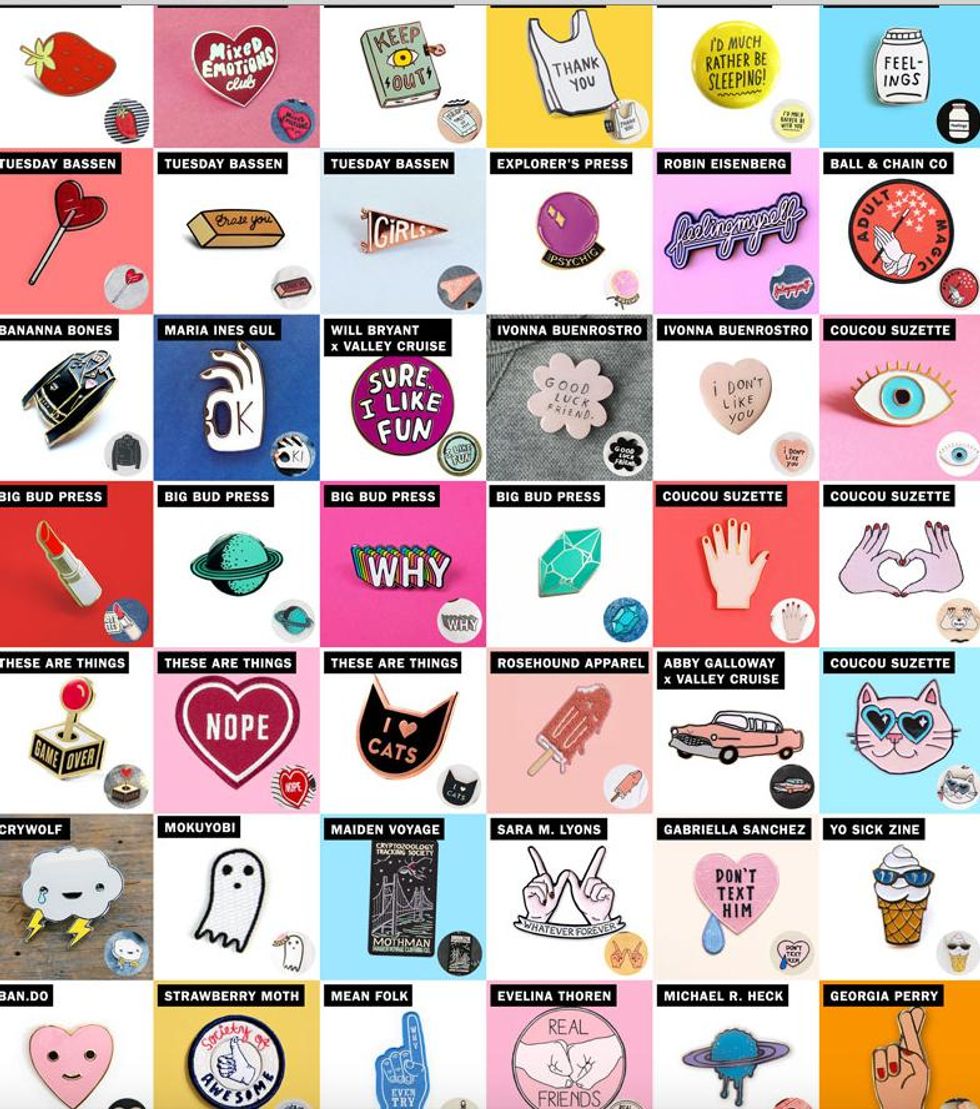 [UPDATE 07/22/16, 11 a.m.: We've just heard back from Bassen who says she is "absolutely pursuing legal action" and has "employed an aggressive lawyer to act on my behalf." Bassen says her work has also been stolen by Hot Topic -- specifically the "Mixed Emotions Club" design she already sells as a tee and a jacket -- though that resolution is still pending.]
Ethics is one thing fast fashion has struggled with from the beginning. It all pivots on a business model that relies on emerging designers for "inspiration," but typically forgets to give them notice, credit or monetary compensation, and the latest instance of this exploitative behavior comes in the form of Spanish retail giant Zara's pretty blatant rip-off of 26-year-old cult indie artist Tuesday Bassen.
Yesterday, Bassen posted a photo of several of her illustrations that look suspiciously similar to Zara's new line of patches, alongside a callous response from Zara who rejected her legal claims by hiding behind "the lack of distinctiveness of your client's purported designs" defense. The multibillion dollar retailer also implied in their dismissive letter that they were big fish in comparison to Bassen and that it is "very hard to see how a significant part of the population anywhere in the world would associate the signs with Tuesday Bassen."
However, as a company with a business model that makes it coin from cheap copies of runway looks and unique designs, it's fucked that they can't even forward a penny to the artist whose intellectual property they've obviously infringed on. Even worse? Bassen has already had to spend $2000 of her own money to even send a cease-and-desist, which is a cost many independent designers can't really afford, because they're not getting paid for their work.

Unfortunately, it looks like she isn't the only one Zara's taking advantage of though, as designer Adam J. Kurtz soon followed suit by tweeting out an image comparing several more Zara badges to the work of other indie designers.
it's time to hold @ZARA accountable for stealing from independent creatives like @tuesdaybassen, me & so many others pic.twitter.com/4Poe9VgIZr
— Adam J. Kurtz (@adamjk) July 20, 2016
In the meantime, Bassen has been discovering more theft, and is understandably upset. Especially seeing as how Zara has yet to respond.
We've reached out to both Bassen and Zara for comment and will update once we hear back.

photo via Tuesday Bassen's Instagram