A demented clown in a fright wig, a dangerous demagogue playing to the lowest common denominator, a carnie-barker reality showman who magnifies greed, fear, ignorance and arrogance to grotesque caricature; something about Donald Trump's foolish and dangerous parade across the media landscape has inspired artist unlike any other political figure in recent history. Leading up to the choreography and chaos of the Republican National Convention in Cleveland this Monday, we'd like to share with you an epic Trump-Dump of the collective vitriol and absurdity that has been heaped upon the Donald by the visual artists of an outraged nation.

1. Sex Monster
Maybe it's the small hands and all the macho dick-bragging he's done to compensate for his anatomical shortcomings, or perhaps it's just the stream of misogynist vulgarity we've come to expect from a overly entitled rich man in his seventies, but let's also admit the psychosexual freight that comes when you call anyone your commander in chief. For whatever reasons Trump has become a kind of deformation of desire, the erotic fantasy turned nightmare, capitalism's libido doped and driven by the eroto-mania of global conquest like a nasty troll on date-rape drugs.
He's been re-imagined as an ill-equipped sex doll by Saint Hoax: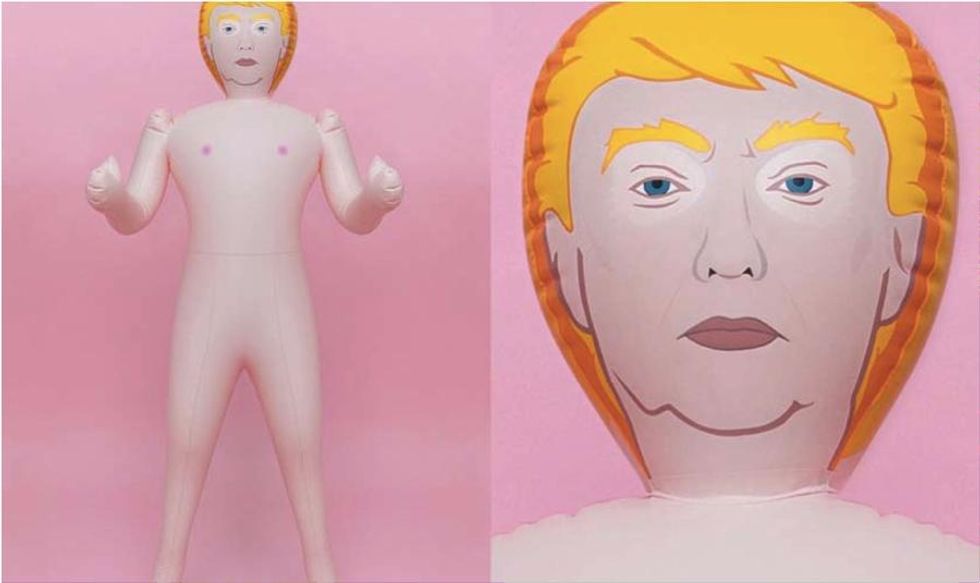 And turned into a butt plug by Fernando Sosa: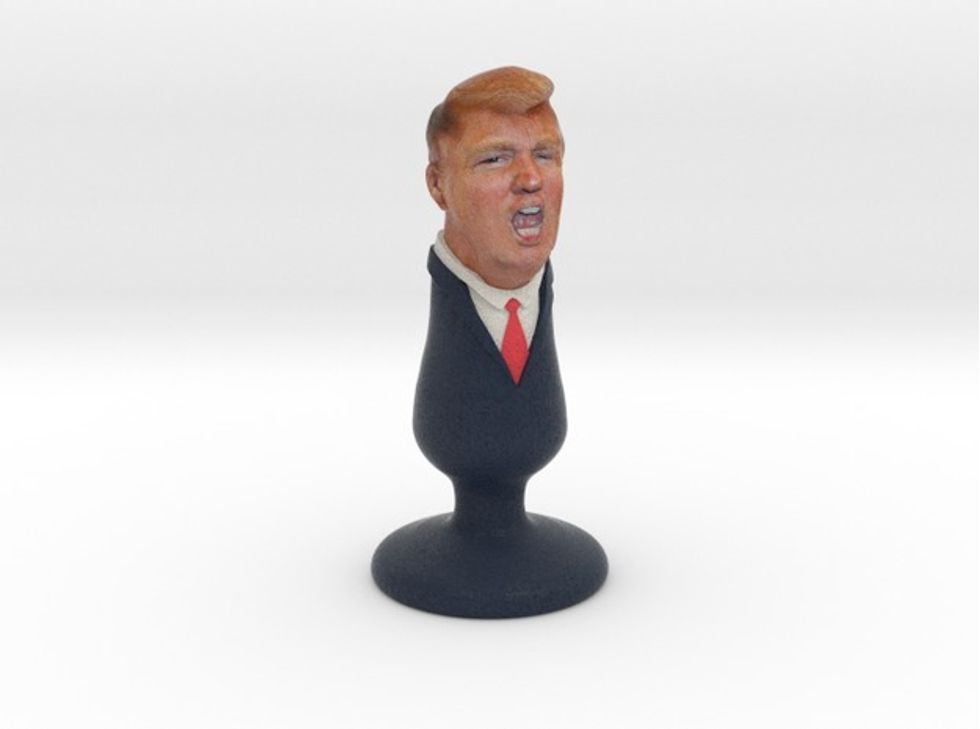 He's been painted in menstrual blood by Sarah Levy: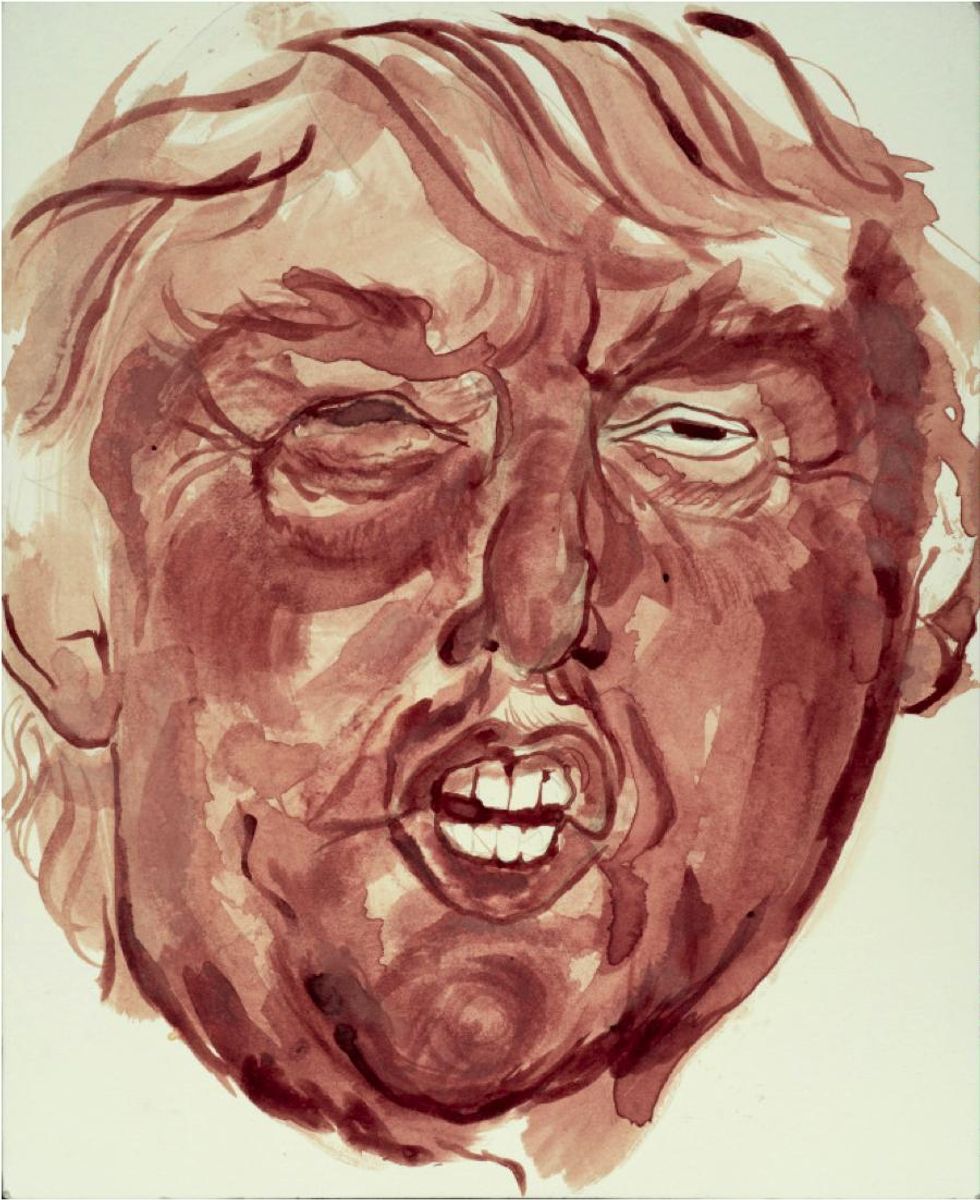 And laid bare in all his micro-penis grandeur, which resulted in the artist Ilma Gore getting beaten up by no-doubt proud Americans: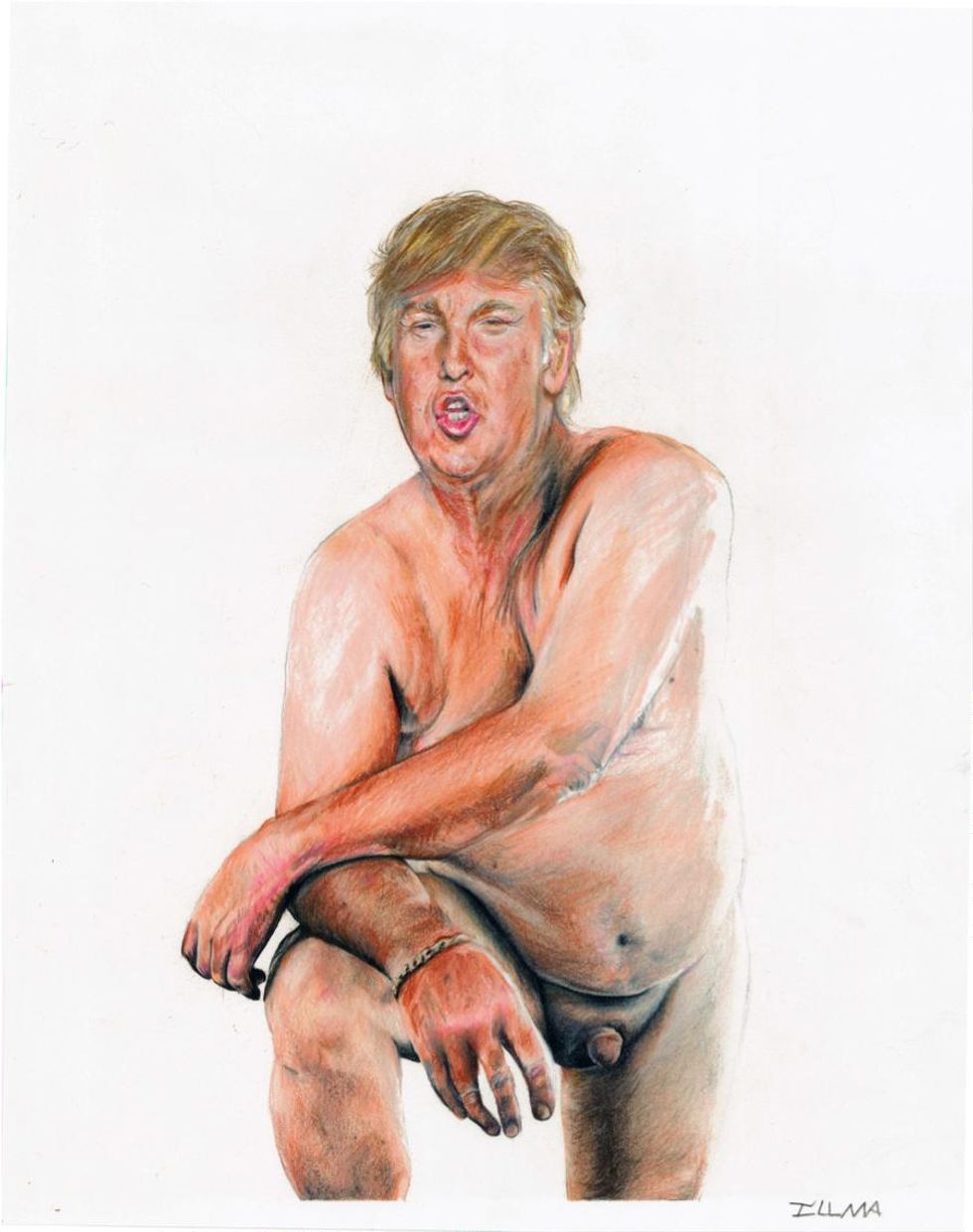 He's even been composed out of 500 penises, courtesy of HomoPower: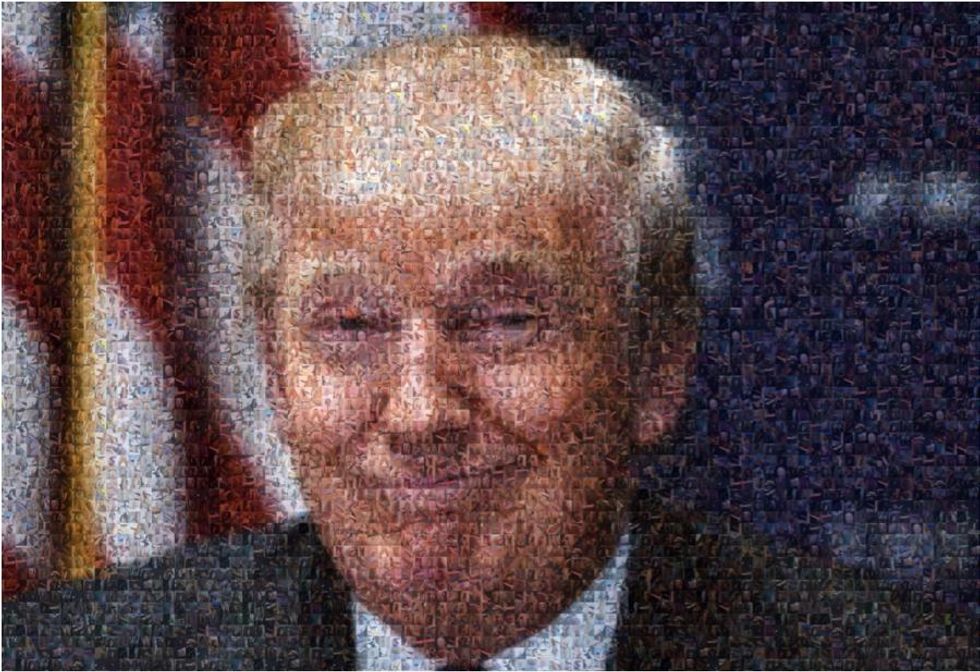 But perhaps oddest of all is how he's been seen necking around the world with a number of prominent leaders, from Boris Johnson in Bristol to warn against the Brexit vote...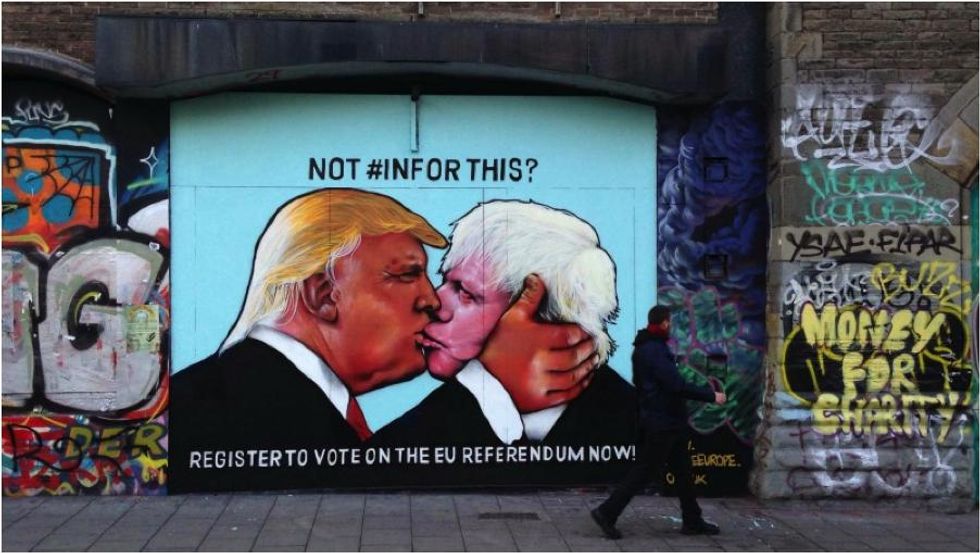 to a fling with Putin on a café in Lithuania: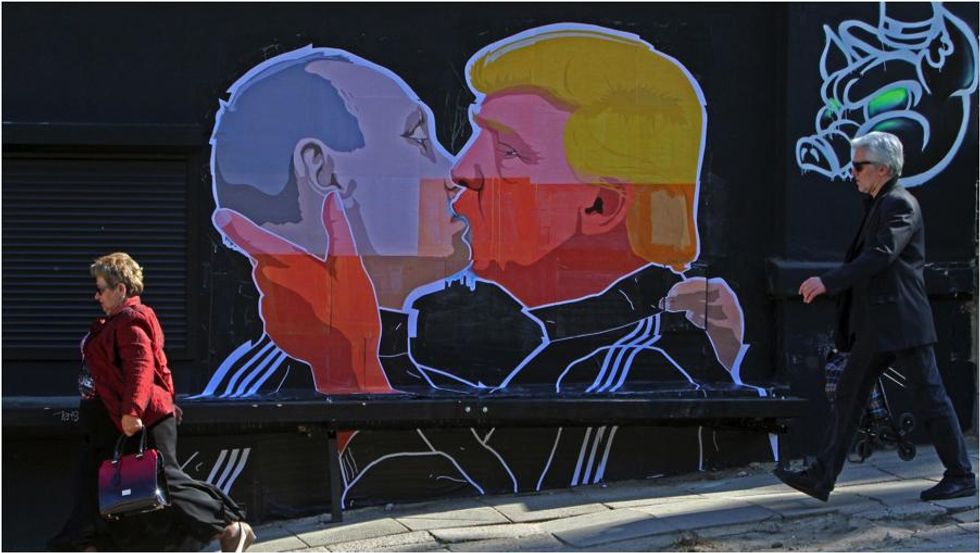 All of which is reference to a famous fraternal kiss in 1979 between Russian leader Leonid Brezhnev and his East German counterpart Erich Honecker that gained fame as a painting by Dmitri Vrubel on the Berlin Wall, which we share as well with you because politics is not just the click-bait of the moment, it is a history of dissent and resistance by which truth confronts power.
2. Brandalism

He is neither a politician, a diplomat, a policy wonk, nor an expert in anything beyond his own self-interest, what Donald Trump is above all else, is a brand. Low information voters seemingly have no problem with his deficiencies as a human or his even greater intellectual deficit because in our corporate culture brand matters far more than character. Why then attack the obvious faults of a person when it is the shiny, tacky façade of wealth, power and success that has hypnotized the ignorant? Bring on the artistic brandals.
This wall outside of Trump Plaza in NYC is reportedly by the TFS crew :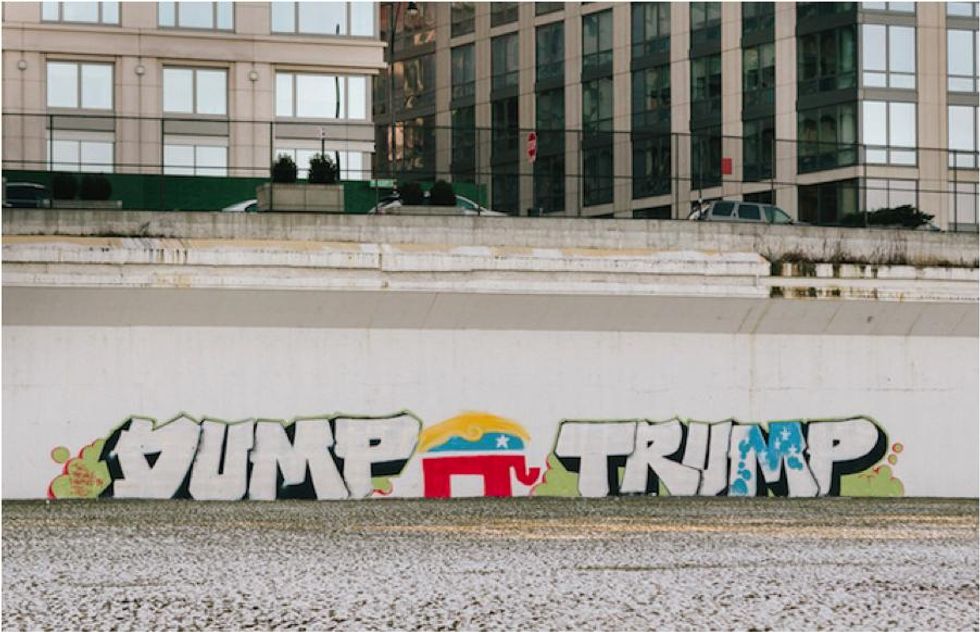 Another garish Trump property, on 40 Wall Street, gets the schoolyard name-calling in return from Vicki Da Silva in the form of light graffiti: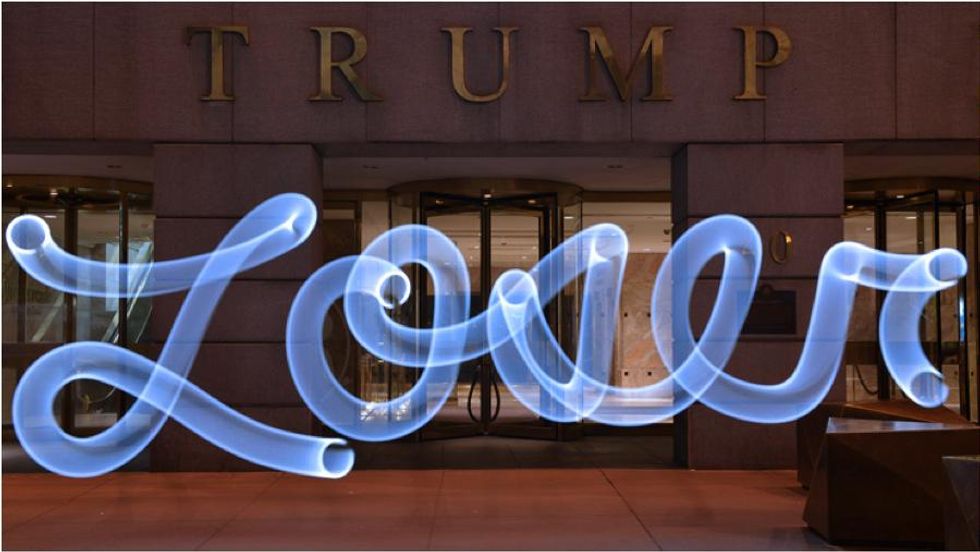 There was even a modest defacement along the West Side Highway in Manhattan: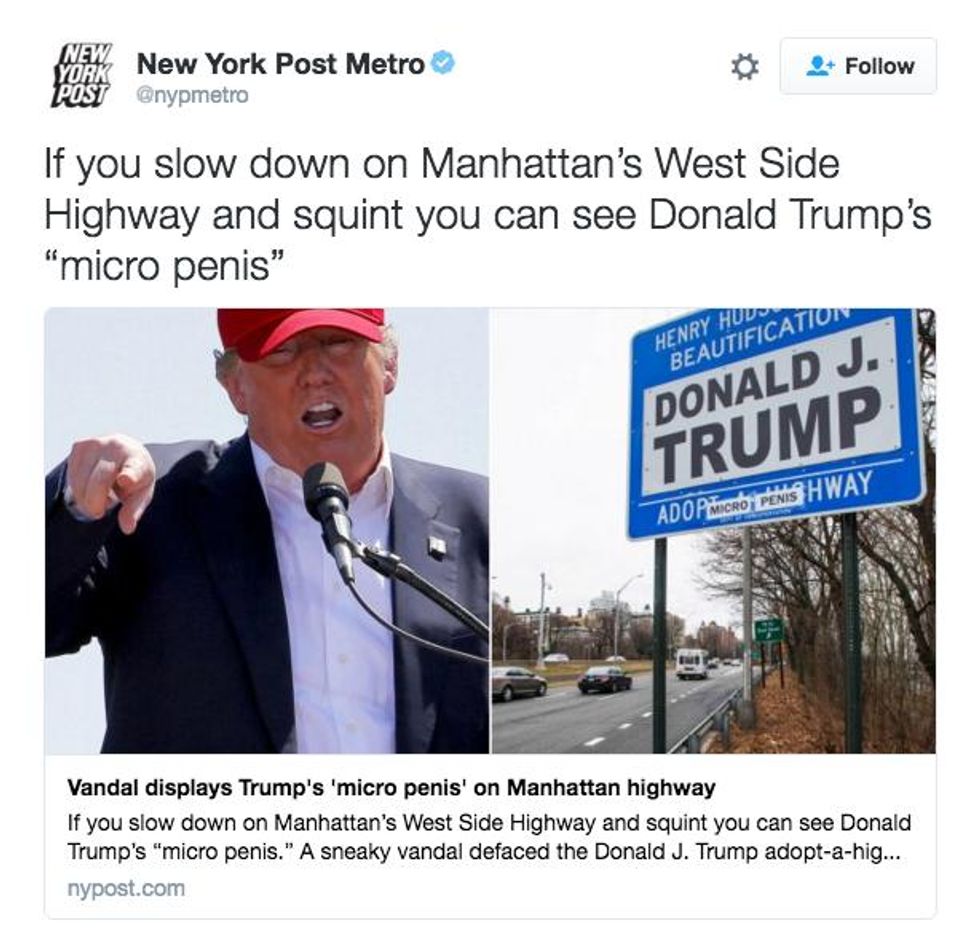 The T.RUMP bus, purchased from Craigslist after the campaign sold off this tour bus following the Iowa caucuses by the collaborative duo t. Rutt, has been an ongoing moveable feast of Trump defacement ever since. #Make Fruit Punch Great Again.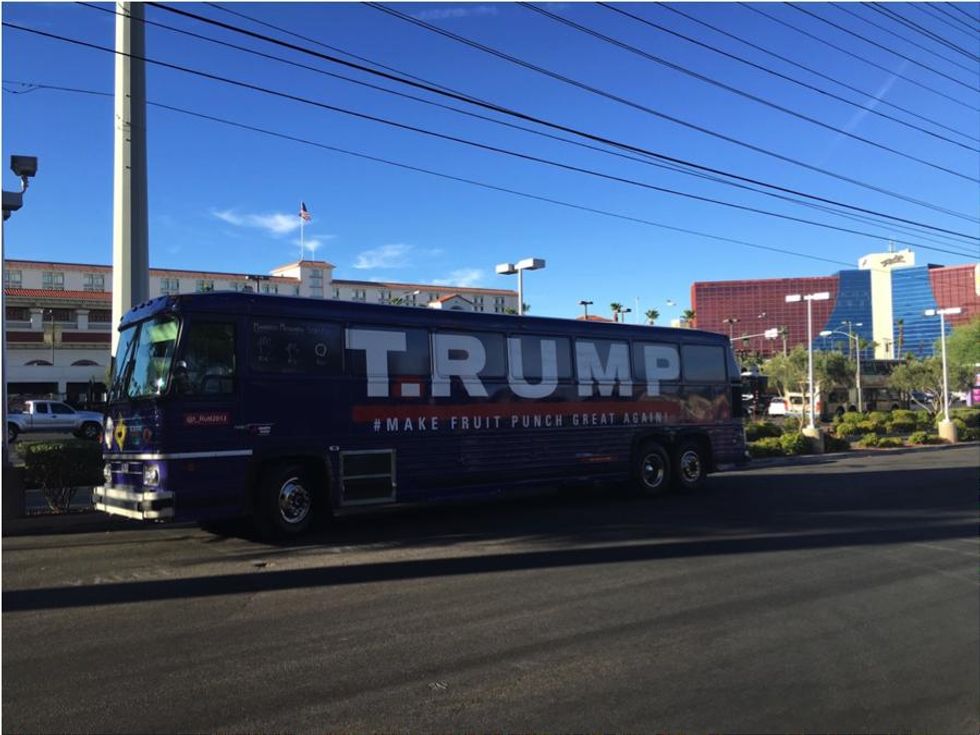 Conceptual artist Mike Osterhout has had a hot-seller with his modified Trump bumper sticker...


but people worried about taking its burning cross message too literally until he showed the proper way to install it: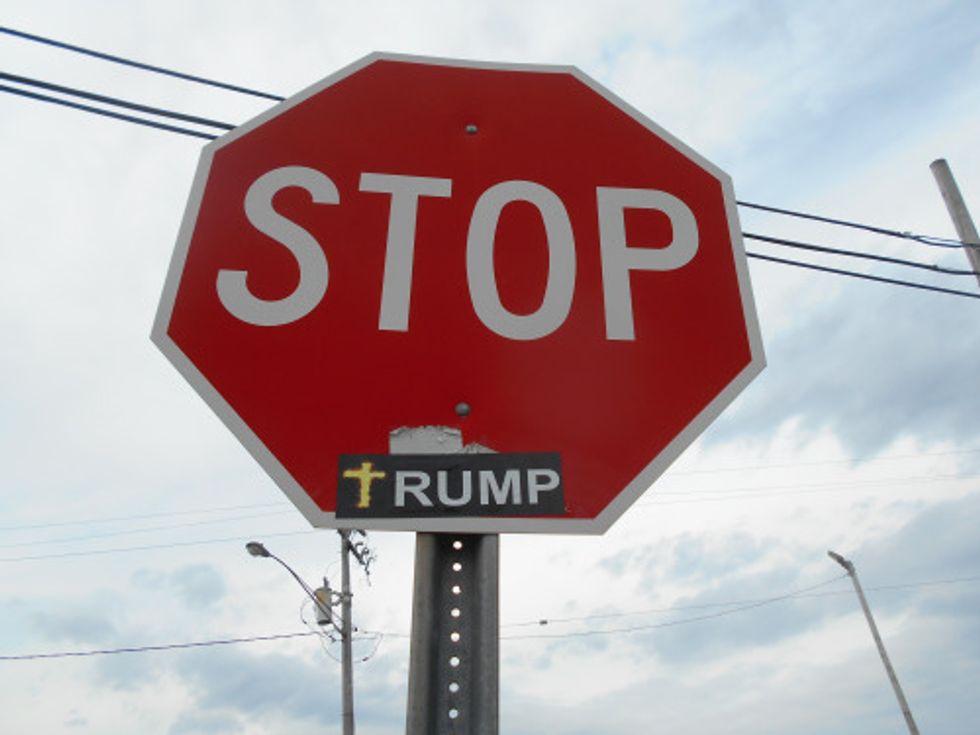 The most hilarious assault on Trump's media image, however, came by this curious little desecration of his Hollywood Star by Pobel & The Dream:


3. Portrait in Caricature
An object of ridicule, Donald Trump is a ready-made caricature, and artists have been ruthless in their exaggeration of everything so patently wrong with this fiasco of a man. Here are some of favorites.
Hanksy's celebrated wall mural on the Lower East Side has become an iconic meme from this seriously funny artist: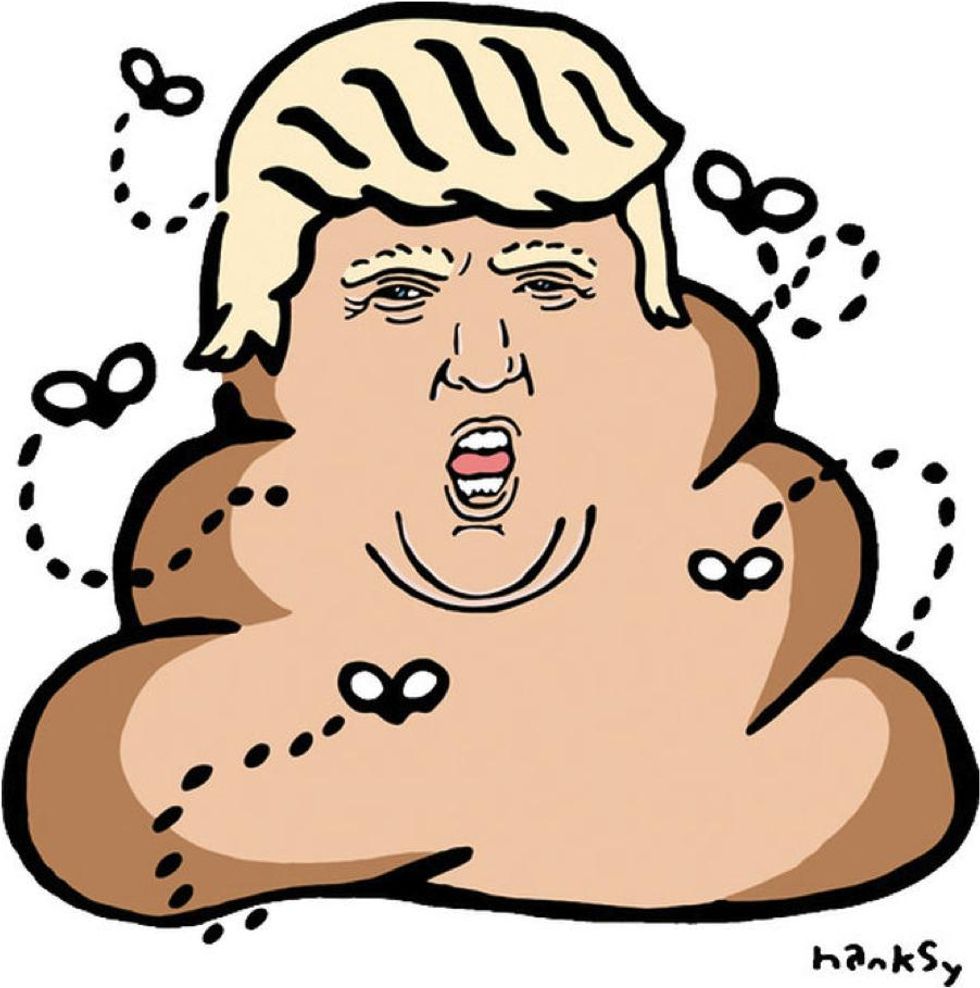 Houston artist Philip Kremer's disturbing portraits of the raging beast inside the Trumps coiffure-smiling face of fascism have been myriad and monstrous, including this visual atrocity that got him banned from Instagram: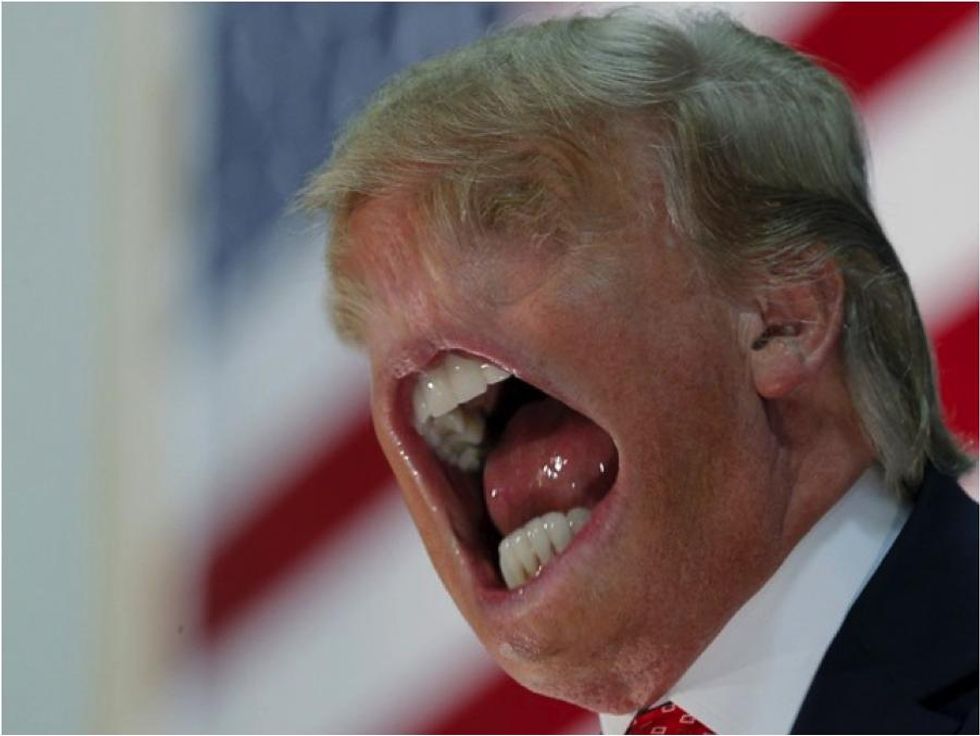 Design Crowd sponsored a digital manipulation Photoshop contest to bring the political horror of Trump into the realm of cinematic horror, with lots of utterly creepy results, including this instant classic by user see why from The Shining: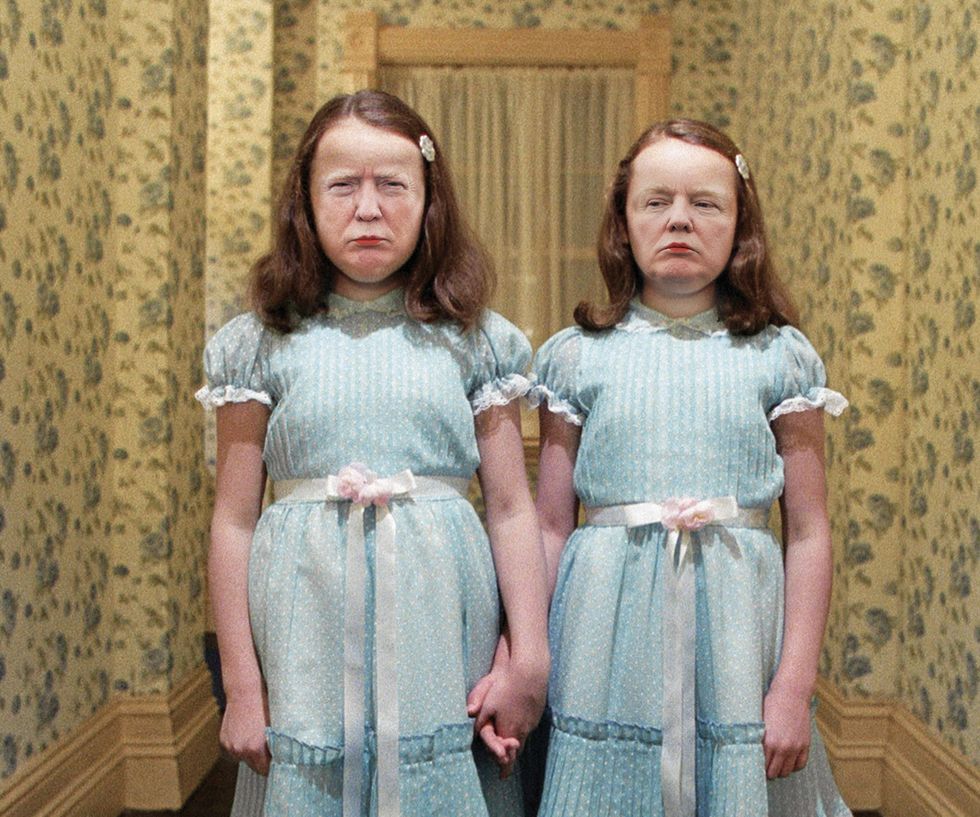 There is no more apt way to limn the evil of Trump than to make a portrait of the man out of all the hate-speech that has come out of his Twitter account, which is just what Manchester-based artist Coner Collins did: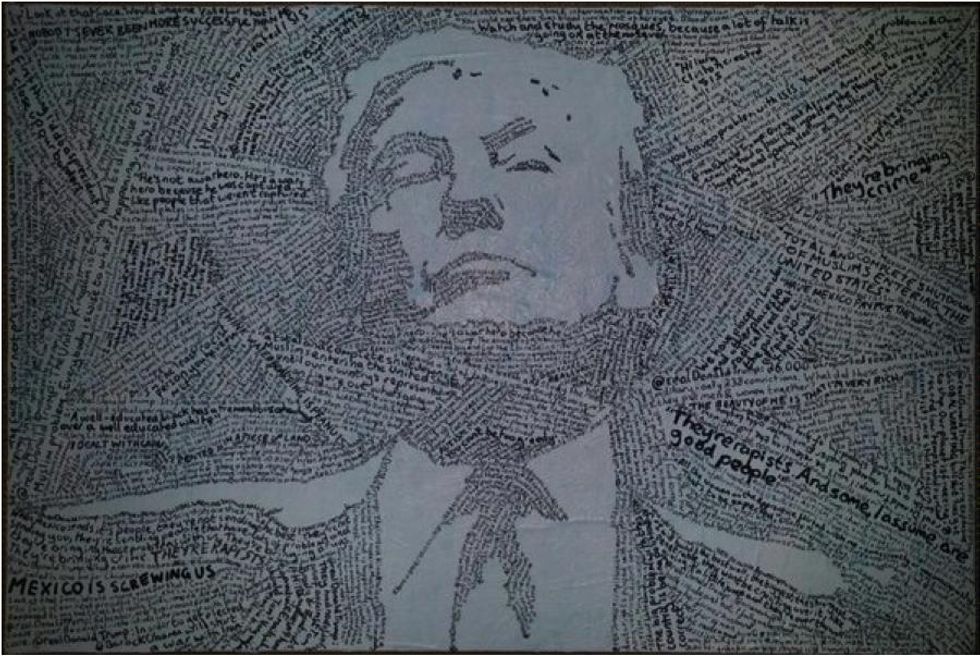 But few are as fierce in fine art of ridicule that Ron English whose hilarious mode of "Popaganda" created one of the most iconic tributes of the last President, a combined portrait of Barack Obama and Abraham Lincoln, and is now just letting loose with a whole new world of hate on the Trump, including a banner that he hung in the border-town of Brownsville, Texas, one of his highly collectible limited edition figures, a mural, and even a music video…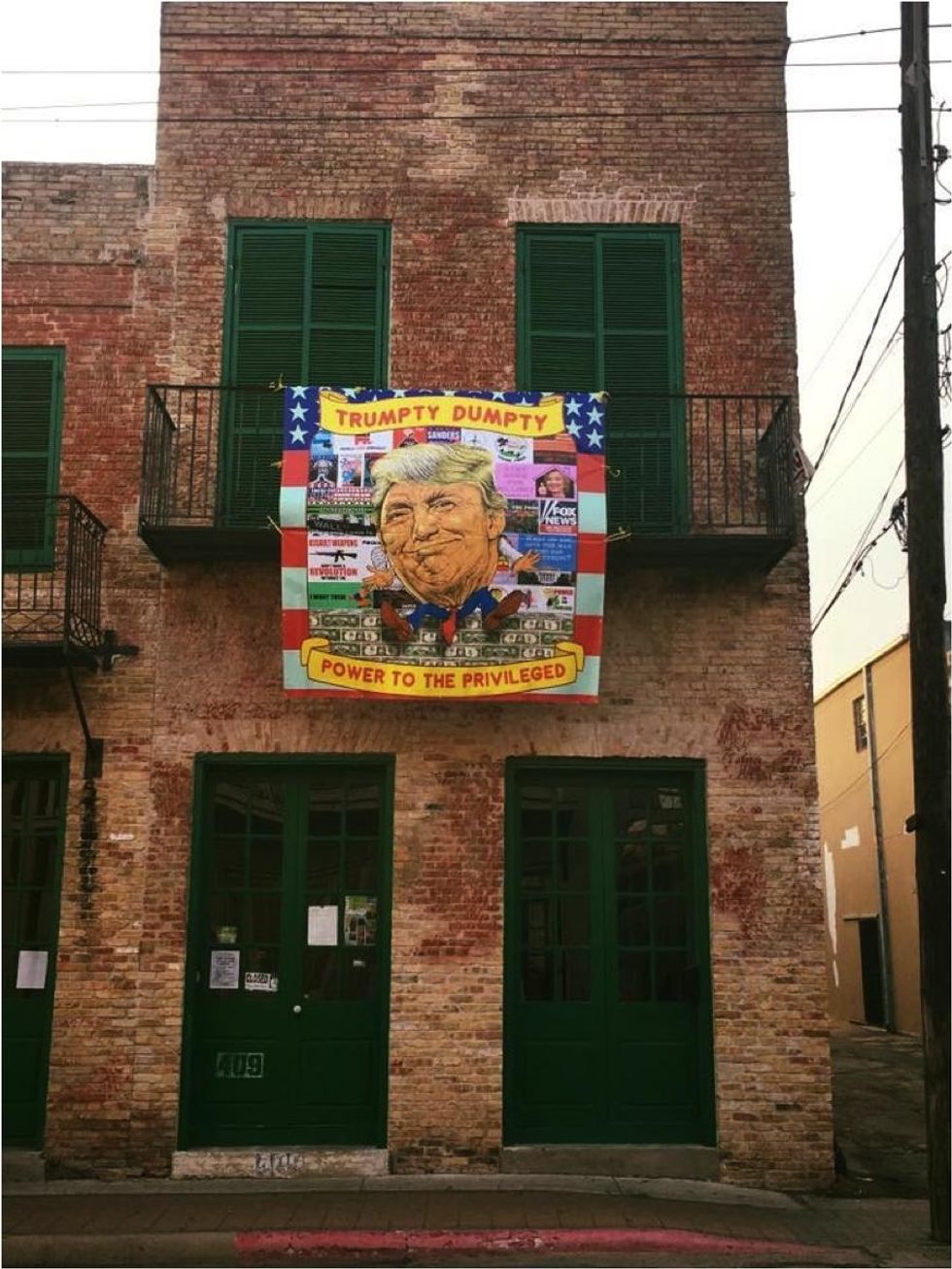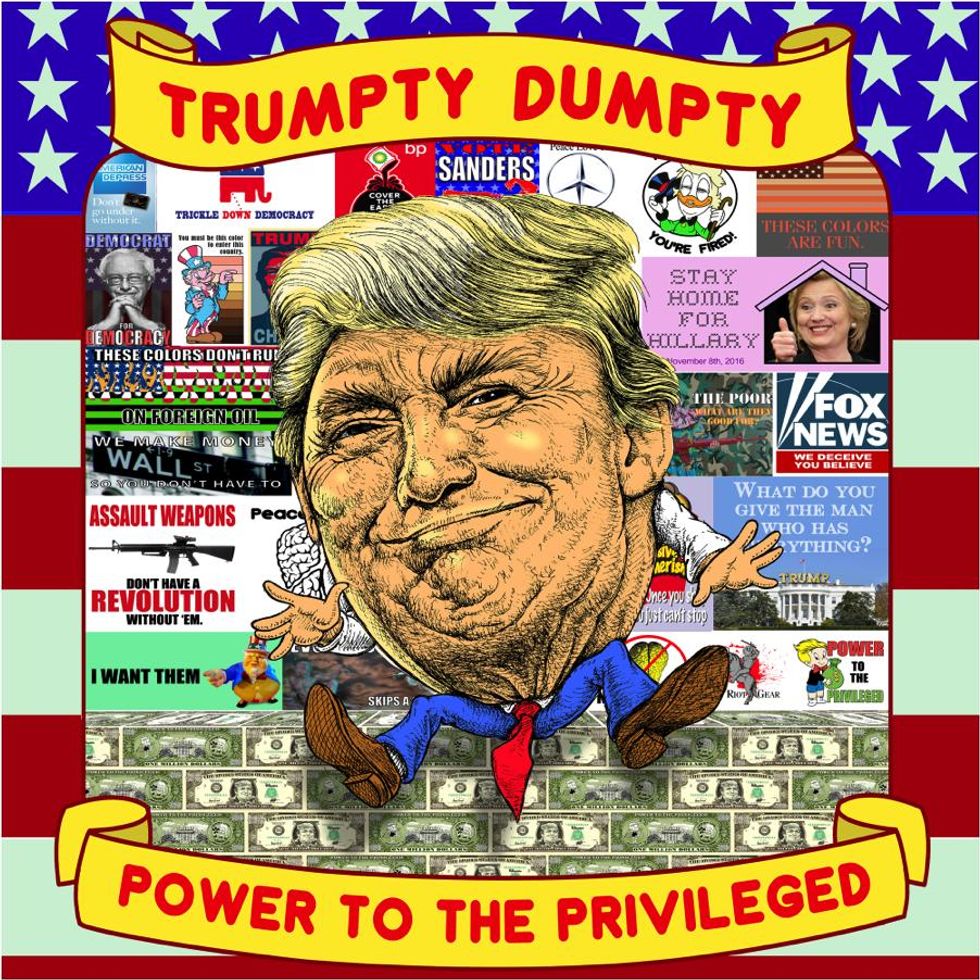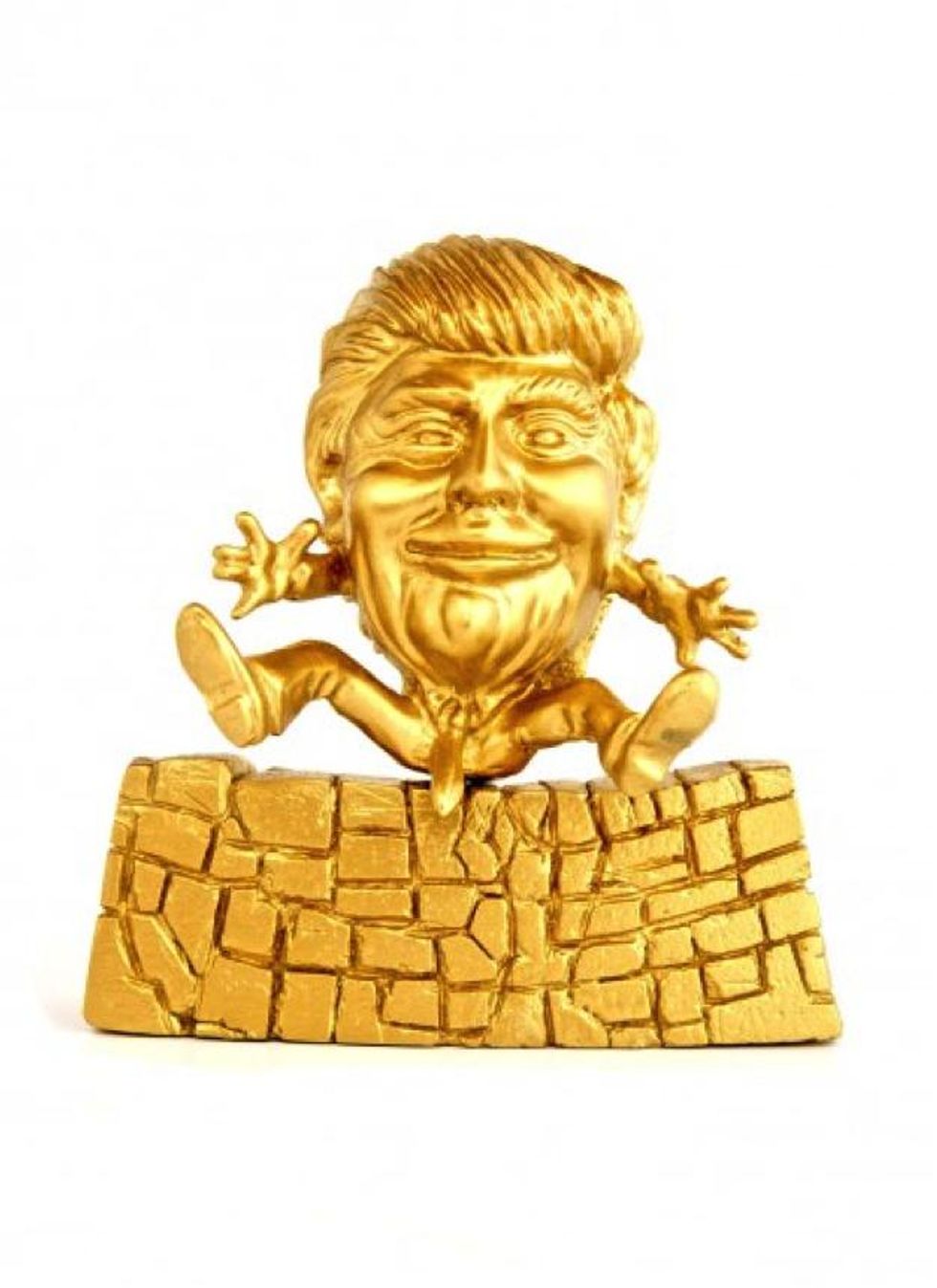 4. A Monumental Shame
Why we wonder are all public monuments made for forgotten heroes and forgettable statesmen? We see no need for such specious pride and honor, isn't history written rather by scoundrels who should be shamed for posterity? Trump's magnificent combination of vanity and villainy offers a new kind of monumental tribute, based on shame rather than glory.
Like much of what makes him look so bad, lots of Trump's larger-than-life ignominy is self-inflicted, like the ugly illustrative portrait he commissioned but apparently didn't like because the artist's hack style made him think that the painting wasn't finished: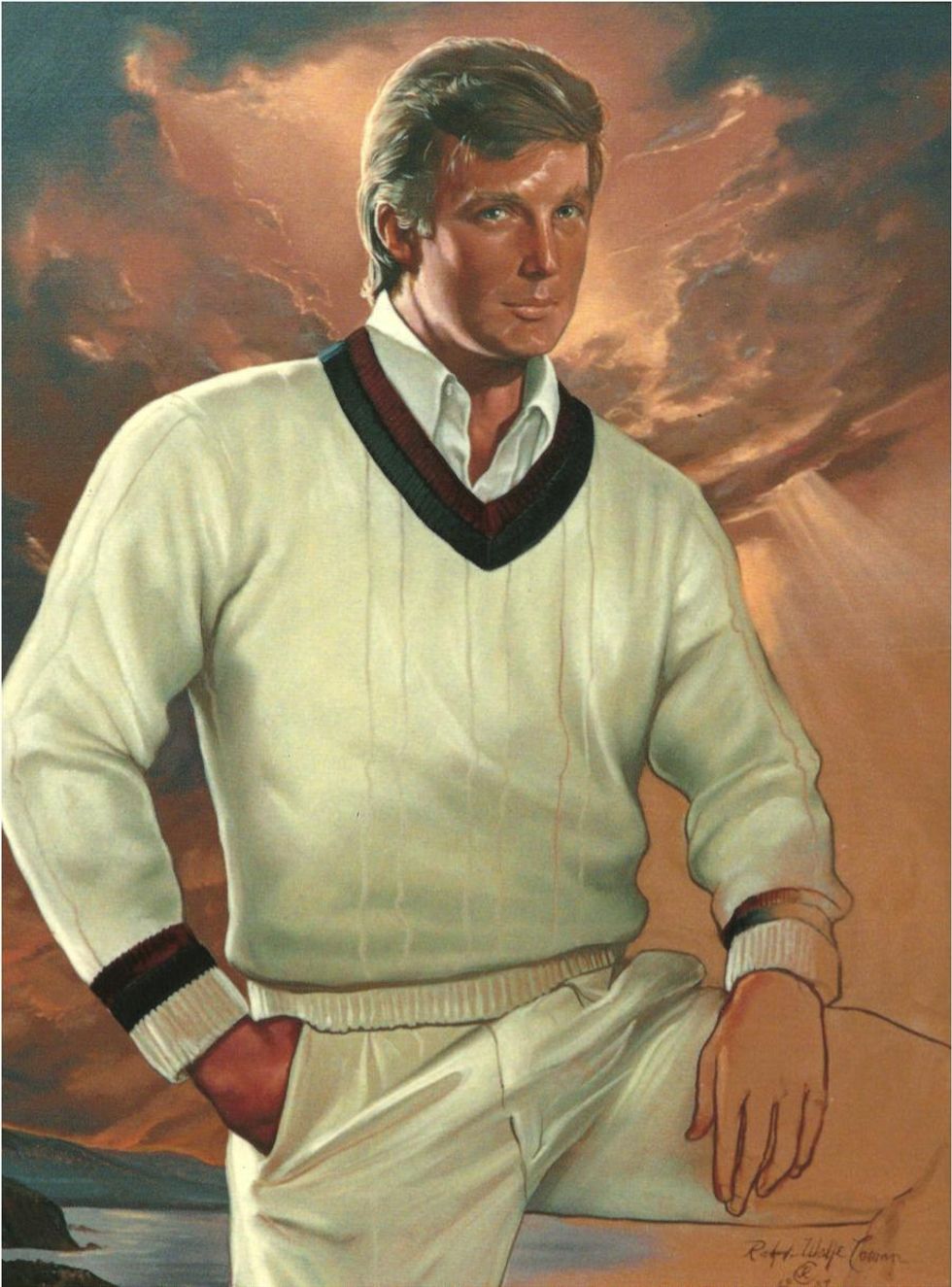 and the ever-greedy Andy Warhol's play for patronage in painting the Trump Tower, which the discerning Donald ended up passing on the offer to buy; another tribute to his dubious economic acumen: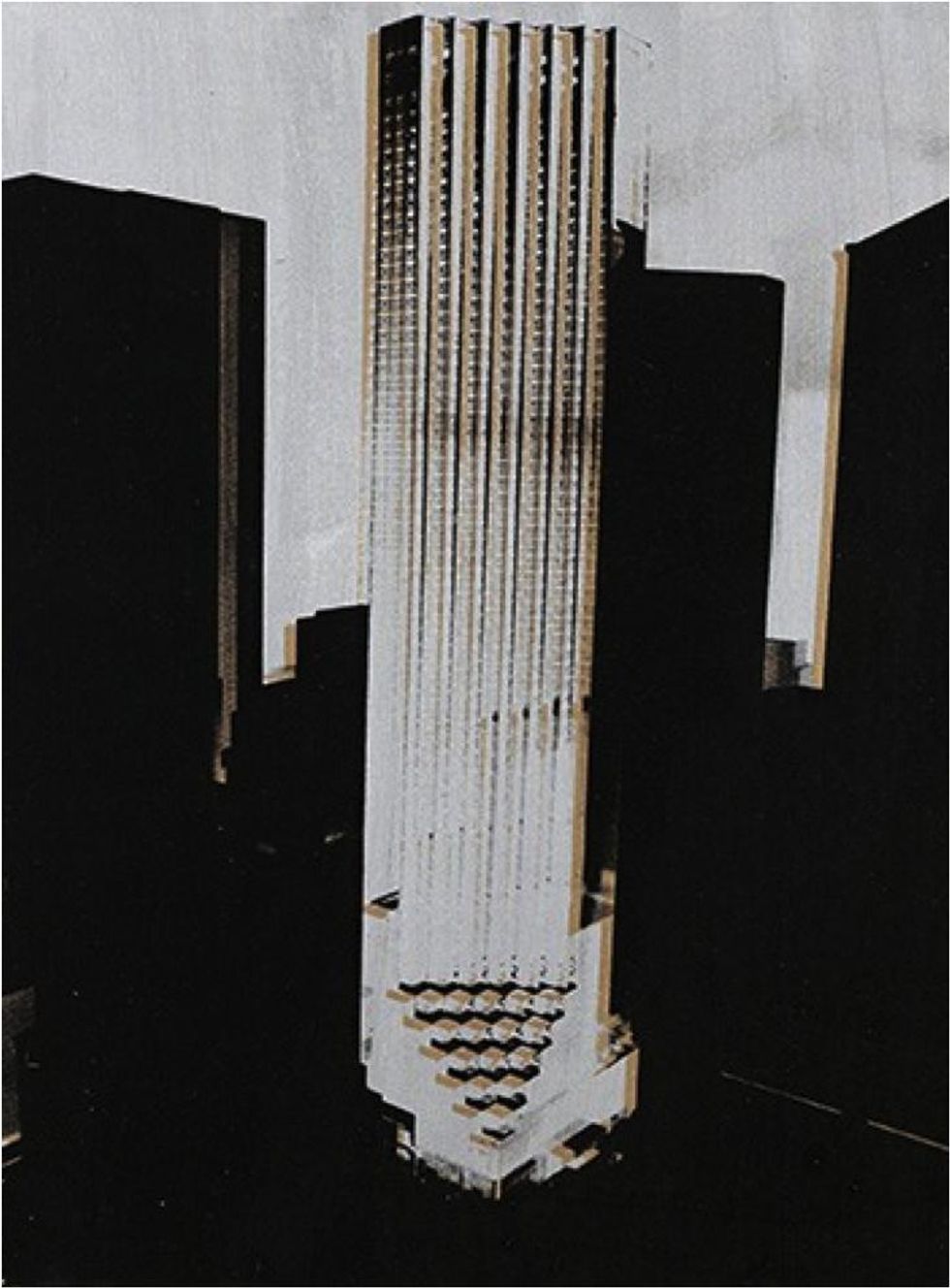 Of course Mexicans and those of Mexican descent (which for Trump apparently means the same thing) have found the best sculptural vernacular for his shameful divisiveness in the personage of effigies, such as this shot of a Trump-burning in Mexico City, and the following piñata made by Dalton Javier Avalos Ramirez: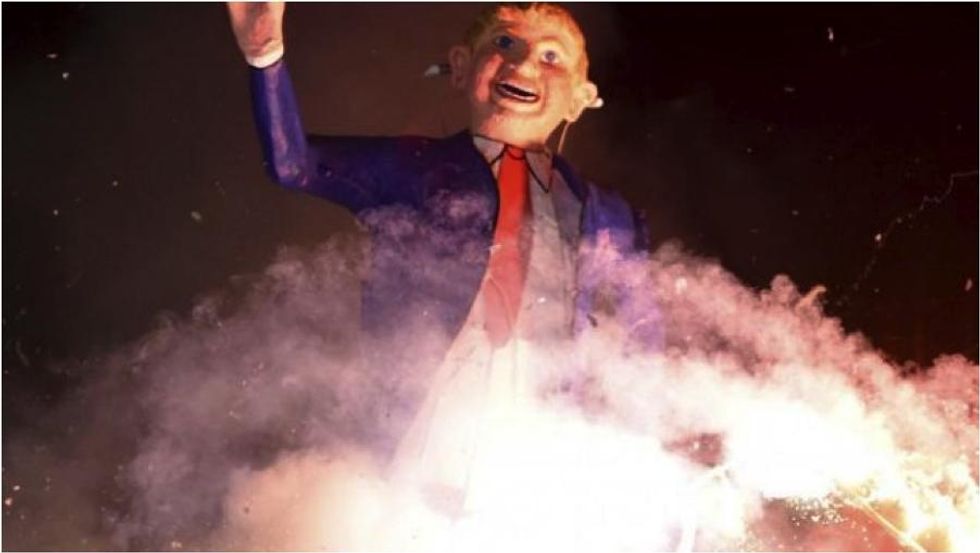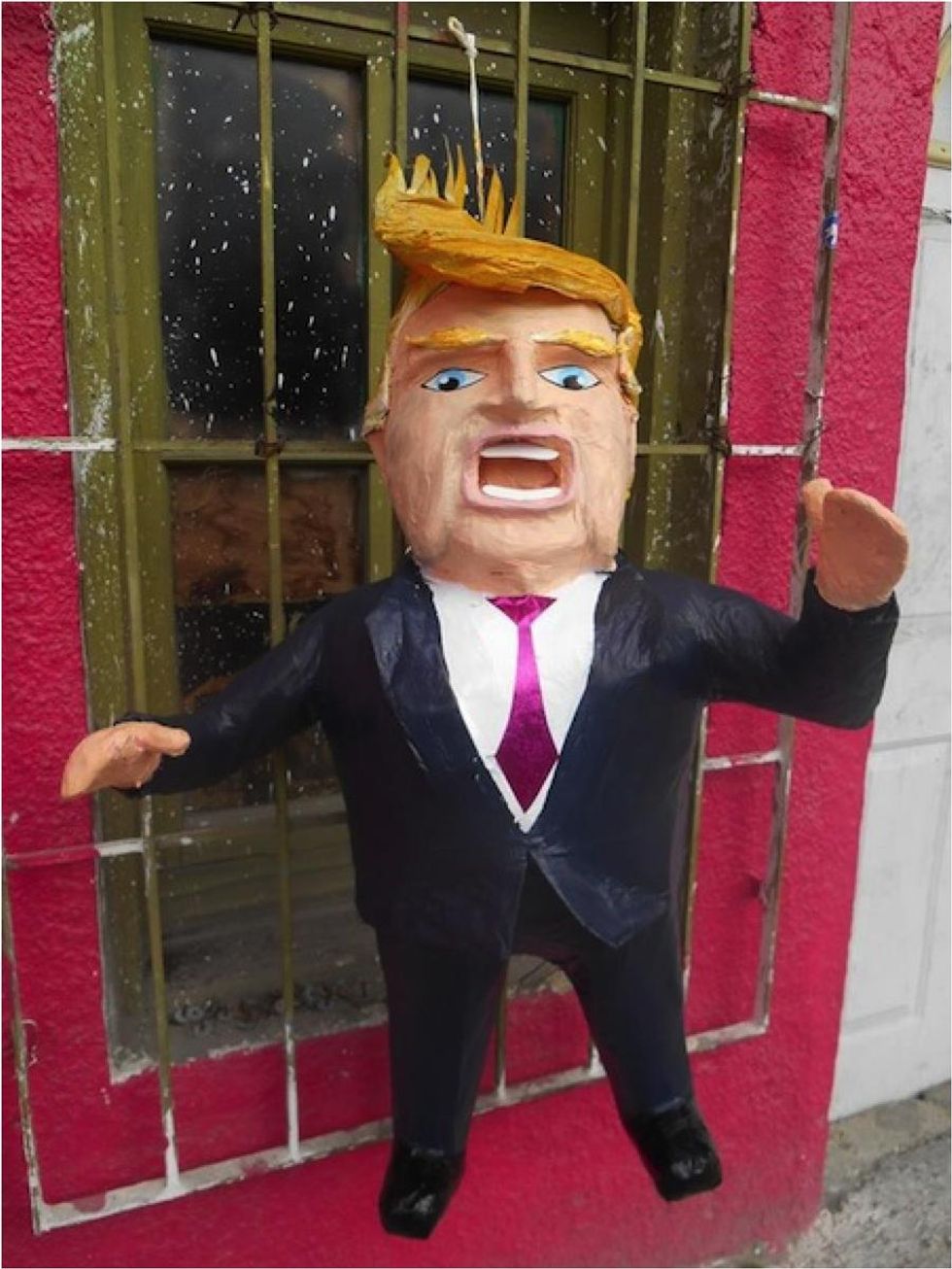 It's a sentiment shared in this slapstick video shared by our friends at the popular web site Brooklyn Street Art:

But perhaps no one has captured the indignity of Trump's vainglorious pomp and circumstance than Brian Andrew Whiteley when he created this temporary tombstone to Trump in Central Park: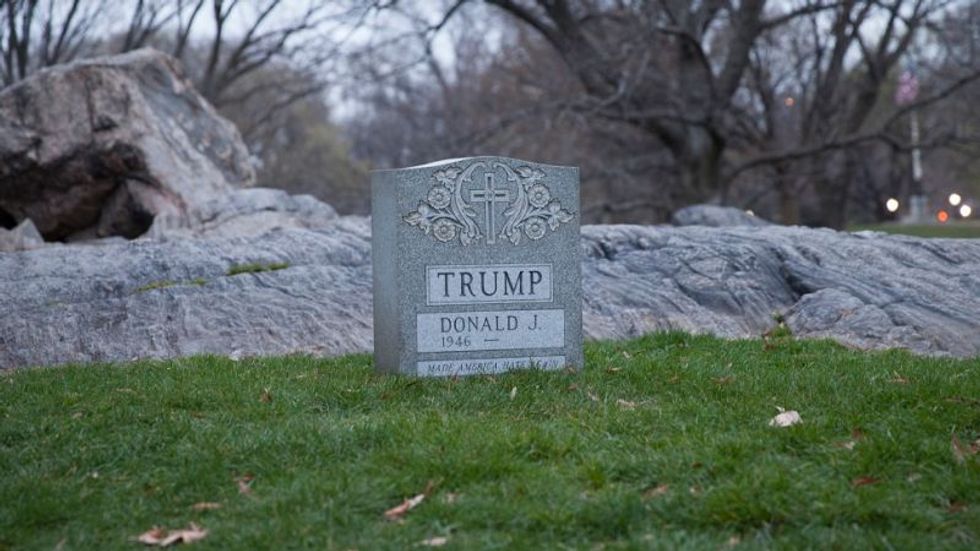 5. Man on the Street
From as far back as the graffiti uncovered in ancient Pompeii we know that people have long taken to the city walls around them to voice their scorn of politicians and the rule of power upon their disempowered lives. While artists of all ilk have come to express their ridicule of Trump and address their deeper dread about what his presidency would mean, the streets have been the magnificent canvas and public square in which so many of these ideas have been shared. Let's wrap up our Trump Art Portfolio then with a survey of some of these many expressions.
Hanksy's aforementioned Dump Trump mural on the Lower East Side: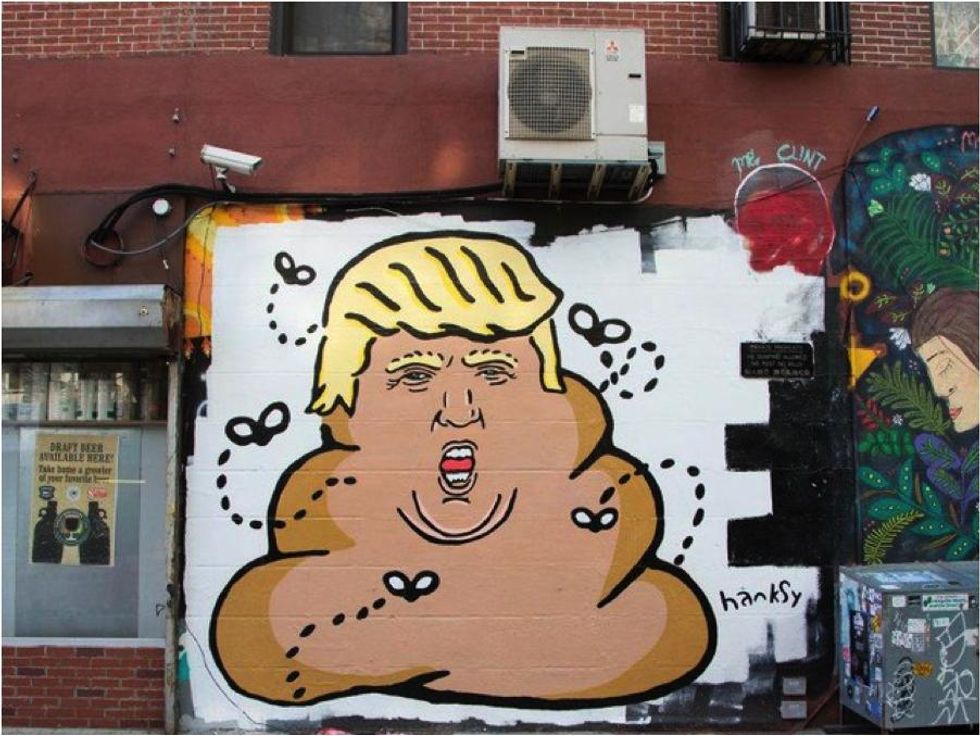 Ivanorama's Donald McTrump: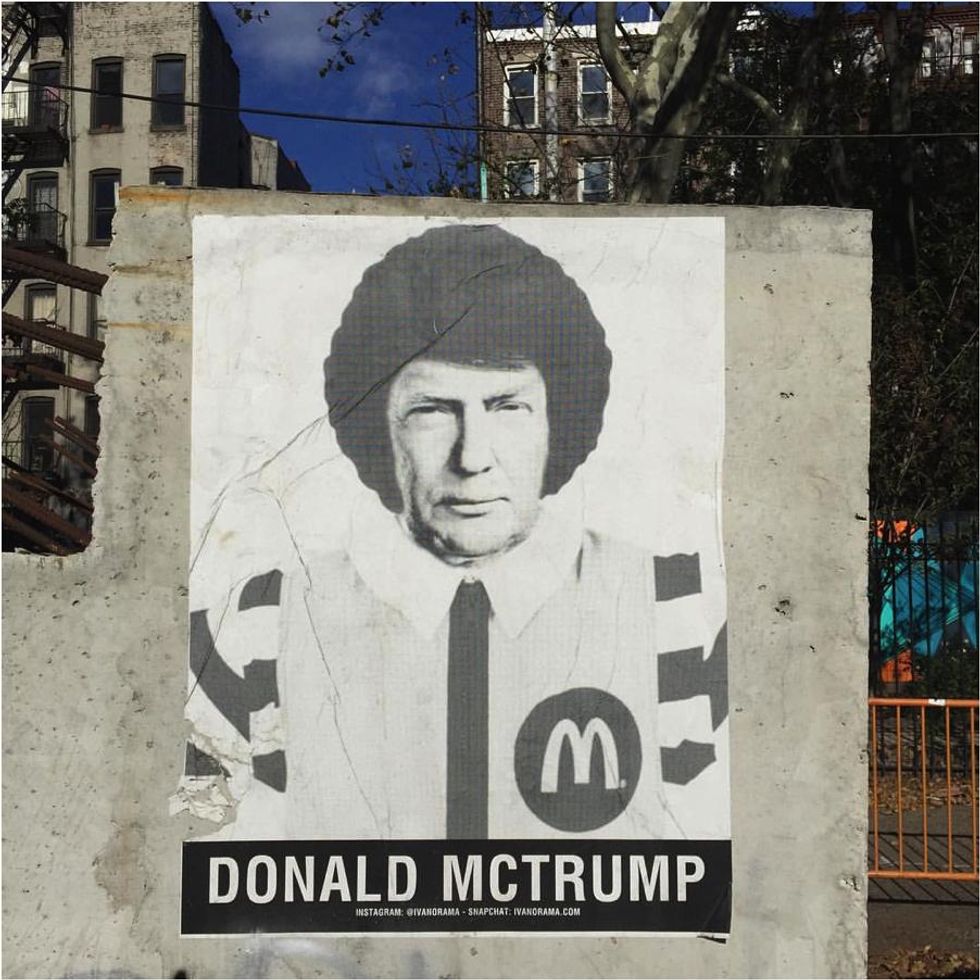 Australian delinquent savant Lush's Trump added as a bookend to his scandalous mural of Kim Kardashian's nude selfie in Melbourne: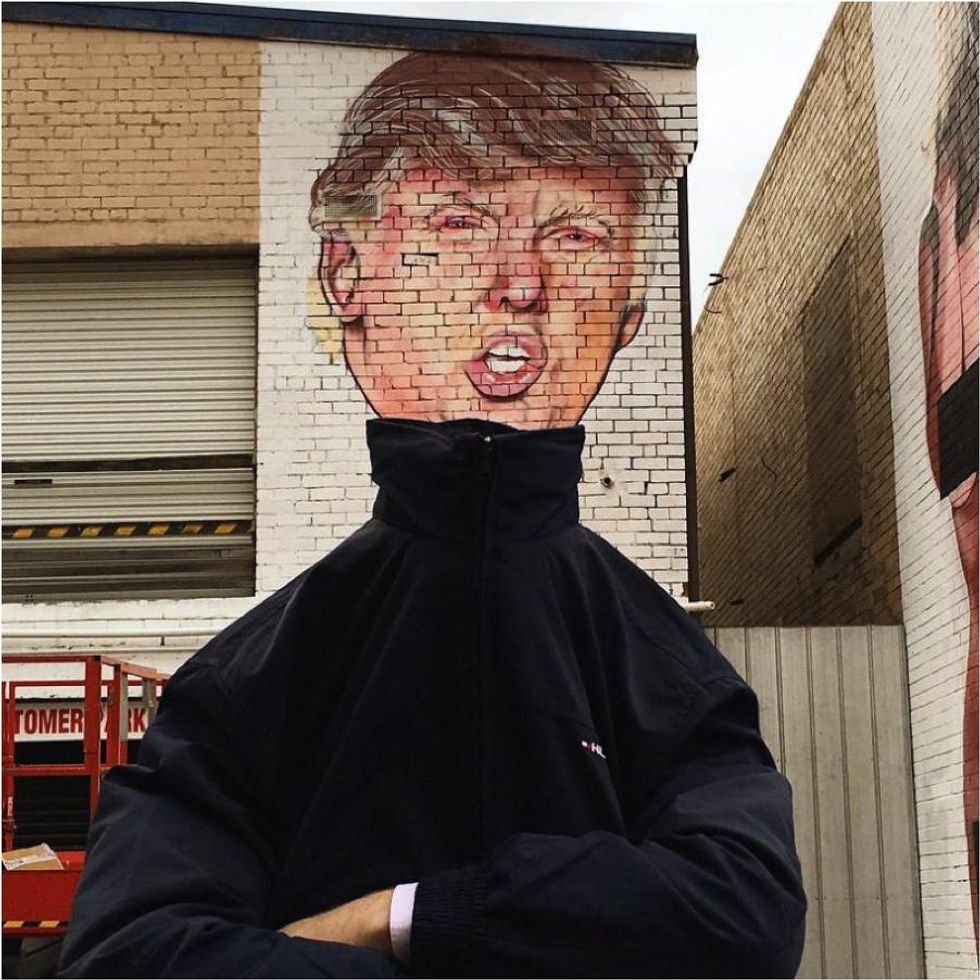 "No Trump Anytime" parking signs outside properties owned by the Donald in Chicago and New York City: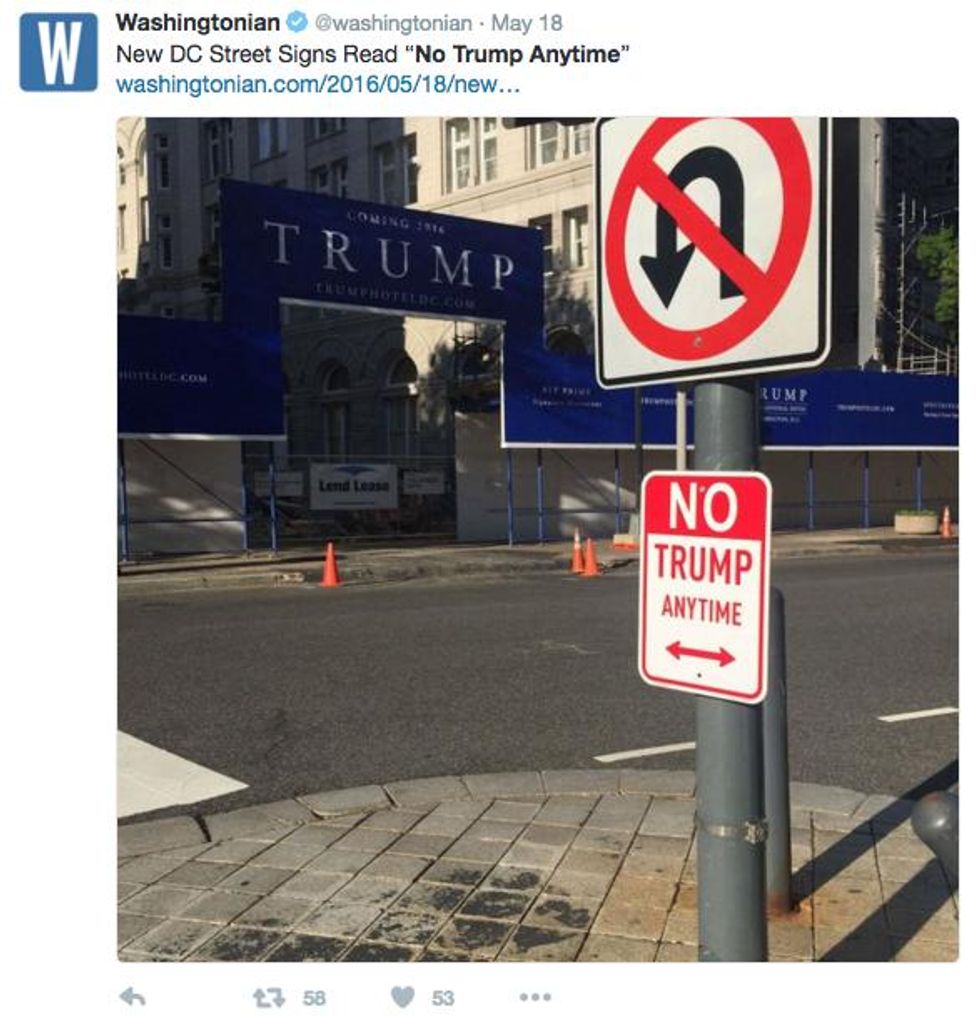 Los Angeles political provocateur Robbie Conal got his chops making fun of Reagan back in the 80s, and returns now with some great new Trump posters: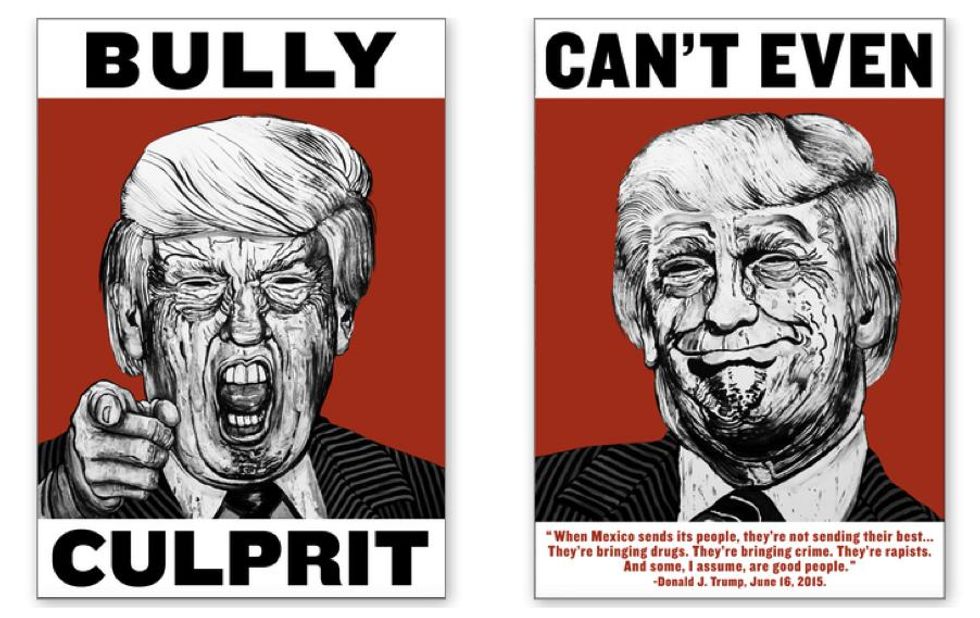 Paris street artists get in on the act. Shared with us by the great documentarian of street art Jaime Rojo, who sends us some of his own pix taken around New York City of the many lesser-known creative talents rising to the bait…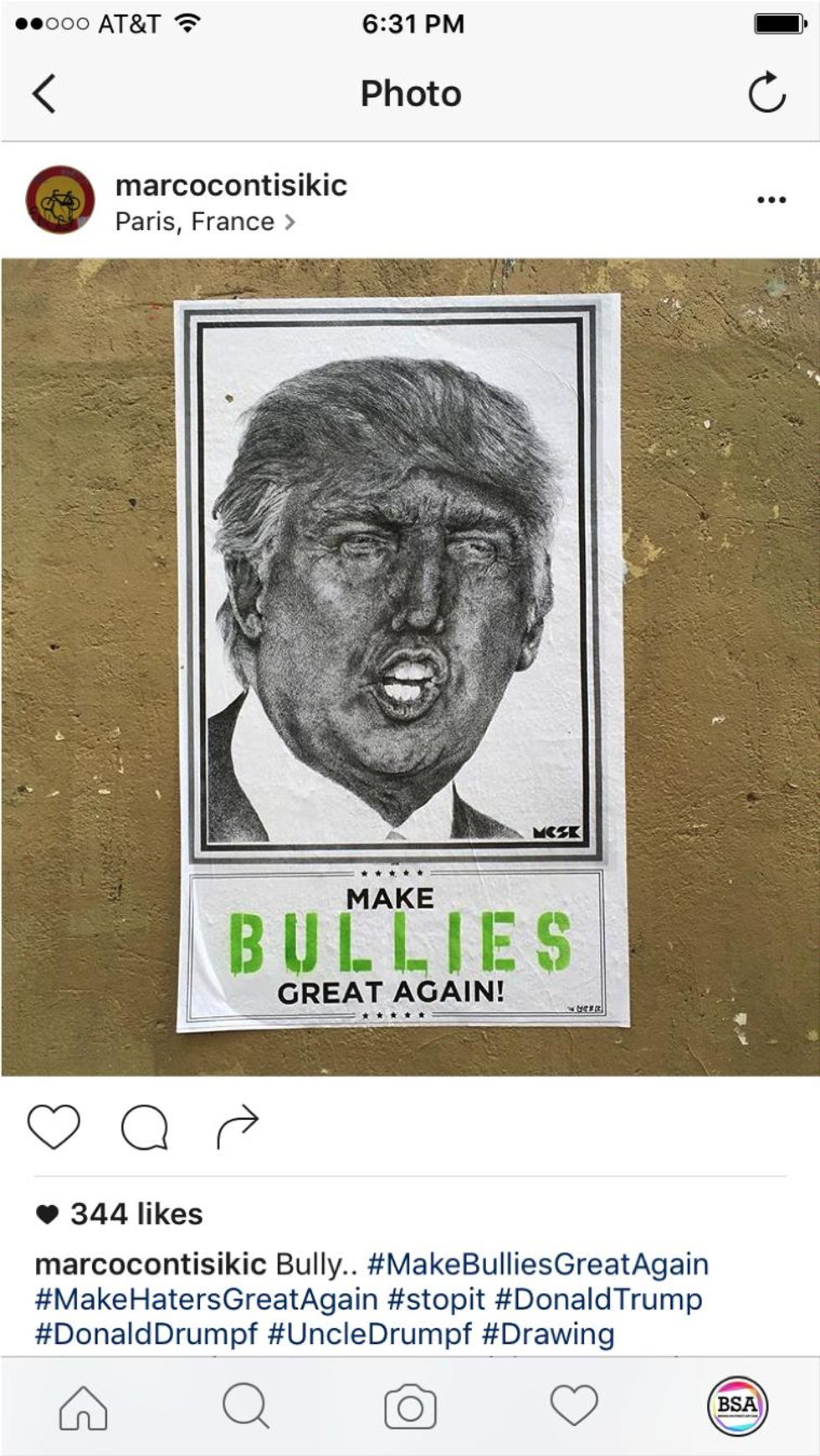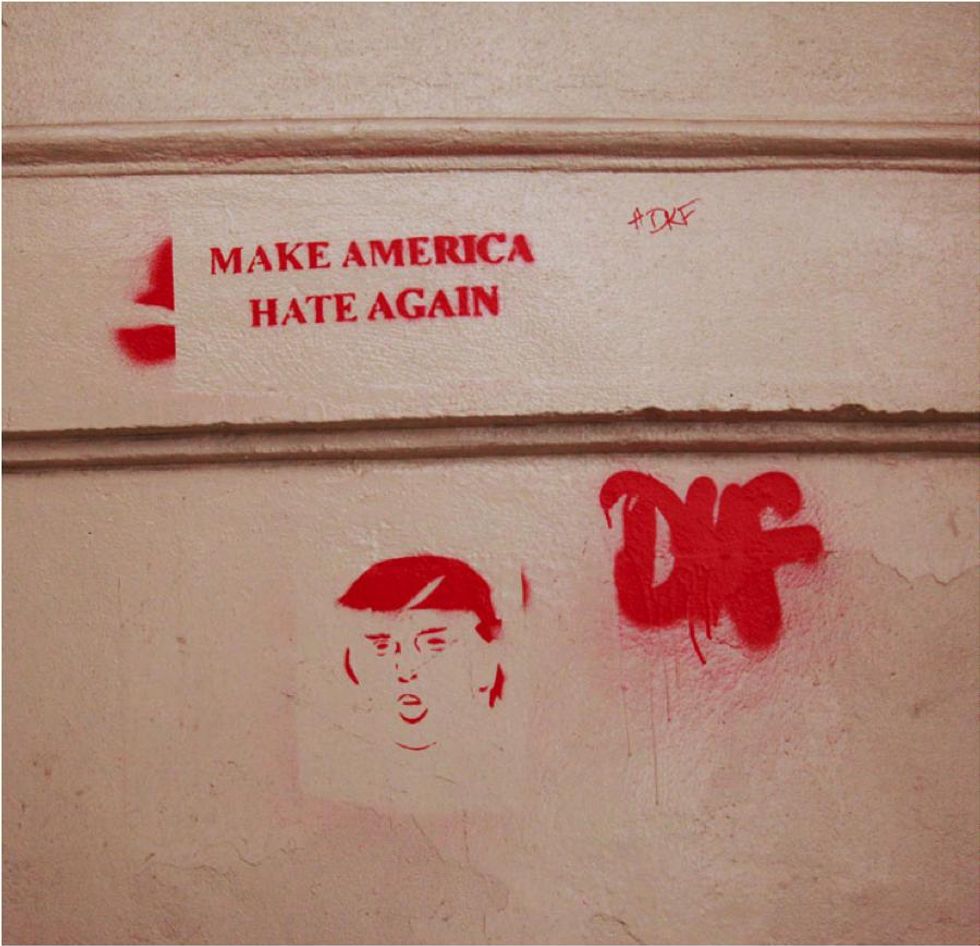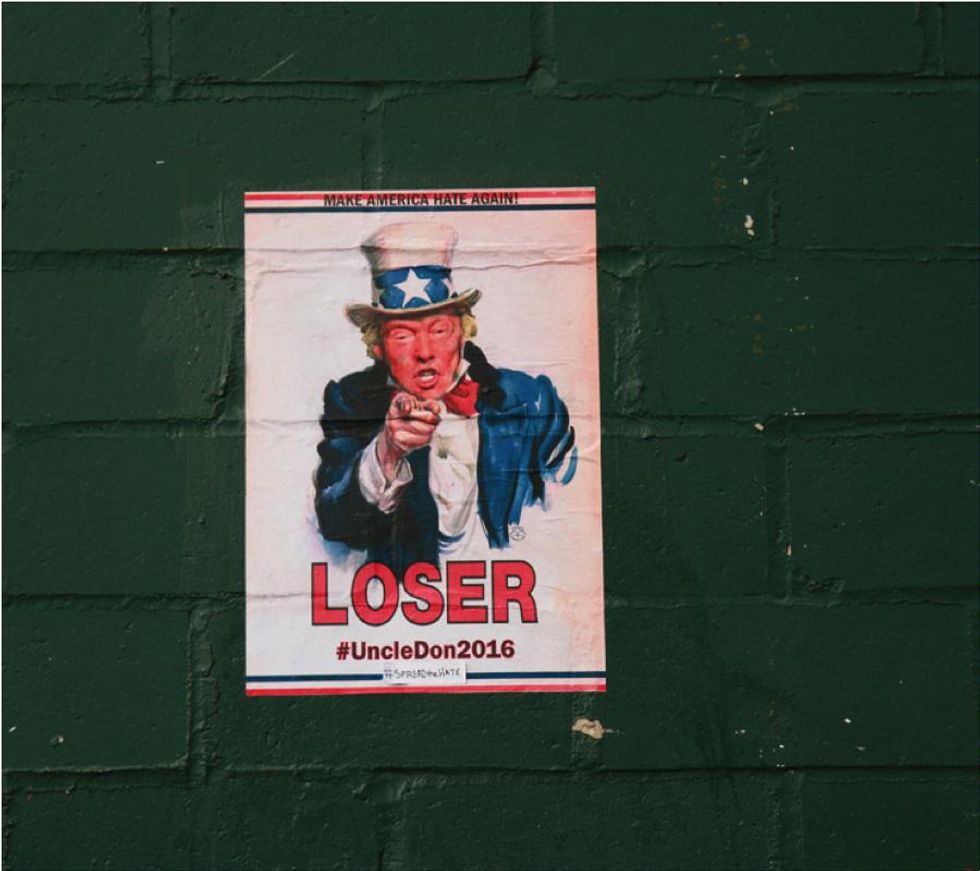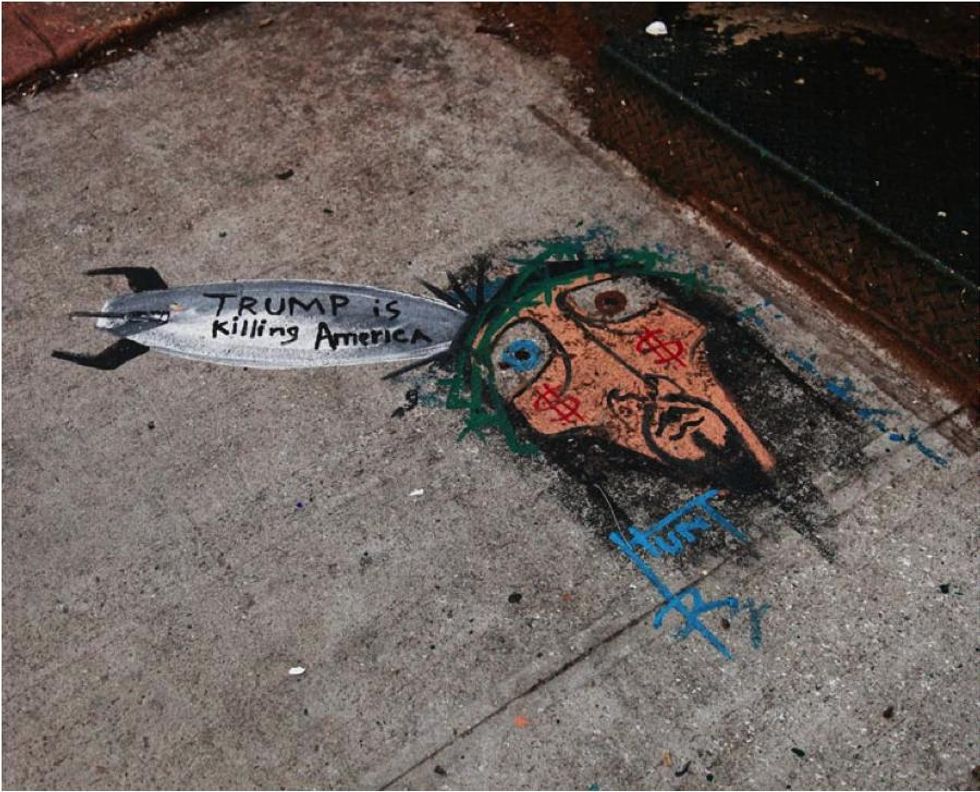 Please share with us any Trump art that you know of, and remember that while it is your right to heckle, deride and make mockery of Trump in any way you want, it is your duty to vote against him.
You May Also Like